Iīm really happy when I see that some of the members are as old as me and Iīm really happy when I hear Greta Kasslers melodic punk. This interview was done in the middle of august 2006.
History?
-The spring 2005 Mange and Tomas met each other and presented some material to each other. It seems to be interesting and that became the start for the band which will be Greta Kassler.
Please tell me a little about every member, age, family, interest, work and something bad about every one?
-Mange Hedman: 27, togethe with someone, music is the biggest interest except the work as a teacher.
Daniel "Kabbe" Karbelius: 24, lives with a girl, music is the thing I burn for, I jump between different works. The most horrible which have happened to me was when I took away my beard….but now it's back again!
Peter Karbelius: 35, lives alone, music and the painting/writing is my biggest interestes. I also work halftime with elderly people.
Tomas Nilsson: 39, terracehousedad, the music and the record company is the interests. I drive rullebulle(I think thatīs a taxi but I donīt know). The most horrible which have happened to me is when I tried to get a beard but I got beardfungus.
How does it became so that you started to play " a sort of dying music" as music? Melodicpunk?
-Mange: Itīs good music, good lyrics and as we said melodic.
Tomas: Dying????
Is it good or bad that bands like Diapsalma and Asta have started to play again?
-Mange: Good. Itīs better for the whole scene.
Tomas: And itīs good music!
How does it feels to release the debutecord with the group now?
-Mange: We have longing for this for a while now so it will be really fun.
Kabbe: Really fun that itīs released as a cooperation between mine and Tomas record company too! Buzzbox Records and Trapdoor Records.
Peter: Exciting to see how it is going to taken and it will be fun to go out and play with this record in our bagage.
Tomas: Euphoric!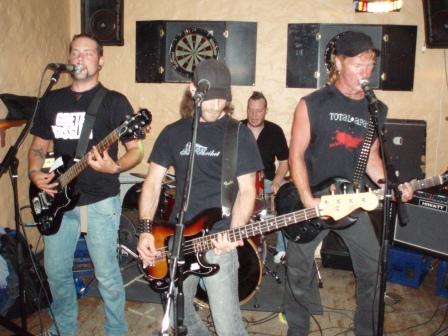 Have you got any reviews or thoughts about the record yet?
-Mange: Nothing special. But mates who have listened and they say that it seems to be good
Do you care about reviews and do you take it personally ?
-Mange: No, everyone have the right to think what they want
Tomas: Itīs more fun with positive reviews of course
I compare you with an early Skumdum? Comments? Which other bands are you being compared to?
-Mange: Fun, because theyīre really close to my heart.
Peter: Itīs hard with comparements but Radioaktiva Räker have been mentioned and other have been mentioned. We thank different everybody.
Please tell me about something fun which have happened during your short career? In the audience or onstage?
-Mange: It must have been the AIK-punk which stood there and stared at us during a gig in Pub Banken i Kalhäll. We thought that he should hit us but he had chosen us before other plans that weekend just to see us. It was fun.
Peter: Yeah, he was nice, he bought me beer after the gig too..
Tomas: Yeah, his plans was too go to Malmö to see AIK against MFF but he chosen us instead.
Do you think itīs becoming a new punkwave if the rightwing wins the election this autumn?
-Mange: It feels like if itīs a new wave coming already but it becomes even bigger if the right wing wins. Thatīs surely so.
Peter: But we must hope that isnīt becoming a reality!
Will you vote yourself or are you the ones that not vote? Why or why not shall a person vote?
-Mange: Of course you shall vote. Donīt you do that you havenīt the right to complain about the system. You can say what you want this way.
Tomas: When I have voted before I have felt cheated every time, so sure I have doubts about it.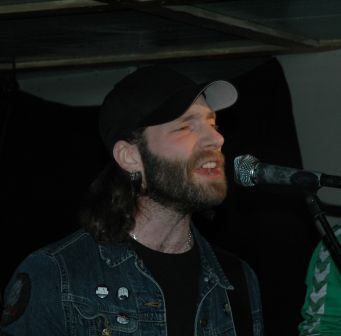 Which is the biggest joke you have heard from the politicians this year before the election?
-Kabbe: That the right wing party(moderaterna) will be the "new workerparty" it's so fucking disgusting that you can throw up.
Tomas: "All who works will get lower taxes with thousand kronor arbetar ska få sänkt skatt med tusen kronor" says the same party in the paper City, haha!
Can you trust politicians...which leader do you believe the most?
-Mange: Trust… No. Most believable: Is it Ok to answer that it isnīt Reinfeldt?
Peter: Thatīs OK.
Politics and music, does it go hand in hand?
-Mange: Absolutely. You must put out your thoughts. Through books, poems, speeches or music. .
Tomas: Itīs really good as an opinionmaker.
Best political group?
-Mange: I would say Asta Kask.
Tomas: Varnagel is good also.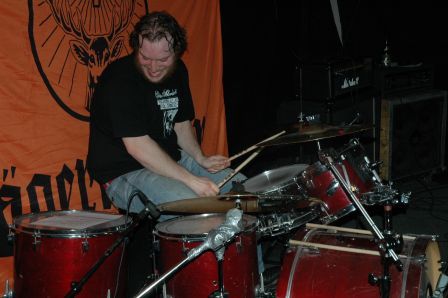 What does punk mean to you, is it only a word or is it a lifetsyle?
-Mange: Itīs something which have in all your thoughts.
Kabbe: It's a lifestyle but it isnīt about which clothes you have or something like that , itīs more about thoughts and the way you do things.
Peter och Tomas: We agree.
Which type of people comes to your concerts?
-Mange: A mix I would say. Itīs difficult to say because we have only had 5 gigs this far. .
Which is the biggest band you have played together with?
-Varnagel.
How is a good concert with you?
-Kabbe: It must be hot and sweaty and a fucking speed on us and on the audience.
When you do songs, what is most important, is it to have good lyrics, good melodies or to have a refrain that people remebers?
-Mange: A wholeness, but a good refrain do much.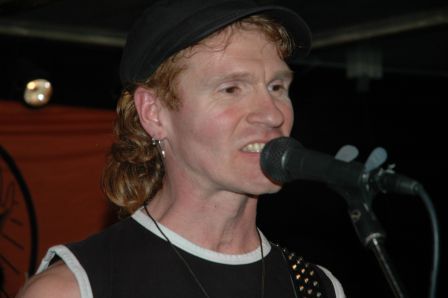 Whatīs the worst and whatīs the best of being interviewed? Is it boring?
-Peter: I donīt think itīs boring at all, it shows that thereīs an interest to the band and thatīs always fun.
Which is the question you never get but you want to have, please ask it and answer it?
-Question: Do you want a severance payment and a parachute?
Svar: Okay.
Please rank the five best records , five best concert and five most important things in life?
-Tomas: ABBA arrival, all categories!
First, last and most expensive record ever bought?
-Manges First: Ebba Grön 1979-1982
Manges Latest: Slutstation Tjernobyl, Noll ett noll
Kabbes First: no idea...
Kabbes Latest: Nasum "shift"
Peters First: I donīt remember but it could have been some record.
Peters Latest: I donīt buy records so often but it could have been Abramis Brama, Rubicon.
Tomas First: Donīt remember.
Tomas Latest: Dynamite Vasteland a vinyl which I bought yesterday for three swedish krona.
Tomas Most expensive: In Flames latest for 209 Swedish krona!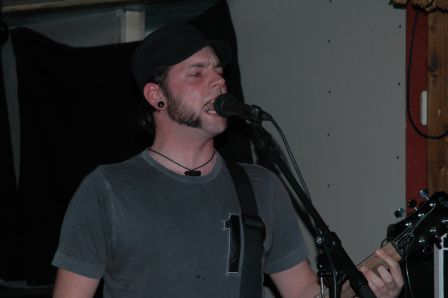 The most embarrasing record in your collection?
-Kabbe: I have throwed away all shit.
Peter: Don't want to be remind.
Tomas: Everything embarrassing belongs to my girlfriend so it isn't counting.
Where do you stand when we're talking about mp3`s ? Is it bad or good and which is it's best for?
-Mange: MP3:s is a good way to spread your music. You wan to get out your voices. In the end it's good for the band because more people listens and more is more interesting in the music.
Kabbe: The big labels is aware about theyīre doing a mistake and thy try to blame it on the people But they have too high prizes and is too slow. But now everyone begin to sell Mp3 so...
Tomas: I support Bruce Dickinson.
Do you download for yoruself, why or why not?
-Mange: It happens. Mostly to hear new bands. Is it good you can buy a record and is it bad I erase it from my computer.
Kabbe: Of course! And do you like it I buy the record at once.
Is it more important that they chase people who download than to hunt rapist, paedophiles murderers and so?
-Mange: Come on….
Kabbe: Of course not..
Futureplans for the band?
-Mange: As said, now the record release is number one and then we will see whatīs happen.
Tomas: And then we have a lot of new material we must try to learn us. .
Wisdomword?
Greta K: Forget fur, have a beard instead!
Tomas: Tighten up, for godīs sake!