Jörgen and his comrades in Gråsuggorna havebeen around a while and played. I actually managed to evade them. I thought I knew "everything" about Swedish punk but Rättvik was apparently a spot on the map that I missed.
December 2015
A little history about the group?
Jörgen: Gråsuggorna started in Rättvik in 1990 by me o Tomas, the oldest texts are in all cases dated -90
We played a few years and made two or three gigs, and two tapes (live).
Then we added "Suggorna" mothballed because it constantly changed members and there was no proper rehearsal room to be in, instead, we focused interest more towards beer binges, concerts and immoral living!
And so it went on to the early 2000s when I, and Thomas wanted to play again, and since then we've played to this date,
and now, in December 2015 we released our 8th album "Old punks never die."
Next year we plan to release our first vinyl, it will be a single,it will be damn fun!
Tell me a little about every member, age, work, family, bands before and bands on the side?
Jörgen, vocals, bass:. I am 45 and the young one in the band, working as a nurse in the LSS, is single and has two children.
Have only played with Gråsuggorna, and have been standing in the rehearsal room in the scratch and screamed at the new tracks.
Björn, guitar, vocals: 52: music teacher, divorced with three grown up children, played in various bands in all sorts of genres since 14 years old but always had the punk with me into the inner pocket, a freelance bassist and the guitarist in a cover band called Flashback.
Pelle, drums: Old HC guy on 50 bass, working as head chef, is happily married and have a bunch of kids. Earlier bands are eg Kontra Punk, Snora, Staken Står, Suburban Rebels, Legions of Hell, Gung-Ho, Dreamworld of Aggression, Filthy Christians, Cyberchrist, Hellfist, Otajt, BombKlan ... is now in a side project than so far is namelesswith pPeople from among others Fuck Frankie.
Tomas: guitar, vocals. 48 years old, single and child-free. Working as a nurse at the nursing home. Began learning guitar passably in the late 80s, a couple of years later, I and Jörgen started Gråsuggorna and since then it has been the band that has been the thing for me.
I can hear old groups like Incest Brothers, Ebba, a little Asta, I hear right? Was it better before?
Jörgen: Ok? IB o Ebba..possibly our older songs in that case .. Yes Asta-feeling there was someone who wrote about a song on the new album, but beyond that I am not prepared to stretch me.
Do not think we are right to sound like any other band, maybe because we have been preserved in Rättvik so many years 
Our influences are more the UK 82-way, we do both Swedish and English songs on the records, but now it is predominantly Swedish tunes.
It was as good before as it is now, but just that now plays Gråsuggorna also ;-)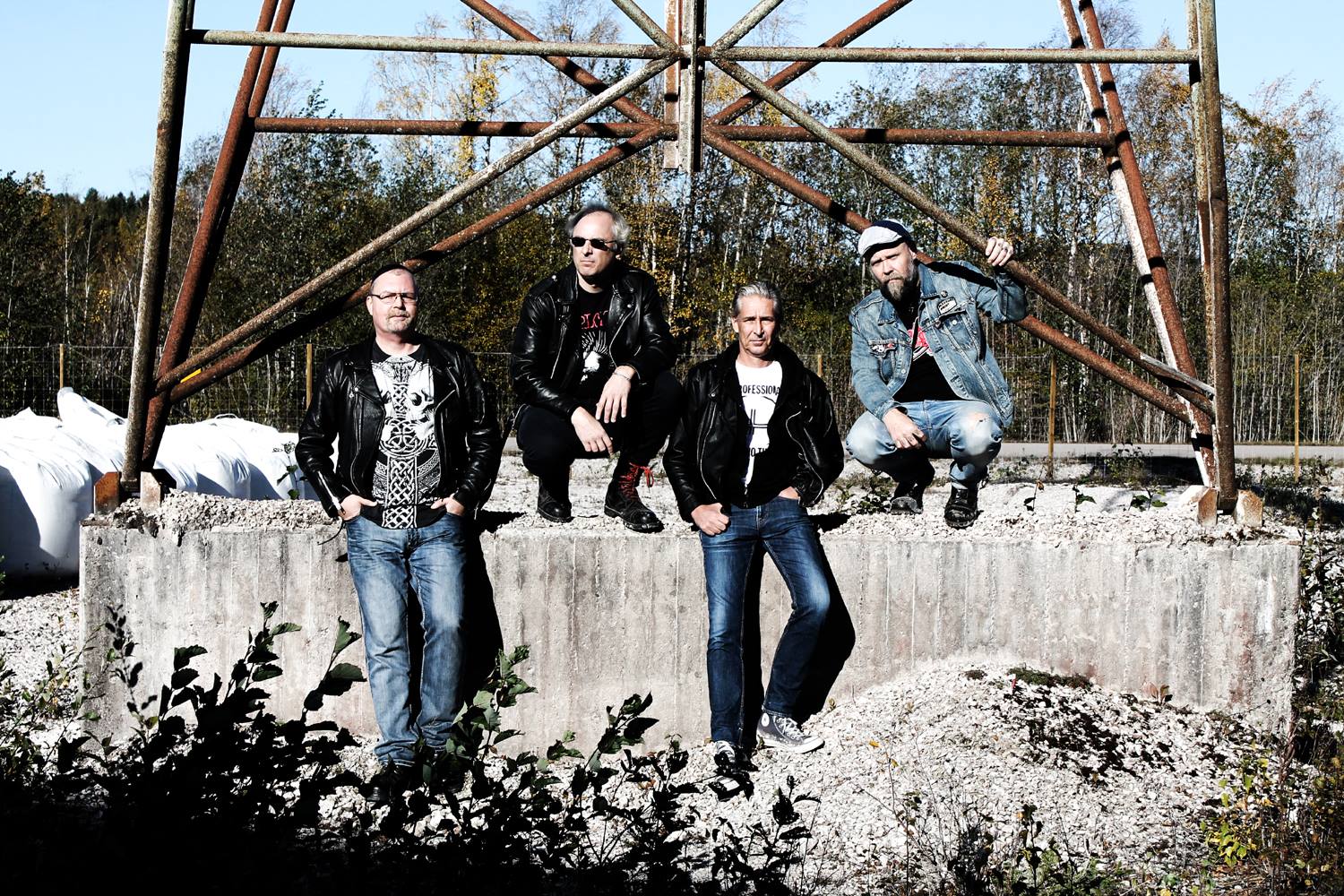 Gråsuggorna, are you satisfied with the name. If not the best band name had been busy positioned which name had you chosen then? I mean what is the best band name?
Jörgen: The name Gråsuggorna have just kept up with through the years and we have not come up with something better, and now it is too late to change.
Best band name all categories is The Kristet Utseende can not help but smile when I hear that name ;-)
Björn: HC band Mordbrand has the most angry name
Pelle: P Nissarna
Tomas: Slaskfittorna.
What is the best thing about playing live?
Jörgen: To get to yell at people!
Being on stage is like therapy, when you had to shout out what you feel and do at a gig and thee feeling of playing sat there, then you are purified!
Björn: The energy you get from being on stage.
Pelle: The feeling
Tomas: It´s for those moments you reharse and do records and CDs, however. Is nothing more enjoyable than when people clearing off the stage and have fun, that's when you get confirmed, for real, that people appreciate what we do.
Where is best to play, and where is the worst?
Jörgen: Do not know if there is some best or worst, the main thing is, after all, that we and the audience (if there is any) like it is happening.
If people prefer to be in their tents and the smell of fermented herring while we playing at the festival, it's not particularly fun ..
How is it to play this sort of punk in Sweden today?
Jörgen: Funny, we do not have many other bands that be "crowded" with.
How would you describe your music in three words?
Jörgen: UK82butswedish, pressure, varying
What does punk mean to you, is it only a word or is it a lifestyle?
Jörgen: Punk for me is freedom, aggression and curiosity.
And without the punk in my life I don´t know what I have been, it has been a support and a strength throughout life.
Björn: Punk is doing something for yourself and not wait for someone else to fix it for you, and not to stand for anything
Pelle: Lifestyle
Thomas: Definitely is not just a word, but one does not embrace a particular lifestyle to call themselves punk (er). For me punk now more of a musical style and a certain attitude. Punk does not have to be purely political in any direction but I think probably that you (as a band) should at least have something you want to say, anything you want to change, or at least whine on.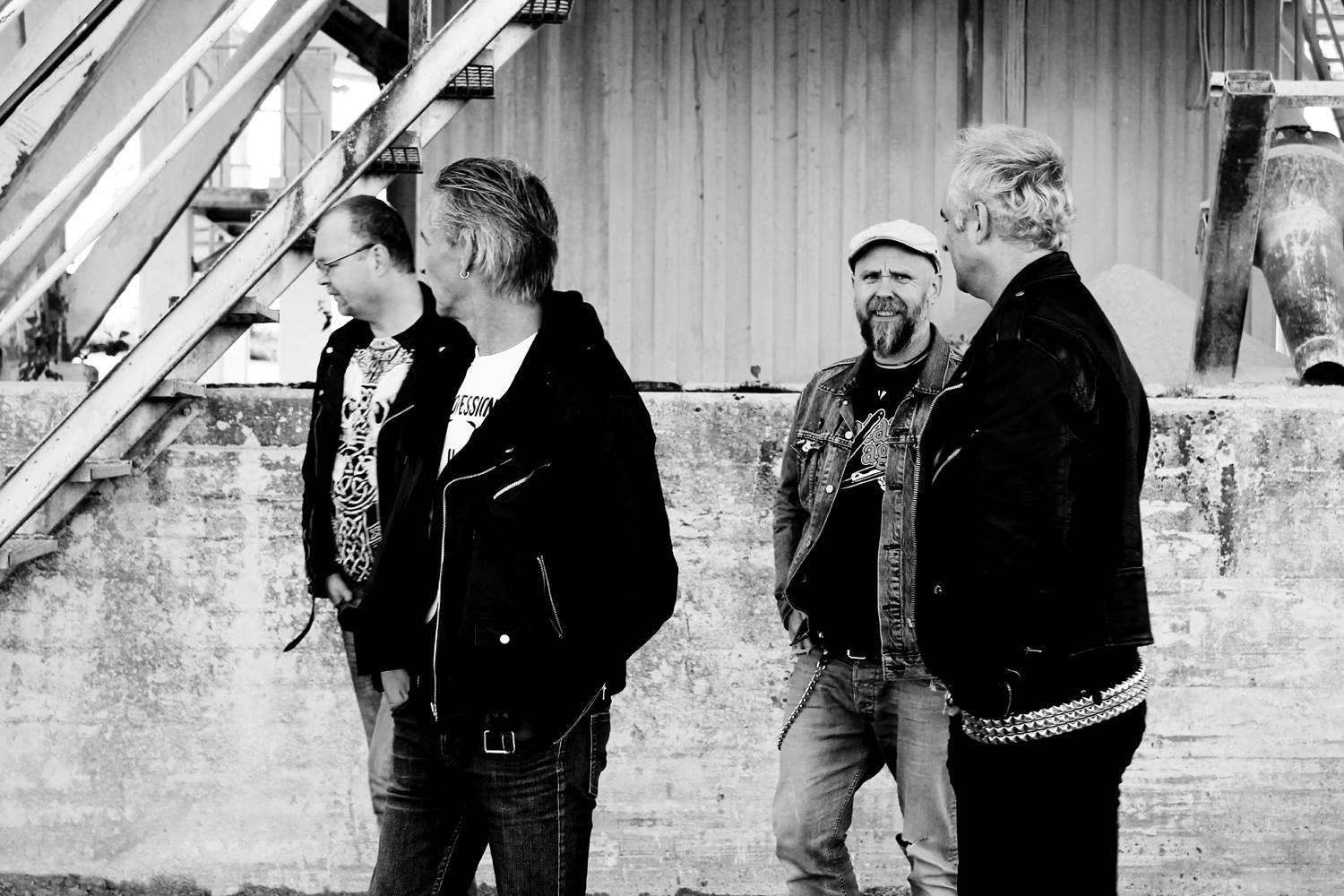 How do you see on downloading, mp3 and the like?
Jörgen: Downloading, mp3 etc. only gives a dull sound and the reminder of today's fastness and fast food society, hell buy a vinyl and sit down for a while!
Pelle: It´s s positive, a good way for bands to reach out.
Björn: That is a difficult question, of course, of course performers / artists must be paid for their work but at the same time music must be accessible and for all.
Tomas: Sure was / is it more fun with the LPs and their covers but I have no major problems with it. It is also true that quality is inferior to MP3, but it is the "real" punk this is generally not that you hear so much ...
How do you think it is to live in Sweden today, politically?
Jörgen: Yes you have got to really be ashamed of all the fucking Adolf Svenssons which sitting in his red house with white trim and the spewing out the racist comment one after another.
Could never believe that Sweden fostered as many nuts!
Björn: For "Swedes" there it's no problem to stay here.
Pelle: Good for some, much worse for others.
Tomas: We've obviously still much better than most other countries, I must say. Unfortunately, it has also become colder with increased racism, exclusion, cuts and privatizations. Feels like the whole of the old welfare state (which never was perfect) cracked and that everything that is essentially going backwards and getting worse instead of forward and gets better as it reasonably should be.
Are there any bands in Sweden today? In your hometown?
Jörgen: There are really good bands in Sweden, Psykbryt, The Baboon Show, Ligisterna (but they have quit), Alonzo Fas 3, Gråsuggorna ;-)
Björn: There are many good bands in Sweden today, Besserbitch, KSMB, Alonzo phase3 The Curse to name a few.
Pelle: Lots: Massor: Disfear, Wolfbrigade, Always War, South City Locos, Pastoratet, Snutjävel etc.
Tomas: Sure it does. Fun that Alonzo is up and running again with Fas 3, Psykbryt and The Baboon Show are a couple of other favorites. But the punk scene in general feels very alive today. Except in the right Rättvik then of course ...
Do you play anything outside Sweden?
Jörgen: We have never played live outside Sweden, but perhaps on record ..
Other great bands from abroad?
Jörgen: I´m a sucker for English bands, so I say Restarts, GBH, PTTB etc. and Honningbarna of course!
Björn: The Exploited, Motorhead and the bands I like from Uruguay is Motosierra.
Tomas: The Exploited and GBH still stands well and Honningbarna I still look forward to see live. There are lots of more good bands too naturally.
Pelle: Rancid, The Brains, DOA, Sick Of It All, Slayer, Exodus Pro-Pain
Your lyrics, what influences you?
Jörgen: The content of the lyrics touches politics, psychopaths, hopelessness, hope and sheer stupidity mm.
Someone song about roses?
No not yet.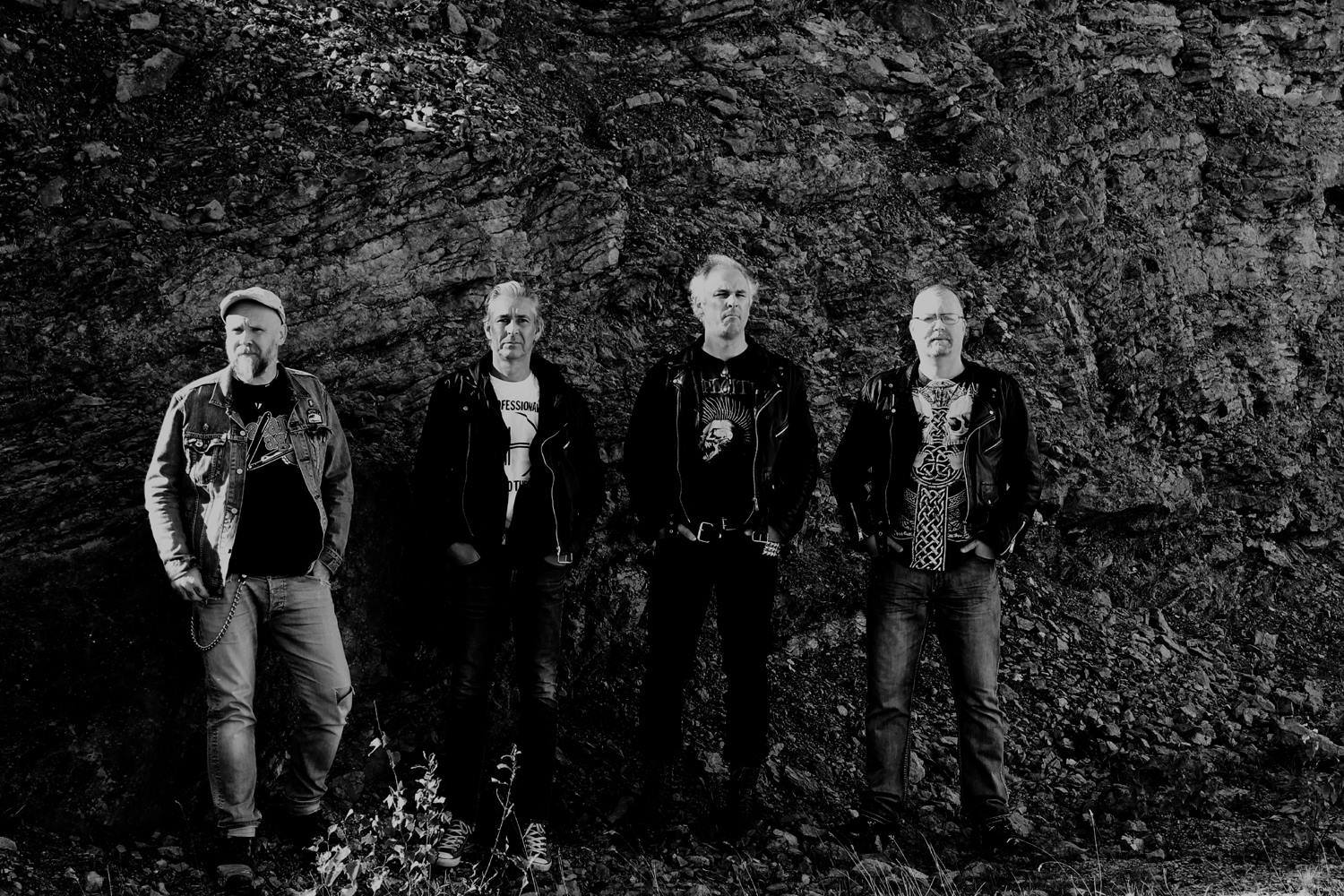 Is there anything you are never going to write about?
Jörgen: I don´t think so.
Politics and music, does it belong to each other?
Jörgen:. Yes, but not always.
Would be good to just have those songs, there are so many other crazy things to write about than the insane policy.
Best political band / artist?
Jörgen: Jello Biafra, always.
Do you think music can change someone's life, I mean texts etc?
Jörgen: Absolutely!
I remember myself when I was bullied in the mid and high school how important punk was for me, it gave me the strength and energy to see anything but blackness.
I remember the feeling when I wrote the text for KSMB's 602 on the wall in the gym hall locker rooms, fuck what good it felt!
Your cover is really cool on your CD, who did this. Is it important to have a cover that you understand what type of music you play? What is your favorite cover all time? ...
Jörgen: Thank you!
The photo was taken by Pelle's daughter, one of them last in a series of about 1000 images for the cover, when we have packed up and are on our way from there ..
Edited image and the other appearance on the discs has Tomas done, Gråsuggornas cover virtuoso!
Think that a cover will look like what it wants, just the band like it and the idea of ​​it.
KSMB's black / red cover on "Rika barn leka bäst" I put as No. 1, but there are many that are stylish.
Björn: The Damned's first LP really talking about what kind of music they plays.Pelle: Disorder - "Perdition"
It is important to get out physical records?
Jörgen: Physical recordsks for me is everything when it comes to bands, it is characteristic that they are.
If there were no records, it would be about the same sense as going to a concert and listen to a playback without the band on stage.
Please tell me something really funny that happened during your career on stage or backstage etc?
Jorgen: Anecdotes, I am poor on that, and Gråsuggorna would not qualify in Swedish Hollywood Wives of bands, yet .. 
How does your audience look like? What type of peoplecomes to your concerts? Which types of people are you missing?
Jorgen: Our audience is mixed, probably because so few have seen us, and they do not know what they have to expect 
Please rank your five favorite records, five favorite concerts?
Jorgen: Records in no particular order: GBH "City baby attacked by rats", Bitch Boys "H-son Produktion", Blitz "Voice of a generation", Dead Kennedys "Fresh fruit for rotting vegetables, KSMB "Rika barn leka bäst"
Concerts: KSMB-Bråvalla, Alonzo & fas 3-Gruvpunken 2013, Jello Biafra-Peace&Love, Die Toten Hosen-Dalarocken 90-s, Rebellionfestival-England.
Björn: Records :#1 Black Sabbath Sabotage. #2 Ramones first #3 Damned´s first #4 Ebba Grön´s samlade singlar # Venom Black Metal. Cocnerts Motörhead Hovet 1981, Metallica Stadion 2007, Sex Pistols P&L 2010 Judas Priest Globen 2015, Entombed P&L 2009 ( I think).
Pelle: Records: Massmedia - "Sista ackordet", D.O.A - "Hardcore 81", The Kings of Nuthin' - "Old habbits die hard", The Blood - "False gestures for a devious public", Kraut - "An adjustment to society". Concerts: Sick of it all - Bergslagsrocken, Discharge - Gbg 83. Zodiac Mindwarp - Uppsala in the mid 80´s, Bad Brains - Stockholm in the mid 80´s, UK Subs & Exploited London in the end of the 70´s
Is it boring with interviews?
Jörgen: No, not as long as it's fun questions where you may think after a little.
If you could choose five bands from history, dead and alive to have a concert together with Gråsuggorna, which is the dream bands then?
Jörgen: Dead Kennedys med Jello, Beatles, KSMB, Blitz och Misfits med Glenn.
Björn: Ramones, Sex Pistols, Iggy & the stooges, Johnny Cash, Motörhead.
Pelle: Discharge, Massmedia, Rude Kids, The Damned, Gorilla Biscuits
Music is a good way to get frustrated and become a kinder person? Are you angrier today than you were young punks?
Jörgen: Absolutely, better valve is there not!
Singing and playing is balm for the soul.
Can probably still get very angry, but nowadays I write most of my anger in the lyrics.
Björn: I was probably angrier as younger but now anger is more channeled and focused, instead of being angry at everything.
Pelle: As angry as before but on other things.
Tomas: I think I'm as angry today, though in a quieter way ... When you were younger did live out their aggression more and in a more destructive way. For better or worse.
What is the weirdest question you have in an interview?
Jörgen: Have enough not received a strange question, all questions are just more or less interesting.
Which is the question you never get, please ask it and answer it?
Jörgen: What is it that makes you Sweden's all time best band in all categories?
We are amazing and wonderful people with a large dose of humility!
Björn: Could you imagine to be in Eurovision Song Contest? - Never ever!!!
Pelle: Do humans have been on the moon? - No!
Future plans for the band?
Jörgen: To continue playing and making records, record Suggornas first vinyl single in 2016.
For yourself?
Jörgen: Write more songs, trying to make the economy so that I can go to the Rebellion festival again, getting a summer house sometimes.
Words of wisdom?
Jörgen: Punk is good, eat!
Something to add?
Jörgen: Many thanks for the interview and take care!