1977 Stroke My Beachcomber Baby (Scrotum Records)
1981 Pure Punk For Raw People (Secret Records); ep
1982 Peace Artists (Secret Records); ep
1983 Delilah – The Punk Epic (Razor Records); ep – as Max & Gal, the Brothers Gonad
1997 Oi Nutter (1,2,3,4 Records, UK; Pub City Royal, USA)
2006 Oi Mate (Soitenly) – download single
2008 Punk Is Back (Havin' a Laugh Records) – split vinyl ep with Klasse Kriminale
2008 Go Ska With The Gonads (Soitenly) – download ep
2008 St George's Day ep (Soitenly) – download ep
2011 Charlton Boys – five track vinyl ep (Randale Records), also available as a download
2011 Boot Boys - limited edition vinyl split single with Infa-Riot (Randale Records)
2012 – Skinhead Lullabies by the SkaNads, four track vinyl ep (Randale Records)
2013 - Hooligan Classics Vol 2 four track split vinyl ep sampler
with Stomper 98, Iron Fist & The Resort Bootboys (Randale Records)
2013 – split vinyl ep with The Uprisers (Black Hole Records & Skinflint Music)
Albums
1983 Live And Loud - The Official Bootleg, The Gonads (Syndicate Records), double album
1987 Full Time Result (Link) – split album with The Blood
1989 The Revenge Of The Gonads (Street Link)
1994 Punk Rock Will Never Die (Harry May)
1999 Oi! Back & Barking (Captain Oi)
2001 Schitz-oi!-phrenia (Captain Oi)
2006 Old Boots No Panties (Captain Oi)
2008 Live Free, Die Free (Empty)
2009 Live Free, Die Free (Joe Pogo) - vinyl double album
2010 Glorious Bastards (Contra)
2011 Greater Hits Volume One:Plums (Randale Records)
2012 Greater Hits Volume Two: The Mutt's Nuts (Randale Records)
2012 - Just The Filth - Gal's fifteen-track solo compilation
2013 - Built For Destruction (Randale Records)
Tracks and Oddities
1981 Tucker's Ruckers Ain't No Suckers – track on Carry On Oi (Secret)
1981 Oi Christmas – track on the Bollocks To Xmas ep (Secret)
1982 TNT – track on the Total Noise ep (Total Noise)
1982 Getting Pissed – track on Oi Oi That's Yer Lot (Secret)
1983 Jobs Not Jails and Lager Top Blues – tracks on Son Of Oi (Syndicate)
(we also appeared as Prole and the Orgasm Guerrillas)
1984 SE7 Dole Day – track on The Oi Of Sex (Syndicate)
(we also appeared as Prole and the Orgasm Guerrillas)
1984 The Joys Of Oi and Eat The Rich on The Joys of Oi (Syndicate - not released until years later).
And we think, although the memory is going with old age, that this is the comp that featured
Gal's 'Reg & Ron' by Lord Waistrel & The Cosh Boys with Mark Brabbs from Tank as Waistrel.
2002 Unky Bunk – track on Addicted To Oi (Captain Oi)
2007 Hey You – track on Oi! Fuck You (Ascalon Records)
2008 Alconaut and Valhallaballoo – tracks on The Kings Of Streetpunk (GnR Records)
(we also appeared as the Orgasm Guerrillas and The High Priests Of Mong)
2011'Cheeky Chappie' & 'Long Ska Summer' – tracks on the Buster's Ska Battalion 'Ska For Heroes' download ep for forces charity; vinyl release scheduled for April 2012
Gary Bushell was a man in the early Oi and his band Gonads have been on the road for many years now...He have been called many things through the years but I call him only one thing "One-hell of a fast answer guy". This interview is the last one in 2013 and it´s done in december 2013.

Please tell me the story about your start as a band?

-We were a schoolboy band called Pink Tent who played basic 12-bar blues until we heard the Clash and the Pistols. Punk changed us from kids mucking about to kids mucking about harder and faster. But the original Gonads only recorded one single ('Beachcomber') and never played outside of our little part of South East London. We broke up at the end of 1977.

Was the band started as a joke from the beginning?

-No but when I reformed the band in 1981 we were an in-joke. It was me and The Business or me and The Blood. We didn't become a real band again until about 19 years ago when I started writing new songs with Clyde Ward. In 1998 we were invited to do our first US tour and we haven't stopped since.

You worked at the music paper Sounds back then. Was it good or bad for a band like you ?

-I loved working for Sounds between 1978 and 1985. NME said punk was dead, but I was going out and seeing brilliant bands all the time – the Ruts, the Skids, the Specials, the Members…how could punk be dead? I joined Sounds in the summer of 1978, which was after the Gonads had broken up. They were happy for me to write about the Angelic Upstarts and the Cockney Rejects who I wrote about until I started to manage them. I quit Sounds because I didn't want to turn into a jaded rock press hack. I only regret this when I think of the bands I missed out on covering – Nirvana, Rancid etc.

Oi have been called many things. Racistmusic unpolitical music, violent music But in fact it was really political i think But more the working class style. What is your opinion?

-Oi was always working class punk. There was a violent element, we shouldn't pretend that there wasn't – the Rejects' film East End Babylon is very honest about that. Oi audiences varied from area to area, but most Oi bands were either socialists or cynics. I have always hated racism. I would never have worked with racist bands.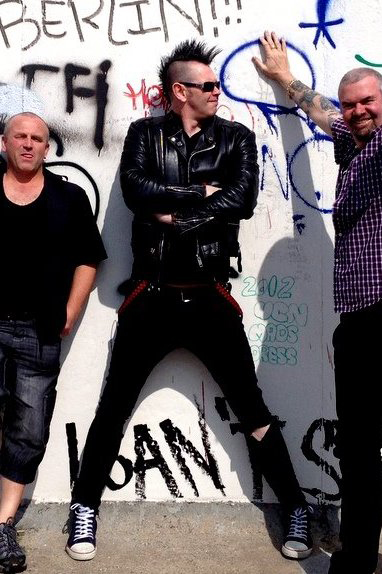 How was the music been taken when it came by the papers?
-A snobby rightwing UK newspaper, The Daily Mail called the Oi bands fascists; their lies caused a lot of harm. The sick irony is that in reality the Daily Mail supported Oswald Mosley's fascist movement in the 1930s, supported Mussolini's invasion of Abyssinia and supported appeasing Hitler right until war broke out. Being called 'fascist' by the Mail is like being called 'ugly' by a Klingon or 'fat' by Jabba The Hut.
Gonads have never been so political. What do you like to write about?
-We did have political songs, like 'Jobs Not Jails' and were Labour-supporters back in the day but on the whole back then I preferred to write about women, beer and Tucker's Ruckers. As I've got older, I've become increasingly suspicious of State power and that was reflected on the 'Live Free Die Free' album, and lyrics like 'Our streets are lined with sad, lost souls/Frightened rats darting in their holes/We serve the State and toe the line/Pay taxes, rent and parking fines…Can't you feel the rising cold?/The end is nigh or so we're told/We either fight or we just grow old/In the sad cemetery of the lost souls…
Which is the best song you ever have done do you think?
-Our most popular song is 'Oi Mate' but the best song is probably 'Cemetery Of Lost Souls'. 'Glorious' would be a great song if I had a better voice.
Which are the audience favourite song?
-Always 'Oi Mate', although 'I Lost My Love To A UK Sub' still goes down well.
How does your audience look like. how is is the typical Gonads fan?
-The women all look like Elin Nordegren, the men look like Magnus Samuelsson…in a hall of mirrors…no, in England our audiences are mostly bald, middle-aged and have beer-guts, and the men are just as bad.
What does the name means?
-Balls.
Which are the members right now. Please tell me about every member? Age, family, works, interests and something bad about ever one?
-Mick Maverick on bass is a mechanic, he is a former member of the Royal Green Jackets and is always fucking late. Nacho Jase on guitar is a professional musician, he was in the rock band Waysted with Pete Way but never buys a round. South Coast Steve on drums is a driver and has the brains of a hyper-active gibbon. They're all younger than me, all in their 40s. Bastards.
Are you playing in any other bands also?
-Yes, I have formed a break-away band called The SkaNads who write and perform Ska and comic songs.
Is there any good bands in England right now, in the world?
-There are a lot of good bands all over the world. I rate Bishops Green, the Harrington Saints, Lion's Law, Booze & Glory, Duffy's Cut, Angry Agenda, NOi!se, the OFC…all great. I like Buster Shuffle, who are like a modern Madness. The best band in England are Argy Bargy.
Have you heard any good swedish bands which are good?
-We hear Abba all the time in England! British TV is obsessed with Abba. We don't get to hear much Swedish punk over here, although of course I have heard of Mob 47 and trallpunk. I've heard On The Job and of course Perkele. I'd like to hear more, I'd like to play more on my podcast.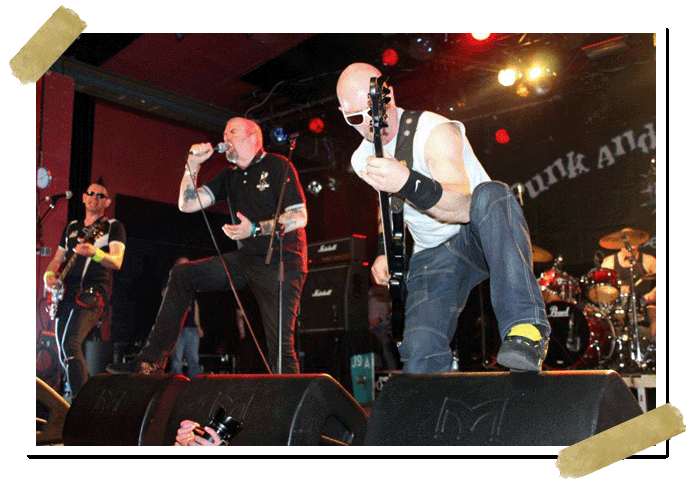 What do you know about Sweden?
-Your beer is too expensive! I don't know enough about Sweden. We know about Vikings, Roxette and Greta Garbo. We know about snaps, The Bridge and the mixed economy. The word smorgasbord is now in our vocabulary but that's it. I wish I knew more because it's a beautiful country. The Gonads played Sweden once in 2009 (Rasselpunk festival) with a different (weaker) line-up; and we'd love to play there again. The audience was young and up for it.
You have all of you gone up in age, what´s the difference with playing nowadays if you compare with back in days?
-Audience age ranges are a lot broader now, you don't get aggro, the groupies are now grumpies…but promoters generally pay you now. It's great playing festivals and having audiences who weren't even born when we started singing our lyrics back at us. That's brilliant. But mentally it's all downhill.
You have done a lot of records which I don´t have, how much do a record from you sell approxiemately?
-Not so many now, maybe 2,000 copies per each album. 'Oi Mate' sold just under 12,000 as a download track.
You still sell physical records(it´s good I think because I´m a collector)? Do you buy /get much records for yourself?
-I prefer vinyl to CDs and CDs to MP3s. I don't need to buy them though, I'm lucky – people send me their records to play on my podcast.
What do you think about downloading and mp3 and that stuff?
-It isn't for me. There is an art to vinyl albums, a poetry. I love the sleeve designs, I love studying the sleeve-notes and reading the lyrics. You can't do that with a download.
Are you playing much gigs?
-We are playing fewer gigs but better gigs.
Where have you played your best gig ever?
-Berlin – Punk & Disorderly 2012. But we had a great home town gig in Charlton last November.
If you could choose five bands from all time(living and dead) and have a big concert together with, which five bands will you choose?
-Slade, Rose Tattoo, The Clash, The Jam, Iron Maiden. But ask me tomorrow and I'd slip the Ruts in
Please rank your five favouriterecords, five favouriteconcerts you have been to and five most important things in life?
-At the moment: 'New Rose' – The Damned, 'Staring At The Rude Boys' – The Ruts, 'Going Underground' – The Jam, 'Stark Raving Normal' – The Blood, 'Holiday In Cambodia' – Dead Kennedys. But ask me tomorrow and the Clash would be in it.
Favourite concerts? Probably: The Clash, The Jam and Sham at the Rainbow in 1977, Sham's Last Stand in Glasgow (1979), The Who and The Sensational Alex Harvey Band at The Valley in 1976, The Exploited in Berlin in 1981, Hanoi Rocks in Bombay, 1982 – not so much for the music as for the experience.
Five most important things? Family, friends, health, knowledge, music.
First, last and most expensive record ever bought?
-The first was Millie singing 'My Boy Lollipop' – I was 9! The last was Buster's Ska Battalion 'Ska For Heroes'; the most expensive? I couldn't tell you. I'm saving up for the Cock Sparrer box-set from Pirates Press.
How do you think it is to live in England right now, political I mean?
-Tough. The Coalition is unpopular, the opposition is unconvincing, the cost of living is too high, unemployment is too high. This is the winter of our discontent made glorious summer by the black eye the established parties will get in the Euro-elections.
Which are the futureplans for the band right now?
-We are going to get more serious. There will be a new e.p. in 2014; we hope to release Greater Hits Volume 3 this year too and we're playing Rebellion again in August.
And for yourself?
-At the moment I am editing Street Sounds as well as writing about TV for British newspapers. The third part of my Pulp Fiction trilogy was published two months ago and there is some talk of turning it into a film. We'll see.
Wisdomword?
-Dare.
Something more to add?
-Thank you for taking an interest in my saggy old Gonads. We intend to keep going until we drop. Cheers!