Have you been playing together since the start or do you hav had any break?
-Girlschool have never split up, there's been a few years where there hasn't been much activity but there's alwyas been a few gigs or recording happening over the years.

Please tell me a little about every member , age, family, work, interestes and something and about every one?
-Age? well we're all in our 40's now and none of us are married
JACKIE: shares a flat with original member Kelly Johnson in London and loves sport.
DENISE: lives alone in London and loves her computer and watching films and 'soaps'
KIM: lives with her boyfriend in Essex, loves her garden and walks on the beach.
ENID: lives in London, loves her garden, astrology and good food.

"Let´s go party all night" do you sing in one of your songs, is that what rock n roll is about?
-Absolutely, we love to party and especially when were on tour.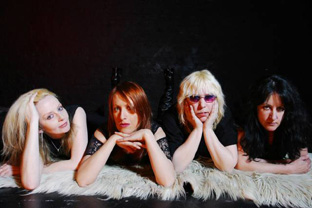 You(Jackie) do the most of your songs, how come?
-I have a home studio so tended to write mostof the music here first, then Kim or Enid would come along and add some lyrics.

When you do a song, which is most important, is it to have good melodies, good lyrics or to have a refrain that people remembers?
-When we write we dont really think about it like that, we write from the heart and what comes out is from us, if it has something memorable or meaningful to others then that is an added bonus.


Politics and music, does it goes hand in hand?
-Sometimes yes! we write about what we know and right now there's so much going on in the world how could we possibly ignore that?

The best music artist/group?
-We all like very different bands there are a few that we can alm agree on:
JACKIE loves Alice Cooper/ Foo fighters and Rammstein
DENISE loves Rammstein AC/DC and Rainbow
KIM loves Led Zep and the Foo fighters
ENID loves Led Zep and Bowie


That you´re only girls in the group, have it been good for you , please describe the best with being an all girl band and the worst thing to be that?
-We never really think of ourselves as females in a band, we are musicians and the fact that we're females is irrelavant. We are lucky that over the years the band has gained respect from other bands and they treat us like equals, we're not looked down on or anything just because we are female and so we shouldn't be, what does it matter?

Which type of people comes to your concerts?
-We have a real mixture these days, there's the old school rock fans that were there from the beginning and now they bring along their kids. The last tour we did we had a lot younger audience that were just getting into us which was very encouraging, there always seems to be a mixture of Punks and Rockers at our shows too.

Have it been changing through the years?
-We always do what we feel is right for us we dont try to move with any trends,we stick to what we do so that it remains real.

Is it more fun to play now than it was in the beginning of your career?
-Yes we all still love playing live, to see people enjoying your music is always going to be one of the best parts of being in a band.

You got a little help from Motörhead back in your early years, have that been helping you all the way you have played?
-It's always been there and is referenced in almost every interview weve ever done. We did a tour with the boys last year which was their 30th Anniversary and so I'd say we're as much a part of their history as they are ours.

You have a hit with "Emergency", is it any other of your songs which have been really popular during the years?
-I think Emergency is always going to be a favourite as Motorhead covered the song as did Infa Riot so even those who haven't heard of Girlschool will have heard it by other bands. I guess 'Race With The Devil' has always been an audience favourite too.

Which songs will people always wants to hear and which of your songs is most fun to play?
-Well as weve just said Emergency and Race with the devil, also C'mon let's go and Take it all away often get asked for at gigs. We enjoy playing those songs still but we love to do new material like New Beginning and Never say Never which also go down really well at gigs and because they're new songs they still have a freshness to them and are fun to play.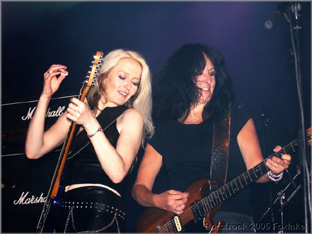 Do you do any covers?
-We do sometimes throw in a cover or two...race with the devil is a cover which we play every gig and we sometimes still do Tush

What do you know about Sweden?
-We know we love to play there, the audiences are fantastic and we're hoping to come back as soon as we can.

Have you heard any swedish bands worth to mention?
-Probably heard of lots of them but not known they're Swedish. When we get back out there hopefully we'll meet a few then.

How is it to play this sort of music in England right now?
-It's still popular, maybe not so much as in the 80's but there'll always be an audience. Rock comes in so many different forms now that they all start to cross over and fans from one genre will enjoy another.

I think you´re the missing link between punk and metal, what do you say then?
-I think you might be right there, we are kind of both

Which is your relationship with punk?
-Well a lot of our songs would be classed as punk songs and we all grew up in that era so it would be only natural for us to have been influenced by it in some way.

You have worked togteher with Ace from Skunk Anansie also, what is that work together about?
-Ace did a remix of a song from the 'Believe' album called 'Crazy' the single is going to be released Sept 4th and it's a very very different mix to the album version.

Is there any chance for us to see you in Sweden soon?
-Oh we hope so

What drives you to play music nowadays?
-We all still love it, if we didn't then we'd quit, nothing worse than a band going through the motions.

Is it many interviews? Is it boring?

-We do a lot of intereviews, no they´re not boring we do get asked a lot of the same questions but then we accept that.

Which is the question you never get but you want to have, please ask it and answer it?
-Interesting, now thats a good question and we're even stuck for an answer...I guess weve been asked pretty much everything over the years.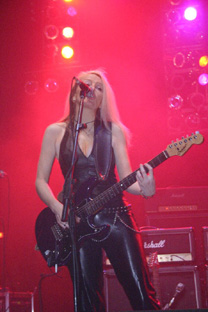 Please rank your five favouriterecords, five favouriteconcerts and five most important things in life?
-(is that of Girlschool???? or others? we'll get back to you on that one)

First, last and most expensive record ever bought?
Most embarrasing record in your collection?
-(I´ll get back to you on these ones..have to check)


Futureplans with the band?
-Well we have the release of Crazy coming up along with a few festivals this summer and at the moment were sorting out a tour hopefully taking in The USA and Europe and possibly Cananda so maybe see you guys soon.

For yourself as a human being?
-We live and breath music so look forward to whatevers coming up


Wisdomword?
-Everything you do give it 100% then you won't be disapointed in yourself.

Something more to add?
-Not at this time....I'll e mail the other 3 and ask them the 3 questions I missed out and send them later

All the pictures are taken from Girlschools website