Germ Bomb is an interesting Swedish punk metal group that may not all have heard of. They originate from Strömstad and Hathor. Shame if you didn't heard them yet… April-2019
A little story about the group? You come from Hathor to some extent? Where do you live now?
- (Pierre) We both live in Gothenburg these days but have grown up in Strömstad where we started, among other things, Hathor who lasted for about 10 years, fucking fun time but who died out a bit towards the end.
The reason it became Germ bomb instead was that bassist Patrik PK Nilsson jumped off at the same time as we ourselves were a little tired of harrowing around in old tracks and needed a new start. PK is still jumping in and playing with us live sometimes, even check out his own project Personligt Kaos.
We also had a regular bass player for a while, Tomas Alriksson, he was with us for 1.5 years but we then decided to go back to a duo and will continue as a duo and bring in people for gigs.
Since the start in 2009, we have now released 4 full-lengths and 2 splits with the Brazilian band Whipstriker.
Tell us a little about every member, age, job, family, band before and band on the side?
-Hampus 42 years, guitar, song. Born in Sthlm but grew up in Strömstad in northern Bohuslän, works at Folkets Hus in Hammarkullen, 2 children and girlfriend. Played in Hathor with Pierre and Pk, had a Purple / Zeppelin inspired band (Taste) before that, also played a bit in various thrash constellations in the 90s. Will sometime in the future try to get together some songs in Swedish that lie and litter at home ..
Worth mentioning is also that Hampus played guitar with Thåström when he was doing a very exclusive gig at a music café in Strömstad, think it was 96 sometime.
Pierre 42 years old and playing drums. Going around and serving internet / TV facilities during the days, would have gladly let go of work at all but you need the money there. The earlier band that is worth mentioning is just Hathor, then you had some projects before but it never became anything of it.
Run a motorcycle and fish a lot otherwise when it is weather, drink some beer as well.
I can hear Motörhead and Sator, do I hear right? Was it better before?
- (Hampus) Motörhead is definitely an influence, Sator did some good shit but doesn't hear the huge amount of it in our music, maybe "Wasting Time", it's a really-fucking good song!
Some things were better before the digital revolution, you listened to records straight through the stereo, with good sound, not a fucking computer speaker with a bad Spotify quality, still listening so, but it has changed.
Germ Bomb, are you satisfied with the name? If the best band name had not been occupied, which name have you chosen then? I mean which is the best band name?
- (Hampus) We are happy but it is clear that if we have chosen freely, there are a lot of cool busy band names, Venom, Motörhead, Dead Kennedys etc.
What is the best thing about playing live?
- (Hampus) The energy and the feeling afterwards if it has been a good gig, first beer afterwards also of course!
Where is best to play, where is the worst?
- (Hampus) Unable to know in advance, each gig is unique.
How is it to play this kind of punk rock n roll in Sweden today ??
- (Pierre) It's not so good to get gigs and stuff like that, it feels like it is easier sooner, the organizers are so anxious to book just what is right and hip for the moment. Even underground, it feels like it is, they rather book the same hip band 15 times than anything that can be own and maybe fucking much more interesting.
How would you describe your music with three words ??
- (Pierre) We choose to use one word, Rock'n'roll !!!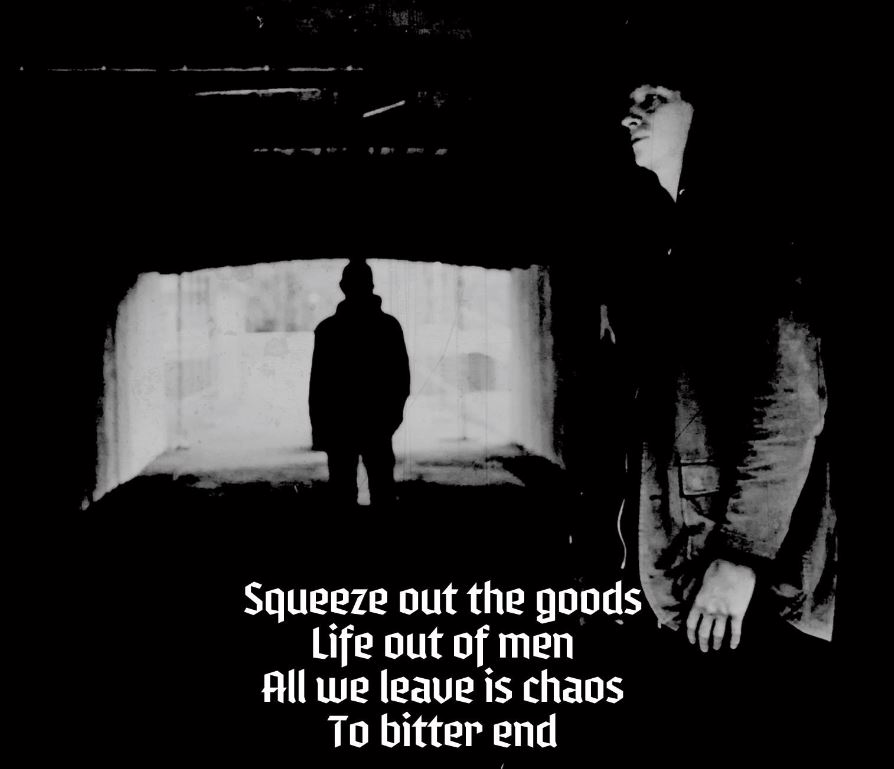 What does punk mean to you, is it just a word or is it a lifestyle?
- (Hampus) Actually, it is well to go your own path that is punk, a feeling more than a music style, think that very much can feel punk just it has the right attitude.
How do you see on download, mp3 and the like?
- (Hampus) Yes, it is difficult, do not download myself but listen to Bandcamp, Spotify etc but still prefer physical copies, so if we like anything enough we usually try to buy the record ..
How do you think it is to live in Sweden today, politically?
- (Hampus) It blows right winds in Sweden and in Europe, think about yourself and shit in others, build walls and fences! Many say that we have a crisis in Sweden, what the hell have they in Syria? We live in a protected part of the world, so the answer to your question is that it is good to live in Sweden, there are lots of things that are shit and that do not work but in comparison with large parts of the world we are still privileged. Since we have greedy politicians who shoe themselves and robs themselves is tragic, it's a mockery of all hard-working people.
Are there any good bands in Sweden today? In your hometown?
- (Hampus) I like Pig Eyes, Anna Von Hausswolff is well from Gbg, fucking good!
(Pierre) Anna Von Hausswolff, her gig at Truckstop this winter can be the best in very long, Viagra boys, Thåström is still fantastic both on record and live.
We live in trenches from Gothenburg!
Do you play anything outside Sweden?
- (Hampus) Norway so far ..
Other good bands from abroad?
- (Hampus) There´s so many... Okkultokrati, Rome, Swans,
Your lyrics, what are you influenced by? You have done some in Swedish now… is it something you will continue with? Tell me a bit about "the song" Rasera "?
- (Pierre) From the beginning, probably the greatest influence was movies like the Escape from New York and Mad Max and the like, the theme is still on the same apocalyptic track and deals a lot with people's greed and how we will probably destroy ourselves because of this.
Will certainly be more Swedish songs.
We tried to get some industrial things here and there on the record and the foundation of Rasera va a pilemachine that we recorded down at the new bridge building in Gothenburg then Hampus came on a small text loop that was cool and then we just built on with different sounds and so. Konie who´s mixing the record then made a fucking screwed mix on the one we liked.
Is there anything you will never write about?
- (Pierre) If a love song pops up or something else is happy, then Germ Bomb is over!
Politic and music, does it always belong together ??
- (Pierre) It must not always be so. We do not consider ourselves to be a political band, but there will be some kind of policy when become influenced by all the shit that happens.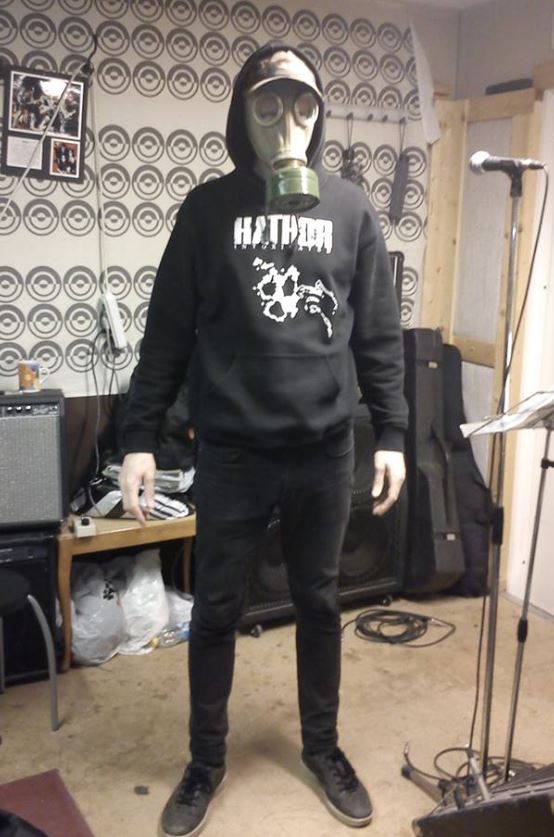 Best political band / artist?
- (Hampus) Don't really want to categorize bands as political or non-political, it's not that important but understand what you mean and there are of course more conscious bands with very good lyrics and integrity, such a band I think is The Clash.
Do you think music can change someone's life, then I mean texts etc?
- (Pierre) Absolutely, there are probably many who find affiliation and other through texts and artists.
Your cover is really cool on your CD, who has done it. Is it important to have a cover so you understand what type of music you play? Which is your favoritecover ever?
- (Pierre) Yes, we are happy with the cover and it´s designed by a guy in the USA called Brian D'Agosta.
For us, it is very important, perhaps not to see exactly what kind of music we play, but you want the feeling in the cover to be in line with the music.
As an old Maidenfan, I'll probably say Killers with Iron Maiden
Is it important to get physical records? Vinyl or CD or both? Is there any good record store in your vicinity left?
- (Pierre) It is important for us, dropping a record on the net anyone can do but getting a vinyl in the hand after all the work in the rehersalroom and recording and all that is a fantastic feeling.
Please tell me something really fun that happened during your career on stage or behind stage etc?
- (Hampus) Pk is always fun to have live, one time he is very bloody and next time he is bluish, you ask what happened and he does not remember!
How does your audience look? Which type of people comes? Are you missing some types of people?
- (Hampus) We want more people !!
Please rank five favorite records, five favorite concerts?
- (Hampus) Records without mutual order and quite impossible really, could look in a hundred different ways.
The Stooges - Raw Power
Ministry - Psalm 69
Slayer - Reign in Blood
Bob Dylan - Highway 61 revisited
Ebba grön - Were only in it for the drugs
(Pierre)Well the same thing here, has seen a lot so difficult, but these sit well in the memory for various reasons!
Motörhead - Kåren, Göteborg - 95
Slayer - Solnahallen, Stockholm - 98
Iggy Pop - Circus, Stockholm - 99
Ministry - Hultsfredsfestivalen - 96
The Nomads - Hultsfredsfestivalen - 01 (20 years anniversary with, among others, Jello Biafra, Wayne Kramer, Handsome Dick Manitoba and a gang more as guestmusicans)
Is it boring with interviews ??
- (Hampus) Interviews can be boring but also interesting, depends on the questions and if the interviewer has listened and read on, would never refuse to join Skrutt, it is an institution that has always existed and always will do(we hope).
If you could choose five bands from the past, dead and alive to have a concert together with your band, which are the dreambands then?
-Motörhead, The Clash, The Stooges, Early Metallica, Ramones.
Is music a great way to get out frustrationd and become a nicer person? Are you angrier today than you were as young punks?
- (Hampus) I think it is a very good channel for getting anxiety and frustration out and yes then maybe you get a little nicer. Is probably not angrier today than when you were young and naive, handling things in a different way than before but basically you are probably quite the same person. In the past everything was black or white, now it's more gray which is boring sometimes!
What is the weirdest question you got in an interview?
- (Hampus) Oh shit that´s hard, pass on it ..
What is the question you never get, ask it and answer it?
- (Pierre) Can it come to an elk and if so what power is it the question then?
(Hampus) It may come an elk, then it is 7 kilopond that applies!
Future plans for the band?
- (Pierre) First and foremost, we will try to come out and play live, have currently booked in Oslo and a release party in Strömstad. Then we will see if there will be any inspiration for a new record going forward.
For yourself?
- (Pierre) If there are no plans directly, hope for the same fantastic summer as last year despite Gretas and perhaps even your own concern about global warming.
(Hampus) Same as above, summer, vacation and cold beer!
Words of wisdom?
- (Hampus) "Rock n roll is the only way"
Anything to add?
- (Pierre) Thank you for the interview and the interest through all the years! Realized that it was 20 years since we were in your zine last time, then with Hathor.