Future Idiots from Klippan has made a lot of records before this one I got and I was very surprised that I had never heard of them before considering that they had done so much. The interview was made in February, 2016.

A little history about the group?
-The band was formed in high school in 2005 and it was the best excuse for truancy. The first collection of songs was a project to record an album. The band name comes from a discussion with one of the teachers on what to do after school. When we said we'd be rock stars she said that we would not be anything but idiots.
You could say that it started for real with a cover of Paris Hilton Stars Are Blind. A friend wanted us to do a cover on it and we put it up on youtube. After a month, we thought it was so embarrassing when it had only received 100 listenings, so we thought about removing it. Then it went fast. Overnight, had counter ticked off to more than 50 000 viewings, and back then it was a big deal. It was in the days when the youtube charts had not grasped that they could earn hideous money on the side. We got one of our first chart positions, and then we knew what we would get involved with.
In the baggage is now several demos, three EPs, six albums, and the band has also participated in a number compilationrecords over the years. Now in 2016 our first new cover album, Grand Theft Audio III is followed up by EPN Grand Theft Audio III: The Leftovers. The crowning it becomesthe self-written album Murphy's Law released on vinyl, CD and digital.
Tell me a little about every member, age, work, family, bands before and bands on the side??
-Paxcow, 29, works as a machine technician and lives with his partner, two dogs and a cat. Began musicianship by playing drums in the punk rock band 2 Tone Satan sometime in the early 2000s. Nowadays, the vocals and guitar of Future Idiots.
Jay-Tee, 29, works as a painter and lives with his partner and 1 dog. Began musicianship with various unsuccessful music project in the early 2000s as the lead singer (!?) and guitarist. The musical direction of the band was nu-metal.
Mike, 29, works as a postman and lives with girlfriend and a cat in Klippan. Together with Paxcow maximum number of hours of audio technology hall of Åbyschool history combined with the most hours of absence from the other classes.
Bjorn, 25, works as an architect. Former drummer of hardpop-band My Remorse
Lubbe, 29, works with my angling mark and the fish trophy mounting. Played before with Paxcow in 2 Ton Satan where we all got to know each other and since then hung with Future Idiots on gigs and tours as standard bearers and partygeneral. Previously, vocals and guitar in the metal band Fire in the Blood, but now enjoying with pleasure by Future Idiots music on stage and occasionally in the studio when "raspirator" needed to do some cover songs.
I can hear a lot of punk but mostly USHC, Millencollin and the kind, do I hear right? Was it better before?
-Paxcow: We take a lot of inspiration from the music that came during the 90s and early 2000s. Blink-182, Green Day and Offspring, Sum 41, but also Sum 41 has inspired very much. Nofx and even Bad Religion and Social Distortion are also role models. There are tremendously man good old songs from all of these bands but Nofx released a very good album in 2012. Perhaps even their best.
Future Idiots, are you happy with the name. If not the best band name had been busy positioned operator name which had you chosen then? I mean what is the best band name?
-Paxcow: I feel ashamed about every time I mention our name. I was 18 and really inflated when the band began to take shape. People told me that it sounded really corny, but it would of course not, I listen to or take me off. Off the cuff, I will not in any think about some really really good name. But basically any had been better than what we have.
A salesman was in my apartment once and saw a disc, whereupon he exclaimed: Furniture Idiots, I can read without my glasses! ... Even the name is a contender.
Jay-Tee: Hard to find a name that is actually worse.
What is the best thing about playing live?
-Paxcow: To tag in the car on the way to the gig. Expectations and the nagging which it can easily become after a while together. It's funny! When you come to the place it is of course to meet new people. People which we have met before coming back and meeting with you. The feeling when people sing along with the lyrics you've written and see people go running wild to our music.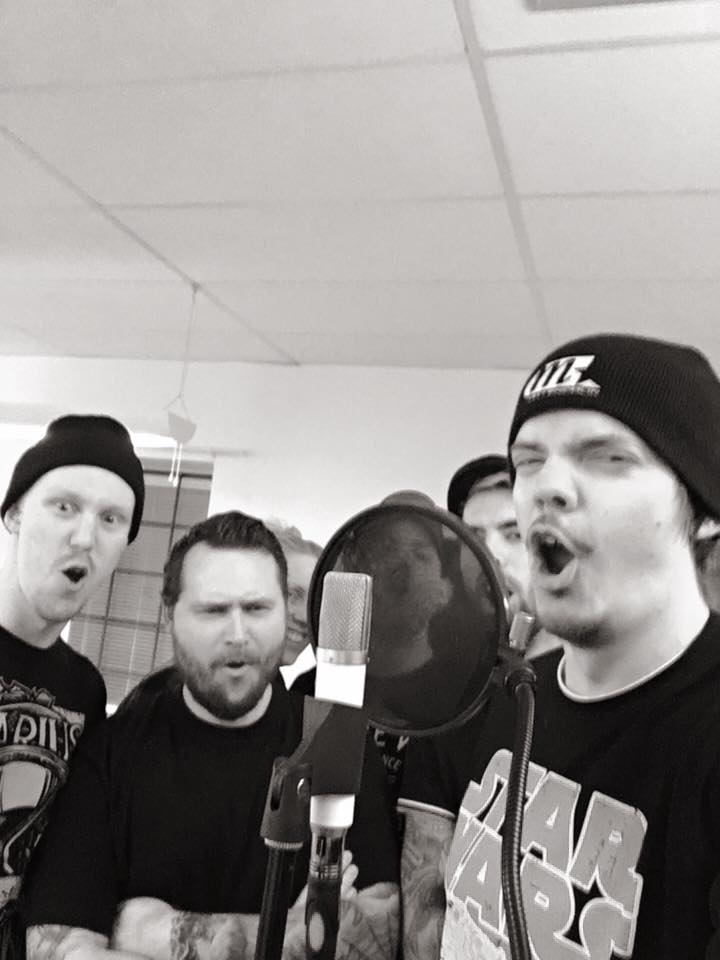 Where is the best to play, it was the worst?
-Paxcow: Outside Sweden. The Swedish concertculture is not at all what it was when we started to take an interest in music. I remember how the gigs was packed with people when we went to see our friends, who were a bit older, playing with their band. It was always good digestion whether it was a fresh and inexperience gang who provided the entertainment. It really has completely modified, and it has also gone very quickly. 10 years and there are more people on stage than in the audience. What we have seen in Europe on our tours is that it is not developed in the same way as at home in Sweden. Now we have certainly nothing to compare with because we were not there 10 years ago. Regardless, it's like night and day.
How is it to play this sort of punk in Sweden today?
-Paxcow: One does not become a superstar directly. The demand for this outmoded version of punk rock is not the main attraction in 2016, so to speak. The style of music has never really established itself here and there are no radio stations, newspapers or magazines, pubs or clubs that focus on this type. World established artists like Offspring, Blink-182 and Green Day has a total counted only played here a handful of times and it says a lot about the conditions for a domestic unknown band. Even so, there are people out there! There is no boastful large crowd of those found to have all the credit!
How would you describe your music in three words ??
-Jay-Tee: Melodic, sprawling, humorous.
What does punk mean to you, is it only a word or is it a lifestyle?
-Paxcow: I would make very many very angry if I call us for punks. I would not say that any of us are, or tried to be "punk". When I think Punk I usually associate itself with the political subculture of London. When I think punkrock I usually think the Ramones and the American scene that was not quite as politically charged. I have not researched or put very many hours to check if my picture is rooted in some reality. Punkrock to me is more a style of music. I call Social Distortion of punkrock and I call Nofx for punkrock. I also think that our music can be called punkrock.
How do you download, MP3 and the like?
-Internet has been our way out to all listeners. Youtube was what paved the way for our success. Without the success of the large number of listeners I do not know if we had been around today. However our records haven´t sold like butter. According to figures from the record company, we have sold 450 physical discs in a year, but had been streamed 1.2 million (!!!) times the average per month!
How do you think it is to live in Sweden today, politically? I know there was a lot of racism in Klippan former years, how is it today?
-Paxcow: Sweden is a difficult country to live in purely political. Debate climate is rotten. The media pumps out sensational news like never before and one after the Klippan fell hard with the closure of all major industries. Remaining was a little broken and polarized city. Strong immigration and high seat for organized Nazis created incredible tension in Klippan in the 90's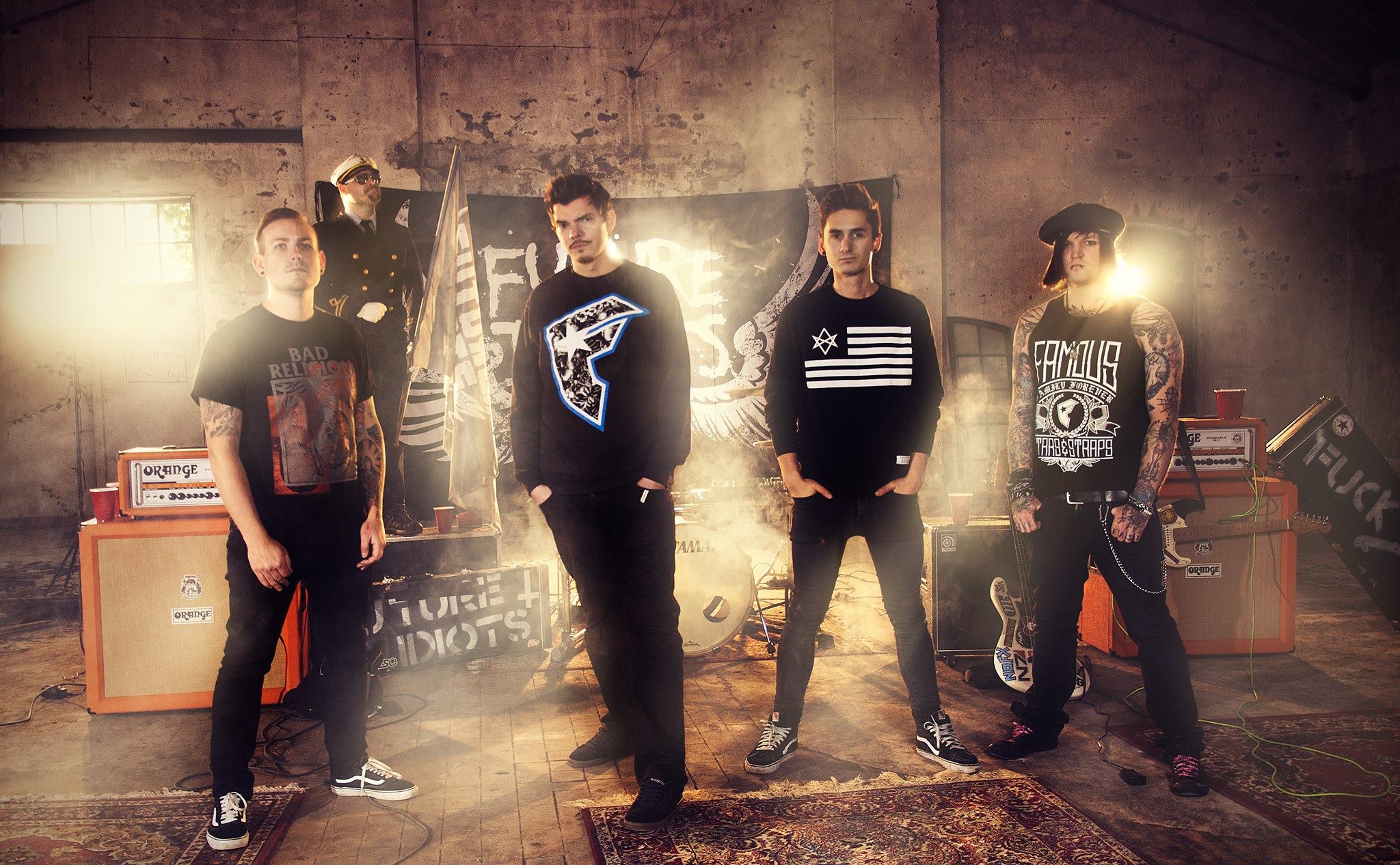 Are there any bands in Sweden today? In your hometown?
-Paxcow: Mimikry
Jay-Tee: There are lots of good bands in Sweden today. A band that has done well in recent years and I believe will continue to rise internationally, Atlas Losing Grip from Lund. A band that will continue to grow in Sweden is Dalaplan from Malmö.
Do you play anything outside Sweden?
-We play anywhere outside Sweden. We did tours in 2013 and 2014 in the Netherlands, Belgium, France and Germany.
Other great bands from abroad?
-Jay-Tee: We listen to quite a different band and has shared perceptions what is "good".
A group that all like is somehow Bad religion.
Your lyrics, what influenced you in doing them? Never in Swedish?
-Paxcow: The shower! unserious. On Murphy's Law is a song about role playing and Dungeons and Dragons. The whole thing is really an unnecessarily long metaphor to be unlucky, which comes only in the song stick. Many of the lyrics are about things I've been through, good and positive things but also bad. Sometimes I can process different situations and life events by writing music and lyrics about them.
Is there something you are never going to write about?
-Politics.
Politics and music, does not always go together ??
-Paxcow: If the band starts as a political band, and this is their common interest may it be related. But it is not the most appropriate to begin to vent political messages after 10 years when you have not done it before.
Best political band / artist?
-Paxcow: Nofx, Bad Religion, Mimikry, Rage Against the Machine, Ultima Thule.
Jay-Tee: Propagandhi, NOFX, Bad Religion, Rage Against The Machine.
Bjorn: Bad Religion, Anti-Flag, Rage Against the Machine
Do you think music can change someone's life, I mean texts etc.?
-Paxcow: I am fully convinced that music can change people's lives. In the same way that listening to another person speak can take inspiration and affected by what is conveyed in the lyrics. Just a song that goes in the minor can get a feel a little sad.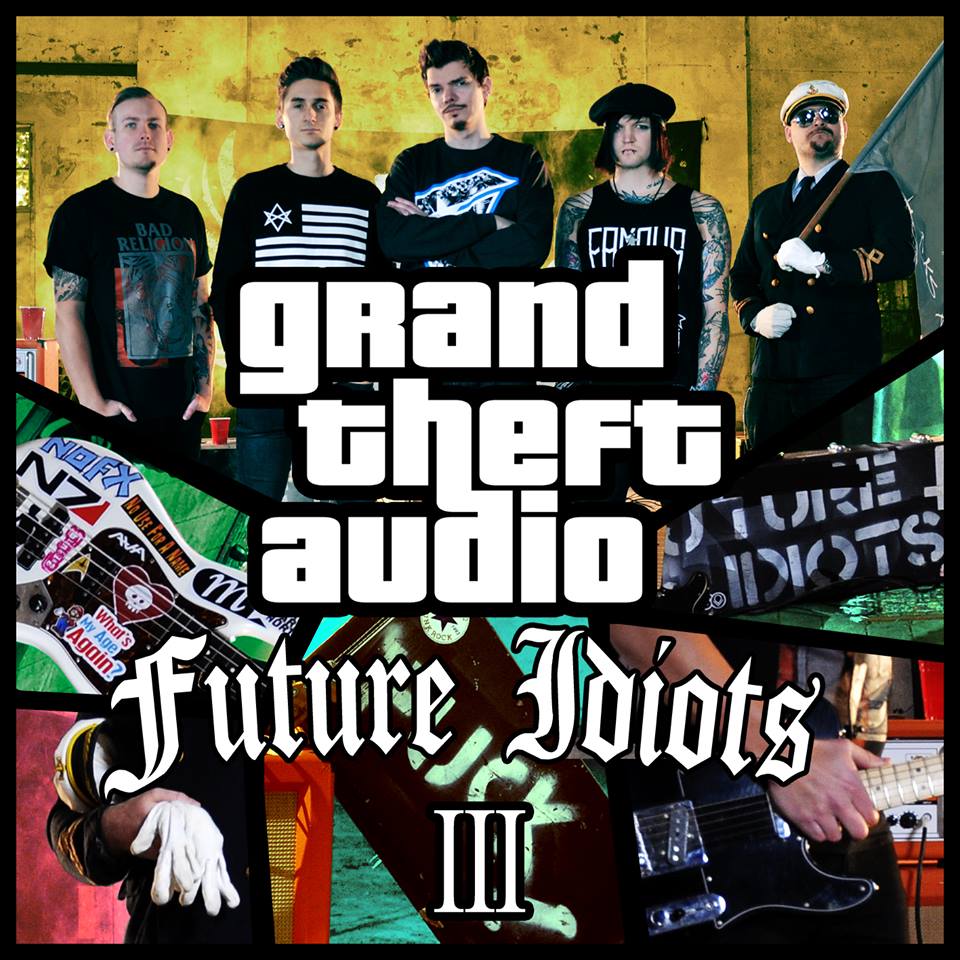 Your cover is really cool on your new CD, who has done it. Is it important to have a cover that makes you understand what kind of music you play? Which is your favorite cover all time? ...
-Paxcow: I definitely think it can benefit a band when it looks like the music you play. There are of course exceptions everywhere but personally when there is any kind of context or thread.
My favorite cover is for nostalgic reasons ... And Justice For All.
Jay-Tee: NOFX - I Heard They suck live ... Both the cover and the title caught my interest as 12-year-old. This disc also aroused my great interest in the entire genre, so the judge is very important yo!
Is it important to get physical discs? You have done a lot. These Grand Theft Auto ... tell us about them?
-It may not be important, but it is very very funny. There is something to keep the disc in your hand and be able to browse through the booklet instead of looking at the lyrics on Google.
It was all born as I mentioned above after a cover of Stars Are Blind by Paris Hilton. We understood that punk covers of famous pop songs was something people liked so we jumped onto the track. Grand Theft Auto was the same then as now inside so we took the opportunity to make a rip off and renamed the album to Grand Theft Audio. In March we release the third in the series on Spotify and iTunes.
Please tell me something really funny happened during a career on stage or backstage, etc.?
-Paxcow: At a festival, we had a sound engineer / explosives expert who was so drunk and pissed off because of that the schedule was delayed because he pooped in it and went off the mixer with the world's concentricity of the PA. Once the understudy took over the misery continued with pyrotechnics as smacking of the most surprising places so that we ourselves were scared and frightened by the explosions.
When the descendants band entered the stage jumped Jay-Tee it up at the last song and hugged singer, drummer and then stormed and the fight was complete and the scene was around one and a half meters high and it all could have ended very badly because none of them were prepared for it. The band defended theirdselve, however, and said that the stage was theirs and no bloody bandage would come and destroy their concert!
Lubbe: My best memory is when I sent Future Idiots flagpole in Mike's face on stage. Now that I think about it, it was the last gig, and I probably have not yet said sorry, sorry, it was too wild!
Which type of people comes to your concerts, are you missing some type of people?
-They are often not older than 25. very seldom over 35, although there are they. If you look on youtube so is the Philippines for 30% of all viewings last month. So it has looked broadly then we came out with Paris Hilton Covern. Sweden accounts for only 0.7% of viewings.
Please rank your five favorite records, five favorite concerts?
-Paxcow: Metallica San Diego 1992
Bowling For Soup London 2012 (Paxcow kicked out during the supportband)…)
Green Day live Goat Island
Nofx Malmöfestivalen 2011
Limbus Gimo 2005

Jay-Tee:
Foo Fighters - Wasting Light
Deftones - White Pony
NOFX - Pump up the valuum
Millencolin - Pennybridge Pioneers
Bad Religion - The process of belief

Foo Fighters - Ullevi 2015.
Foo Fighters - Stockholm Stadion 2011
Foo Fighters - Stora skuggan 2008
NOFX - Mejeriet 2003
Chuck Ragan - Musikenshus 2012
Björn:
Green Day - American Idiot
The Offspring - Smash
All Time Low - So Wrong It's Right
A Day To Remember - Homesick
Angels & Airwaves - I-Empire
Is it boring with interviews?
-It can be quite fun. The only question that is not fun is "Who are you, tell us a little about yourselves."
If you could choose five bands from history, dead and alive to have a concert together with Future Idiots, which is the dream bands then?
-Paxcow: Some bad bands. So that we could appear as the best. So Blink-182 would have been perfect.
Otherwise, Bowling for Soup, Green Day, NOFX and The Offspring been an honor to play with.
Jay-Tee: Millencolin. It has been my goal since the start that sometime have to be open for them.
However, we have played at the same festival as them a few times.
Music is a great way to get out frustration and become a kinder person? Are you angrier today than you were young punks?
-Paxcow: I do not think anyone in the band is especially angry. Maybe a little bitter from and to. I firmly believe that music can be a great way to use up energy if you do not like to play football or jump high jump. A pass behind the drums in a punkrock band feels like a half against Old Boys in Korpen. However, one can sometimes start fighting within the band. We have a tradition to start a fight at the musicvideo context of the band.
What is the weirdest question you have in an interview?
-Blueberrycream or rosehip soup?
Which is the question you never get, please ask it and answer it?
-Paxcow: What is the best Star Wars movies? Original or prequel? Prequel!
Future plans for the band?
-GTA III and GTA III: The Leftovers released in March and April. Murphy's Law is released on CD, vinyl and digital platforms May 10 A whole bunch of music videos will also be posted on YouTube before the summer. In December, probably a new Christmas EP to be released digitally.
Words of wisdom?
-Better late than ever.
<![if !supportLineBreakNewLine]>
<![endif]>