Some history about the group?
-We were formed in the spring of 2020 when I (Thomas - vocals & guitar) started working in the same place as Otto (bass). I guess it took a week, and then we started to realize we should start a band together. We had both been listening to punk since the 1990s and Otto had a studio so we started recording some basics. Then it sounded so good that we recruited Torbjörn (drums) and Martin (guitar). A couple of Spotify singles later, Pierre (Lastkaj 14) got in touch and thought we should drop a split with them on Second Class Kids and suddenly we got the best start to our careers
Tell me a little about every member, age, job, family, band before and band On the side?
-I (Thomas) is 40 years old, works in IT, is married and has a son, also plays in Crooked Letter and Leiah. Has previously played hardcore in Meleeh and Keep Rising. Otto is 38, works in IT, has a partner plus a son, also plays in Temple and Silverdevil. Martin is 43 years old, works in study associations, girlfriend plus a daughter and a son, played in Luftslott and Gasoline Queen. Torbjörn is 26 years old, is an alarm installer, has a partner, plays in Infraction and Prescription Death.
I can hear a lot of old trall, do I hear correctly? Was it better before?
-You're absolutely right! I grew up with trallpunk through Defintivt 50 spänn and Cheap Shots records and was also born and raised in Hofors which had a solid trallpunk scene in the 90s with bands such as Radioaktiva Räker, Död TV and ASF. The others also have similar experiences from the past, even the skate punk has meant a lot. I don't think it used to be much better, even though I still listen to the old stuff. There are several bands today that both play better and make better songs.
Fruktansvärld, are you happy with the name? Amazing name! If the best band name hadn't been busy, what name would you have chosen? I mean, what's the best band name?
-I'll admit I had a bit of a hard time with the name at first but it's grown on me and now I love it! Band names are hell to come by, but the best part is clearly "Jättearja Saijonmaa".
What's the best thing about playing live? Have you started planning new concerts after COVID now?
- There's a lot of good stuff about playing live. I love the discharge, the community, the party, the clearing and being able to let go of the songs that you fought so hard to get together. Band chemistry is also fucking important. I think it always gets better when I get to make music with other people. It's like four times as good. And live, that strength feels extra much. We have a couple of gigs scheduled. Firstly, at Nalen in October, with, among Lastkaj 14 and Björnarna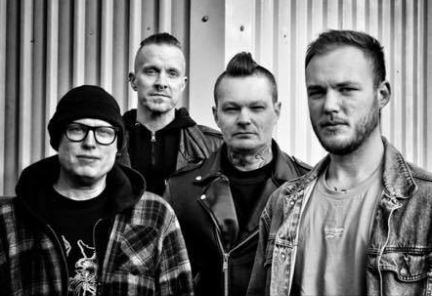 Where's the best to play, where's the worst?
-Bookers who get the point and have done a lot of promotion do the best gigs. I've done a lot of disastrous gigs where nothing's worked. The band "Björnarna" from Uppsala sums it up so well in the song "Two beer coupons"(Två Ölkuponger). Listen to it!
What is it like to play this kind of punk in Sweden today? Must be absolutely right, given the success of the right?
-I feel like the reputation of the trallpunk has improved significantly in recent years. And as you say, there's a lot to write about because of socilasts betrayal of the working class. There's hardly any red left left. One of our upcoming songs, "Till varje pris," is about just that.
How would you describe your music in three words? Or can't you do that?
-Swedish - 90s - punk
What does punk mean to you, is it just a word or is it a lifestyle?
-Don´t care about what people say and think and to do exactly what you want.
How do you see on downloading, mp3 and the like?
-It's awesome that music is so easily accessible today. Unfortunately, however, many people seem to think that the music has no value.
How do you think it's like to live in Sweden today, politically?
- We're doing very well here. But privatisations and trust in the market to solve all the problems are increasing and if we are going to fix what is not working, we must help each other together. I really don't like where Sweden is tightening right now. And the SD will soon be the largest party. Fuck.
Are there any bands in Sweden today? In your hometown?
-Desertörerna are the only punk band from Gävle right now. Uppsala, which is an hour away, has Björnarna and Borgerlig Begravning which I like a hell of a lot. The whole of Sweden is crawling with punk bands that are active and are great!
Do you play anything outside Sweden?
- We haven't had gigs yet. We were formed during the pandemic.
Other good bands from abroad?
-American skate punk is constantly present in what I listen to. Fat Wreck bands above all.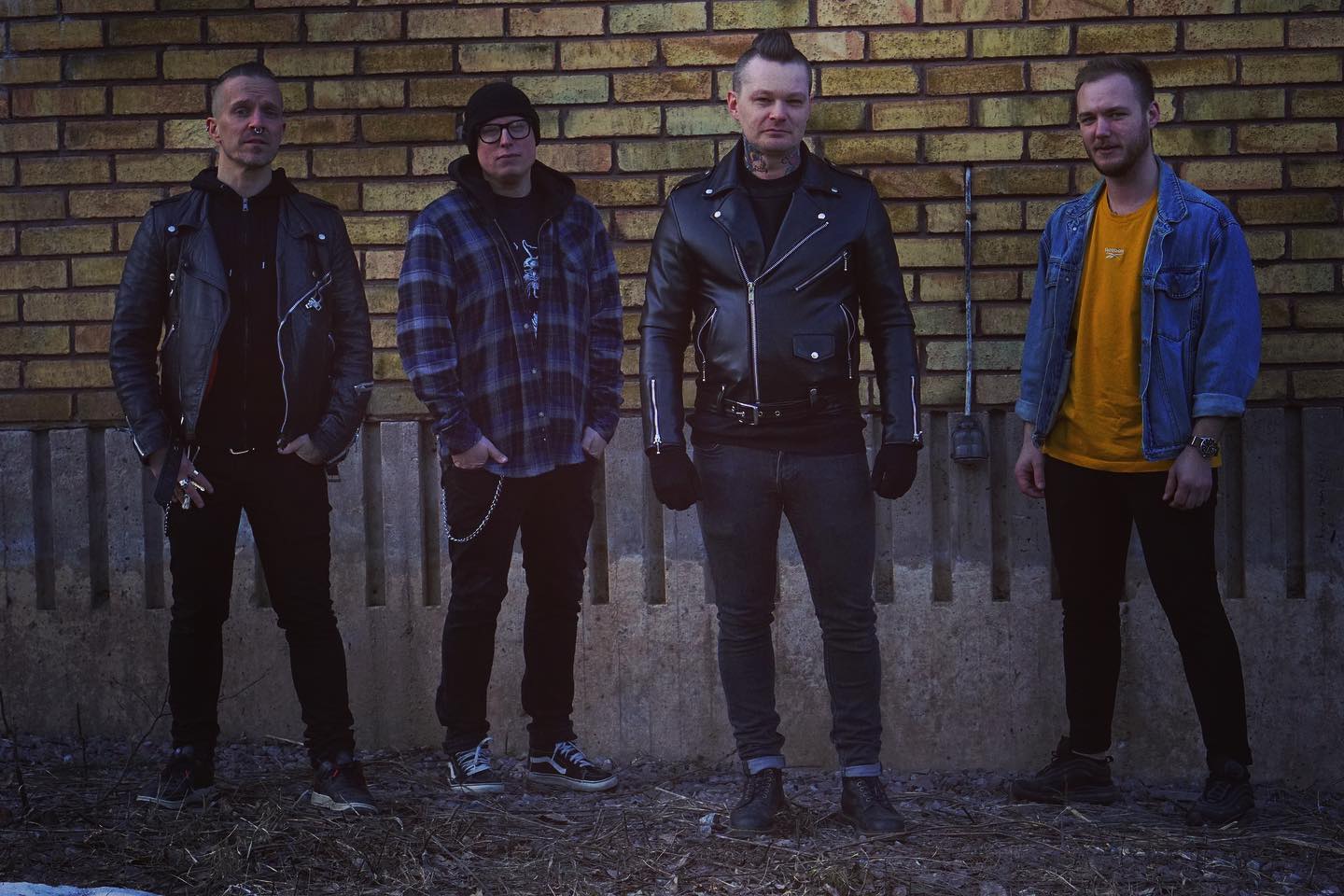 Your lyrics, what are you influenced by? Never in a language other than Swedish? You have really good lyrics? Did it feel hard or just good to share a split with one of Sweden's best punk bands?
-I'm so grateful. These are constant reflections on life from a working-class perspective. I don't think there's a song that doesn't have a personal connection. 3 out of 4 in the band write lyrics which I think is quite unique and it is valuable. I had never written in Swedish before, but now I'm hooked. It feels so much easier to write in your mother tongue. I don't think Fruktansvärld will ever change language. On some cover possibly. Sharing a record with Lastkaj 14 is just fun! We listen to them on a daily basis and I think we complement each other well on this split.
Is there anything you'll never write about?
-We'll never write positively about the blue-browns.
Politics and music, is it always connected?
-- It doesn't have to. That can be exactly what you want it to be.
Best political band/artist?
-I've always liked Dead Kennedys. Jello Biafra is sharp and entertaining at the same time.
Do you think music can change someone's life, I mean lyrics etc?
-Yes, sir. When music and lyrics are combined, it becomes so much stronger. The whole emotional spectrum is affected. If you're the right age and a song says exactly how you feel, it's bigger than life itself.
Your albumcover is really cool on your record together with Lastkaj 14 who did it? Is it important to have a cover that you understand what kind of music you are playing? What's your favorite cover all the time?...
- Yes, it is, isn't it? There's a guy from Budapest named Andras Bödecs (www.andrasbodecs.com) who's done it. Pierre already knows him from previous collaborations with both Lastkaj and Skumdum. The cover may be important, but personally I'm most interested in the music. Check out the trallbands in the '90s, what lousy covers a lot of people had! It's a good thing the music was good. A great cover I can think of now is MDC - Millions of dead cops (1980). It's a cover I recognize right away when I see it in a record back.
Is it important to get physical records out? Vinyl or CD or both? Is there a good record store around you left? Have you done anything other than the record with Lastkaj 14?
-It's important because it's the only way to build up a band cash. Merch is the only thing that gives anything today. We have a couple of record exchanges in Gävle that are struggling but one of them is closing now. The album with Lastkaj will be the first physical release we make but we have enough songs for a new full length so it will soon be recording again!
Please tell us something really funny that has happened during your career on stage or backstage etc?
-Since Fruktansvärlds career on stage hasn't started yet, I'm taking an anecdote from Otto's previous life as a cover band drummer," he said. They were going to play in Finland in a tavern and in the middle of the set the whole Iron Maiden dives into the tavern, drunk and happy. They were due to play at Hartwall Arena the next day and wanted to party a little the day before. When Otto's band then, a little nervously, runs an entire Iron Maiden medley, the whole band comes up in front of the stage with the rest of the audience. A nice evening and a good story to tell your grandchildren.
What does your audience look like? What kind of people comes to your concerts? Are you missing any types of people?
-According to Spotify for artists, 50% of our listeners are men between the ages of 35 and 44. A bit of a shame, I think, but it's not that strange because this type of punk was the most popular in the '90s. Of course, we want more younger listeners, but it is difficult given the music climate.
Please rank five favorite records, five favorite concerts?
-Radioaktiva Räker - Labyrint, Strebers - Kallt stål, varmt blod, Joy Division - Unknown pleasures, Nirvana - Nevermind, Trail of dead - Source tags & codes. Trail of dead - Münchenbryggeriet 2002, Radioaktiva Räker - Hofors 1996, Morrissey - Brixton Academy 2002, Rancid - Hultsfred 1998, Radioaktiva Räker - Augustibuller 2003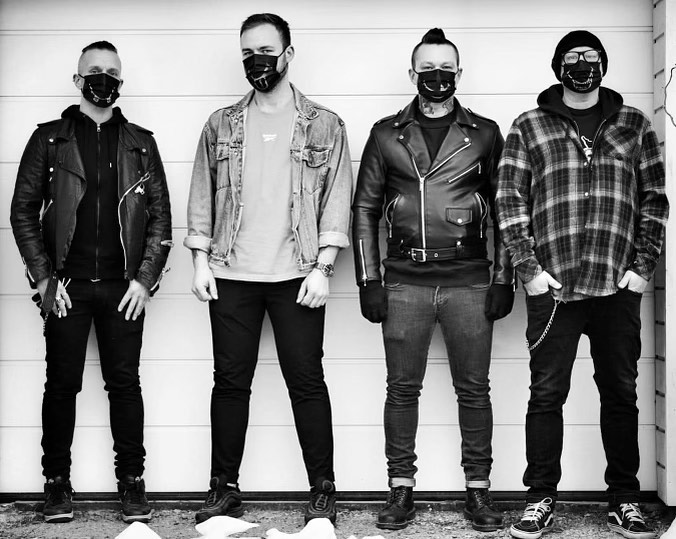 Is music a great way to get frustration out and become a kinder person? Are you angrier today than you were young punks?
-I'm angrier today, but much calmer. Music is more of a way to be creative and express myself, not to agitate politically. However, the lyrics in Fruktansvärld automatically become quite political because the music is very energetic and raw.
What's the weirdest question you've been asked in an interview?
-No one's been here yet.
Future plans for the band?
- To play live and to record a new full-length.
To yourself?
-To continue to be a better person.
Words of wisdom?
-Don't be so fucking serious all the time.
Anything to add?
-Don't wait for anything. Make sure things happen.