F.R.I.D.A. is a really good german punk/hardcoreband which here have answered some questions from me….enjoy . June -2019
Please tell me a little bit history of the group?
Paul: The Band was founded in 2015 by Micha together with Alex and Lars. The first idea was that Micha will do the part oft he lead-singer and guitarist, but after a short time, he changed his mind, and so a new singer was needed. And 2016 they found Toni, who is an big enrichment because of his great live performance. After some changes at the bass they found me in 2017, and since that day we are complete.
Please tell me a little about every member in the group right now, age, family, work, interests and something bad about everyone? Earlier bands? Other bands on the side?
Paul: I will tell you a bit about Alex, because we always share the same side of the stage 😉 He has a very black humor, loves to play chess, is a great guitarist, has a cat, is older than I first thought, works at a graveyard and his favourite drink is good beer. He was in a band with Micha and Lars in the early 2000's. Fun Fact: One day Toni called us the Simpsons-sisters because of our dry humor.
Lars: Micha - we have know each other for 18 years now and already played in a band together before F.R.I.D.A. was founded. Alex was there too. Micha is a kind hearted person, a unique person with a lot of thirst and the beautiful gift of being able to forgive and to ask for it,if nesessary. A fine guy, a great guitarist, although occasionally exhausting...
in the end ,the band would not exist without him. he had the idea, the desire to do something new.
Alex: I will tell you a bit about Paul, because we always share the same side oft he stage 😉 He has a very black humor, is a great bass player, has a dog , is older than I first thought, works at a mobile store and his favourite drink is good beer. Fun Fact: One day Toni called us the Simpsons-sister because of our dry humor.
Micha: Lars is a calm,very nice Person, with a slight tendency towards melancholy. Apart a short break we have known each other for 19 years now.
In the beginning of the early 2000s we played together in the Band ROTORFON.
Lars is the oldest of us, but I`m not telling his age now.
I was built in `77.
Well, what do you notice ? 1977, the year punk was invented ;)
But back to Lars - he is a good conversation partner and a great drummer.
Since recently he writes very funny poems.
I hope his first book will be published in 5 years at the latest.
He likes to drink JEVER LIGHT, but sometimes also " real " beer and hard liquor.
Sometimes we are both a bite intense when it comes to organizational band issues and then we have a quarrel about band stuff, but we usually get along relative quickly and then go and have a beer together.
He drinks a JEVER LIGHT and i drink a " real " beer :)
Lars: Toni is a very emotional ,direct and impulsive person. He is interested in many things and also likes to think about things and contexts that are psychological in nature,questioning social conditions and rigid patterns
of behavior. This is also reflected in his lyrics, which he writes for the songs. As a frontman Toni is ideal - an absolute win and he always gives 100% .
On stage he acts rather from the gut and it can sometimes lead to unforeseen situations.
The width and lenght of the stage is then fully utilized, regardless of losses .
However, those are exactly the points that concerts with him then really something special, as it always remains exciting.
I can hear much different influences but mostly german punk and a little hardcore? Favorites from the past?
Paul: Yes you are right, my favourite hardcore bands from the past till now are TERROR, Comeback Kid, Hatebreed and Madball and I love a lot of german punk-bands like Knochenfabrik, Chefdenker, Toxpack and Berliner Weisse, but there is a lot of differnt music at my playlist like german Rap or some 90's trash, 80's, and I am a huge fan of "The Smiths".
Alex : German punk bands ? Not really … My all time favourite bands are The Ramones ,Black Sabbath , The Doors , Faith No More , Comeback Kid , Gorefest , Death , ABBA ….............
Micha: German Bands: Razzia, Slime, Toxoplasma Others: Bambix, Leatherface, Spudmonsters, Madball, Rise Against, Bad Religion
F.R.I.D.A. are you satisfied with the name? How did it came up? And does it mean something? It´s a sweidsh name on a girl Frida….You weren't afraid that some other band would be named like this? Which is the best bandname you know?
Paul: When I first heard the name I liked it a lot without knowing the meaning o fit. But, to make it short is not only the name of swedish girls, it ist he name of Michas daughter, too. The founding of the band and the birth of his daughter were in the same year, and so his two babies are called the same. The best name of a band I ever heard was "Muschi-Manöver" (Pussy-Maneuver), i am still laughing about their humor.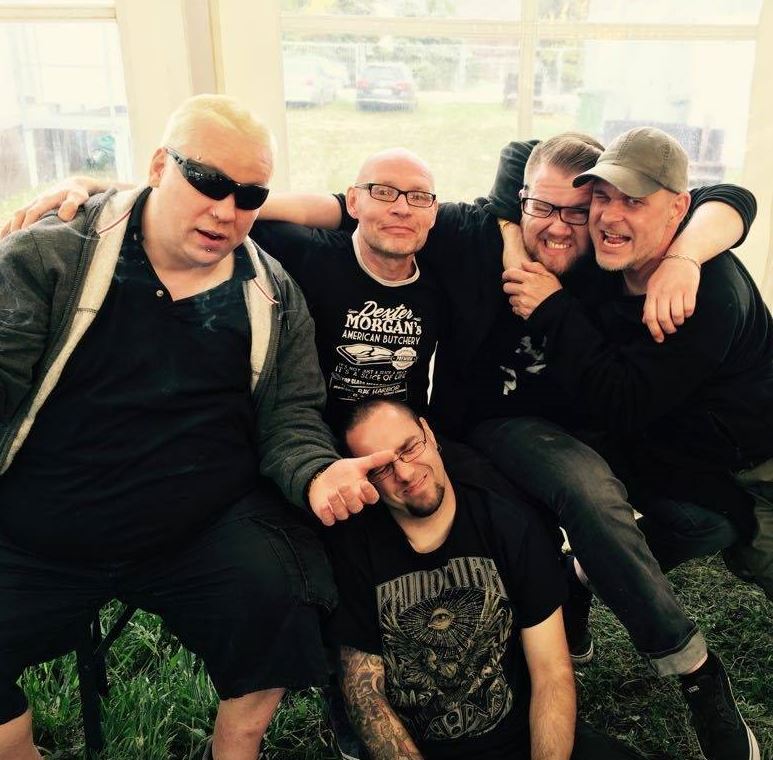 What´s the best thing with playing live?
Paul: The feeling… you forget everything around you, there are no problems, there is nothing but the moment full of energy where you can totally be yourself…the best feeling ever.
Lars: There is always a certain amount of excitement. It pushes and is positive. A great feeling. If everything works out it`s like being in a trance : you do something , so are the guys.
Alex : Getting free beer
And where is best to play? And the worst place?
Paul: I think there are no best or worst places, every gig is great because you are playing live for people who want to see you.
Lars: Sure - There are good and less good conditions. but sometimes the " grotesque " things somehow are the most fun. You have to deal with the situation as good as possible; by taking quick action.
How is to play this sort of music in Germany right now? Which types of bands do you have concerts together with?
Paul: I am not really able to answer this question, because I never really played other music, it was always "heavy" music, but I can tell you it feels great. And mostly we play concerts with punk-, hardcore-, or oi-bands.
How would you describe your music in three words?
Paul: That will sound standard to you, but I would describe it with: IN YOUR FACE!
Alex : Beer ´n´ Roll
What does punk mean to you, is it only a word or is it a lifestyle?
Paul: It means to me, that I can be myself, walk my own way, do what I want and can questioning the dogma of our sick society, it means humanity and is not just a word or a trend.
What shall a young guy do today to shock their parents as the way we did when we were young? They have already seen everything 😉?
Paul: Mhhh I cannot tell you, maybe to be yourself and have your own belives, your own opinion and give a fuck about people who will tell you how to behave, or you just tattoo F.R.I.D.A. on your face 😉😊
How is it to live in Germany right now? Politically? Fascists?
Paul: I don't know how it is to live in other countries, but we have clean water and food, health insurance, and there is actually no war in Germany, but there are also big problems in our society like a lot of populism and hate against marginalized groups. And against this we have to fight.
Lars: I would like to put it this way : We are doing very well here and sometimes unfortunately we forget that.
Is there any good bands from Germany right now? Is the punkscene/metalscene/hardcorescene big? How is it in your hometown?
-Paul: I think here in Berlin we have a huge punk/hardcore/metalscene with a lot of good bands.
What do you know about Sweden? Have you been here sometime?
Paul: I have never been in Sweden and only know about ABBA, Ikea and Pipi Longstocking …lol…
Alex : No , never been in Sweden , but i love WASA crispbread XD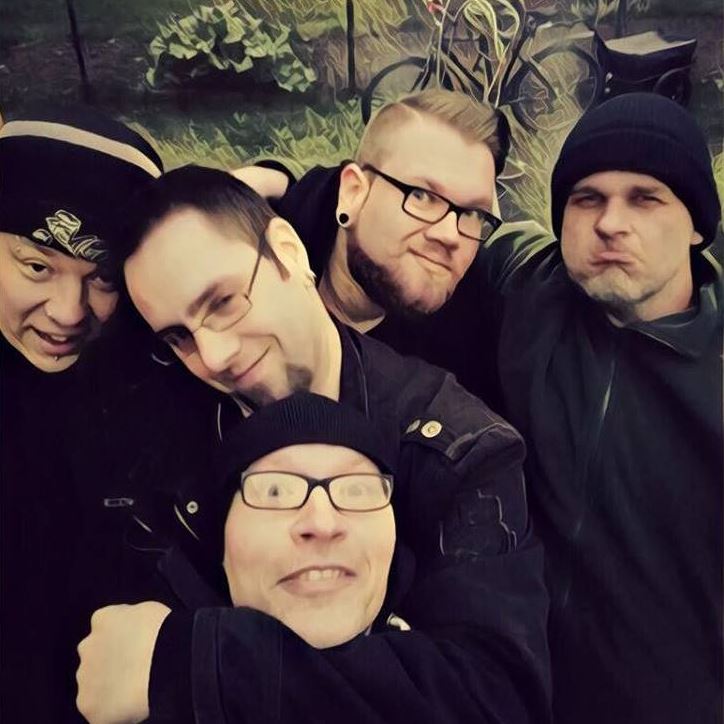 Have you heard any good bands from Sweden?
Paul: ABBA, no joke, they are great…
Lars: Definitely HELLACOPTERS !!! and ABBA of course. You are probably tired of hearing this, but this band was an absolute " Hitschmiede " ( Number-one-hit-factory )
Alex : ABBA , The Cardigans
Your lyrics, who does them and what influences you? I hope you never do it any other language than german because I love it?
Please tell me a little about the following songs:
Niemandskind
Toni: I wrote the text about myself and it means a lot to me. It`s about that one should explore one`s feelings and then bei able to make peace with oneself in order to mature within and break the " chains " .
Schuld
Toni: Problems can never be solved by alcohol. Drinking is not an option.
Jetzt schlägt´s 13
Paul: I think Toni can tell you more about it, he mostly is writing the lyrics. "Jetzt schlägt's 13" is a coversong from Rio Reiser the singer from the Band "Ton Steine Scherben", but we made the song a little bit more to sound like F.R.I.D.A. . And we like to hear that you like the german language, and I think the most of our songs will be in german language, because it is much more easy to express your feelings an thoughts in your own language, but maybe there will be some english songs too.
Is there any subject that you never will write anything about?
Paul: I think there is no subject that we would never write about, but if we would write a lovesong, then it would be a F.R.I.D.A. lovesong an not that typical pop-music-stuff.
Politic and music, does it goes hand in hand? Which is your most political song?
Paul: Mhhh let me think about it… Do we have political songs?!? I think we have a lot of songs which criticize our society and our system, but is this political?!? In my opinion we are musicians and not a political party, we just can keep the mirror in front of society, and hope that some people will agree and rethink their lives and choises. And maybe this is a little bit political.
Best political band/artist?
Paul: Mhhh not really political, but I love "The Smiths" and "Comeback Kid" for their very critical consideration of society and politics.
Do you think that music(lyrics and so on) can change anyones life, I mean people who listens to music?
Paul: In my opinion music can help people in their lifes, but I don't know if it will change lifes. For young people music can help, to find their own way and sometimes will open their eyes for difficult topics or just will help them through hard times. So maybe yes it can change lifes.
Your favorite recordcover alltime? Who does your recordcovers? And do you have any good recordstores in your hometown?
Paul: Mhh, let me think about it, maybe Nirvana's Nevermind, but there are lot of great artworks out there. Our recordcover was done by my best friend Nancy Müller, and she did an awesome work for us. And yes we have a freat recordstore in our hometown, CoreTex records, which is also our label <3
Lars: AC/DC`s " If you want blood you`ve got it "
Alex : Ramones – Rocket To Russia... XD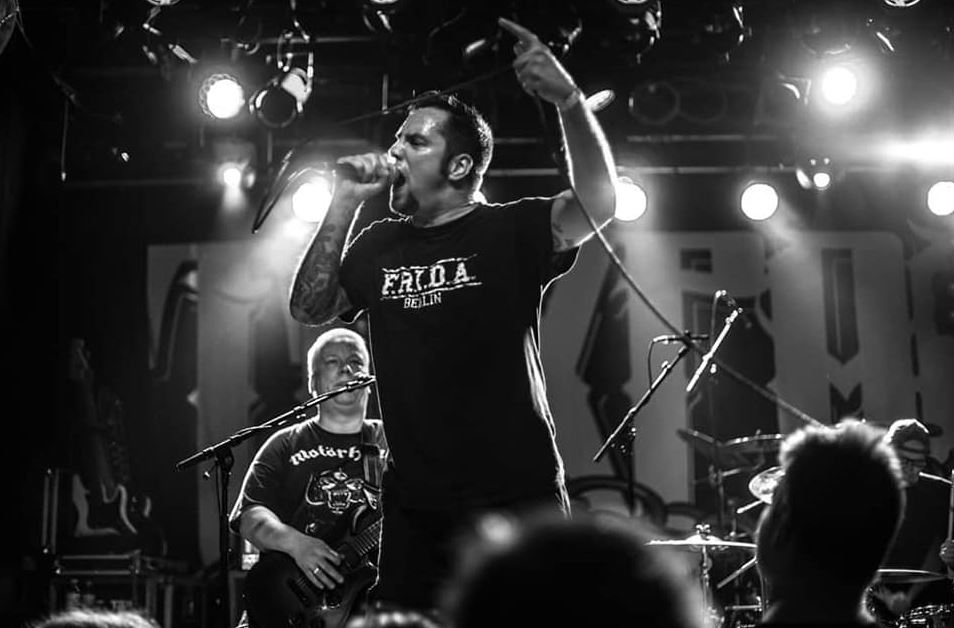 Is it important to get out physical records of your stuff? Why or why not? Vinyl, CD, cassette, what do you prefer if you could choose whatever ?
Paul: I do not think that it nowadays is necessary to have physical records, because everyone is streaming everything. But sometimes, in our digital world, it is good to have a CD that you can put in your player and listen to good music without being online and to chat additionally.
Please tell me a funny thing which have happened during your career and under some gig?
Paul: There are a lot of funny storys…but on one gig we played we all were a little bit tipsy, and during the show our guitarists argued about whom of them will start to play the intro of the next song.
Lars: There were technical problems at a concert which lead to a delay. it was hot, we sat in the sun and did what bands usually do when waiting for their gig - drinking beer. Finally I was so drunk that I hung two cymbals on top of each other. Throughout the whole concert I couldn`t figure out why it sounded so shitty .
How does your audience look like? Which people do you miss on your concerts? Which is the biggest band you ever have played together with?
Paul: I can not really tell you, how the audiance looks like, during the gig I am in my own world, but I would say they look like humans. 😊
Please rank your five favoriterecords, five favoriteconcerts and five most important things in life?
Paul: There are so many records and concerts, I am not really able to rank them, but the 5 most important things in my life are: my family, my friends, to be healthy, music and good beer 😉
Lars: i can not answer that.
But there are bands and artist that i keep listening to. AC/DC , RAMONES , RISE AGAINST , DESERTED FEAR ,TOOL , LISSIE , HELLACOPTERS .........
I saw them here in Berlin recently and it was so fantastic !!!
I want to stay healthy as long as possible and have a good time with a boys. publish albums, play many gigs.
I hope that my family, friends are spared as possible from everything, which is ugly and terrible and they can live their lives happy and long.
Alex : There are so many records and concerts, I am not really able to rank them, but the 5 most important things in my life are: my family, my friends, to be healthy, music and good beer 😉
Micha: Records: Bad Religion- No Control, Bad Religion- Against the Grain, Rise Against - Revolutions per Minute, System of a down – Toxicity, Leatherface – Mush
Concerts: Bad Religion – (1993) Hamburg Docks, Motörhead – (2009) Columbiahalle, Bambix – every time, System of a down – (2011) Waldbühne, Madball – (2005) SO36
Things: family, music, work, freedom, independence
First, last and most expensive record ever bought?
Paul: I cannot really answer, if I want a record I just buy it, but I think they often cost between 10€ and 20€. Haha… And to be honest, I mostly stream music…I should burn in hell for this…
Is it boring with interviews? Is it much interviews?
Paul: It is definitely not boring to do interviews, but it isn't this much, that we have to do it. But doing an interview in english is a kind of hard. 😊
Do you care about reviews? Which is the most peculiar you ever had, with this band or any other band you have been to?
Paul: I am proud when someone uses his time to write a review about our music, that feels good, because they use their time to deal with your music. But often reviews are too subjective and so there are big differences between revies, some will like it, and some will hate it. In my opinion everyone should be allowed to make their own assessment about music, and shouldn't get influenced by subjective gradings of other people.
Which bands do people compare you to, is it boring that people compare you to other bands or is it understandable?
Paul: We play punk and hardcore music, so we haven't reinvented the wheel, but I think we did it in a unconventional way. It is ok to get compared with other bands and sometimes it is cool when someone compares you with your favourite band. 😉
If you could choose five bands from the past and the history and nowadays and both dead and living bands to have a concert together with your band. Which five have you been chosen?
Paul: Nivana
Alex : Ramones
Is music a good way to get out frustration and become a nicer person outside the music??
Paul: It is a good way to express yourself and handle with your feelings, so maybe if you shout out part of your agressions in music it probably will help you tob e a nicer person in your life apart from the music.
Lars: Making music, playing live is like an allround drug with positive " side effects " .
For me, the comparison fits with a stamina or marathon.
Only happiness hormones and you are incredibly balanced afterwards.
except, somebody plays the wrong note .
Which is the most odd question you ever have got in an interview?
Paul: Our bandname 😊 😊
Alex : Which is the most odd question you ever have got in an interview? XD
Which is the question you want to have but you never get. Please ask it and answer it?
Paul: Favourite sort of beer? Actually Carlsberg 😉
Alex: Favourite Video Game ? Dead Space 2
Futureplans for the band?
Paul: To play live as many gigs as we can get, to have fun with the boys, to make new songs.
For yourself?
Paul: To stay healthy and lucky.
Wisdomword?
Paul: Stay true to yourself. …random but true…
Something to add?
Alex & Paul : Skål !!!