The german Freiboiter is a way band on it´s way up. They´re antirascists and trhose things I like. Check out the group because that did I together with Micha who answered my questions in the beginning of july 2008.
History?
-The band has been around since 1997 and in it's current incarnation since 2001. In the beginning it was the same as today. Some friends playing punkrock. 1997 Hahn replaced the former drummer. 2001, a couple of month after my Ska-band "King Loui And The Mooners" split up, I joined the band as second guitar-player. The current line-up is Korbi – Vocals / Micha – Guitar, Vocals / Heiko – Guitar / Hans – Bass, Vocals / Hahn – Drums. Our hometown is Stuttgart in the south of Germany. In 1999 a 4 track demo-tape was released and in 2001 a 7'' single on Oli & Ela Records. In the fall of 2003 we released our first LP/CD on Red Giants Records, 2006 followed a Split-CD wit Youngang from Italy called "Brave New World" on Red Giants Records in Germany and San Martin Records in Italy. In April was the release of our new album called "Riot Radio" which came out on Knock-Out Records ( www.knock-out.de ). The last years we played a couple of shows with Brigada Flores Magon, Broilers, Guerilla, Heros & Zeros, Klasse Kriminale, Loikaemie, Los Fastidios, Lurkers, Lokalmatadore, Miburo, The Movement, The Oppressed, Prowlers, Peter And The Test Tube Babies, Sham 69, Stage Bottles, Sidekick, Scrapy, Subhumans, U.K. Subs, Volxsturm etc.

Please tell me a little about every member, age, interests, work, family and something really bad about every one?
-Korbi (26) works as electrical engineering technician, Heiko (27) is a media-designer, Hans (27) is an engineer too and has to do with lacquer and stuff like that, Hahn (28) works in a atomic power plant and has the same job like Homer Simpson and I'm (Micha/33) working as graphic-designer.
To be a skinhead in Germany how is it?
-It's easy. No repression or something like that just because you are a skinhead.

It seems to me that it?s important for you to get together different groups like skinheads, punks and so on?
-Of course. We don't think there are so many differences between Punks, Skins and Hardcore Kids. All those kids should stick together to have more power, more energy, more influence... The more you are, the better it is. Better chances to achieve your aims.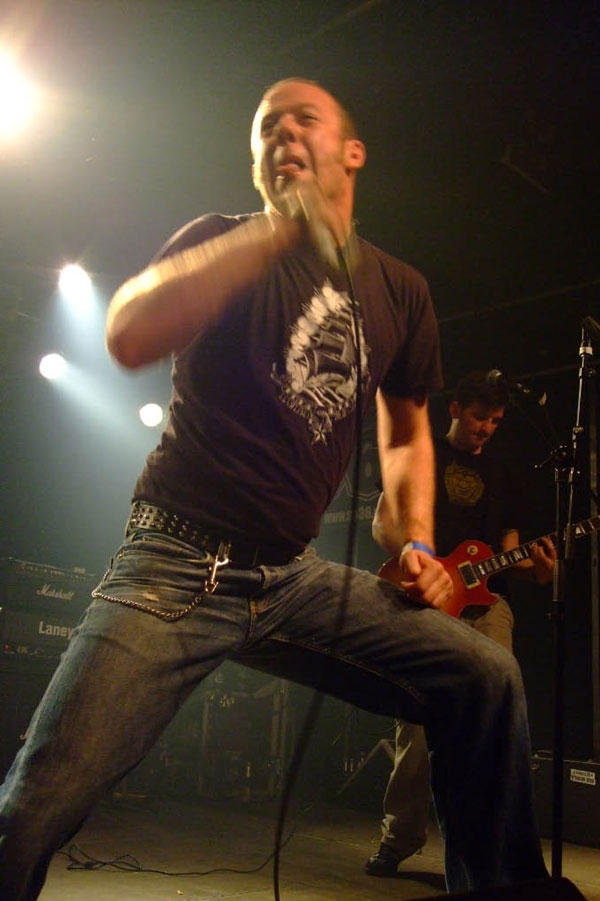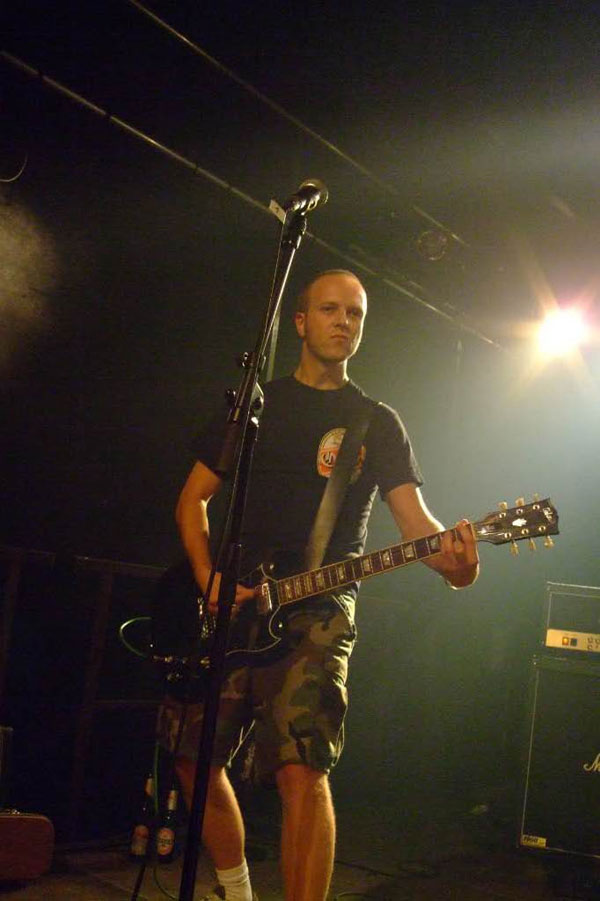 Is it important to wash away the raciststamp skinheads had once?
-There is no chance to wash it away I think. People who are not interested or are not into the Skinhead scene still think Skinheads are Nazis and all Nazis are Skinheads. But why should I care about them? We are antifascists and we have clear statements on every record, every shirt and our websites because we think it is important to fight fascism. We don't want Nazis on our shows and we don't want Nazis to buy our records. It's a statement for us and the people who are interested in the band but not for stupid wankers who believe stupid faces on TV.
On the other hand the style of the German Nazis changed a lot in the last years. Away from Skinhead clothes more and more into mainstream, techno, skater and even antifa-style to get more acceptance from the kids. So the Nazis distance themselves from the classic Skinhead-style.

Have done any more records than the Riot Radio? If you have how can I get it?
-We released two more records. "RockCity" (2003) on Red Giants Records and "Brave New World" (2006) a Split-CD with Youngang from Torino/Italy on Red Giants Records in Germany and San Martin Records and Anfibio Records in Italy. I think there are some online-shops in the internet where you can get them (also from Knock-Out Records). Download is also possible at itunes or finetunes for example.
Which type of people comes to your concerts?
-Punks, Skins, Hardcore kids... Everybody.
What does punk mean to you, is it only a word or is it a lifestyle?
-It's the way you live, the way you think, the feelings in your heart. Everything!

How would you describe your music in three words?
-Hardcore influenced Streetpunk.
How is the reviews you have got for the new CD?
-Very very good. We put all our energy in this record. It was really hard work and it seems a lot of people like it. That's a fantastic feeling.

Do you care about reviews?
-Only when the review is good ;-)

How is it to live in Germany, I mean politically?
-Like everywhere else in the western civilization I think. If you say what you think there can/will be some kind of repression. If you shut your mouth, watch TV and consume, you will have no problems. But basically we should be glad that it`s like this and not worse I think.
The best and the worst of living in Germany?
-Best things: german beer and german food. Worst: everything has to be correct. Most of the germans are little police officers..
What is typical german? What is typical swedish?
-Typical swedish? I don`t know. Typical german: everything has to be correct.

What do you know about Sweden?
-Good hockey players, some elks, IKEA, cool Rock`n Roll bands.
Any good bands from Sweden you like?
-Backyard Babies, The Bones, The Hellacopters, The Sounds, The Solution

Is there any good bands in Germany right now?
-Guerilla (HC/Punk), Riot Brigade (HC/Punk), Frontkick (Punk), Stage Bottles (Streetpunk), The Tony Montanas (Psychobilly)
Much interviews? Is it boring?
-No.

The question you want to have but you never get? Please ask it and answer it?
-I can make you very very rich and even more sexy as you are. Shall I?
Answer: Yes!

Please rank your five favourite records, five favouriteconcerts and five most important things in life?
-I have so many records. Today I like this, tomorrow that.. So I only can rank my five "all time" favorite bands: The Clash, The Ramones, The Misfits, Rancid, Metallica.
For me it`s always just for the moment. It´s fantastic to see one of your favorite bands for the first time but it can be much more fun to watch a show of some friends and party together with them.
Most important things in life: Stay healthy, family, friends, enough money to live.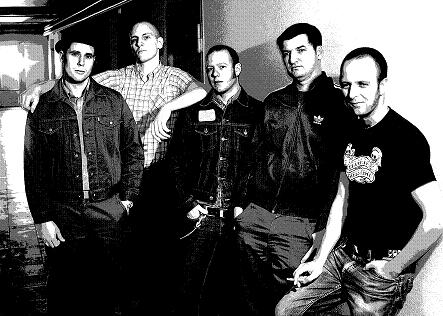 First and last and most expensive record ever bought?
-First record: Some kind of german New Wave sampler around 1983.
Last record: "Black Wave Rising" from "I Walk The Line" from Helsinki.
Most expensive? I´m not sure. I remember that i payed 20 or 25 euros for the "Teenage Kicks" 7`` Single from "The Undertones". That`s a lot for one song I think.

Most embarrassing record in your collection?
-Oh, oh! I have some Michael Jackson stuff..

Your record label ,is it a good label?
-Yes it is. After a few months we are still very happy. Everything is going well and I think at the moment there could be no better label for us.

New stuff like My space, facebook and so on.... is it good or how do you see on these things?
-Myspace started as electronic platform for bands I think. And for bands it`s a very good thing. A very good chance to reach people in diffrent countries. And it`s for free. So why shouldn`t we use it. But I would never want to have a personal myspace account, because I don`t live in the internet.

How do you see on Mp3 and downloading and so on? is it good or bad for smaller bands?
-I have no problem with downloads. If someone wants to buy a record because he likes it and he likes the band he buys it. And if not, he does not. And in that case it doesn`t matter if he downloads it or not.
After recording our last record we put it on a server in the internet for two weeks or so and sent some friends the download link. Good promotion. No costs.

Which is the biggest band you have played with on a concert?
-The Oppressed.

And which band do you really like to support if it..s possible?
-Rancid

Do you care about football? Favouriteteam?
-Yes, we are big fans of VfB Stuttgart.
Futureplans for the band?
-More shows, better shows, bigger shows and at least one more record.
Wisdomword?
It`s better to burn out than to fade away. (Neil Young)

Something more to add?
-Thanks a lot for the interview and the good CD review.
check www.freiboiter-stuttgart.de and www.myspace.com/freiboiterstuttgart
Stay rude, stay rebel and fight fascism!
Cheers