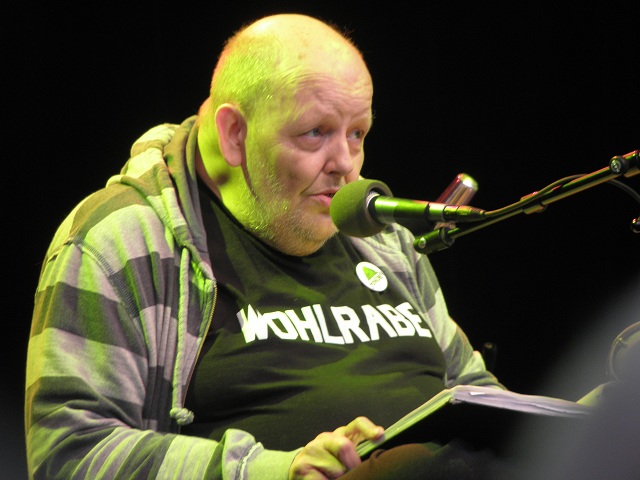 Jag har sett Freddie Wadling många gånger i olika konstellationer men egentligen har jag nog aldrig sett honom solo live med eget band. Jag har sett honom med Cortex, Blue For Two, Fläskkvartettetn, på punkspelningen svensk punk 25 år osv och jag har till och med intervjuat honom på telefon. Han har ju gjort så mycket olika saker så man aldrig riktigt vad som skall hända när han spelar eller rättare sagt om han kommer att spela Fläskkvartetteten, Captain Beefheart eller svenska visor. De sistnämnda trodde jag väl inte på själv eftersom han blev "tvingad" att göra de skivorna. Det är en salig blandning av låtar som han tolkar på sitt eget speciella sätt och framförallt med sin för dagens förkylda men fantastiska röst. Stina Nordenstam får med två låtar Här slutar kartan och Allt har varit möjligt, han kör en Bond-låt From Russia wIth love, en punkig låt som handlar om hemlösa No tears for the creatures of the night och en låt som heter Charity dance. Men de bästa låtarna är Radioheads Creep som passar så ypperligt för honom både textmässigt och låtmässigt och deras version av Bowie´s Let´s dance är superb och bättre än originalet.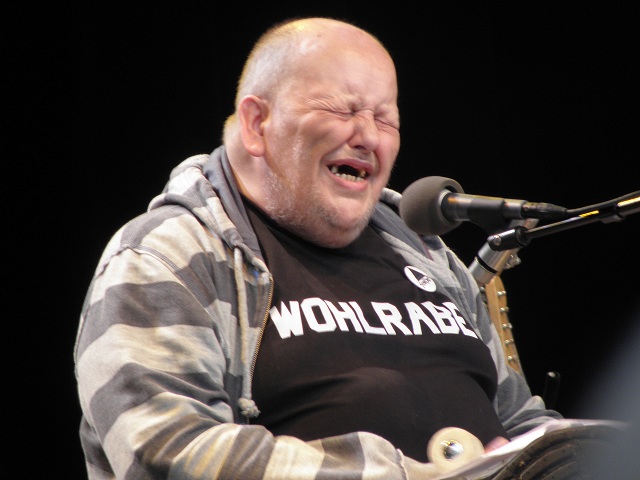 Kanske inte en artist man kommer för att titta på scenshow precis men hans röst är så bra så man smälter. Han pratar lite tyst mellan låtarna men mycket av det han säger och man uppfattar är riktigt roligt emellanåt. Det är inte ofta jag tycker det är bra att sitta ner på en konsert men på just denna var det helt okej att göra det. Som vanligt en väldigt blandad publik som gav Freddie stående ovationer efter konserten.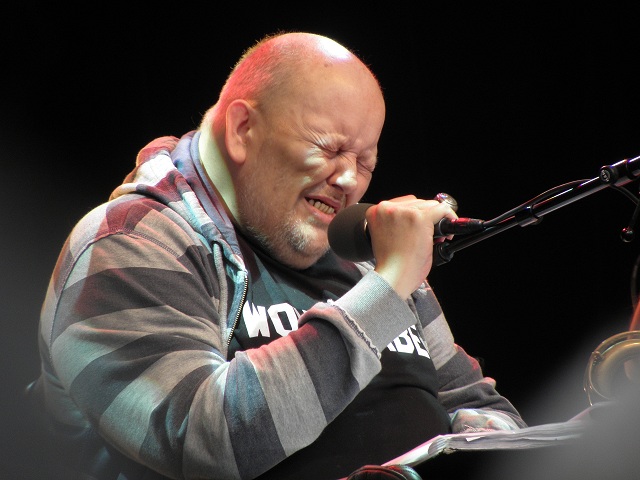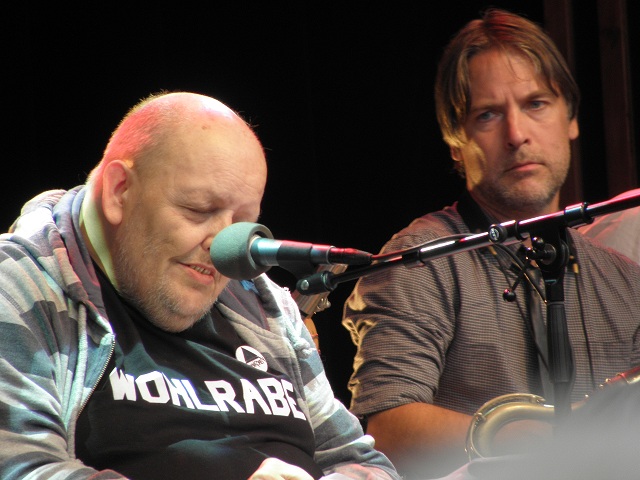 I have seen Freddie Wadling many times in many different band and constellations but I have never ever seen himsolo with his own band. I ahve seen him with Cortex, Blue for Two, Fläskkvartettetn, on the punkgig Swedish Punk 25 years etc and I have also interviewed him on telephone. He have done so much dieffernt things so you will never know what will happen or more which songs he will do just this time, if he´s going to be playing Flesh Quartet, Captain Beefheart or swedish songs of the old style The last thing I mentioned I don´t think because he was "forced" to do those records. It´s a big mix of songs he do in his way with his superb voice even if he´s got a cold. Stina nordenstam get two songs Här slutar kartan and Allt har varit möjligt, he do one Bond-song From Russia with love, a punky song about homeless people in No tears for the creatures of the night and a song which is called Charity dance. But the best songs he do is Radioheads Creep which suits him really nice both lyrically and musically and their version of Bowies Let´s dance whih is better than the original.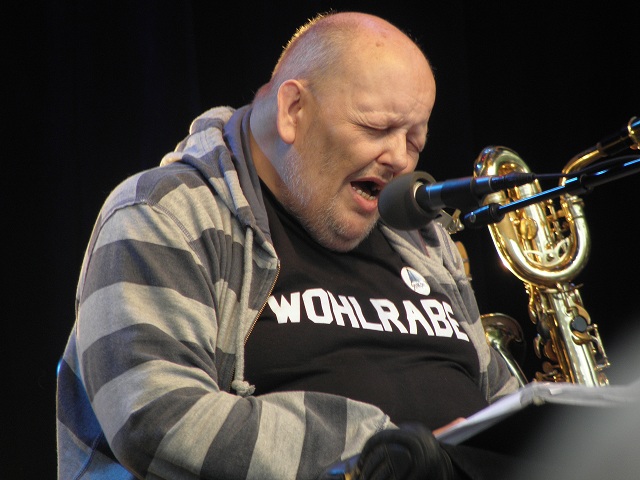 Maybe not an artist you come to see to see a big scene sow precisely but his voice is doing so much for the musc and it´s so good that I melt. He talks a little bit low between the songs but much of the things we can hear is really funny many times. It´s not so often that i think it´s good to sit down on a concert but this time it´s OK. As usual it´s a very mixed audience which gave Freddie standing applauses after the concert.