This band plays very tough music and consists of four girls from a lot of different countries. Here, they were so friendly and answered a bunch of questions from me. Thanks to Emelie at the Border who fixed this in June 2015th
Tell us a little history about the group and its members, you have members from many corners of the earth?
-The band started as a project in 2008, but it was not until 2010 Frantic Amber got a solid composition and the band took off. We wanted above all play live and have got to stand on many stages, including Sweden Rock Festival, Wacken Open Air, P3 Gold Awards, Metaltown, Rock City Falun, and toured internationally.
We come from four different countries: Mary and Madeleine are from Sweden, Mio from Japan, Mac is from Colombia and Elizabeth from Denmark. All have very different backgrounds, influences and experiences, contributing to our sound and cooperation.
Do you live in Sweden, all of them, or how do you do with rehearsals etc?
-All except Elizabeth (who lives in Denmark now) lives in Stockholm, where the band was founded and has its base. We chat a lot on Facebook and have meetings via Skype, but otherwise meet quite often before gigs, recordings and rehearsals. Elizabeth comes to Stockholm and greet at regular intervals unless we have gigs planned, so we can rehearse and hang out over a weekend. When we have gigs abroad, we plan the trip in the easiest way for each and when we meet up, then Elizabeth flying from Copenhagen and the rest from Stockholm. It is very easy to stay in touch in this amazing technological era.
Being only girls play this kind of hard music, it's much comments on that fact?
-Yes, it is definitely something we hear often. The vast majority of comments are positive and people are surprised to find out after they heard our music that it is girls which plays. However, it is mainly in the interviews that we get questions about that topic.
Are you tired of hearing that you are just girls or is it something that you will understand that people write about when they write about you and your hard music?
-The best thing would be if you do not put any weight on the sex of the band members have been without the music they write. Surely you understand that people write about it when it is still not as common with women in metal bands, but more and more women from all corners of the earth begins to get on the metal scene which is great fun!
How is it to play this sort of music in Sweden today, how is the stage and audience?
-Absolutely! With so many metal festivals in Sweden such as Sweden Rock, Getaway, Metaltown Sonisphere, Rock City Falun, Metal Swede etc. that draws the crowds, it feels as if the scene is vibrant. Metalheads are dedicated music fanatics who love to see live bands.
What kind of people do you draw to your concerts? What kind of people do you miss on your concerts?
-We see in terms of age very mixed audience at our shows, so it seems to be going home with many regardless of age and gender. It's great fun to see when our music is for everyone and we have a wide and rich sound that makes most people can find things they like.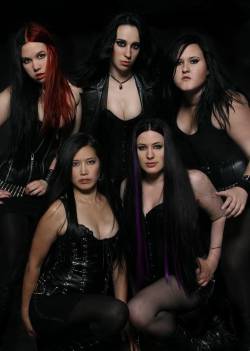 What is the best thing about playing live do you think?
-The best is clearly the adrenaline-filled energy, the raw emotions and to share their joy with the audience. On stage is where we thrive as a band and we always strive to deliver an awesome live show!
You've released your album Burning Insight themselves, I understand, there was no company was interested?
-The role of the record companies has drastically changed in recent years and today as a band do much on their own. So there is no need to signal just because, but we'll wait until it pops up a deal that feels right. We have chosen for this CD to enter into a partnership with Border Music as a distributor.
It is important to let the physical discs do you think? What is the best thing to release the physical discs?
-Both. Today it is well not as important as everything is available online, but the metal people still seem to like to collect CDs and vinyls as collectors items. It's amazing to keep a physical disc in your hand wrapped in art and then be able to browse a booklet which usually contains the lyrics, more art, or images.
Have you released any more than this disc? (If you have, how do I get them?)
-Yes, in addition to the disc available both physically and digitally, we have previously released four singles and an EP digitally. We are on Spotify, iTunes and record stores internationally through Border Music distribution.
How do you see otherwise on downloading and mp3 etc?
-To live in this digital age, where everything is available online has made the music industry has changed radically. Companies like Spotify makes an attempt at solving the pirate downloads and create a service that is comfortable for the user. As an artist, however, hard at pulling into real money that way unless you donīt have millions of listeners.
Which is the biggest band you have played with?
-After having played in several of the biggest festivals can not say only one band, then there are many.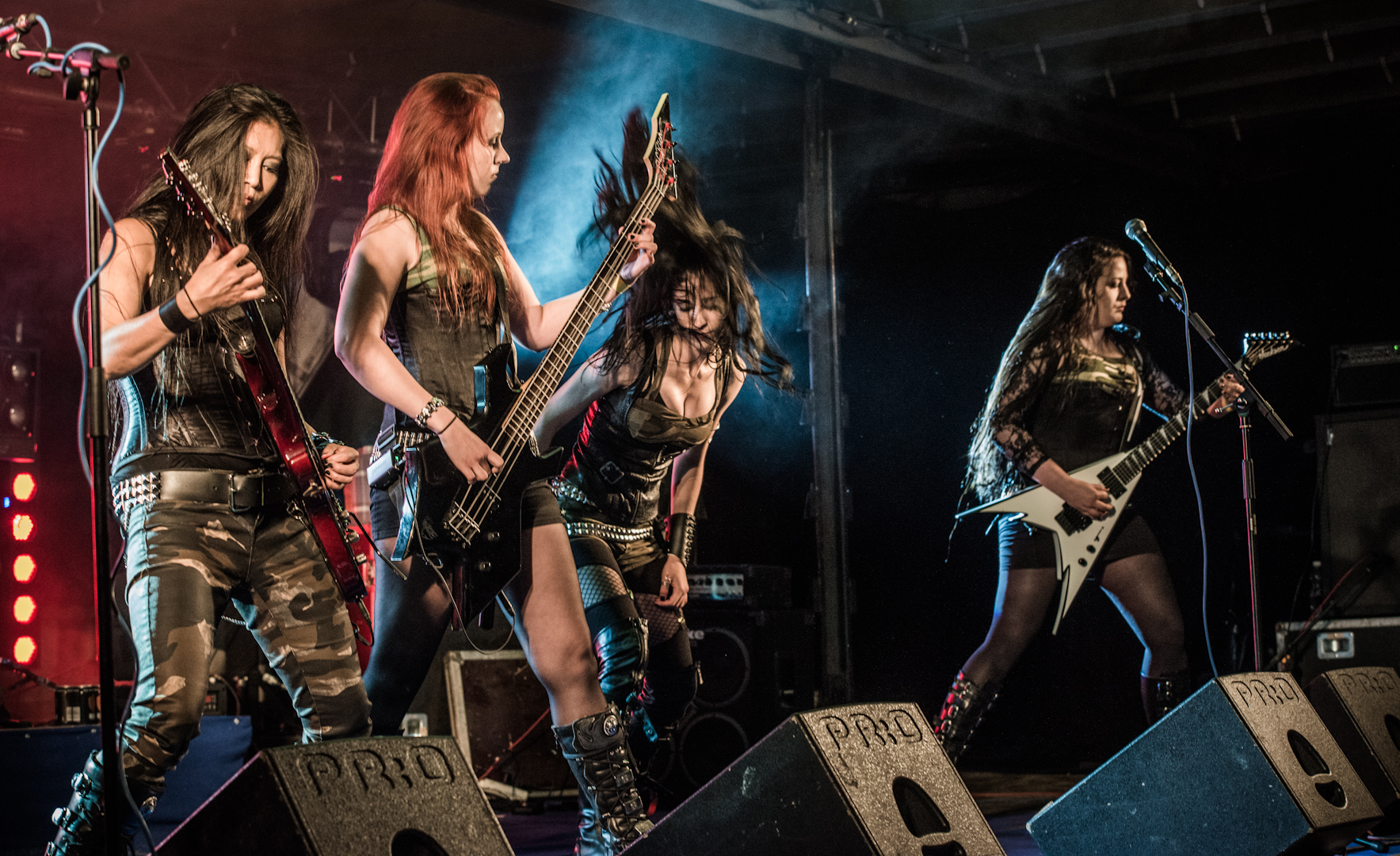 Will there be any festivals this summer?
-Yes, we have already played at Metallsvenskan and the Sweden Rock Festival, which was great fun!
How would you describe your music in three words? What do you call your style of music itself?
-Melodic, dynamic, energetic. We play melodic death metal with a wide variety out of influences and inspirations. As long as we have our signature of heavy riffs and melodic parts, we are experimenting with other elements such as speed, dynamism, progressiveness and rhythm.
What are you being compared when people will describe you? Is it embarrassing to be compared with other bands or do you understand it?
-It's a very human thing to compare something new with what you already know, so we can not do much about. All bands will be more or less compared with other bands that play similar music. We are often compared to early Arch Enemy eg
Politics and music, does it belong to each other? it is something for you?
-Politics is not something that we blend into the music.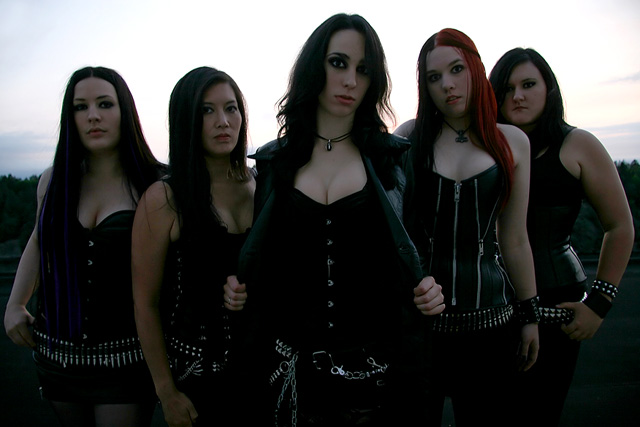 The disc that must be included in the tour bus?
-It gets pretty mixed music since we all have different favorite bands in several metal genres. It will be the person who currently sits with the playlist control, but a record that goes home with all of the Painkiller by Judas Priest and The Satanist with Behemoth.
Who writes the lyrics and what influenced him / they of?
-Itīs the singer Elizabeth. She draws inspiration from many different elements. Some are from life experiences, other has a particular theme, others are fiction and so on. The most important texts are getting the listener feel something and be able to identify with the message.
Future plans for the band?
-We will continue to develop ourselves as musicians and artists, and play as much live as possible. We have started working on new songs for the next album, so hopefully we can sigl us to a record label that has the contacts and financial prospects of bringing the band stepping out onto the world scene.
Something to add?
-We want to give a big thank you to our wonderful fans for all the support and we look forward to playing for you on a stage again soon!