Alan Smolak from Forgotten Rebels did this interview with me and it´s about the old Forgotten rebels time. It was done in 18/1-2001

When and why did you start to play and why did you split up?
-I joined the Forgotten Rebels in March of 1978. I was attending university at McMaster in Hamilton, Ontario Canada. The band's manager at the time used to deliver pizzas for Valentios, my favourite pizza joint in Westdale. He brought me a pizza and noticed the Marshall stack in my room and we got talking. By the way, Westdale, a rather affluent suburb of Hamilton, was the stomping grounds for a number of very influential Canadian bands including Teenage Head, Simply Saucer, The Shakers and too many others to mention here.

Anyhow, Mike Grelecki (Mickey De Sadist) along with Pete Lattimer (drums) and Carl Johnson (bass) had just finished recording their first EP, "Tomorrow Belongs to Us" and were getting ready to tour it. Mike had been playing guitar but wanted to be more of a front man. So the auditioned me for lead guitar and I got the gig. We spent the summer doing shows but things started to break down with that line up. We sorta split up.

In August of 79, I caught up with Mike at Tim Hortons (a famous Canadian donut shop chain) in Westdale and we talked about going into the studio to record some more demos. We ditched Pete and Carl. Mike was having his wisdom teeth out so I got a couple of friends, Charlie and John, to join me in laying down bed tracks. We recorded them at Basement Studios in East Hamilton. The four tracks we recorded are the first four tracks featured on Executive Outcomes. Mike liked what we did and we returned to finish the vocals and stuff.

Anyhow, on the basis of that demo tape, we got a deal with Star Records, which resulted in the Rebels first album "In Love With the System". During the Basement Studio sessions, Chris Houston (Pogo au gogo) started hanging around and did some backing vocals. He ultimately joined the band to play bass. We started doing some live shows, mainly with Cleve Anderson playing drums. Eventually we picked up Larry "Electrician" Potvin as a full time drummer. In January 1980 we recorded In Love With the System and started gigging pretty regularly.

I continued with the band until August of 1980 when Larry and I split. I was just sick of it at the time and wanted to go back to university instead of going on some tour of the US that the band was planning. So the In Love With the System lineup effectively split up at that time. As I'm sure you're aware, Mike has continued the band with different line-ups over the years. They just finished a tour of Europe in October (2000). It's pretty much his project and they continue to do well. I really like their new album "Nobody's Heros".




Please tell me a little about every member who have been in the group?
-Well, that's a tall order. Since I left the band in 1980, there have been plenty of members. We should have an alumni party sometime but I don't think there is a venue big enough. The guys I played with were fun. Chris Houston is still playing around. Last time I spoke to him (a couple of years ago) he was living in Vancouver. Mike is doing well, just got married a couple of years ago. I haven't talked to Larry in a long time.


Please tell me a little about yourself?
-Ha. Here's a little. I've been living in Melbourne Australia for the past 10 years working as a tax consultant. It's where the climate suits my clothes. I grew up in St Catharines Ontario, right on the US border near Niagara Falls, went to university in Hamilton and then moved to Toronto where I lived for 11 or so years before moving to Australia. I still enjoy music and fiddle around on the guitar when time permits. The Melbourne live music scene is very vibrant and there's plenty of gigs on any given night. I still enjoy catching gigs. I love the surf and Australian wine is fantastic.


How did you came up witht he name Forgotten Rebels?
-Well, as I said above, when I joined the group, they already had the name. So I didn't come up with it. Mike made it up but I don't know where he got it.



I have executive Outcomes do you have done anything more and how can I get it if you have?
-Executive Outcomes evolved out of some tapes I had kicking around. Lee Joseph at Dionysus contacted me about releasing some stuff. When I was in LA once we hooked up and I was really impressed with his organisation. I had also been contacted by some stupid dickhead named Jan Haust from OPM but told him to go fuck himself on account of he was so fucking stupid and arrogant. So Lee and I put a deal together and he released the stuff. I know there are some other tapes kicking around, in particular a very hot set that we played supporting the Ramones in Burlington Ontario. I don't know where that stuff is.


It seems like you have much humour in your lyrics? Is it important with lyrics which is funny and not politicis in the lyrics?
-Mike is responsible for all the lyrics. He did a great job, he's very talented. The whole thing was a piss take. We had a lot of fun kicking various issues in the nuts.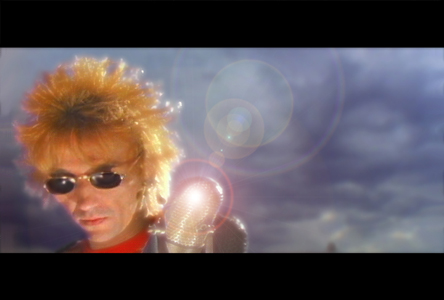 When you did music back then ,w hat was most important ,was it the lyrics, the music or was it to make a refrain that people remembered?
-Well, ya need both to make a song. I think we had a real kick ass live show. Loud and tight. The songs on In Love With the System (alternative demo and live versions on Executive Outcomes) are for the most part classics. In Love with the System was recently voted one of the top 100 Canadian albums of all time, which I'm really proud of. There's no question that song titles/lyrics like "Bomb the Boats", "Fuck Me Dead", "I Left My Heart in Iran" were very memorable, but I think the music holds up too.


What do you do nowadays in the music business?
-Not much. I still enjoy playing my guitars and stuff, but I haven't worked professionally since 1980. I've sort of moved on.




You were from Canada,wasn´t you, how was the punkscene back then?

-Well, when I first started out with the Rebels, it still was a "punk" scene. We used to play legendary clubs like the Turning Point, Larry's Hideaway, the Horseshoe and the Edge. Those where really strange gigs. Almost every gig was total chaos. You would typically play with four or five other bands on any given night. Nobody made any money or anything. You never knew what was going to happen and almost anything did. Then it all got more "new wave" and suburban. There were still good venues and great shows, but the bag men and 10 percenters started moving in. It got way more corporate.




But now you live in Australia or, if you do why?

-Yeah, like I said, I've been in Oz since 91. It's the first "second world" country I've lived in. I came down here for work purposes. I was a partner with the accounting firm Coopers and Lybrand. I now have my own tax advisory firm called Gang of Four Consulting. We recently assisted big corporates with Australia's implementation of a GST (VAT) tax. Australia is a beautiful country. I really like living near the ocean. Melbourne is a great town. Like I said, lot's of great bands, both local and touring.



What do you know about Sweden?

-Sorry to say, not a whole lot other than you guys are communists (?). I know it's cold there. I prefer the sunshine.


Have you heard any good bands from Sweden?
-Yeah. I really like the Hellacopters. I've seen them about 4 times in Melbourne and have all their albums. I also like Glucifer and the Nomads. I also really like the Hydromatics with Nick on drums. Is Turbonegro from Sweden? I like them too.


What does and what did punk meant for you?
-Well, it really was a musical revolution. That first Ramones album and then the Pistols really turned the industry ass over end. From and Amercian standpoint, it was a new twist on a lot of stuff that was really the alternative to what was going on at the time.... the Velvets, the MC5, Iggy and then the NY Dolls, the Dictators etc. There was a whole new energy. Brian Eno once said that "not many people bought the first Velvet Underground album, but everybody that did started a band." It was much the same thing with the Ramones and the Pistols. You didn't have to be Yes or Genesis to be in a band. You could just strap on a guitar and go for it. Fuck the corporate rock star crap and start playin your ass off. It was more of a music thing in America rather than a class structure thing like they portrayed it in the UK.



Was it only to destroy and was it total anarchy?
-Well, I don't know how much destroying was going on. There was a good dose of "anarchy" so to speak. Mostly musical anarchy. That felt good and still does.


Is there any good band around nowadays as you like?
-Well I listen to lots of stuff these days. I think the best release of 2000 was "Gear Blues" by Thee Michelle Gun Elephant. I love that album.


.How was a good Forgotten Rebels gig?
-Well, some shows were great and some where horrible, but mostly they were great fun. We had great fans who were very supportive. I can't remember many shows that didn't sell out. It's like anything else in life, sometimes it's working really well and sometimes it doesn't gel. With a Rebels gig, you just never knew what was going to happen. When it went off, it really went off. As far as I was concerned, as long as I didn't break too many guitar strings, I usually enjoyed the show.



Have you hear much from people after the release of Executive Outcomes? What does people think?
-Yeah, well, I guess the idea of Executive Outcomes was to let the fans have access to some stuff that had be lost for years. I think it really has it's moments. I think some of the versions on Outcomes are better than the studio versions on System. It's more of a historical document so to speak. Most people who have commented are real fanatics who appreciate anything that the Rebels have done.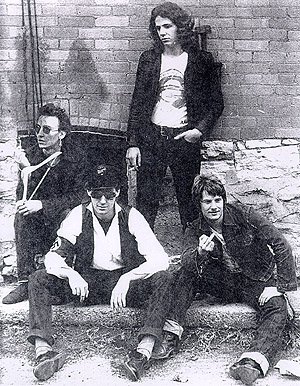 What do you think about the new way to communicate with email and internet and all that stuff?
-I've been on the Net for a long time. But when things really started to take off, I became totally amazed. For example, I had almost forgotten that I was ever in a punk band. When people started getting wired, I started getting all this email from different people (all over the world) asking about the Rebels and stuff. I found that facinating. Just the fact that I'm doing this interview from Australia with somebody in Sweden 21 years after I played in a Canadian band pretty much says it all.


Do you have any favouritesite?
-Nothing in particular. I don't surf the Web that much anymore. But I do use it when I'm looking for something specific. I do use it to find out about new bands and stuff and obviously for email which I depend on a great deal.



The first and the last and the most expensive record you have bought?
-First Record: Rubber Soul (the Beatles - my grandmother bought it for me - still a fave)
Most expensive: Velvet Underground box set I guess


Do you read zines, any favourites on the net or on paper?
-Nothing on a regular basis. I intend to check out your site soon.



Are you listening to punk nowadays?
-Yeah, but mostly old stuff. I'm not sure what punk is anymore. In Australia, it's mostly that southern California surf type stuff that gets played. Which is fine but pretty pedestrian and nothing has really rawked my world.


You did some covers on the Executive... Like The punks are alright, They´re coming to take me away and so on and you make joke of Elvis, why?

-We used to do a number of covers including some that weren't on Outcomes. Mickey used to do "Comming to take me away" when I broke a string and had to switch guitars or change the string. We also did Rockaway Beach, Anarchy in the UK and Vietnamese Baby by the Dolls plus the Stooges Search and Destroy. We used to do songs that we liked every now and then.


What do you want with your life in the future?
-I'm pretty much over the corporate business scene. I'm kinda semi-retired now. I just want to chill out and relax by the ocean. It's been a long strange trip and I'm tired.

If you have could choosed five band and Forgotten rebels to a concert, which bands would you like to play with?
-Well, we played with a lot of really cool bands like the Ramones and the Cramps and the Dead Boys. I would have loved to play with the Modern Lovers, the Dictators and/or the MC5. I actually sang "White Riot" with Joe Strummer on stage during the Toronto show of their first North American tour. That was fun.


Wisdomword?
-Yeah. "Always stay in your own movie". - Ken Kessey

Something more to add`?
-Thanks for your interest. Hope this is of some use to you. And don't freeze your ass off up there. It's 34C here in Melboure today. Not a cloud in the sky.

Best regards

Al McCombo