France have not so many hardcorebands that i know but Forest in Blood is one of my favourite ones....december-2018
Please tell me a little bit history of the group?
-We were 18 years old, we were beautiful as children, France had just won the Football World Cup and we found that there were not enough bands in France that were doing metalcore. It was 1998!
As nature hates emptiness, we released our first EP and now it's our 20th birthday.
And we are ready for the boarding again and conquer the world with moshpart and thrash guitar riffs.

Please tell me a little about every member in the group right now, age, family, work, interests and something bad about everyone? Earlier bands? Other bands on the side?
-We are a standard metalcore band, 2 guitarists, 1 bassist, 1 drummer and 1 singer. We all have nice, compliant women and some have even recognized their children.
Pierre our new bassist comes from the band The ARRS and participates a lot in compos! Elie drinks too much and especially Saint James Rum, so it is better to avoid smoking next to him, it could ignite.

I can hear much different influences but mostly hardcore and thrash etc? Favorites from the past?
-We mix all our influences from brutal music to folk. And it's true that thrash and hardcore take us to the guts, it's normal that you can find it in our music.
<![if !supportLineBreakNewLine]>
<![endif]>
Forest in Blood are you satisfied with the name? How did it came up? You weren't afraid that some other band would be named like this?, Why an English name? Which is the best bandname you know?
-Aside from the fact that it's easy to understand, it's a French band that chooses an English name. It comes from an evening far more than watered in our Singer's forest. His rum probably too much arranged, and Reign in Blood of Slayer made the trees bleed.
This name… we love it and there would be no better name to represent us.

What´s the best thing with playing live?
-Share our sound with music fans like us, and party with them .


And where is best to play? And the worst place?
-We had the chance to play on many excellent scenes! But Paris at Club Dunois, Rennes, Berlin and Poland! It was crazy! I don't remember bad places, there is always something to have fun everywhere

How is to play this sort of music in France right now? Which types of bands do you have concerts together with?
-There are several small associations that organize incredible shows such as the Superbowl of hardcore in Rennes or Colmar Grillen that make live the scene. There are also Rock's mastodon like Ragetour or hellfest that allow French bands to have an international scale.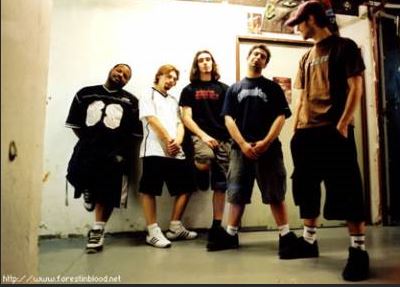 How would you describe your music in three words?
-Metal, Thrash, Hardcore

What does punk mean to you, is it only a word or is it a lifestyle?
-We keep the energy of punk in our music and in our musical commitment

How do you see on downloading, mp3 and that stuff?
-We have made all our albums for availablle foristening and downloading for free. We are in favor of making music accessible to everyone.

How is it to live in France right now? Politically? Fascists?
-Living conditions are increasingly difficult in France and Europe. To our dismay, it breeds a rise of the far right and fascism.
We believe that we must fight xenophobia and hatred of the other because they only bring suffering and inequality. The fight goes on

Is there any good bands from France now? Is the punkscene/hardcorescene/thrashscene big? How is it in your hometown?
-We have some monsters of rock in France like GOJIRA, Rise of the Northstar, or Mass hysteria and a rich underground scene. The biggest problem is the lack of room, which slows the groups in their progress.

What do you know about Sweden?
-The fiords, the long, bright days and a crazy metal scene.

Have you heard any good bands from Sweden?
-Of course, some bands have influenced the whole international metal scene like Entombed,In Flames, the Haunted or Dark Tranquillity ...

Your lyrics, who does them and what influences you? Is it easier to do lyrics now or was its easier to do it when you was younger? Why in both English and french?
-We chose the allegory of piracy to get our ideas across. Writing on a theme, building bridges between the imaginary and the real has been a real pleasure. Elie is our lead lyricist, Barth wrote James and Hervé Path of the dead.
To accentuate pirate writing, it was necessary to write in French, English and Frenglish.

Is there any subject that you never will write anything about?
-All topics are interesting to discuss, at least if we have something complementary to bring.

Politic and music, does it goes hand in hand? Which is your most political song?
-We do not focus our music on politics, but rather on the theme of who am I? and who I want to be
Our album is full of metaphors, and Pirate is perhaps our most libertarian and anti-establishment album.

Best political band/artist?
-Chaos AD , Refuse-Resist of Sepultura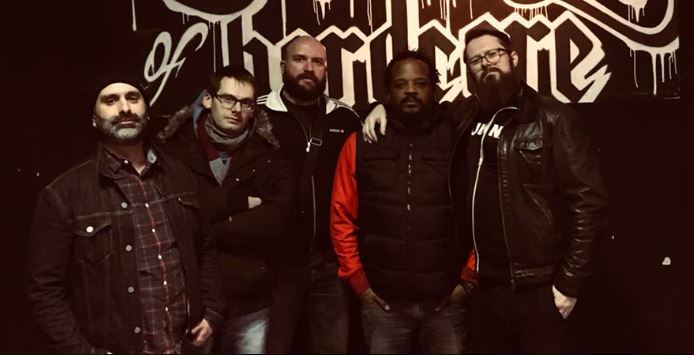 Do you think that music(lyrics and so on) can change anyones life, I mean people who listens to music?
-Music, especially metal, within the band has changed all of us and influenced our choices.
I hope our messages are read and free for everyone to appropriate. Our last album is a story to follow throughout the album. This one takes you on the flos of freedom, loneliness and desolation. It's a bit like a slice of life and history.

Your cover on your CD looks really nice, is it important to have a record cover which shows people which type of music you play? Your favorite recordcover? Who does your covers? And do you have any good recordstores in your hometown?
-We chose two underground artists recognized in the middle, Denis Grrr for the cover and Akrog for the illustrations because they are able to transcribe our musical universe in image.
As all our music is free, we decided to make a collector's album pressed only 200 copies for collectors of beautiful objects

Your favorite record cover?
-There are many, I like the pockets of "All out war" or those of "Iron maiden". And do you have good record stores in your hometown? There are less and less, the easiest way is to get the records is in the stands of concerts

Is it important to get out physical records of your stuff? Why or why not? Vinyl, CD, cassette, what do you prefer if you could choose whatever ?
-As I said in one of your previous questions, we think that the physical supports must bring a plus to the work, an original drawing, a support of quality, a complement of history. This is what we tried to do with our digipack for 20 years of the group, We released 200 copies and of which there are only a hundred left after our first concert. There will be no others

Please tell me a funny thing which have happened during your career and under some gig?
-Going on a tour is always an adventure or a new story, beautiful encounters with incredible concerts and parties, for example we met Meshuggah on a highway area and we had a drink together, or for example on a tour in poland, we visited a beer factory on the way and these gave us enough beer to rinse our fans come to see us, ..

How does your audience look like? Which people do you miss on your concerts? Which is the biggest band you ever have played together with?
-We played with a lot of bands like Anthrax, Suicidal Tendencies, Napalm Death, Hatebreed, Madball and so on. and it's always a challenge to share scenes with these scene killers. Our audience is a mixture of hardcores, metalheads and thrashers.
We love an energetic pit, headbanging and slam. Circle pit and wall of death make us vibrate

Please rank your five favoriterecords, five favoriteconcerts and five most important things in life?
-Album:
1. Reign in blood - slayer,
2. Crack the sky - Mastodon,
3. Burn my eyes - Machine head,
4. And justice for All - Metallica
5. Cornered - Kickback
Concerts:
1. The Hellfest
2. Metallica
3. Sepultura
4. Slayer
5. Infectious groove
5 things:
1. Freedom,
2. the family,
3. love,
4. rock,
5. and 5 tasty beers

First, last and most expensive record ever bought?
-When we love we do not count <![if !vml]>

<![endif]>the price is not an aspect that influences our choice

Is it boring with interviews? Is it much interviews??
-We just got out of a day press with over 27 itws, I can not say that it was boring because every reporter is different and passionate. At every moment we spent a great moment of exchanges

If you could choose five bands from the past and the history and nowadays and both dead and living bands to have a concert together with your band. Which five have you been chosen?
-The best concert: Slayer, Pantera, Metallica and Forest in blood would be the dream

Is music a good way to get out frustration and become a nicer person outside the music??
-Not to create is, indeed, a frustration. Our 10 years break generated a creative volcano, which allowed us to write this new album in 2 months. It feels good when it comes out.

Which is the most odd question you ever have got in an interview?
-With this question, I realize that metal journalists are professional because I do not remember a question too strange for us. Or maybe we are afraid of nothing.

Which is the question you want to have but you never get. Please ask it and answer it?
-Why are you so beautiful?
-Because we play Metal, dude

Futureplans for the band?
-French tour: Cherbourg, Nantes, Poitiers, Colmar and etc. then European: Germany, Belgium, UK and why not Sweden. Then we investigate a new album

For yourself?
-Sex, Rum and Rock n Roll

Wisdomword?
-Anything that does not kill me makes me stronger – Nietzsche

Something to add?
-Thank you Peter for this Itw. We can not wait to come and present our latest album in your legendary country! Prepare the beer kegs and the whiskey barrels !!