Marcus from the welsh group Foreign Legion contacted me and we began to talk on Messenger and here´s the result of that "talk" July-2017
You have been on the road as long as I have had my fanzine Skrutt. Have you been playing all the time since 1984?
-Foreign Legion was formed March 1984 from the ashes of Welsh punk band Dead on Arrival.. We changed the name because sometimes they put DOA on the poster.. We know the Canadian band DOA so we changed the bands name... We split up in 1992 I lost a family member was not in a good place.. We were still writing songs so we came back 1999 found a label and recorded some new tracks...
Have it been many changes of members?
-Yes we had band changes, some members couldn't handle practice every week travel etc some members wanted to go down differant road heavy metal sound etc..
Which are the members now? Tell me a little about everyone in the group , age, family, work other bands now and before?
-Marcus vocals Si guitar.. Greg drums David bass..
We are all punk rockers. Si is in his 30s he recorded with the Welsh band Impact.. Works at local warehouse.. Greg ex member of the Violators and he works as a gardener.. David works full team with Hooligan Dublin. And Blue carpet band... I was ex member of Society and Dead on Arrival..
You´re from Wales…The only punkbands I can come up with right now is Picture Frame Seduction and Anrehfn? Other good bands from Wales?
-Yes we come from South Wales UK over the years we had some great bands System Kills, Impact, Pizztramp, Shrapnel, Picture frame seduction ,Oppressed Partisans, Symbal of freedom Abs Doc Savage 8.4%, Fatal blow, Trigger poo Soldier Dolls, Sick livers, Strawberry blondes, Tenplusone etc etc plus many more..
Anrefhn sang sometimes in the welsh language, have you ever done that?
-Anrehfn was a great Welsh band and I got most of their records and have been friend with Rhys for many years and I booked them a show 90s and they went down very well....
We have never recorded a Welsh track but watch a lot of Welsh TV shows.. Been a few I done background work acting for 7 years. I was good at Welsh in school.. Lol....
Politic and music, does it belong together? Which is your most political song?
-I think politics is OK to be in music, punk Rock streetpunk oi bands have something to say. I would say our best track for that is dogooders about the clowns in power.. Just don't do theirs jobs cheat and lies...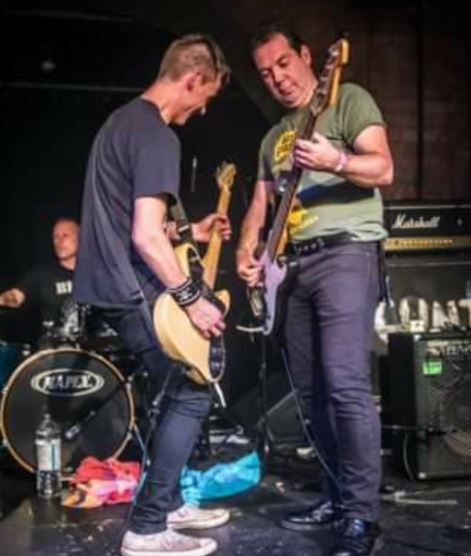 Best band who does the best political songs?
-I love most of tracks by the Clash and Dropkick Murphys.
IS there anything Foreign legion never will write about and which of your songs is the song which isn´t about anything important at all?
-I can't see us ever writing a love song... -We wrote a song called I've been years back about travelling around the world just a fun song...
You have done a song about George Best, why he wasn´t from Wales?
-We wrote a song called George Best and it was cause we all liked him as a great player met him onces the song is about the way we were 70 80s sticking two fingers up and no one cared about anything anyone, drinking, women etc..
Do you have any favorite football team?
-My favorite team is Wales. Queens Park Rangers same has Mick Jones Clash Glen Matlock Sex Pistols.. And Merthyr Town FC, a non league team I played for them in the early 80s...
Many rockbands do their own beer , is that something that you have thought of? If you would have done an own beer, which type of beer would it be?
-Love to do our own beer one day.. Lol but maybe cider be better. Or water from the local springs.. Never know....
You have had some wellknown rockstars which have produced your record as Mick Jones and Phil Campbell? How come?
-I met Mick Jones at football and gave him copy's of our eps. He called me on the weds and said he love to work with us to produce a video plus happy to produce and mix the new album...
The boys were friends with Phils son and we used to record at his studio. Phil helped us with production and the mixing, great sound all round.....
Which do you think is your best album except from the latest you have done?
-Our best album we would say is our last album.. But before that I was say light at the end of the tunnel..
Which is the song that everyone want to hear when you play?
-Everybody goes crazy mental when we play where's Johnny gone which about homeless kids all over the world.......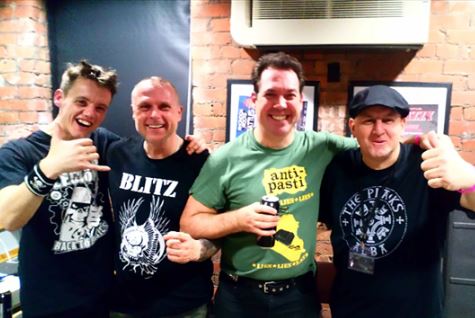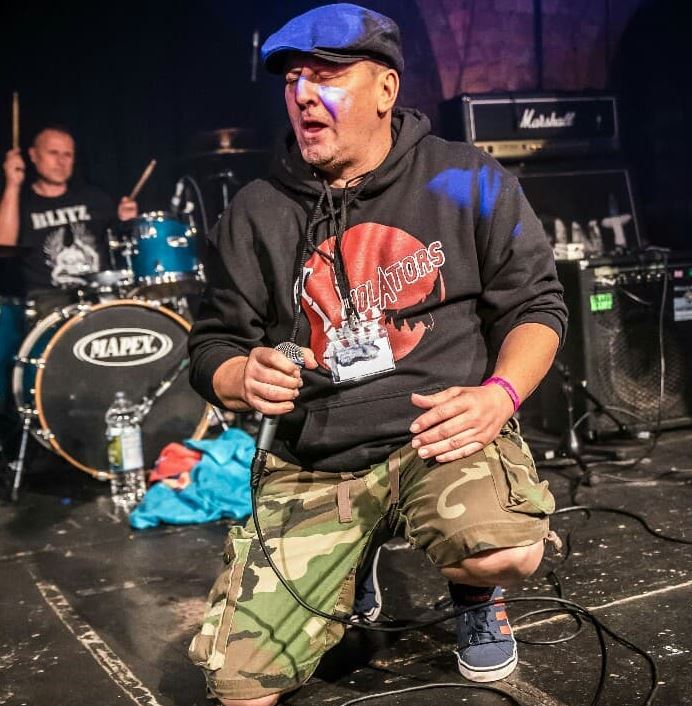 Here´s a question you don´t have to answer but you said that you go to hospital three days a week, I hope it isn´t any serious(of course it serious) but I mean not anything deadly? Can you be well from it?
-Ive had a bad 7 months, I got problems my kidneys are closing down. So I go into hospital 3 times a week for dialysis treatment which is not nice, feel like a drunken man when you come off the machine.
How is it with hospital and so on in Great Britain, here we pay tax and it doesn´t cost so much to go to the hospital and get care. Is it so that you must pay everything yourself?
-The HHS are great in the UK itts just the people who run it which are the problem.. I don't pay for treatment but I pay for my own transport to and from hospital units...
How is it otherwise to live in Great Britain nowadays with Brexit, the political life overall?
-The UK is one big mess down to the peoples vote to leave Europe. It´s taken 3 years for the clowns in government to sort out what a waste of money it could have been spent on health schools etc.. It´s like going back to 80s small business big car plants closing on moving away from the UK. South Wales had alot of European money for roads etc etc. No more. One big ffff mess
Have you ever been to Sweden? Have you heard any good Swedish bands?
-Never been to Sweden love to play there one day, we played in Denmark and Norway... I've heard of Anti cimex, Ebba Grön, Asta Kask and I can't wait to see top Swedish fanzine Skrutt...
You said that you did your first gig in 1978, which band was it with? And what´s the biggest difference of playing today if you compare with when you played 41 years back?
-I was a founder member of the Welsh punk band Society.. Only played 5 shows. Then I went to form Dead on arrival who was feature on On the streets 1983 comp lp.. With two tracks
Foreign legion was formed march 84. We get more people at our shows plus the gear sound is a lot better. Plus you get more well looked after...
You have been playing with Foreign Legion in many countries, which the best one to play in?
-We have been lucky to visit 15 countries. The east coast USA tour with major Accident was great. But all shows away have been super. We are the only Welsh band ever to have played CBGBS New York City big apple..
What´s the most odd thing which have happened during a gig with you?
-I booked a show for Joe Strummer in the late 80s. The night before in practice our amp blow. So we asked Strummer if we could use his amp. 3 songs in my guitar player Joe's amp blow. Nightmare. Joe was OK with it give us invite to after show party... I booked a local show for the UK subs and saw an ex girlfriend with one of the members of UK subs... Crazy... Lol....
Which type of people comes to your gigs? Both old and young?
-We get young and old at our shows. Getting alot of young people last few gigs.. We thank them one and all...
What does punk mean to you, a lifestyle or only a musicstyle?
-First it's a lifestyle and music style u are what are. Never change... Punk rock oi for life... Once a punk always punk Demob...
You have been interviewed many times I assume, have you ever got some really weird question?
-Somebody.. asked us onces what socks and trainers do we wear, odd!.
If you should describe your music to someone who never have heard you,which three words have you said then?
-Our music is hard hitting working class street punk oi oi music.. ALWAYS WORKING CLASS...
You´re playing Rebellion 2019, have you done it often. Is it only a place for nostalgia or is it any new bands there? Any new bands from Great Britain to tell me about?
-We are lucky to have played Rebellion many times. The greatest punk festival in the world nothing can comes close to it.. On show 30-40 new bands who go up to play bigger stages.. Some great new bands No thrills Control The Placks Arch Rivals Grade 2 Boots n All Acid Attack Panic attack United bottle. Fat Albert. Boilmarker Gimp fist Criminal mind. PFS The Warriors.. B squadron.
Ambition demolition. Borrowed time. The Partisans is a great Welsh Swedish band now....
You release your records as physics record? Could you imagine to release a record only on digital platforms? Which is your favouriteformat on records?
-We love all formats of music. But it's great to put out vinyl. Lots of people love getting these. Think the download world is killing the CD Market a bit. But that's life there u go...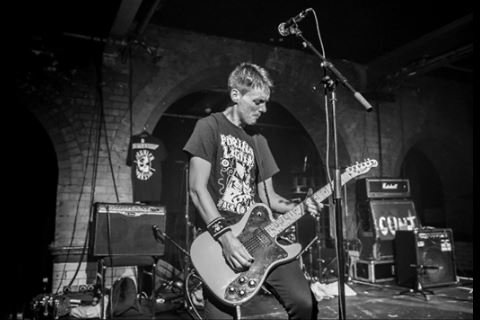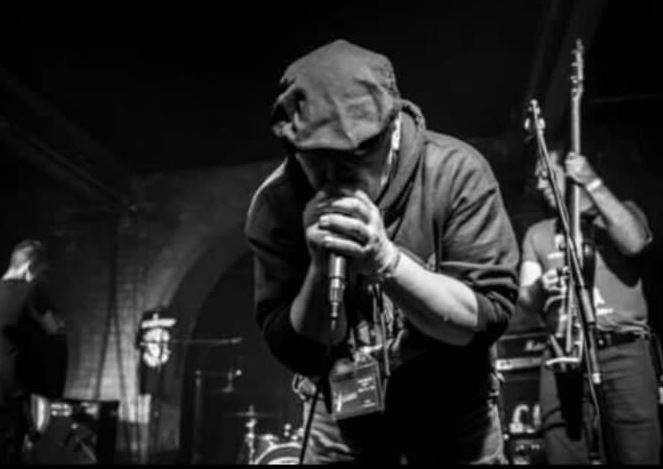 First, last and most expensive record ever bought?
-First record I got was a copy of God save the Queen.. I payed 50 notes for a vinyl copy of the Clash in London 85 I was at the show.. I just got a copy of the new Control album.. Democracy is dead true right.
Wisdomword?
-Wisdom world punk rock music rules the world. People on good wage good pension. No more shit trouble in the world.. Justice for the working class.
Futureplans after Rebellion?
-We are waiting to book a few shows end of this year. Record a new ep and album. Been asked to play with Cock Sparrer in France Nov. 2019. Looking forward to fresh air.. In Blackpool. I haven't been out much this year and to catch up with old and new friends bands from all over the world..
Something to add?
-Thank you Peter for interview and good luck with Skrutt for the next 35 years. Best wishes. Any promoters out there get in touch.. Thanks to every one who come to our shows, promoters, zines, radio shows. Thanks to our label boss Patrick. Respect Always Working class crew. Marcus Si Dave Greg.. Foreign Legion.
All merch t-shirts cd-s badges stickers vinyl. Please get in touch. We answer back within ten minutes.