När jag slår upp tidningen i morse så såg jag rubriken på konsertrecensionen av denna konsert. Thorsten Flinck borde inte sjunga eller något sådant stod det och konserten fick en etta i betyg. Jag anser väl att denne recensent inte bör skriva, i alla fall inte om något som denne person redan från början inte var intresserad av. Jag menar inte att han/hon måste vara jättefan av Thorsten men man får ta det för vad det är men denne person saknade kanske skandaler. Det närmaste vi kommer är ett nästan vält mikrofonstativ och då var det ändå inte Thorsten själv som höll på att göra det.
Jag tycker nog att Thorsten gör detta med en större inlevelse än många andra artister och man kan tvista om denna man kan sjunga eller inte men det spelar mindre roll när man gör det med denna känsla. Det han inte borde ägna sig åt är kanske mellanpratet för det låter mest som om Per Oscarsson står där och mumlar och man hör egentligen ingenting.
Han startar konserten med en vers av Kent Andersson(har jag för mig att det är) och efter det spelar han en låt av Nick Cave Vildvuxna rosor(Where the Wild roses grow) och det är ju synd att inte den finns med på hans debut-CD.
När han drar igång Jag var inte sjuk njuter man i fulla drag av denna galne/geniale man och även om hans röst inte alltid håller så håller hans konsert hög klass och hans medmusikanter Kenny Håkansson, Bill Öhström och en halvgalen basist är riktigt bra. Bill Öhrström håller takten bra med sina bongotrummor och Kenny Håkanssons gitarrspel är bländande. Rövarkungens Ö och de flesta låtar från hans skiva finns med men vi saknar Dansa i neon men det är klart Ola Salo var ju inte där.
Hade alla haft denna inlevelse när de har konsert så skulle konserterna bli så mycket bättre och roligare och recensenten på GP skall nog bara gå på välregisserade konserter som U2 eller Gyllene Tider på Ullevi. Självklart får man tycka vad man vill men att skicka en recensent som redan innan har skrivit ner konserten kan ju kvitta.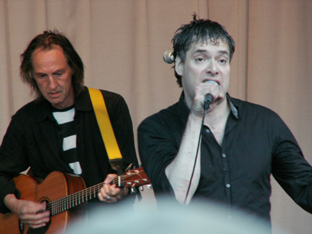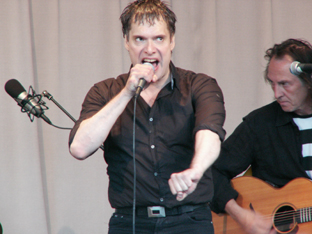 When I open the paper this morning I saw the review there and was it was said about this concert. Thorsten Flinck shouldn´t sing it was written there and the concert got a very low grade. I think that this person shouldn´t write, anyway not about something that the person not is interested of from the beginning. I don´t mean that he/she must be a huge fan of Thorsten Flinck but you must take it for what it is but the person whjow rote the article maybe was missing some scandals. The nearest a scandal we´re coming was that the microphone almost got into the floor and then it wasn´t Thorstne himself who did that.
I think that Thorsten do this with a bigger feelings than many artists and you can discuss if he can sing or not but it doesn´t matter because when you do it with this feeling it´s really good. The things he shouldn´t do is to talk between the songs because it cannot be heard and he sounds like a mumbling Per Oscarsson.
He starts out the concert with a poem of Kent Andersson(I think) and after that he do a song of Nick Cave Vildvuxna rosor(Where the Wild roses grow) and that´s a shame that that song isn´t is on this debut CD.
When he does Jag var inte sjuk I enjoy this really much and this mad/genious man is so good and even if he cannot sing so good so is he doing a really good concert with high class and his musicans Bill Öhström, Kenny Håkansson and a halfmad bassist is really good this evening. Bill Öhström have really good handle of the drums and Kenny Håkansson guitarplaying is blistering.
Rövarkungens Ö and the most of the songs from his record we get but we don´t get dansa I Neon but Ola Salo wasn´t here.
I wish everyone have had this feelings on a concert so should the concerts be so much better and fun to watch and the reviewer on GP should only go to welldirected concerts as U2 or Gyllene Tider on Ullevi. Of course you can think what you want but the thing to send a reviewer which already have written down the concert before he/she sees it can make no difference.