Fits was one of my absolute favourite punkgroups in the 80´s . But they only did one LP/CD but now they´re back and now have Mick answered a lot of questions from me …september-2014

Why and when did you start playing as Fits again?
-I'd been away living in a car across the US for many years. I came back to the UK heard about the Rebellion Festival in my home town Blackpool. So I'd be up visiting the family and called in. I met Darren at the door and he said why don't I come and play the following year. So I came and did my own acoustic set with songs I'd been playing across the USA. I think I did it two years running and was just asked all the time why aren't THE FITS playing. I was chatting with my old home town friend John Robb and he finally tipped the boat and said "what have you got to lose, it's your home town" and it went from there. I got in touch with Ricky from the "Last Laugh period and Dave who played with me in Pure Pressure. We played the festival in 2012. We all had such a great time we just carried on. In fact it has healed such a lot of old wounds for me and helped me realise what we had done and achieved back then. I had dismissed it all for many years.

Todays members, who are they and for how long have they been in the group?
-Dave Broderick was the drummer in Pure Pressure the band we formed after THE FITS. Ricky McGuire is was bass player with the Last Laugh E.P line up it was the period back then when we were all starting to become much better musicians (He also plays with the men They Couldn't Hang. Carl Englemarc has been with us just over 6 months now (X of the Members) (and yes he is Swedish and Played in bands there called I believe, Mercy, Roman Holiday, Aaron, Madison and Big Easy) The New FITS have been around the block a few times collectively and so are Tight Powerful and Hungry


Did you play with some other groups between Fits then and Fits now?
-We broke THE FITS up back then it was because the scene had become very ugly, plagued by violence and dumb dead end politics. So we simply changed the name to Pure Pressure. Became a 5 piece and toured endlessly across the UK and Europe releasing and Album in Spain called "Bad Face" a great band and Spain was such a great country to tour the Spanish like to rock. I then took off to the USA on my own. Lived in a car and busked my way across America and Mexico for about 6 & a half years playing anywhere that would feed me. A great time in my life I had never knows such freedom. No radio no external input, just man and car and guitar. I was a busker in the London Underground (metro) for a couple of years when I returned to London after the years in the USA, that was a fascinating time. I wrote and recorded many songs during that time with my old partner Kerry Waite (the first guitarist for THE FITS this time around) I also recorded a lot of stuff under the name MANuS which is posted out there on Myspace and as Mick Crudge posted on Soundcloud.

What´s the difference of playing nowadays if you compare with when you started as young punkband?
-We don't have to carry our gear to gigs on the bus anymore!! It isn't as innocent now. Though back at the time the last thing we thought we were was innocent. What I mean by that is that we are now fairly accomplished musicians. Also the scene is smaller less tribal and so far less violent. There is also the internet which helps but also overwhelms.

What does punk mean to you, is it only a word or is it a lifestyle?
-I have always thought of myself as a Punk Rocker no matter where I have been no matter what I have done. Working on a ranch in the US or wandering through India & Tibet I was still the same Punk Rocker I always was. I always saw it as a plus and still do.

Is there any good punk bands around in England right now?
-I am sure there are. I was dreading seeing some of those older bands. Some have lost that edge. But the UK Subs, Killing Joke, Peter & The Test Tube Babies and The Subhumans are still great live
Which of the old punk bands from England which still is playing now is your favourite? (I saw Damned last week)
-Killing Joke without a doubt ..

Is there any good new punk bands which have coming the least that you like?
-I love Rancid Does that count? I missed them when they were on the way up because I was away in the wilderness. I saw them for the first time at the Rebellion in 2012 so they are new to me. The Indestructible album is Fantastic, song after song after song.

What do you know about Sweden?
-Not too much I'm afraid but Carl is educating us all. He says when he gets home sick, he goes to his local IKEA and eats meat balls.. So I am curious for sure. We are hoping to come across early next year in fact. I have seen pictures and I would like to walk in the Wilderness and swim down some your rivers. That would be great.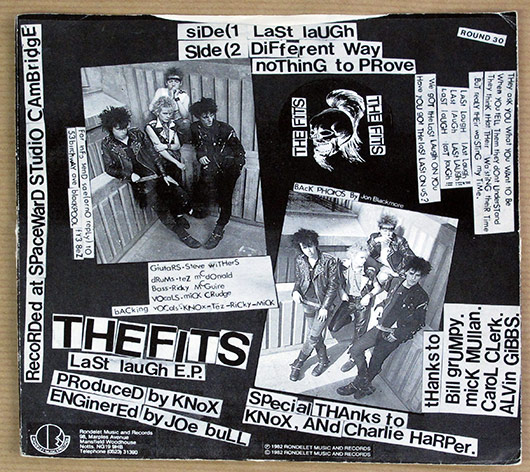 Have you heard any Swedish bands?
-I'm afraid no not many. The ones Carl has told us about. That he was in (mentioned above) Apparently there is a great rock scene out there.. and of course AbbA.. do I get 20 lashes for that ..

You said that one in your group could read Swedish, is that true and why can he read Swedish?
-Yeah Carl Engelmarc he is Swedish

Is everything you did back in time on Captain Oi's compilation? If not what´s missing?
-Well we did start recording an album back in 1987 that has somehow surfaced on the Internet called Tabletalk. You can get it through Beat the System on Facebook I believe (6 tracks) Treat us tonight, I'm not like everybody else, Everything, Try so hard, he's not ready yet, & Chances. The later two tracks we rerecorded on the new "Lead On E.P." which is far superior. There are quite a few very old songs from the very first line up that frankly aren't worth mentioning. I think they may be on the "You Named Us Tape"

I´m really excited to hear some new material with you? Do you have any full length on its way?
-Yeah we have the album written but we are still writing more. Carl has a few tucked away and I have many I have been writing over the years. We are due to start rehearsing intensely in November and begin recording in the last week in November. It should be bright punchy and in your face, like the sunshine when you rip open the bedroom curtains after a long and heavy sleep. Startling!!

How would you describe your music in three words?
-Really fucking Great.. or if you like the last line of the question above but it's more than 3 words.. J

Where do you stand when we talk about downloading, mp3 and so on?
-Well it's all quite new to us to be honest. I personally still prefer to go and buy the album. Carl is into the downloading things he's always tinkering about on the net. The "Lead On" EP is available on all the usual download sites. Check it out. If you're talking about free downloading.. I think people should be paid for what they do. For some it is their only income. Pay musicians for putting what they do out into the world. Yeah for sure.

Is that good or bad for a band like you? Do you get any new listeners that way?
-It's good obviously. And I'm sure we have. But as I say not something I'm personally too fussed about. I prefer to have a CD in my hands and a set of lyrics etc. Some people just like it on their phone or ipod without the lyrics . Whatever floats your boat, it's all good isn't it.

Are you often out and do gigs nowadays?
-Yeah we have been playing quite a lot recently played in London at the 12 bar last Saturday, It was a great night. Check out www.facebook.com/THEFITS all the photos, live footage and news are on there. We are away next week gigging in the North and then in Ireland in October. There will be a lot more coming up. We all want to tour more for sure

Which type of ages comes to your concerts...?
-All ages I think, it really is a mixed bag from where we are looking from. It seems to be all sorts of ages.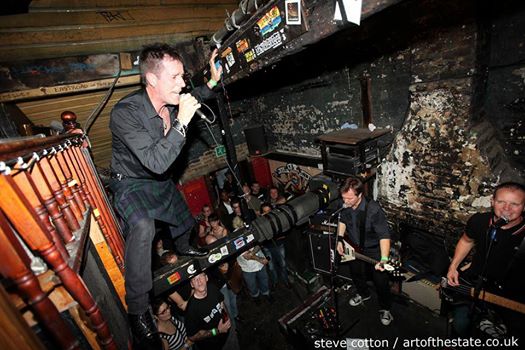 Where is best to play? Are you prophets in your own Hometown Blackpool? Are you still living in Blackpool?
-We moved to London in 1983 just after "Tears of A Nation" came out. Prophets in our own town? I will let you know after next weekend, (we are playing Blackpool again) let's see whether we get crucified or not. It'll be around 30 years since we actually played there in our own right. I think we are seen there as cherished long lost sons. We were right there when it all went off. So people certainly seem to remember us fondly. Blackpool back in the late 70's & very early 80's was a remarkable place, bursting with bands, writers, actors and many wonderful colourful people. It was sort of isolated from the rest of the country in one respect so it developed a really healthy scene but at the same time people came to the town to relax and have fun, so it came to our door step and we were just there, ready and waiting and just got into it and let that tide and energy lift our boat and take us down the river to where ever that would be. We don't mind where we play, though we have fond memories of the North and of Scotland but as I said we are London now and that is home territory to us now

Have you been much outside England and played? If you have where?
-As THE FITS not as much as we'd have liked. When we were on Trapper records we found out after the fact that the manager then Nick McGurr had an offer for us to go to East coast US but turned it down. We were mightily pissed off about that. So only a few dates in France. It was always something that ate at me and frustrated me. I hope the new FITS will be touring Europe next year. We played a little tester in Berlin last year and it went very well indeed.

How is it to live in England right now, I mean politically?
-London is truly a glittering city I often, daily consider myself so lucky to be able to live here walk its streets and know it so well. But it is also overwhelming. London is open and liberal and free but it will also challenge you daily because it is so free here. It is a becon I think of how many many different cultures and people live and work and rub together. Startling really. England & the UK it is light and dark. I hope the Scotts stay with us. The world is fracturing and in many ways individuality is wonderful but also isolating. There is a lot of fear in the world, the old religions seems are being frayed worn out and worn down, it is where the extremists live, in the fear. Old territories and old empires are being fought over, all afraid of the changes coming. Perhaps we all are. It is all a microcosm right down to the person living next door to you. Everybody it seems to me is trying to make sense of where we are heading. It transcends politics somehow. All of those political views come out of the collective unconscious anyway they are simply of their time and will pass. Most political parties, all the major ones anyway seem to be dressed and talk the same, I am sure it is the same for you in your country too. I am happy to be who I am and where I am right now. I am watching and listening paddling my own boat, trying not to let the negative and the fear get a hold of my coat tails and drag me down into it.
Please tell some fun and odd history from your long career?
-Well that's an odd question really to answer in type, maybe you could buy us a few pints when we come across and then it'll all come out.

Is there any of the Fits releases which have been sold for a very big amount of money on Ebay or so?
-I saw "Listen To Me" with the gatefold sleeve went on EBay for around £40. I couldn't believe that. I have a couple and thought of putting them up for sale. That wasn't out best vinyl moment either. Though I still believe in the sentiments on the track Listen to Me.

Which is the first record you bought, and the last one and the most expensive?
-Well the first one I ever asked for would have been "Schools Out by Alice Cooper" or maybe "Judy Teen by Steve Harley & The Cockney Rebel" But my Dad had bought me the Slade albums for years before as birthday and Christmas presents. I am still a huge Slade fan, "Goobye to Jane" is just brilliant still after all these years. My Dad had a fantastic record collection so it's hard to say. But what I actually went into town and coughed up my pocket money/ paper round money for and bought myself was probably the Clash White Riot. The most expensive I couldn't say as I'm always on the lookout for a bargain. The last one I bought was "Queens of the Stone age – Songs for the deaf" it's not bad.

Please tell me the five bands (dead and alive bands) which you want to play with on a big concert?
-The Sex Pistols, Rancid, The Clash, Ian Dury & The Blockheads, Iggy .. gosh that is a hard question. Nick cave and the bad seeds too… oh and Bowie 72-73

Future plans for the band?
-To tour and play a lot more. To complete the new album. It is written and we just need to make the time and to focus to get it recorded. We have some absolute crackers ready to go

For yourself?
-I would like tour a whole lot more with this great band. Complete and release a new album. Complete my Hypnotherapy exams and qualify. Continue working as a Healer and open a healing centre.

Wisdomword?
-Money is not the root of all evil, a lack of love is, whether for yourself of for the world around you. It's where the darkness is found.

Something to add?
-Not really I always prefer a question or a discussion