First and last is a young band from Italy. I really liked their demo/promo they sent to me and I wanted to give them the chance. Here´s an interview(a short one) with the group done in October 2006.
History?
-We have played together since november 2005, at the begining we were only 3: Michele (guitar vox) Francesco (bass) and Alessio (drums). We started with playing covers by Green Day and Blink 182. Then we started to write our own songs. During this year we had the opportunity to play a lot in our city, but in the summer we realized that we needed a demo so we recorded it!!! Now we have also a new guitar player and we are looking for a label or a booking!

Please tell me a little about every member, age, family, work, interests and
something bad about every one?
-Michele, 17 years, he's got a brother and he is a great musician
Francesco, 18 years, 2 sisters, he loves computers!!
Alessio 18 years, a sister, he loves soccer!!!
Leo, 16, a brother, he and Alessio seem to be twins.
We are all students in the same school.

My review of your record is like this FIRST AND LAST-EVERYWHERE(MINI-CD)Do anyone remember groups like Mega City Four, Senseless Things and so on and liked them so should this Italian group be something for you. Energic, interesting poppy punk is what First and Last gives us in their 7 songs and I can imagine that they´re the girls idols in Italian punk….is there any boybands in punkorck as it is in pop? Really cozy this one this morning but does they tough the stuff a little bit more can it be relly good because now it's a little bit too calm(My Only one) for me even if the music often is really good…..(SEVEN) 25/10-06
What about it?
-Very cool!!! Probably, reading this, we seems to be very popular in Italy!!! But unfortunately we are not!.... yet!

Is there any other bands you´re being compared with?
-Sure! Vanilla sky, New Story, Blink 182, Green Day, Ataris

Do you care about reviews?
-A lot! But it's very difficult to find someone interested in reviewing new cool music!

Which is the most peculiar review you ever have got?
-The first we had for Sowdust.it, we thought that our promo wasn´t so cool (we recorded it @ our school, spending no money). But the review was very good!

How would you describe your music in three words?
-Punk for Fun
<![if !supportLineBreakNewLine]>
<![endif]>
How is it to live in your homecountry?
-It's just normal.... maybe a bit boring. Luckily in our town there´s a lot of bands and a lot of good music!

What about the government?
-It sucks!!! Yhe government has changed in this period, but the new doesen't seems to be better. Everyone want to take money from school in order to pay dues!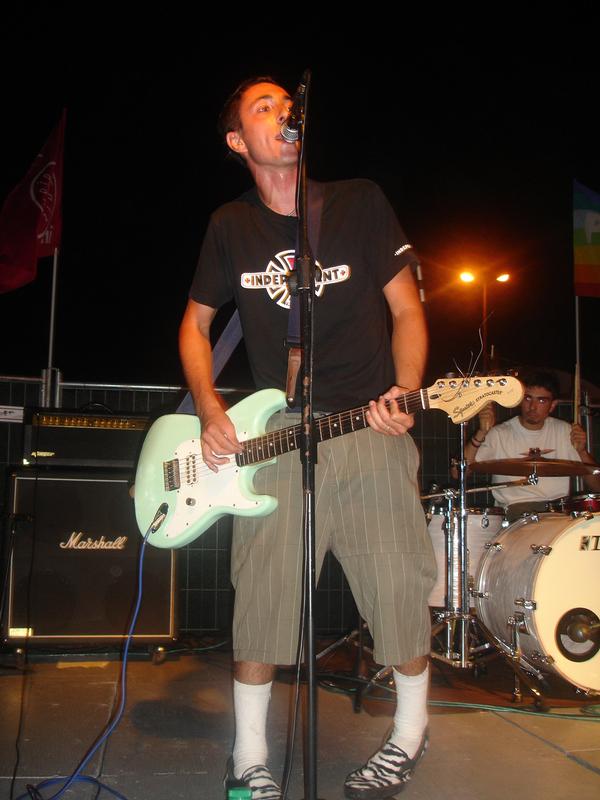 Do you think that music and politics goes hand in hand?
-I don't like so much political bands but sometimes music is the most important way to say what you think and make people listens to what you have to say.

Best political band?
-Modena city ramblers

Is there any good bands in your homecountry now?
-Of course! Vanilla sky, New story, 7 years

What do you know about Sweden?
-Cold! snow! Cool girls and fuckin' good music.

Have you heard any good swedish bands?
-MILLENCOLIN!!!!!!!!!!!!!!!!!!!!!!!!!!!!!!

What does punk mean to you, is it only a word or is it a lifestyle?
-You have to be punk in your mind: saying that you´re a punk is nothing!!!

Please rank your five favourite records, five favourite concerts and five
most important things in life?
-Records :Dookie(Green Day), Enema of the state (Blink 182), Generator (Bad Religion), Loco live (Ramones), Good Mourning (Alkaline trio)
Concerts: GREEN DAY, Blink 182, Zebrahead, Punkreas, Slipknot+Metallica
Important things: Music, friendship, luck, money, family

First, last and most expensive record ever bought?
-Francesco UP REM (first), 1039 Smoothed out.. (last), Bullet in a bible (exp)
Michele Enema of the state (first), The new story (last)
Alessio Greatest hits Queen (first) Bullet in a bible (last/exP)
Leo Dookie (first) American idiot (last)

Most embarrassing record in your collection?
-Everyone has a Spice girls or Backstreet boys' record...........

Football is very big in Italy, do you have any favourite team or don't you give a damn about it??
-ALE ALE ALE ALE LIVORNO!!!!!!!!!!!!

How was the feelings in the country after the world championship?
-Everyone is so fuckin' craziy about football!! Football everywhere!!

Is it many interviews? Is it boring?
-This is the first one!! We are not famous in Italy, or anywhere else.

Which is the question you never get, please ask it and answer it?
-Ask me what you want!!!!!!!! It's soon the answer this question, this is out first interview

Is it any chance to see you in Sweden soon?
-I don't think so because we are not famous yet... but we hope to come!! iIhope also that your work will be useful for us

Where is the best place to play? Have you been outside Italy and played?
-W have only played in our town, we would love to play in events with lots of band in order to share your experience with bands which are more famous.

2he name where does it comes from?(yeah it´s a boring question but it´s
interesting)? ? And what does it mean?
-We just open a dictionary, we decided it just an hour before our first show.

What shall we do about all racists?
-Kill!!!!!!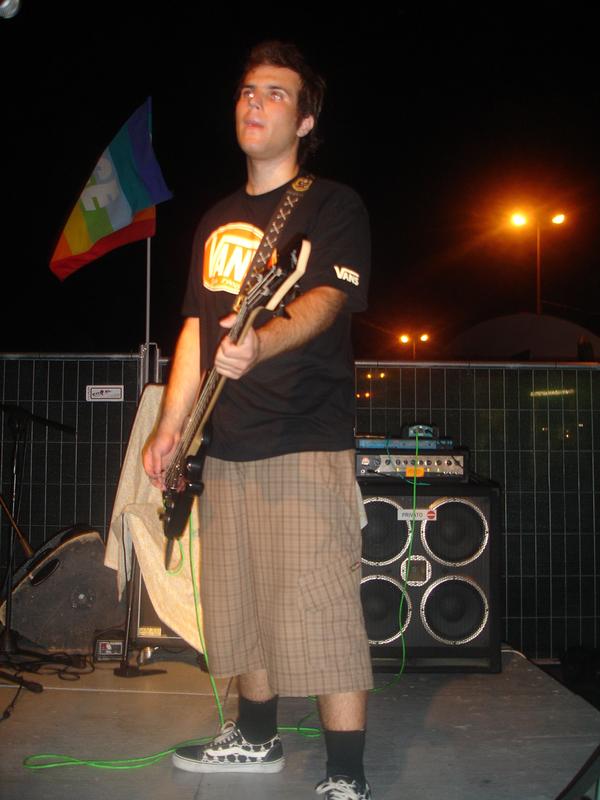 The best band in punkhistory? In italian punkhistory? Do you listen to old italian groups? -Ramones / Negazione/ not so much!

The most important punksong?
-Do you have the time..... Basket case

Futureplans for the band?
-We hope to find a label and/or a booking acency.. We'd like to make music as our work .

For yourself?
-Me?? I hope to finish this fuckin' school!

Wisdomword?
-..... just nothing
<![if !supportLineBreakNewLine]>
<![endif]>
Something to add?
-Your work is great, we can only thank you for the time that you are spending on us. We hope to become famous in Sweden in order come and meet you!