PJ and Barna from the Hungarian group Firkin have answered a lot of questions from me. This happened in june of 2010.
History?
-Barna Marthy: It all began in the 21st century, had its origins then, you see, when János Péter (PJ), having had enough of the artsy side of the Celtic world music, found himself more and more often daydreaming about something wilder, something more likely to blow your mind right away. That was also the time (namely 2008, May) when he met a few people including Pál Göttinger and Barna Marthy (my Firkin self) who were game in this enterprise, dragged the drummer over from his former band, sought a wild child to play the guitar, a hottie to play the violine and a pro for the base, and they set out. We set out. We began rehearsing in the summer, and played our first gig for a full house in November 2008. We have played more than a hundred gigs since then, we have been nominated for a Fonogram Prize (Hungarian Grammy Awards they call it), We released the first Firkin album entitled Firkinful of Beer with Universal Music, have toured around Hungary, have been invited to Austria, Germany and Slovakia, have been contacted by bookers from Japan, and are working on our brand new album. We are walking the path marked by bands like the Flogging Molly, or Dropkick Murphys, or The Pogues, albeit, we play in the genre widely known as Celtic punk, but making it our own. And, naturally, we are marching towards world-fame.
Please tell me a little about every member, age, family,interests, work and something bad about every one?
-Well, some of us are in our 30's, some in our 20's, most of us are men, but one of us is a woman and she plays the violin. There are some, who have studied music professionally, some, who are professional theatre directors or literary translators, even chartered accountants. You guess which one of us is which. Is that bad enough?
This sort of music often come from a punk background, is it something which is the fact for you too?
-What exactly do you mean by punk background? If you are asking whether I come from a suppressed British working class society in Yorkshire, then well, I don't. Otherwise it would not be entirely inappropriate the punk background is relevant.
Have you played in any other bands before?
-Yes, I have actually. Back in my secondary-school years we had a hippy-cum jazzrock band. Other then that, not really. Which is by far not true to the rest of the band. Our bass-player could name at least 20 other bands in which he has played, I think.
What does punk mean to you, is it only a word or is it a lifestyle?
-When I first came across the term, it came through to me as an expression of your inner freedom, however uncouth, or even intellectual that might be. So to me it, and to us, it means something strong, something close to simplicity, a simpler, rougher way of self-expression but, and for the very same reason, very powerful and enjoyable. Which is to say, even if it goes against some trends. But this is also a trend, so. Firk it. It's freedom.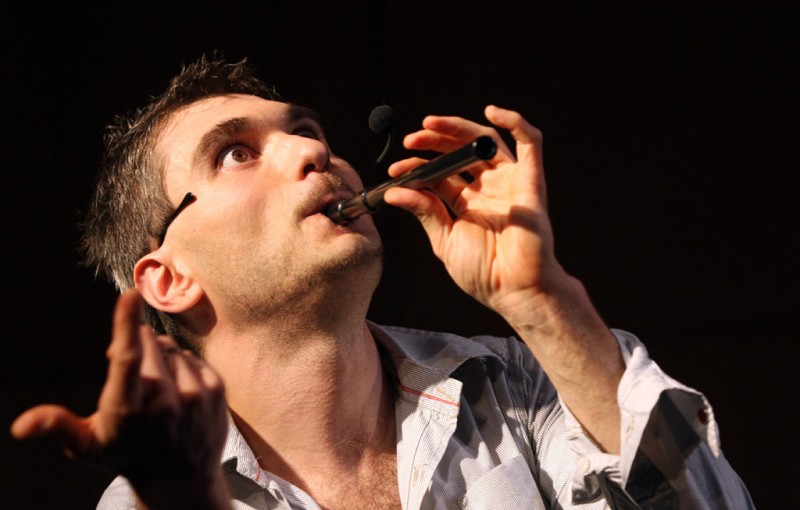 Politics and music, does it goes hand in hand?
-Well, politics gatecrashes basically all walks of life, though a bit overvalued, I think. Too much role in our lives as it is. Even if I start speaking against this fact, I sort of strengthen it. So, no. I know it is very luring to smuggle an ideological thread into anything, especially music, I refuse doing it. And even if it appears to be the opposite, I am not going to back it up, for I am not a politician, nor am I meant to be. That is my politics.
Best political artist/group?
-The International Money Fund, seemingly.
On your Cd Firkinful of beer you have many traditional songs like Whiskey in the jar, Seven drunken nights, The wild rover etc. Is it any own songs on the record?
-Well, the very title is our own song, as it is. But I would beg to differ a bit, when you are referring to our Whiskey in the Jar, or Irish Rover as traditional Irish songs. They are in a way, but, as it is, the tradition is quite live nowadays too, and we are connecting to this, though we are not native Irish people. However, we can still add some new elements, like elements of Transylvanian folk music (in Blood for Blood for example) to the traditional stream. That is in fact what gives a meaning to our doing it. So, to put it short, we do feel these reinterpretations quite our own. More so, then I would imagine Metallica would feel their "Whiskey in the Jar" their own, I would think.
How have the reviews been?
-The reviews about us are sometimes disturbingly positive. Actually I hardly remember any negative ones, maybe I only met the good ones so far, but so far very enthusiastic and encouraging all the reviews we received.
Do you care about reviews?
-Of course, we do. I think those who say they don't, are lying, or should stop doing what they are doing. You see, we, the Firkin are not playing to ourselves. It would be a shame if we did. And we believe in what we are doing, but doing it, we are so deep in it, that we do not have a vantage point, a point of judgement and reviews can help to some extent, so we see ourselves from a distance, and find out what we should improve, or what we are already doing right.
Which is the most peculiar you have got?
-I think it is a review we got from US (Christopher Toler). The fact that someone wrote about Firkin in US is already a great compliment. And what they wrote was about what we also thought about ourselves. So it justified and reassured us that we were and are moving in the right direction. Hope we will soon get more reviews from abroad in the next few years or decades.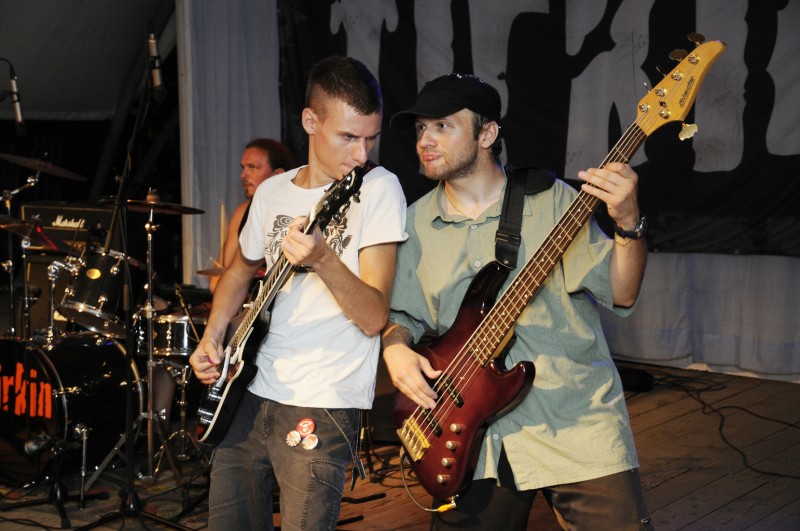 To play this sort of music in Hungary, how is that?
-Interesting, because Celtic punk is not such a mainstream genre here, as it is in Germany, or Italy for that matter. Nevertheless, it is extremely well received from entirely different walks of life, from different people. What is very interesting is that old nannies seem to be enjoying it as much as young punks, yuppies, hippies, heavy metal fanatics, or even world music fans. Unless they are lying to us on our homepage (firkin.hu, firkinband.com), or want to play some misleading practical joke on us by shouting their heads off during our gigs. Hopefully we will make this "sort of music" more than familiar in Hungary. Hopefully in Sweden too J.
Is there any other good bands in Hungary right now?
-Yes, it´s definitely are.
How?s the difference to live in Hungary nowadays if you compare with twenty years back?
-Well, I've been living in Hungary for only 14 years. I was born in Transylvania, Romania, you see, though I am Hungarian, mind you. So, couldn't tell. Life is definitely quicker nowadays. And therefore, maybe for the very reason, shallower too. And less and less likely to get free drinks. Unless you are a rockstar, of course. That is how we are fighting time in our own small way.
How is it with people who are poor and rich, is it very big gaps between them?
-Well, the gap between the poor are not so big, because there are more and more of them, the amount of real estates being quite unalterable on Earth, they definitely have to be getting closer and closer to themselves. Especially that rich people are getting richer, and taking that territory from them. Therefore, I would think the gaps between rich people are quite big, for they live in big firkin houses most of the time, as it is.
Youre on Universal music, is it the big multinational label...how did you came in contact with that label?
-We recorded our first album, brought the master to them, they liked it, stroke a deal, signed a contract, had a drink. Then they turned out not to be too flexible and responsive to our needs, so we are most probably going to produce our upcoming albums with smaller, livelier, more energetic labels. Maybe with separate ones in every region, or country who are more up-to-date with the local circumstances. So if you know any labels with this criteria who are interested in us, just spread the Firkin word, we are open.
A live-concert with you, is it a big experience I can think, which is your strength live?
-The strength of a live gig is the fact that it is live. There is a possibility for us tuning in on our audience, and the other way around, and should the Celtic gods help us, it can be a very upward spiralling stream of energy if it turns out right. The sort of music we play appeals best to a live audience, for it is very human, very personal in its diction sometimes, could even say intimate, uncouth and for the very same reason, social at the same time. Just like drinking. And firkin', of course.
Which type of people comes to your concerts?
-As I mentioned it earlier, all sorts of people come to our concerts, and what is more important, they keep coming back. There is a family of basically three generations from 17 to 70 that we already know personally and they are there on almost all of our concerts. But there are students, even a CEO, there are graphic designers and handymen, office secretaries and wannabe artists. All sorts, basically. Even from the agricultural field J.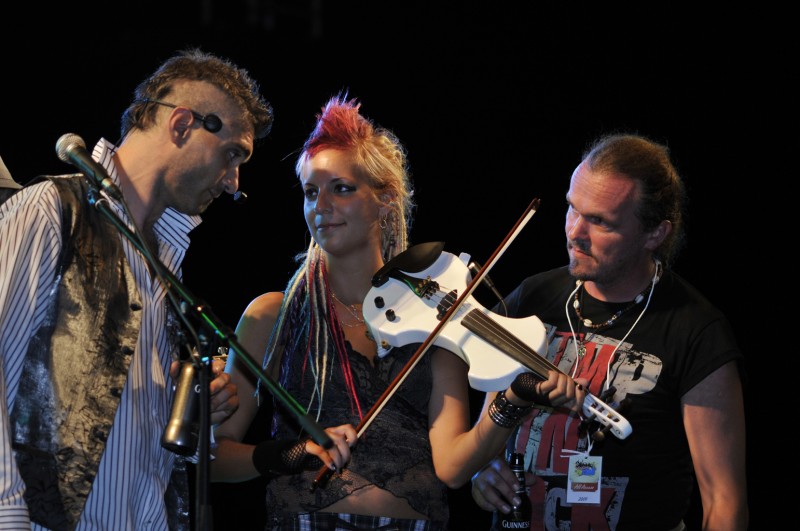 Which people doesn´t come but you want to have them there?
-I have not seen many Arabs around. Wonder if it is just a mishap...
What do you know about Sweden?
-One of my best friends is an anaesthesiologist in Uppsala. I once visited her and swam a bit in one of the lakes there. And I missed a flight in Stockholm, and was booked over to the next flight for free, for which I am ever so grateful for Scandinavian Airlines. (I mean this) I also know that Swedes, like drinking a lot. That they can be easily depressed by the lack of light. Consequently very much in need of Firkin music, for we are a remedy, or a good company to the above mentioned traits respectively.
Have you heard any good swedish bands?
-ABBA and Europe. Within Temptation, Väsen, Garmarna! Not too many, I'm afraid.
Please rank five favourite records, five favourite concerts and five most important things in life?
-Oh come on man, I am not a pie chart J. It changes every minute. Are you some sort of a social Engineer or what? You might be surprised by some.
Records:
Drunken Lullabies (Flogging Molly), Human Promo by Nittin Sawnhey, White Album (Beatles), Sting (any), Diligram (Quimby)
Concerts: Keith Jarrett, Peter Gabriel, Sting Broken Music Tour, Ghymes, Several of our own ones
Important things: Freedom, faith, creation, love, playing, magic. Oh, was it six?
First, last and most expensive record ever bought?
-Firkinful of Beer.
Most embarrasing record in your collection?
- don't really have a CD collection, scuse my French. Not even of our own one, which is, by the way, a shame.
Where do you stand when we talk about mp3 and downloading?
-Oh, I was sort of expecting that after that impudent inquiry about my CD collections. Where I stand... Somewhere in between. I think record companies should stop babbling about downloads and create new sales models, instead of putting all the financial load of all the pirating expenses on honest CD collectors. So I would love to see mentality changing on both sides. Of course, as member of the Firkin I am against downloading our precious albums.
Futureplans for the band?
-Getting world-famous overnight (well, soon, anyway), getting filthy rich and go on playing anyway.
For yourself?
-The above, plus I would also like to write (poems, short stories, novels, lyrics, plays), translate, maybe plays too.
Wisdomword?
-Awareness.
Something to add?
-Don't you feel the enourmous lack, the vacuum in Sweden calling for our Firkin presence on the musical spectrum, man?