Fire Exit are men who have been both on the earth and in the punkmovement for a very long time. Here they answers a lot of questions from me in December 2014.
Please tell me a little bit history of the group? When did you reform?
-FIRE EXIT were Formed in DEC 1977, after we released our first single Timewall in 1979 the band line up changed, I kept the band going and reformed with Brian (Guitarist in 2001 until summer 2014 when he left the band.
Please tell me a little about every member in the group right now, age, family, work, interests and something bad about everyone? Have you been in any other in the time when Fire Exit didn´t play?
-Gerry Attrick (55) – Throat Effects (singer) been in the band 37 years – I work in Mobility product supplies – married to Mo (Morag) my mate and wife for life for 33 years. I also had "The Serpents of Love " with Alan Campbell guitarist with the UK Subs and I was in The Invaders. Neil Down (57) Bass – was in Fire Exit 1983 – 1986 again in 2011-2114 (present) Married and loves gigging –very private Big Bob -(59) Guitar joined Fire Exit 2014 when Brian left and has been a fantastic addition to the band he has played in bands since he was 12 years old ..married. Arab (Lawrence Kennedy) (57) Drummer he is Single trisexual women, grannies and daughters has played in many bands including Anaconda + Brothers of Craig also was a member of Fire Exit in 1977-1979 and again 2012- 2014
You have listened a lot to older stuff like 77-punk? Am I right? Favorites from the past? But you were a part of it?
-Yeah The Vibrators , Uk subs , Cockney Rejects Slaughter & the dogs
Your name is Fire Exit, are you satisfied with it and why this name? Did you have any other suggestions on a name when you decided to get this Which is the best bandname you know?? -Yes it was the first sign we seen and that` where the name came from (we were drinking hard) The Vibrators
What´s the best thing with playing live? What´s the difference of playing now and when you began to play?
-We still play small pubs and clubs but we also now get the chance to play more festivals now to a wider audience of people all ages 14 – 70 years old , it does not matter how many its as long as they like it
And where is best to play?
-Oh Rebellion festival Blackpool England , Wild at Heart-Berlin, 12 Bar Club –London and Audio Bar -Glasgow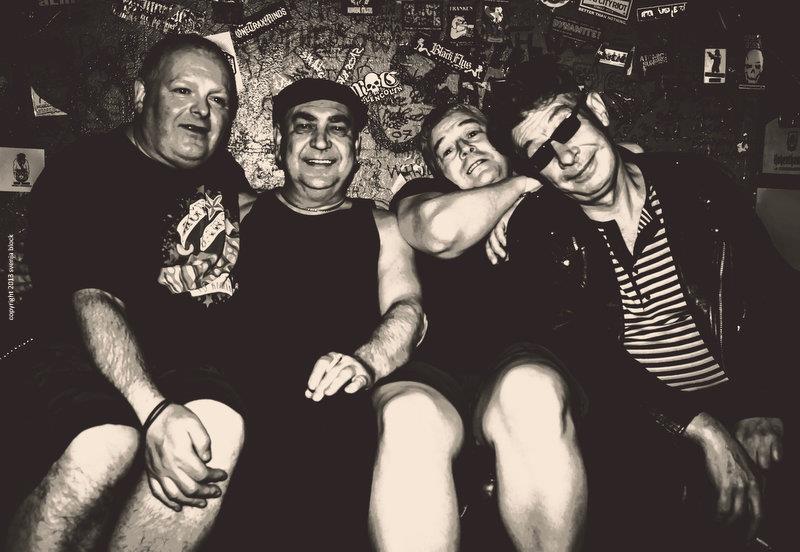 How is it to play this sort of music in England?
-Er I think you mean Britain as we are Scottish but play all over the Uk .the festivals are busy but the clubs tent to be less people turn up now.
How would you describe your music in three words?
-ROCK AND ROLL
What does punk mean to you, is it only a word or is it a lifestyle?
-Punk rock has been a lifestyle for Mo and me all our married lives (33yrs) and before it we don't just play in the band, we promote bands, flyer sell tickets and we arrange our holidays to where the festivals are , bloody mad eh !
How do you see on downloading, mp3 and that stuff?
-FIRE EXIT don't have many in fact we only have 1 cd out to download –but if someone wants to give us an offer for the back catalogue great, contact me .
How is it to live in the England now? Politically?
-Er Scotland Uk – it`s all good for me but I´m one man .we don't do politics, we do punk rock and drinking
Is there any good bands from England now? Is the punkscene big? How is it in your hometown?
-Cock Sparrer / Control / Splodganessabounds
Your lyrics, who does them and what influences you?
-I write all the lyrics and I´m influenced by the punks and punkettes and skins and Alex Harvey (RIP)
Is there any subject that you never will write anything about?
-No
Politic and music, does it goes hand in hand?
-Too many Lefties too many Righties – N.P.S (one of our songs ) NO POLITICAL STATUS
Best political band/artist?
-Mensi – Angelic Upstarts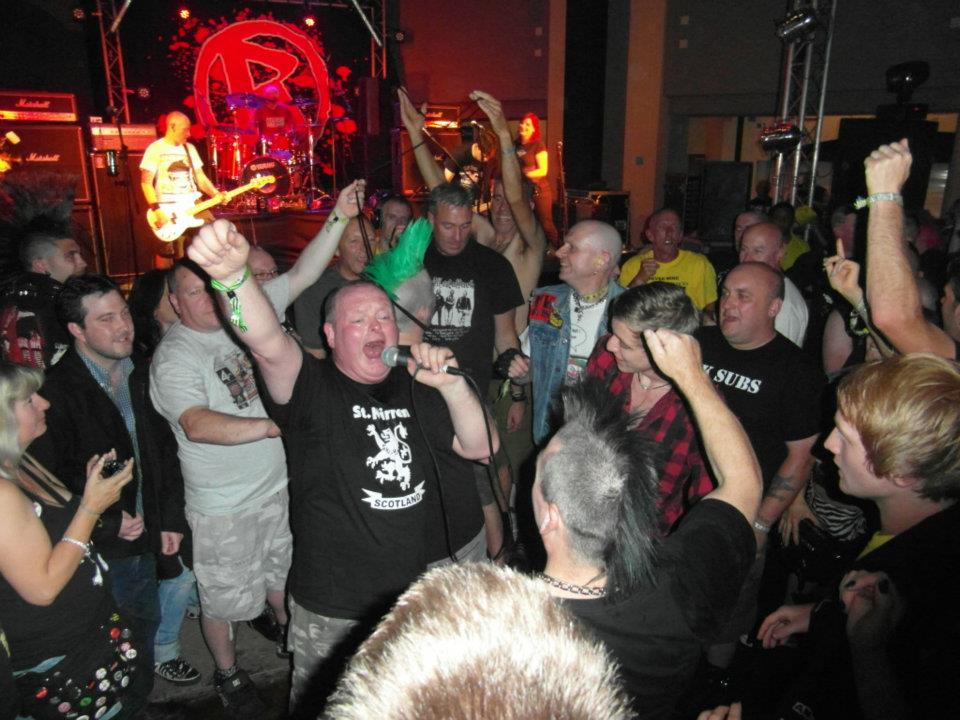 Do you think that music(lyrics and so on) can change anyones life, I mean people who listens to music?
-Yes definitely. It changed all those young punks and skins in the seventies that have adapted there life's today , me included.. don't take shit from no one .
First, last and most expensive record ever bought?
-SLAYED (LP) Rancid new album and most expensive was a Clash bootleg £20 sold it for £25
Is it important for you to get out your records physical also? Any new record on it´s way? UP -UNTIL 2001 I did not want to release anything on vinyl or CD, I just wanted people to come to the gigs , but then we kept getting asked can we but a cd ,tape ,record so it did become important for us to get material out and we did loads of it from 2001 -2012 we released all the time , due to the line up change we are late in getting –FIRE EXIT – KEEP CLEAR album out but folks it will be out spring 2015...
Please tell me a funny thing which have happened during your career and under some gig? -"Holidays in the sun" CBGB`s New York .don't piss in the sink, fuck you've got Junkies in the venue and yours truly got chibbed for nearly pissing in a sink coz you can`t get into the bogs for folk smoking dope or ciggies cause they have a cigarette ban you can`t smoke in the venue… They sit on the pan and blow the smoke down it, how enjoyable eh
How does your audience look like? Which people do you miss on your concerts?
-We tend to get 60% male skins/punks/rockers 40% female punkettes/skins/rockers and they all have a great time dancing and drinking I don't miss anyone at concerts
Please rank your five favoriterecords, five favoriteconcerts and five most important things in life?
-Mo is number one , records I love too many bands Argy Bargy / Sensational Alex Harvey Band/ Ian Dury & The Blockheads/Wilco Johnstone/Control...gigs..Cock Sparrer Glasgow (Fire Exit support) Old Firm Casuals + Control (Fire Exit support) Rebellion festival 2012, 13, 14
Is it boring with interviews? Is it much interviews??
We love them is great to share our info and thanks for asking us to do it
Please ask the questions you never get but you want to have, ask it and answer it?
-Would you like to play USA , Norway Sweden and Denmark ......Hell yeah hahaha when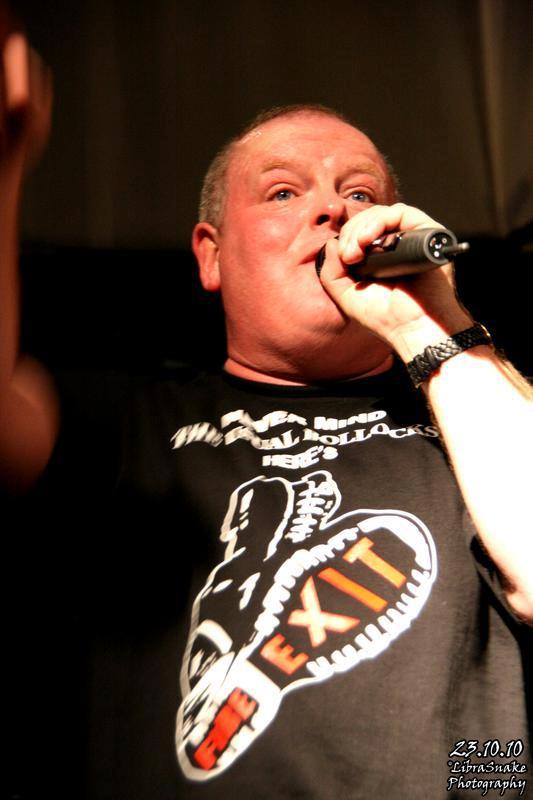 Futureplans for the band?
-Well given our age we don't plan too far ahead hahaha New album spring 2015 and some dates on our face book pages
For yourself?
-To live and see the rest of the world that we have not done
Wisdomword?
-ENJOY LIFE YOU WONT GET OUT OF IT ALIVE
Something to add?
-IF there are any promoters or venues wanting FIRE EXIT to play please contact us we are very cheap and don't drink too much , Here is our list of releases Fire Exit releases:so far from 1979 - 2011. Timewall/Talkin Bout Myself (Timebomb Explosions) 1979 7" (UK) co-engineered & co-produced by Pat Collier (The Vibrators). Killed by Death 6 (Compilation LP) (Redrum) 1993 12" (USA) Killed by Death 7 (Compilation LP) (Redrum) 1993 12" (USA) Talkin Bout Myself/Timewall (Timebomb Explosions) 1995 CD (UK) Bloodstains Across The UK (Compilation LP) 1996 12"& CD (USA, UK, Japan) Killed by Death 6 (Compilation LP) Redrum 1997 12" (USA) Timewall/Talkin Bout Myself (Timebomb Explosions) 2001 CD (UK) 10 Wee Smashers From Fire Exit (Timebomb Explosions) 2001 CD (UK) We're Just Punks (Timebomb Explosions) 2004 CD (UK) Live at Wasted 2005 Timebomb Explosions 2005 CD (UK) Timewall (Free with Provoked Fanzine) (Timebomb Explosions) 2005 CD (UK) No Way Out - Live at Wasted 2005 Dvd (UK) Wheelchair Outa Control - Blackpool Bounce cd.2006 (support autistic children) Through The Net records Wheelchair Outa Control - Nothing Set In Stone cd.2006 (Thunk Records) Timewall -Kilt by Death -The Sound of Old Scotland 2007 3cd/ 3 vynal "Let The Show Begin" TBE 12 (Timebomb Explosions) 2008 CD "32 Years Of A Frightfuly Bloody Racket (TBE 13) 2009 CD "Fire Exit- The Collection 1977-2011" (Bootleg /TBE 14 ) Double CD Fire Exit cd " United & Strong" is out now. Timewall rerelease is out in the USA on Last Laugh Records. on limited edition 7" single. Detour Records in the UK have released a CD of the Fire Exit back Catologue you can get this direct from Detour Records there is only 200 copies it's called "Religion is the biggest cause of War"