Ferocious Dog is a really good folkpunkband where the ages varies between 25-50 and that is great I think. Music without no borders…they have answered my questions in September 2014
Please tell me a little bit history of the group?
-We started as a cover band a few years ago but drafted in a few new members and released our debut album last year.
Please tell me a little about every member in the group right now, age, family, work, interests and something bad about everyone?
- I play violin, I'm 34. Ken Bonsall is our singer, he's 46, Ellis Waring plays mandolin guitar and banjo and is 32, Brad Drury plays drums and is 25, Kyle Peters is 25 and plays electric guitar and Dave Drury on bass is 50.
I work for the NHS, Ken is a tattoo artist, Dave runs a music venue, Brad and Kyle are self employed and Ellis repairs printers
The name Ferocious Dog how did the name came up?? And what do it means?
-The name Ferocious Dog came from Kens son Lee Bonsall when he was younger. Ken used to growl at Lee and would ask him ,"what am I?" To which Lee would reply Ferocious Dog.
Lee isn't alive any more, he served in the Army but then took his own life as he suffered with PTSD on 3rd March 2012.
The Glass and Lees tune are for him.
I can imagine that you´re fucking good live, is it so?
-Without being big headed, we believe so yes. Our indoor gigs are absolutely mental and our festival appearances go down very well too.
What´s the best thing with playing live?
-The crowd reaction and watching them go mental to the songs that we've written and singing the words. We played Beautiful Days festival last month and had a crowd of 4000 people, half were singing our songs
And where is best to play?
-Our hometown gigs in Nottingham are my favourite. They always sell out too so the atmosphere is electric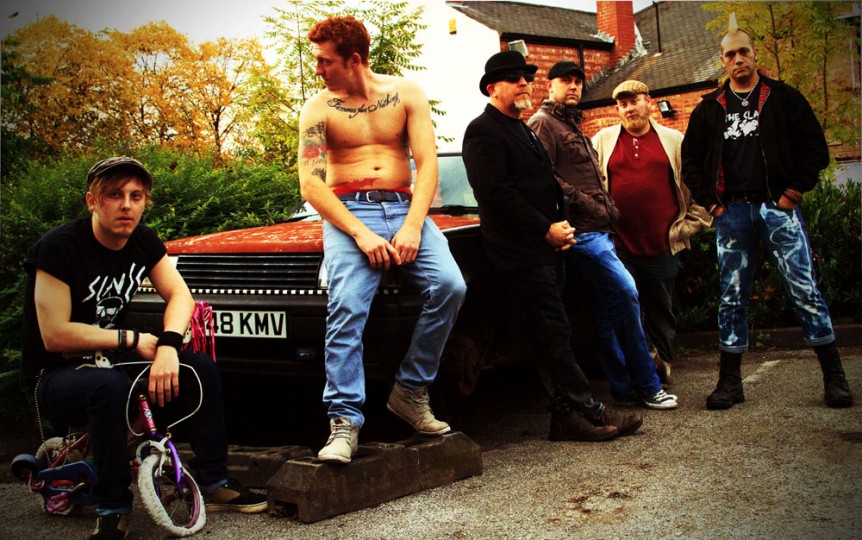 How is it to play folkpunk in England?
-It's great, and it's nothing new so people aren't surprised by it either. But I wouldn't say that we're exclusively folk punk.
How would you describe your music in three words?
-High energy folk
What does punk mean to you, is it only a word or is it a lifestyle?
-We do have a punk element to our lifestyles and our music but we also have folk and ska too. So really, we can't claim to be punks
How do you see on downloading, mp3 and that stuff?
-It's the present so you have to embrace it. Our next album will be downloadable but will also be in cd form
How is it to live in England now? Politically?
-There's a lot of racism which isn't good, but there's also a lot of love and people are very politically aware I feel. But I guess people always have been
Is there any good bands from England? Are you listening only to folkpunk band or what?
-There are many great bands in England. I listen to lots of different bands and go to many gigs. New bands are coming through all the time. music has always been a big part of our culture and always will be. I couldn't name just one band, I listen to hundreds
What do you know about Sweden?
-I've heard the beer is expensive. That needs addressing!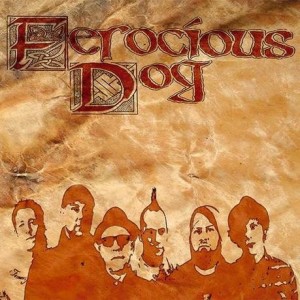 Have you heard any good bands from Sweden?
-Yes I love the Hives. They're cool and energetic
Your lyrics, who does them and what influences you?
- The songs are mainly written by myself and Ken. On The Rocks was about my addiction to crack cocaine a decade ago, Lyla I wrote for my daughter, Too Late was about my ex girlfriend and her bad relationship with her father. Mairis wedding is my version of a modern day folk song and how I feel new folk should be played.
Ken writes a lot about history and historical people such as Freeborn John. He loves history and reads about it a lot.
Do you do any covers when you play live, which(if you do) ?
-No, we don't do any covers now. We do do a traditional song called Raggle Taggle Gypsy. Our version is fast.
Politics and music, does it goes hand in hand?
-Yes of course, if you've got something to say then it's your platform to say it. We're highly political and we don't hide from that.
Best political band/artist?Billy Bragg and the Levellers for me. Simon Friend wrote a song called 'When Love Runs Out Of Time' and it's phenomenal. Watch the video of it too.
It made me cry the first time I watched it.
Nick Burbridge writes great political material too. Ken and I have just wrote a song with him called Living on Thin Air. It'll be on our 2nd album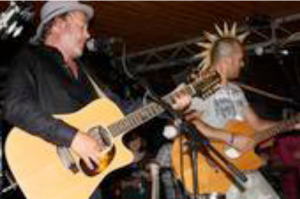 Do you think that music(lyrics and so on) and change anyones life)I mean people who listens to music)?
- Yes absolutely. It's about informing people and if people listen to you and take on board what you're saying then yes.
Have you done anything more than these record? If you have how can I get it?
-We have 1 album out via our website. We record again in November with Matt Terry. He's a massive name and he's produced some big artists so we're excited
Is it important to release your records as "real" records??
-I believe you should release music however you feel you want to. Be you.
Please tell me a funny thing which have happened during your career and under some gig?
-We did a mini tour of wales last year in the snow in our tour bus. Dave was driving like a maniac along the mountains. We nearly died. But it was funny.
Oh, and our roadie Dom left the roof of his MG car open at a festival this year. So we filled it with rubbish. His face was a picture when he saw it. Perhaps not so funny for him though
How does your audience look like? Which people do you miss on your concerts?
- Our audience is varied. From young children to older people.
Please rank your five favoriterecords, five favoriteconcerts and five most important things in life?
- Arcade fire - the suburbs
Levellers - the levellers
Primal scream - riot city blues
Libertines - up the bracket
Wonder stuff - hup
Dropkicks - rock city
Oasis - main road
Levellers - rock city
New model army - rock city
Courteeners - rock city
Be yourself
Love one another
Say no to war
Don't be sucked in by the press
Smile
I compare you a little with old bands like MTCH, POGUES, and with Swedish Sir Reg, comment on that? Other bands you have been compared to?
- They're fair comparisons. Levellers and NMA get mentioned a lot too. But we're just Ferocious Dog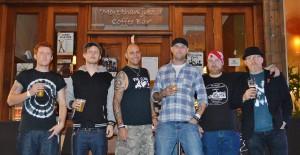 And you have got in some ska in some song too….as in Freeborn John? That song remind me a little about Latin Quarter? Do you remember them?
- Yeah we like ska a lot. I don't remember them but I'll check them out!
Futureplans for the band?
-:To become the biggest underground, unsigned band that we can be. We don't need a label. We do it our way
For yourself?
- To enjoy the ride
Wisdomword?
- I'm not wise. I don't preach.
Something to add?
-What a great set of questions. Been a pleasure talking to you. And may peace continue in Sweden for ever.