Please tell me a little bit history of the group?
-Well, we are a 3 piece punk band from Cape Cod Massachusetts (USA), but I guess I'll start with the old project. Stevie (Fast Times bass player) and I used to be in a 5 piece hardcore punk band called Steve Vs the Volcano. After things fell apart for the volcano, the 2 of us knew we had to continue playing. This was the winter of 2011. At this point we needed to find a drummer. Stevie had this friend Pat, a younger dude who was always skating with Stevie and coming to Volcano shows. He also happened to be a drummer, and interested in jamming. At some point January/Feb of 2012 we had our first practice. I had written a couple songs "All Out of Ideas", "Time is the Enemy", can't really remember what else at first, but we spared no time in getting things together. We had our first show early April at a local hall. I had made some connections from being in Steve Vs. so we were fortunate to get right out into the Boston MA area to play as well. Later that year we recorded our first cd, "In the Key of Dynamite." We released it online January 5th 2013 and later had some cheap hard copies made up to sell (give away for free) at shows. We continued our efforts to play as much as possible locally over the next year and writing new songs. Late 2013 we recorded what would be "Pioneers of Nothing." Through 2014 we made our way around the New England area a couple times doing mini tours while saving money to release our new cd. We just released "Pioneers of Nothing" in November after almost a year of saving. That pretty much brings us up to now.

Please tell me a little about every member in the group right now, age, family, work, interests and something bad about everyone? Have you been in any other punkbands before?
- Let's go youngest to oldest. Pat, our drummer, is the youngin of the group, 23. He's played in punk bands for at least a handful of years. Other than Fast TImes, he plays guitar in a street punk band called Moose Knuckle, and drums again in a band called No Cigar. He works as a roofer and loves to skate and party. He has earned the name Wicked Wasted Pat.
Stevie, our bassist and vocals, would be next in line at 26. He's a really talented bassist and in the past played with Hardcore band Kids of Carnage and Steve Vs the Volcano. He and Pat met through skate boarding at a local park. Stevie goes to school to be a barber. That dude can make you look fresh and slick, unless you are me and don't get haircuts.
Then there's me, Nick. I'm 32 and play guitar and do lead vocals in Fast Times. I work in landscaping to pay the bills. Was in my first "punk" band when I was 16 called The Infected. That project never made it further than the bass player's practice space, but you've gotta start somewhere right? Since then I've played in various projects punk and metal. Currently I play guitar in a metal band called Led to the Grave and of course Fast Times.
We all live together in the same house, for better of for worse!

You have listened a lot to NOFX, Rancid, Lag Wagon? Am I right? Favorites from the past?
-YES, all of the above. I LOVE California west coast US punk. Nofx is easily one of my favorite bands. Last December I had the chance to watch them practice before a show at the Boston House of Blues. They played the Decline 3 times in a row while getting ready, I nearly shit myself that was so cool. Other influences and favorites of mine would be Good Riddance, AFI (older stuff anyway...), the Casualties, the Unseen, Violent Society... the list could go on and on really.

Fast Times are you satisfied with the name?? How did it came up? Which is the best bandname you know?
-The name came from the idea that things happen so fast, and people including myself, tend to take it for granted. Wasting time doing nothing, worrying about nothing, and before you know it, right before your eyes, the time is gone. Never thought about being in my 30's until it happened. I've always loved playing shows and there is no better time than the present to make that happen. We're always being compared to the movie "Fast Times at Ridgemont High," no we did not get the name from that movie, but since it is so well known of course people draw a connection. Pat even got the damn "Fast Times at Ridgemont High" logo tattooed on his head. It was pretty hilarious when he showed me the tattoo all excited and I said "sorry dude, but we're not using that logo..."
The Pity Whores, great name, great band.

What´s the best thing with playing live?
-Playing live is a great release, get all that pent up energy out whether its aggresion or silliness. We just like to have fun. Plus you don't have to pay the door charge and get to see other cool bands.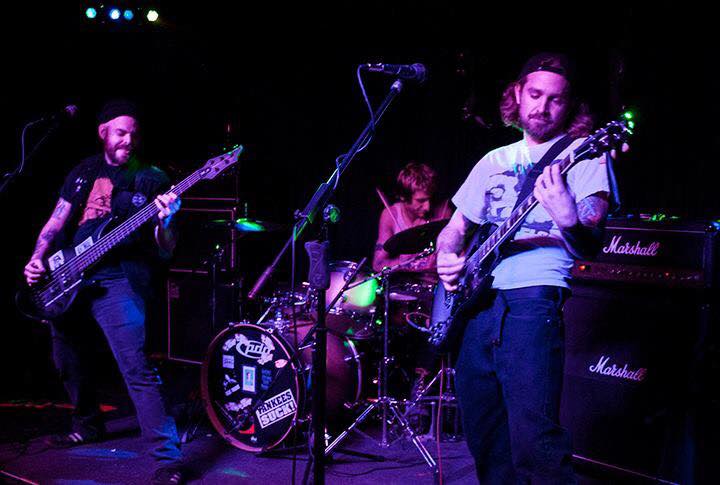 And where is best to play?
-I think it is most fun when we get to play somewhere new, in another state, or a new venue. If we had to pick one place though, there's this club called The Midway Cafe in Jamaica Plain, Massachusetts. It was our first Boston gig and we play there every couple months or so. Small sized club that fits around 100 people but whether it is packed or dead, you are among friends.

How is it to play this sort of music in USA?
-I guess it depends on the area. I live on cape cod in Massachusetts. There aren't any clubs or venues here that support punk rock so it can actually be pretty challenging. We rely on friends and networking with bands we meet to set up shows. There really isn't any money here in punk, in my experience anyway. You have to do it because you love it.

How would you describe your music in three words?
-Fun for us

What does punk mean to you, is it only a word or is it a lifestyle?
-Punk is doing things your own way, and not taking shit from anyone in the process. In that sense it's more of a lifestyle I suppose. Obviously there is Punk music, and Punk fashion, but you don't need to look a certain way to be "punk".

How do you see on downloading, mp3 and that stuff?
-You know, digital downloading has made things easier, and more accessible, but its always way cooler to have hard copies of records or cd's. To hold the artwork and check out the disc or whatever is all part of the experience.

How is it to live in the USA now? Politically?
-It is frustrating. Two main political parties in control that can't get anything done. Corruption to the point that when it comes to voting it is always WHICH evil are you voting for, not just the lesser of the two. Its a system run by corporations and banks, where the MAJOR majority of people are kept under so much debt that we are forced to work our lives away for empty promises of retirement and better lives. Maybe its the nihilist in me, but I don't see things getting better in our future. . I generally say fuck it and focus on playing music and having fun while I have the time on this earth.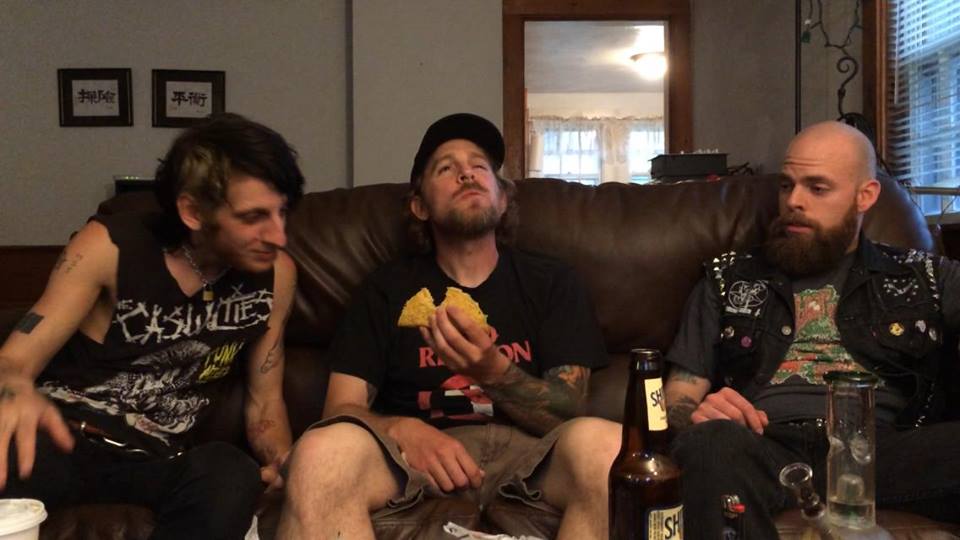 Is there any good bands from USA now? Is the punkscene big? How is it in your hometown?
-While I know there are a lot of good bands all over the USA, I've been mainly focused on the bands local to me. Just to name a few, The Pity Whores, great old school type pop punk, remind me of the Queers, Screeching Weasel, Ramones. Great guys who put on an awesome show. The Radicals, who sound to me a lot like Rancid meets Against Me with a folky punk type sound and great lyrics. The Straphangers, from New York, a female fronted hardcore band with sweet guitar riffs verging on thrash. The Revilers, from our hometown area, have an Oi meets straight up rock n' roll sound. You know what, there are so many good bands and friends in the area I could sit here all day and talk about them. I'll leave it at these for now...

What do you know about Sweden?
-I know a bunch of sick metal bands come from Sweden! That is about as far as my knowlege goes though unfortunatly.

Have you heard any good bands from Sweden?
-Millencolin! Though I haven't heard anything from them since early 2000's. Also In Flames, probably my biggest influence in the realm of metal. Jester Race, Lunar Strain, all that old stuff is amazing. AT THE GATES, just saw them at Maryland Deathfest in Baltimore, Maryland USA. 1st time I've seen them and it was amazing. Listened to them for years! Fucking Arch Enemy and Dark Tranquility too, awesome, lots of great music.

Your lyrics, who does them and what influences you?
-I pretty much write the majority of the lyrics, some times Pat or Stevie will suggest something that sounds better and we'll switch it up. Lyrical influence is anything from life experience to silly ideas like tacos, we love tacos. We can be 100% serious about a subject, but then pull a 180 and sing about drinking beer through your anus.

Is there any subject that you never will write anything about?
-I don't think any subject is really off limits. If it works, we'll use it.

Politic and music, does it goes hand in hand?
-I think they do, but they don't have to. Some times the best way to get a message or idea across to people is through music. The power of a catchy hook or chorus can be pretty influential. It's good to bring attention to corruption and wrongdoing through music and conversation, but I'm not one who's really out there to "change the world". I try to make the best of what we have going on.

Best political band/artist?
-Dead Kennedys have always kinda been number 1 in that respect in my eyes. Bad Religion, Anti-Flag and Good Riddance are good politcal bands as well.

Do you think that music(lyrics and so on) can change anyones life, I mean people who listens to music?
-I know it can. I never really thought too much outside of the box as a kid, and when I did, I didn't think it was ok to do so. Then I heard bands like Bad Religion, Dead Kennedys, and Operation Ivy 17-18 years ago. I can thank punk rock for teaching me you can question the status quo, you can voice your own ideas, and its ok to disagree, you don't have to go along with the crowd. Although we don't necessarilly look to change anybody's minds or lives with what we do in Fast Times, we wouldn't be here if it weren't life changing music.

You´re only three in the group, never any thoughts to take in some more in the group?
-Being in a band is like have mulitple girlfriends (or boyfriends if that's your style). It can be tough to maintain decent relationships and keep everyone happy. As a 3 piece we work well together, and although I'd love to have a 2nd guitar player involved I'm not sure it will ever happen.

Is it important for you to get out your records physical also?? Something new on it´s way?
-Physical copies are the best. As I said before it's convenient to use mp3s or an Ipod or whatever but they are no replacement for the real thing. We've been writing some new songs but probably won't get around to recording until later in 2015. We just released Pioneers of Nothing so if anyone hasn't heard it they should get in touch and get a copy!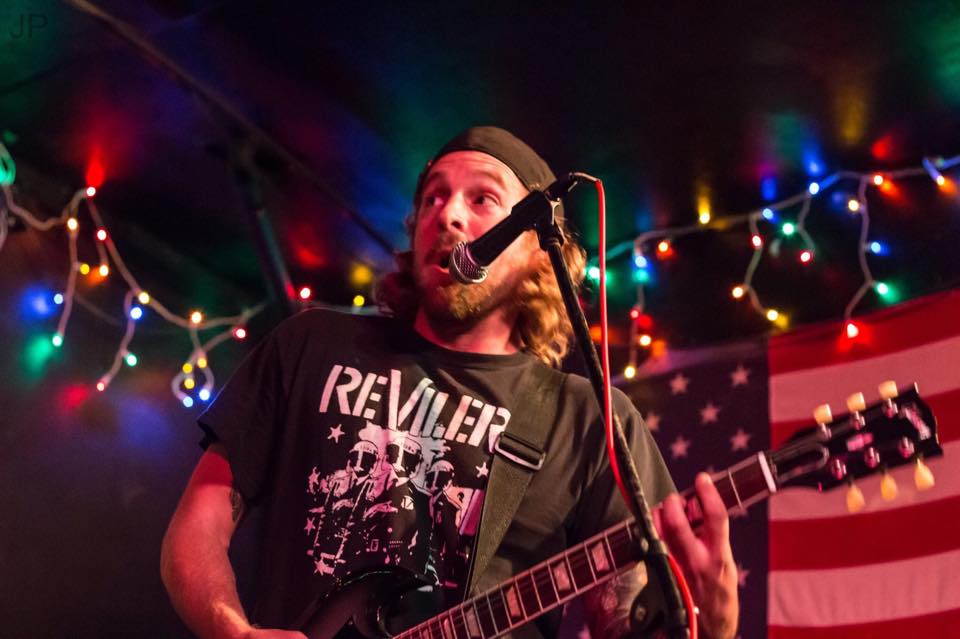 Please tell me a funny thing which have happened during your career and under some gig?
-There have been so many... mostly things that would incriminate us. So I'll go with a recent show we played. We were in the middle of playing "Butt Chug", song about drinking beer the wrong way. This dude jumped up on stage, bent over, stuck a full beer bottle in his pants, apparenlty up his ass, then sprayed what was left on me as he pulled it out. Funny... maybe. Gross... definitely. Either way it was all in the name of a good time.

How does your audience look like? Which people do you miss on your concerts?
-All kinds of people come out to the shows. The age range is pretty wide too. And the only people we wish were there, are the ones that aren't!

Please rank your five favoriterecords, five favoriteconcerts and five most important things in life?
-Its hard to really pick 5 absolute favorites, but these are all right up there.
Pat- Records: Motley Crue- Shout at the Devil, Motley Crue- Dr Feelgood, Guns N' Roses- Appetite for Destruction, Poison- Look at what the Cat Dragged In, Van Halen- Van Halen 2
Steve- Records: Converge- No Heroes, Wu Tang Clan- Enter the Wu Tang (36 chambers), Silver Mt Zion- Horses in the Sky, AFI- Black Sails in the Sunset, Elton John- Madman Across the Water
Me (Nick)- Records- Bad Religion- Suffer, Nofx- Punk in Drublic, Good Riddance- Operation Phoenix, The Clash- London Calling, Baroness- Yellow and Green.

Is it boring with interviews? IS it much interviews??
-We haven't really done interviews, in fact this is the first "written interview" we've done. I did an online radio interview with Ken Kelleher of Pissed of Radio out of New York (www.nosaleradio.com) not too long ago, but that's it. I'll do a million interviews if it helps get the word out about Fast TImes!

If you could choose five bands from the past and the history and nowadays and both dead and living bands to have a concert together with your band. Which five have you been chosed?
-The Clash, Nofx, Thin Lizzy, Motley Crue, and The Freeze. I can't even imagine the amount of party that would ensue before, during and after that show! We'd probably all be dead by the end (some of whom would be dead again).

Futureplans for the band?
-We'll be continuing our touring efforts, so we'll be trying to set up more dates this year and in the coming years. Along the way we'll be writing new music and hopefully putting that out as well. You can expect us to keep working at this, because its the best thing and most fun in our lives, and we only have as long as we're alive to do it.

For yourself?
-I'll be heading out on tour with my metal band Led to the Grave (www.ledtothegrave.com) from February 20 - March 21 2015. We're heading south to Florida, then west as far as New Mexico and back north east. Once I get back, its back to regular job and planning for the next adventures with Fast Times. That's about as far as I've gotten for future planning but I guarantee it will always involve playing punk rock and metal.

Wisdomword?
-All I can say is you'll never get anywhere or do anything in life if you don't put yourself out there. So figure out what you want and don't be afraid to live outside of the norm.

Something to add?
-I don't have much to add, but I am curious how you came across our small relatively unknown band? And I'd like to thank you Peter, for contacting us and spending time to review our music. Keep at it man CHEERS!
Chattkonversationen är avslutad