History?
-Hello, Peter, and hello to all SKRUTT MAGAZINE readers. As for the band's history, I'll keep it short. You can read all about it on our website: www.fanthrash.com. I can only mention that the band started in 1986 in Poland, which was at the time under a strong influence of Soviet communism. Then we stopped being active in 1992, when capitalism was making its first steps and that we finally came back to life (with music, gigs and media occurrence) in 2011 with our album 'Duality of Things', released by the British Rising Records.
Please tell me something about every member, age, family, work, and something about everyone?
-Greg – 43, married for 22 years to his greatest fan, 3 grown-up children: apart from being a Fanthrash member, a manager in construction business
Mary – 43, married for 18 years, " both of my children say I have the best job in the world – in a candy factory"
Less – visual artist, musician, a man full of secrets and incredibly talented.
Pilate - 31, a genius guitarist, a man with an acute mind, a lawyer and a happy husband, father to little Julia
Radd – 28, a hard-working drummer and an English teacher
What is it like to play music like this in Poland?
-In one word: hard! As Mary says (bass), the most expensive hobby, just after museum farming, in the realms of a Post-Soviet country, such as Poland. I can only add that playing metal in Poland is a thing for metal freaks only, cos you can't get any money out of it, just have to put it in, investing in equipment for a start. In most cases you can forget about being paid for a concert, at best you'll get your expenses covered, sometimes a free beer or dinner. So you're left with enjoying yourself playing the gig and having contact with audience. Pure underground!
There any chance that your music could be played on radio or where do you come forward with your music?
-You know, our music has already been played on the radio a few times, after the release of ' Duality Of Things', and not only in Poland, but we mostly try to promote our music playing gigs, as often as possible. And there's the Internet as well, where you can find our work: http://www.myspace.com/fanthrashband, you can also watch some live videos on Youtube, as long as it's possible. And here we'd like to give our thanks to all the pirates for promoting our music, especially those from Ukrainian and Russian portals, where you can find our new album spending just a few minutes on this theft (!). Forgetting completely about the fact that we spent over a year producing this album, and spent loads of money.
Have you done anything more than 'Duality of Things'?
-After the reunion we had 'Trauma Despotic' EP self-released in 2010, before that we recorded a few demo tapes (1987-1990). You can find more details on that on Encyclopedia Metallum portal: http://www.metal-archives.com/bands/Fanthrash/3540260124
Rising Records, is that good?
-Rising Records have released 'Duality Of Things', it's available worldwide and they're doing their job in this respect. But what we're lacking from their part is help booking concerts around Europe, without which we find it really difficult to present ourselves to a greater audience, win new fans and increase the album sales.
There any other good bands in Poland right now?
-Yeah, there are plenty of good bands here. Even letting alone those that really pulled it off and are enjoying an international success like Behemoth, Vader, Decapitated, Hate or Antigama, at least a few other should be mentioned, e.g. Trauma, Sceptic, Deivos, Lost Soul. We have a really strong death and black metal scene, there're also some new bands representing the so-called 'new wave of thrash metal'. What's more the core-grind scene has been holding up pretty well, as well as punk, which has sort of long tradition in Poland.
I´m a little bit more a punkguy, but I like metal and other stuff too.,...which is your relation to punkrock?
-In the late 70s and throughout the 80s, when I grew up, punk rock was the strongest genre in the underground scene. It was uncompromising rough and it took a stand against the communist regime that was holding power at the time in Poland, being strongly involved in social matters. Punk music certainly shaped my musical taste, aesthetics and my attitude towards the totalitarian reality. Many of my friends were punk-rockers and we used to go to Jarocin festival in the 80s, which was pretty much dominated by punk music. Well, the first time I laid my foot on stage with a guitar I had a mohawk hairstyle. It was round 1984 but that's a different story.
Your lyrics, what are they about or what influences you to do lyrics?
-Our, or actually my (so far) lyrics are really personal and... wait a minute, I never explain my lyrics. Let everyone see for themselves, you can find them at http://www.fanthrash.com/media_site_eng.php
No thoughts of singing in Polish?
-We have thought about it and we'll probably do it some day. Actually you can find a sample of Polish in the title track, ' Duality Of Things'.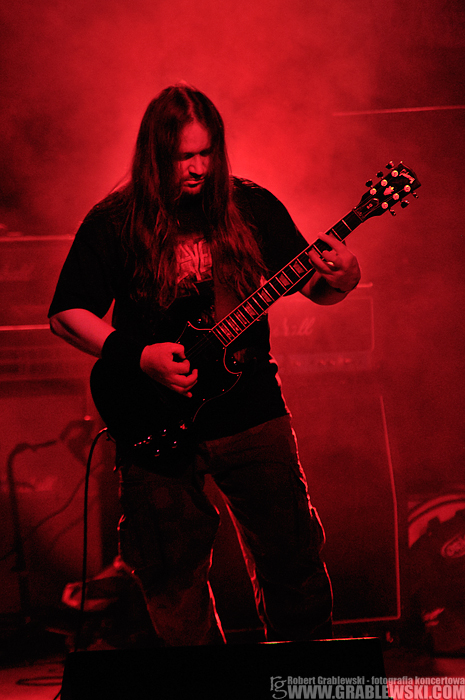 Politics and music, does it goes hand in hand?
-Politics is lies, it means toying with the society, crap, sewer and parasites finding their warm place in the otherwise healthy tissue of society we live in. Music, on the other hand, is complete freedom, artistic creativity, emotions, a stand, joy and a mystical experience shared with the audience.
Whether it can go hand in hand everyone has to answer for themselves, especially those who try to impose particular consumerist tendencies or political preferences on young people. As our bassist says, a politician fits better into a cabaret than into music.
Best political band or artists?
-In my perception of music there is no such thing. Of course, every artist, as any other citizen, has got some political favours but their work should not revolve around them.
If you could choose five bands from now and from the past to have a big concert with, which five bands would you choose?
-Just 5 bands... that's not enough! But ok, let's give it a try:
1. Slayer
2. Metallica (none the less)
3. Kreator
4. Morbid Angel
5. Iron Maiden
Your name Fanthrash...where did it come from?
-The name FANTHRASH is derived from the original name, the one we had used before i.e. FANTOM. Back in the 80s we also had an instrumental song in our repertoire, 'Fanthrash', the title of which was later used as the band's name and is now. You'll find more details in our bio on the website.
Your cover on your Duality of things looks depressing...did you have any
deeper meaning with the cover art?
-The cover art, forged by the way by me and and our vocalist Less, is an impression that is complete only with each viewer's own story. Its colours, form, details are to stimulate the viewer's perception, making their consciousness look for new meanings and references to the music content. As their subconsciousness is set in some artistic unease.
What type of people come to your gigs?
-They're usually young, often my children's age, but there're always a few beer-bellied old farts like me with elegant bald patches.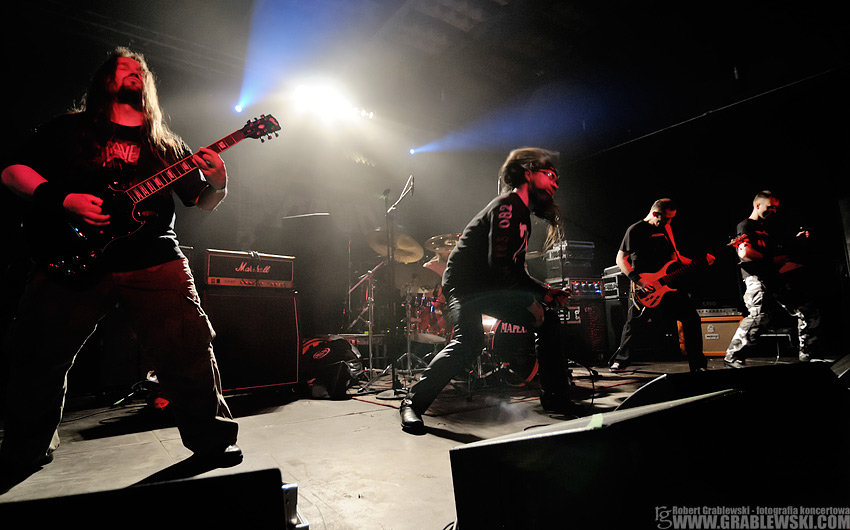 Which type of people do you miss?
-We miss people who are open to music searches, variety, who with no hesitation will enter the world of our sounds, lyrics and images – the world of FANTHRASH.
We also lack people who would carry our back-line, heh, before and after the gigs and also to lay it out on the stage cause it's really irritating, heh.
What do you know about Sweden?
-Sweden – rich and beautiful, the promised land for many Poles, especially in times of communism.
Mary (bass) used to tell us that you have animals you call Fiords and cars assembled in China – Volvo.
Any good Swedish bands that you like?
-Yeah, we like all of them, beginning with ABBA, then Europe, Bathory, , Marduk, Entombed, Dismember, At the Gates, Watain and Meshuggah to end with.
Have you been outside Poland and played? If you have, where?
-No, we haven't played outside Poland yet and here we'd like to ask all the promoters a favour – invite FANTHRASH to Sweden for gigs!!! We need to see your Fiords mate, don't we, heh.
How is a good gig with Fanthrash?
-FANTHRASH gigs are fucking awesome, we give all we've got and we're cheap in maintenance. Our gigs are even better than a nude, hot groupie in a haystack with ten beers running through her veins.
What are the craziest things which have happened during a connecrt with you?
-The fact that we get to play gigs.
How is it to live in Poland overall...I mean politically and so on? Do you remember the old closed times in Poland?
-Living in Poland, in times of globalisation is like anywhere else in western Europe, one slight difference is that you have to feed the whole family with only 400 euro a month (it's not a joke) while the prices in stores keep on the same level as in Germany or Great Britain.
You're asking me if we remember the old times. Sure we do, we remember people being arrested for their beliefs, being beaten up in the streets by the Militia in times of Solidarnosc in the 80s and we do remember the first democratic elections in 1989. Now it's supposed to be all fine, we have our long awaited democracy, department stores and supermarkets, we have freedom but most of our society live in poverty and for the last 20 years the power in Poland has been kept in the hands of the same politicians, who only change political parties. No future.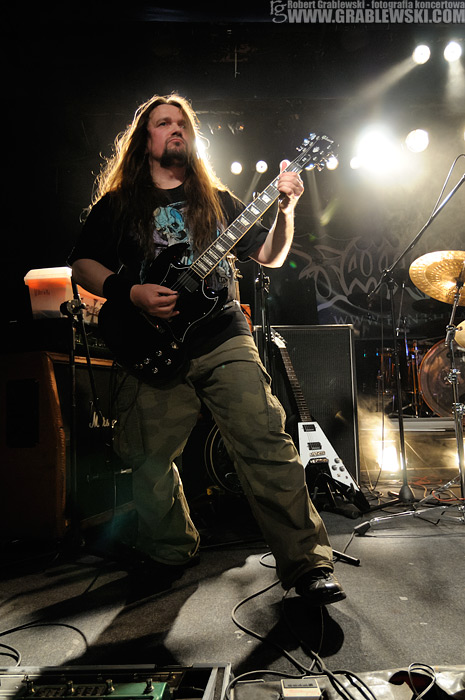 What do old people say, was it better before or do they think it´s better now?
-The elderly, and here I mean those born before WWII or just after, all agree it was better in times of communism. It might seem a paradox but social security benefits for poorer citizens like healthcare, were better and more easily accessible before than they are now.
Please rank your five favourite records, five favourite concerts you have been to and five most important things in life?
-Well, hearing from Mary, Radd and me that's what you get:
1. Iron maiden 1st album, Morbid Angel 'Blessed are the Sick', Slayer 'Hell Awaits'
2. Iron Maiden 'Killers', Carcass 'Symphonies of Sickness', Destruction 'Infernal Overkill'
3. Iron Maiden 'The number of the Beast', Napalm Death 'Scum', Kreator 'Pleasure To Kill'
4. Metallica 'Master of Puppets',Pink Floyd 'The Piper at the Gates of Dawn' Slayer 'Reign in blood'
5. Death 'Human', 'Tool 'Aenima'
As for gigs, our choices are Metallica in Spodek/Katowice in 1986, Iron Maiden – 1984, and for our younger members it's still Metallica, this time in Warsaw (2000), Morbid Angel after David Vincent's comeback Warsaw (2005) and AC/DC in Warsaw 2010
Five important things?
health, music, friendship, money, sex
First, last and most expensive record ever bought?
-Not to make it too long, here's just Mary:
first album bought: Afric Simone – an artist from Mozambique
last one bought: Fanthrash 'Duality of Things'
the most expensive single: Pink Floyd 'Another Brick in the Wall' – as a 12-year-old I spend all my savings on that piece
Do you buy many records or do you download your things?
-Yes, all of as try as they can to buy original records of our favourite artists.
Downloading and Mp3 ...thoughts about that?
-Mp3 in itself, as any other tool, is nothing bad. Through the Internet and streaming it allows you to hear music by practically every band from all over the world and it helps you decide whether or not to buy the original CD. It's also a handy tool for promoting the band on the Web. And everything's fine here. But I'm absolutely against steeling from artists by uploading the whole content of the CD in mp3 format. What's more, the quality of those 'recordings' leaves a lot to be desired. It's often highly reduced, but, what's the most terrifying, is not a problem for many young people. And that's the reason why we should buy and listen to original CDs.
Future plans for the band?
-To play as many concerts in 2012 as possible, to start a tour campaign in Europe. To record and produce a new album, which should be available in early 2013.
For yourself?
-To stay healthy and stick to the plans. And I need to lose some weight so I can hike with more ease.
Any words of wisdom?
-I'm not a mentor of any kind to spread the word of wisdom. But since we're at it: love each other, come to our gigs, support the metal scene, don't let the corporations and all those bastards telling you you're just a bunch of consumers get to you – you're not the people!
And an appeal to all: don't be afraid to be artists.
Something more to add?
-Thanks Peter for wanting to bring Polish FANTHRASH closer to SKRUTT MAGAZINE readers. I encourage you to buy our new 'Duality Of Things' album, come and see our gigs, if only we can get some promoter to invite us to play in Sweden.
<![if !supportLineBreakNewLine]>
<![endif]>
With a metal greeting,
Greg