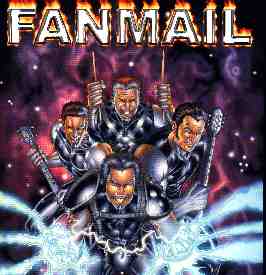 Scotty in Fanmail was so nice that he answered my questions in a week so here we go.....(28/8-2000)
History?
-I got a B+ in high school in History...And got F's in everything else...
Please tell me a little about every member?
-Pat Guyton - bass...was in a METAL band called LEATHER WOLF...Chuck Cummings- Drums...has been in a million bands and has a indie record label called fourdoor.com... Martin Tecsh-lead guitar...can play every Eddie Van Halen Solo...And Me...I'm Scotty Silletta -Ultra Jerk, lead vocal, rhytm Guitar, & super D.J.
Have you taken the bands name from the Dickies song?
-No...Not a Dickies fan...
Why did you do a cover on I want it that way, have you heard what the original group thinks?Is it Backstreet Boys or Who is it?
- Yes it is the Backstreet boys, & they actually loved it...

Have you done any more covers?How is a good cover done?
-Yeah on our e.p. here comes fanmail we did a cover of the Police's song "EVERY BREATH YOU TAKE" Listen to the song and do it your own way...
Is it a good way to come somewhere to begin with a cover of a fanmous song?
-Why Not...80% of the bands on the radio these days got their popularity from a cover song...I'm just trying to sell out as fast as i can...
You´re on Tooth and Nail, must the band be christian to be on it?
- I think that there are alot of "christian" bands on the label or christians in a band... We are a band. And whether we are christians or not shouldn't be the issue...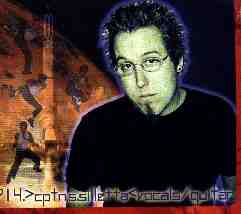 Is it a good label?
-No Comment...
What do you think about the other bands on it, any favourites there?
- Just MXPX
Any good bands in USA right now?
-sure...Deftones, Incubus, Foo fighters, bands you already know...
What do you know about Sweden?
- It snows there...

Have you heard any swedish bands worth to mention?
- Fireside Rocks!!!
You have an own zine, please tell me a little about it?
-It is a zine by the people for the people... You write the articles, your write the reviews...if anyone is interesed goto...www.superfanezine.com
What´+s the most difficult when you have a zine do you think?
-Getting people to write for it...
What do you think about the new way to commuincate with email and internet and that stuff?
- It changed My life...Business, music everything... i love it...
How is a good gig with Fanmail?
-Rockin' harder than DOKKEN!!!
Are you play often out with Fanmail, where´s the best?
-Washington D.C. with MXPX & Shades Apart...
How does the average Fanmail fan look like?
-Like any other indie punk...moppy or greased hair,jeans & a black T shirt...
Is it many interviews, is it boring?
-Sure...
Which is the question you want to have but you never get, please ask it and answer it?
-You got me...I get just about every question in the book...
Which is the most frequent asked questions you get?
-How did you start the band?
The latest craze and 2000 is the two albums I have, do you have done anything more and how can I get it?
-Just the e.p. and a few comps we are on...you can goto our site www.xfanmailx.com and click on the links and buy them up...
Are you satisfied with your latest CD 2000, what could you have done better?
- It was very hard top mix the record without Gene Eugene(my engineer) He passed away the day we were gonna start the mix so that was rough...but when all was said and done, I like it alot...
In the memory of Gene Eugene, has he have been in the group before or...?
- He was My producer, engineer friend...He did every Plankeye record with us and Both Fanmail Records...
What is your advice to a new group who want to get a contract or something like that, what shall they think of?
-Don't worry about a contract...most bands just need to learn how to play and write songs first...all these young guys call me to produce their bands and 99% of them SUCK...my advice is to learn how to play!!!
In Good old times you have written psa 195:19 it´s from the bible , how does punk go ahead with religion, what´s the difference and what´s the likeness?
-Being punk rock or whatever you are has nbthing to do with God...Do you actually think Almighty God cares if you dress punk rock to church or in a suit? God Looks ONLY at the Heart of a person...Your style of dress makes no difference to HIm...
What´s the best and what´s the worst of being in band?
-Not so sure..the worst is being poor...
What´s the best and what´s the worst of living in USA?
-The USA is great... i haven't lived anywhere else but i am very thankful to have the freedom of speech and religious belief...in some countries people get killed for what they believe...
Future plans for yourself?
- Work , Rock...
Future plans for the band?
-Not so sure right now...
Wisdomword?
- "Don't say something you don't mean in anger...you'll regret it later..."
Something more ot add?
-Nah...