False Alarm is a group which have played together some years and in the latest 14 years. They started earlier and Brent is the one who is explaining all this for us. July-2010
History?
-THERE ISN'T MUCH HISTORIE BEFORE1996. THE BAND FIRST ORIGANATED IN 1982 BUT WAS BROKEN UP BY 1983 AND NEVER DID VERY MUCH UNTIL 1996 WHEN WE PUT A NEW FALSE ALARM TOGETHER AND STARTED PLAYING SHOWS. ONE INTERESTING THING IS MY OLD FRIEND FAT MIKE PLAYED IN THE BAND FROM 82 - 83. WHEN WE PUT THE NEW FALSE ALARM BACK TOGETHER WE HAD ARE NEW RECORD " LEARNING IS IMPOSSIBLE" OUT BY 1998 THEN THE BAND BROKE UP AGAIN UNTIL 2001. WHEN WE BEGAN WORK ON ARE SECOND RECORD WERE DYLAN TOOK THE VOCALS AND STILL PLAYED LEAD GUITAR. WE RECORDED THAT ONE IN 2001 - 2002 BUT IT DIDNT GET RELEASED UNTIL 2006. THAT WAS A GREAT RECORD. THE LEGENDARY CHEETAH CHROME AND RICK WILDER BOTH PLAYED ON THE ALBUM AND DEE DEE RAMONE PAINTED THE ALBUM COVER WITH PAUL KOSTABI WHO HAD ALSO JOINED THE BAND AND PLAYED ON THE SECOND RECORD.

The first CD you sent me was with Youth Gone Mad and False Alarm. How come that those two was on the same CD?
-WE DECIDED TO PUT THEM OUT TOGETHER BECAUSE BOTH YOUTH GONE MAD AND FALSE ALARM ARE FRIENDS. WE HAD WRITTEN A SONG YOUTH GONE MAD AS A TRIBUTE TO THE BAND FOR ITS 30 YEAR CAREER IN PUNK. AND THEN WE WERE MORE THEN HONOURED WHEN PAUL AND DEE DEE RAMONE WROTE THE SONG FALSE ALARM FOR US AND RECORDED IT. SO I DECIDED WOULD BE COOL TO PUT THE TWO CD''S TOGETHER WITH THE TWO S0NGS WE HAD BOTH WRITTEN THUS FALSE ALARM / YOUTH GONE MAD
You have had some help from Cheetah Chrome from Dead Boys? How come?
-I CONTACTED CHEETAH BY EMAIL IN 2001 WHEN WE HAD BEGUN WORK ON ARE SECOND CD WHICH WAS UNTITELD "FUCK 'EM ALL WE'VE ALL READY NOW WON!". I DIDNíT KNOW HIM AT THE TIME I WAS JUST ABLE TO GET HIS EMAIL. I TOLD HIM ABOUT THE PROJECT AND THAT WE WANTED HIM TO PLAY. THEN WE STARTED TALKING. WE REALLY RELATED TO EACH OTHER FROM ALL THE HORRIBLE THINGS WE HAD BEEN THREW. CHEETAH HAD BEEN THREW A LOT OF BAD THINGS IN HIS LIFE AND HAD TO SUFFER A LOT AND I HAD GROWN UP IN A PUNK ROCK GANG WHICH IS A HORRIBLE WAY TO GROW UP ESPECIALLY IF YOUR A NICE GUY AND DONíT LIKE EVERYONE AROUND YOU DYING. WE RELATED ON THE PROBLEMS SO MUCH HE TOLD ME I COULD SEND HIM OUR DEMO AND HE WOULD LISTEN TO IT. A FEW WEEKS LATER HE CALLED UP AND TOLD ME HE LOVED THE SONGS AND HE WOULD PLAY ON THE CD. I WAS VERY EXITED BECAUSE CHEETAH HAD BEEN MY FAVOURITE GUITAR PLAYER SINCE 1982. CHEETAH CHROME ALONG WITH DEE DEE RAMONE AND JUST A COUPLE OTHERS WERE MY CHILDHOOD IDOLS SO IT WAS GREAT THING THAT THEY WERE HELPING WITH THE NEW CD.

Isnīt it any new material with FA coming soon?
-THERE ARE A FEW UNRELEASED SONGS THAT HAVENíT BEEN RELEASED WITH DYLAN MAUNDER ON GUITAR. SADLY DYLAN DIED IN 2005. DYLAND HAD BEEN SUFFERING FROM DRUG AND ALCOHOL PROBLEMS FOR A LONG TIME BUT IN RESENT YEARS HE HAD BEEN SOBER THE MAJORITY OF THE TIME. UNFORTUNATELY HE GOT INVOLVED WITH DRUGS AGAIN. ITíS VERY SAD BECAUSE HE WAS A GOOD FRIEND AND CHILDHOOD NEIGHBOUR SINCE 1980. I AM HOWEVER STARTING TO WORK ON SOME NEW STUFF WITH SOME FRIENDS. BRIAN FROM THE BAND JUGHEAD'S REVENGE IS HELPING ME AND I HAVE SOME OTHER TALENTED PEOPLE AS WELL. I RECENTLY WROTE A NEW SONG AND MADE A DEMO. ME AND RICK WILDER FROM THE MAU MAUS WANT TO MAKE ANOTHER SONG WITH RICK ON VOCALS TOO. IíVE BEEN VERY BUSY AND HAD SOME OTHER PROBLEMS TOO SO THINGS HAVE MOVED SLOW. BUT I THINK THERE WILL BE MORE TO COME AND WE MAY OR MAY NOT CALL THE BAND FALSE ALARM WITH OUT DYLAN ON VOCALS.

If you have new material...how does it sound?
-THE NEW STUFF IS ROCK N ROLL , PUNK. ITS. ITS VERY GOOD. SO FAR THE SONGS HAVE REMINDED ME OF THE STOOGES OR EVEN A PUNK ROCK DAVID BOWIE. BUT LIKE I SAY THERE NOT DONE YET WE MIGHT WRITE NEW ONES THAT ARE EVEN BETTER.

Which groups are you being compared to?
-MOSTLY 70'S PUNK LIKE THE DEAD BOYS , RAMONES , THE STOOGES OR NEW YORK DOLLS. BUT I THINK WERE HAVE ARE OWN STYLE TOO ARE LYRICS ARE HARD CORE THE MUSIC IS MORE 70'S PUNK WITH EVEN MORE GUITARS AND WE HAVE ARE OWN STYLE OF DOING THINGS. WE HAVE RELEASED TWO UNIQUE ALBUMS.

Does reviewers way to compare bands to each other suck or do you understand those people?
-I DONT MIND WHEN THEY COMPARE BANDS. I LOVE INNOVATIVE PEOPLE BUT I LIKE TO HEAR AN OLD INFLUENCE TO IT GIVES THE MUSIC MORE HISTORY.

How would you describe your music with three words?
-PUNK . ENTERTAINING , ROCK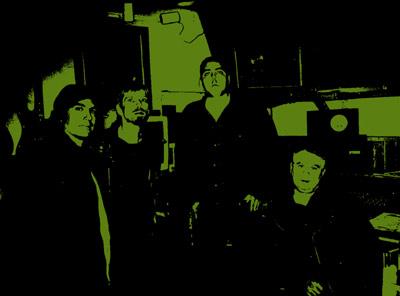 What does punk mean to you, is it only a word or is it a lifestyle?
-I WAS A PUNK SINCE 1979 WHEN I WAS A LITTLE KID. I WENT TO MY FIRST PUNK SHOW IN 1982. IN THOSE DAYS PUNK MEANT A GREAT DEAL TO ME. NOW DAYS THE ONLY THING I LIKE ABOUT PUNK OTHER THEN THE MUSIC AND RICH HISTORY IS THE NET WORK THAT STILL EXIST. IF I MEET AN OLD PUNK WE IMMEDIATELY HAVE SOMETHING IN COMMON WE MAY EVEN KNOW THE SAME PEOPLE , ITS LIKE A NETWORK OR SMALL CLUB THAT IS ABLE TO GROW. BUT WITH BANDS LIKE THE OFFSPRING OR GREEN DAY I JUST DONíT SEE A CLUB OR NETWORK. I THINK ITīS HILL BILLYS WHO BUY THOSE RECORDS OR SOMETHING. THE BEST WAY TO GIVE YOUR SCENE A NETWORK OR CLUB FEELING IS TO DO SOMETHING LIKE START A BAND OR A FANZINE. OR THINK OF SOMETHING ELLS. WHEN I WAS 15 I STARTED A PUNK GANG THAT WENT UP TO 100 MEMBERS BUT I WOULD NOT RECOMMEND THIS I DID TO ANYONE. IT WAS A HORRIBLE EXPERIENCE OVER ALL AND MESSED MY LIFE UP MAYBE SOME ONE CAN THINK OF A SMARTER IDEA ON HOW TO CREATE A PUNK SCENE THAT MATTERS

Can music and especially punkrock change people life dramatic?
-YES MUSIC CAN CHANGE PEOPLES LIFE OF THAT IM SURE. WHEN I FIRST GOT INTO PUNK ESPECIALLY THE RAMONES. I STARTED UNDERSTANDING THAT OTHER YOUNG PEOPLE LIKE MYSELF HAD SIMILAR PROBLEMS AND THERE WAS A WAY TO EXPRESS YOURSELF CREATIVELY WITH OUT BEING REPRESSED THAT MIGHT BE POSSIBLE. THAT IS LIFE CHANGING.

How is it to live in USA right now? Politically I mean?
-WELL IM A BIG FAN OF OBAMA OUR PRESIDENT THAT I CAN SAY. ITS VERY EXPENSIVE TO LIVE HERE AND ITS GETTING MORE DIFFICULT ALL THE TIME. I HAVE BI POLER DISORDER SO THINGS ARE TOUGH ENOUGH FOR ME ALREADY WITH OUT A BUNCH OF RICH CRIMINALS STEELING ALL THE MONEY WHICH IS WHAT 50 % OF AMERICA IS THE OTHER 50% OF THE THINGS ARE GOOD HERE IN AMERICA.. AMERICA FOUGHT THE NAZIS, PROMOTES EQUAL RIGHTS AT LEAST IN THE LAST 50 YEARS. AND AMERICA HAS POTENTIAL. I GUESS WHAT I REALLY LIKE ABOUT AMERICA IS THE EQUAL RIGHTS THING IT HAS DEVELOPED BECAUSE AS FAR AS INJUSTICE IN ARE COURTS AND JUST THE FACT THAT THE LAWS ARE ALL CORRUPT AND AIMED AT SOLEY PROTECTING BILLIONEERS I THINK IT IS DISGRACEFUL AND A LOT OF PEOPLE SUFFER

How about good bands in USA right now?
-I LIKE LADY GAGA. I LIKED HER FROM WHEN I FIRST HEARD HER BEFORE SHE WAS THIS POPULAR. I WAS PLAYING POOL LAST NIGHT IN A BAR IN OHIO AND THEY WERE PLAYING SOME GOOD SONGS BY NEW ARTIST ON THE JUKE BOX BUT IM NOT UP ON THE NAMES OF THE BANDS YET.

What do you know about Sweden?
-I KNOW VERY LITTLE. IíVE SEEN IT IN 007 MOVIES I KNOW ABOUT THE WATCHES AND BANK ACOUNTS AND THE SWISS ALPS. SWITZERLAND AND SWEDEN ARE TWO DIFFERENT COUNTRIES, HERE W GO AGAIN/EDITOR) AND PRETTY GIRLS COME FROM SWEDEN FROM WHAT IVE SCEEN THATíS ABOUT ALL I KNOW.

Have you heard any good swedish music?
-NO I DONT KNOW WHICH BANDS ARE FROM SWEDEN. MAYBE YOU COULD TURN ME ON TO SOME SOMETIME IīD LIKE TO LEARN

Many people download their music for free? Your thought s about that?
-I THINK THATS GREAT. ITS JUST THE MODERN WORLD ONE DAY THERE WILL BE SOME KIND OF DISK OR SOMETHING WITH EVERY SONG AND MOVIE AND ALL THE INFORMATION ON THE INTERNET ON IT AND PEOPLE WILL HAVE COPIES. PROBABLY NOT FOR A WHILE BUT IM SURE THE TECHNOLOGY WILL EXIST ONE DAY AND THE PUBLIC WILL ACCESS IT.

What shall we do the phenomenia downloading?
-I DONT KNOW. ITS A NEW WORLD. SURE THEREíS ANOTHER NEW INVENTION COMING SOON.

How much does a group like False Alarm sell?
-IN ALL THE YEARS THAT FALSE ALARM HAS BEEN TOGETHER IíVE PRESSED ABOUT 8000 CD;S OR VINYLS. I GAVE OUT A WHOLE LOT OF THOSE AS PROMOS BUT IíVE SOLD QUITE A LOT TOO. THE CD IS ALSO IN RELEASED IN EUROPE ON NICOTINE RECORDS AND THE PRINT AND WE SELL A FEW MORE UNITS OVER SEAS

Have you been outside USA and played?
-NO WE NEVER TOURED THE FAREST AWAY WE MADE IT FROM SOUTHERN CALIFORNIA WAS WHEN WE WENT TO SAN FRANCISCO. IN THE FUTURE WITH A NEW LINE UP I PLAN TO PLAY SOME NEW SHOWS AND MAYBE HIT A FEW OTHER STATES ONE DAY BUT I JUST DONíT THINK WERE THE USUAL KIND OF TOURING BAND. WEíVE MADE A PRETTY GOOD NAME FOR ARE SELVES FOR A BAND THATíS ONLY EVER PLAYED ABOUT 50 SHOWS MOSTLY AT SMALL BARS LIKE ALS BAR IN DOWNTOWN LA THAT IS PROBABLY BECAUSE I LOVE TO PROMOTE

Which are the futureplans for the band right now?
-I WOULD LIKE TO RELEASE ONE MORE ALBUM BUT I FEEL I HAVE MY WHOLE LIFE TO DO THIS SO THERE IS NO HURRY. MAYBE IīLL RECORD A FEW SONGS FOR COMPILATION CD'S AND WHEN I GET ENOUGH USE EM PLUSS SOME OTHERS FOR THE CD THIS IS ONE PLAN I HAVE

For yourself?
-IM JUST PLANNING THAT I NEED TO START HUSSLING MORE MAKING MONEY AND GETTING MY LIFE BACK TOGETHER. I HAVE A LOT OF RECOVER FROM DRUGS ALCOHOL AND A VERY SERIOUS BY POLER DISORDER. I HAVE TO KEEP MY MIND SANE IF I WANT TO DO ANYTHING. I USED TO REALLY WORRIES A LOT ABOUT GAINING POWER AND PRESTIGE THE USUAL SONIC REDUCER ATTITUDE BUT NOWADAYS I JUST WANT TO HAVE THINGS ORGANIZED AND BE AT PEACE AND JUST TAKE CARE OF MYSELF.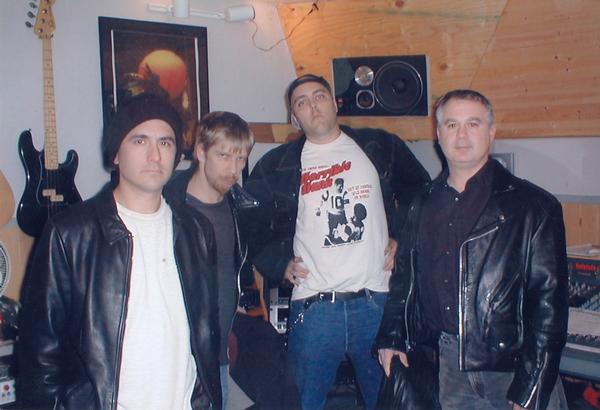 Where is the best to have a concert?
-MY FAVOURITE PLACE TO PLAY WAS ALS BAR BEFORE IT WENT OUT OF BUSINESS ABOUT 10 YEARS AGE IT WAS A GREAT LITTLE BAR DOWNTOWN A LOT OF PEOPLE FELT LIKE IT WAS LA'S CBGBīs. I THINK THE MISFITS STARTED OUT THERE.

Please choose five artists/Bands/alive and dead) which you wants to have a really big concert together with?
-RAMONES , DEAD BOYS , BEATLES , STOOGES , SUPREMES

Please rank your five favourite records, five favourite concerts and five most important things?
-MY FAVOURITE RECORDS WOULD BE RAMONES ,ROAD TO RUIN, RAMONES BRAIN DRAIN, DEAD BOYS YOUNG LOUD AND SNOTTY, DEE DEE RAMONE I HATE FREAKS LIKE YOU , AND ADOLESCENTS FIRST ALBUM.
WELL AS FAR AS MY FAVOURITE CONCERTS I SAW THE RAMONES MANY TIMES FROM THE SUBTERRANEAN JUNGLE TOUR NAD ALSO WHEN I WAS A KID I SAW MANY CLASSIC PUNK BANDS SUCH AS SOCIAL DISTORTION AT THE ROLLER RINK , SUICIDAL TENDENCIES IN 1983 FIRST ALBUM TOUR , REAGAN YOUTH , AND IGGY POP BUT I NEVER SAW IGGY POP PLAY UNTIL THE EARLY 90īS. I JUST HAPPENED TO MISS HIM COZ I WAS BUSY GOING TO UNDERGROUND SHOWS LIKE RF7 , BLACK FLAG , WASTED YOUTH AND SO ON. I NEVER SAW THE DEAD BOYS LIVE BUT I HEARD THEM LIVE THREW THE WALL. I DIDNíT HAVE ANY MONEY TO GET IN TO SEE STIV AND CHEETAH SO WE TRIED TO SNEAK IN BY BREAKING IN TO THE NEXT DOOR BUILDING AND WENT THREW THIS WEIRD CLOSED OFF HALL WAY WERE WE COULD HEAR THE DEAD BOYS PLAYING. THE PALSTER WAS COMING OFF THE WALLS AND YOU COULD SEE THEE WOOD PANELS INSIDE SO WE TRIED TO BREAK THREW THE WALL BUY WE COULDNíT SO WE WERE JUST HAPPY WE HEARD THE DEAD BOYS LIVE, THAT WAS 1988. AS FAR AS MY MOST IMPORTANT THINGS THAT WOULD BE FAMILY , GOD , SANITY , HEALTH , MONEY.

Which are the most embarrassing record in your collection?
-IHAVE NO EMBARRASSING RECORDS. I HAD A PUNK COLLECTION ON VINYL WORTH ABOUT 5000 DOLLARS BUT WHEN I WENT TO JAIL ONE TIME I LOST MOST MY POSESSIONS INCLUDING THE VINYL . I STILL HAVE A GREAT 300 PLUS CD COLLECTION BUT I LIKE EVERY SINGLE ONE SO IM NOT EMBARRASSED BY ANY OF THEM. BUT IF YOU MEAN I DONíT WANT TO BLAST BARRY MANILOW FROM MY CAR I UNDERSTAND CERTAINLY NOT BECAUSE I LIKE QUITE A FEW OF HIS SONGS

The record which all people should hear but many people/radiostataions have forgotten?
-RAMONES LATER RECORDS FROM THE 80īS SHOULD GET MORE PLAY

Widsomword?
-STAY OUT OF TROUBLE ITS NOT WORTH IT

Something to add?
-THANKS FOR INTERVIEWING ME IT WAS VERY NICE OF YOU. HOPE EVERYONE HAS A GREAT DAY