Fågel Blå celebrating twenty year jubilee and they do it with the old band for a gig with Nuts the 13th of december on Henriksberg. Krånne answers here on some questions about this. This was done the 2th of december 2008.
Hallo....you will celebrate your twenty years as the beginning….why?
-Bazze, Zapi & I met some year ago for the first time in many years. Then we talked about a rehearsal and have a good time. It didn´t became anything with that but after a while I thought aout doing anything crazy….to fly our singer Gözta to Gothenburg from London and do a twenty-year celebration since we started Fågel Blå. I would only find someone who wanted to do that and it became Jonk on Showdown(Henriksberg).
What does Gözta do in London now?
-He works as a producer and songwriter on Hitpark music. They have sold gold in many countries, so it go very well.
You still is doing music…is it only solo or is it with a band?
-I often plays alone live, acoustic. Have a band which I take foreward this new year. I should only record some solomaterial first. And I must be ready with my project with 80´s covers in acoustic style. It´s a band which is playing on my solostuff.
80´s covers....as what?
-He he….I liked CLASH and whole lot of other stuff and some other stuff when I was aboyut ten years but also a lot of synth. So it´s covers on some old synthsongfs which I have recorded, just to lift foreward the songs from their many times overproduced productions and I have recorded DEAD OR ALIVE, BRONSKI BEAT, DEPECHE, YAZOO, ERASURE among other. Punky isn´t it??
No….not really but you maybe do them in a punkstyle?
-No, but with an acoustic guitar and some piano. I try to change the songs to more Cash and Nick Cave-style. Why of Bronski Beat sounds a little bit more like Cash/Cave on my recording.
There isn´t a chance to hear it?
-Yeah on myspace: www.myspace.com/kranne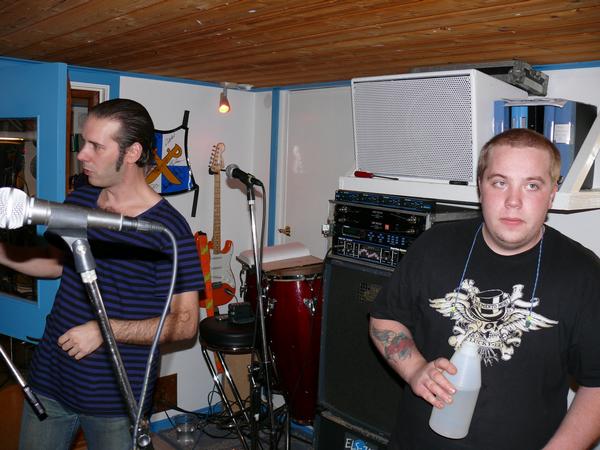 Good....Now back to Fågel Blå....you have done some new songs?
-yes! I wrote KORTEDALA PUNX as some sort of history about the Fågel Blå-time – some sort of closure but also about myself and the punks rising and fall in Kortedala, I met Crippa from Attentat as a ten year old kid on Kortedala Torg and he make a wry face to me and I become scared….this is in the lyrics….today is Crippa and I neighbours and good friends. That´s the way it goes.
And then have Tomas wrote a new song called VITA MÄNNISKOR which is about Fredrik Reinfeldt and his gang.
A really good song as I almost dream myself back in time when you hear….will you play both new and old stuff?
-It´s good to hear that you like it. Yeah we play these two new songs and a lot of old stuff. Some cover - maybe with a guest – it will be!
Which guests except Marcus Birro is it or is it secret?
-No, not secret but it´s not really finished yet….we haven´t decided a song so it will be decidied which song we do first. But something with some gothenburgband I t will be....
Is it only swedish songs or can it be some english too?
-You think about FB: s englsih songs? We will not do anything from MUSIC FOR MEN record.
Good. …that wasn´t too good…why did you do an english record in the first place?
-He he.. I was in the group when we started to do these songs but I quit the band because I didn´t think it was so fun anymore. I think I was one of the guys who wanted to do English songs but it wasn´t any hit…so I quit the band….haha. I played a lot together with Birros around the country and that was more fun then!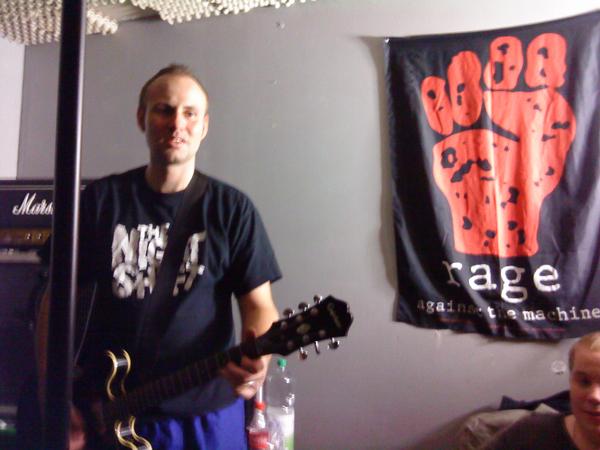 Understand that….have it been many rehearsals before the gig now?
-We haven´t the time to rehearse more than once a weel but we have done it for a while now. And really long rehearsals, especially of the fact that Bazze and Mattias lives in Herrljunga. Do the best then....
Have Gösta been at home some time or is it going to be a fast rehearsal some day before the gig?
-Gösta rehearse at his home in London. We meet the day before and do everything the Friday before the gig.
Sounds tight....but have it sounded good now when you have rehearsed?
-Much better! But we must have been learning us something on all these years. And we´re a lot more disciplined nowadays.
You have a new drummer….what happened to the old one and why didn´t he wanted to be on the gig and where do the new drummer comes from?
-Yeah. Mattias drums now, he also plays in Bazzes band band THE NIGHTSHIFT. Our orignaldrummer Zapi didn´t want to be on the gig when we started to come closer to the day. He haven´t played anything during the time Fågel Blå didn´t exist. It was really hard to start all over with a new drummer but in the same time it have been some more new stuff on the songs and we have done the songs a little bit different.
Have many tickets been sold to the gig?
-I don´t have a clue but in the club we plays in they were surprised that about ten bought a ticket the first day. Have never happened in Klubb Showdown before!
Sounds fun....you looking foreward to this I understand, but is it any negetive feelings before the gig?
-No, it doesn´t. But of course we wonder hwo the future will be. Do we any future as Fågel Blå? Gözta is in London as we talked about. We don´t talk so much about it and we enjoy of this as long as we can!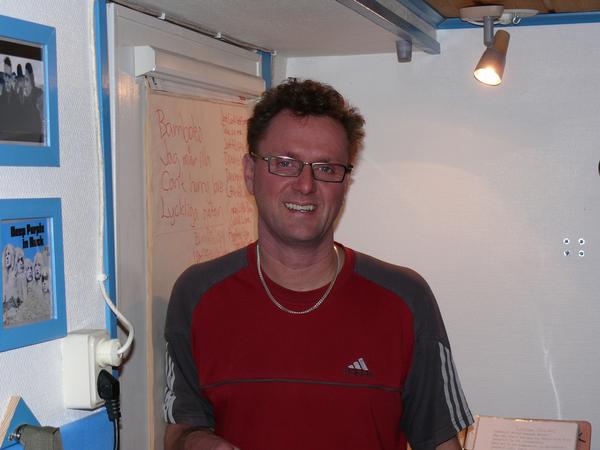 Could it be any continuing on this?
- Some continuing in some form it must be. We will see….
It´s so fun to play punk again?
- yes, it is! But in the same time I´m a little bit away from the punk if you talk about sound. Kortedala Punx should be sounding as Florence Valentin soul I though instead of sounding Troublemakers. But Bazze made me think another way…hahaha…but I´m satisfied with the result! This is this which is the thing of playing in a band – that you take and that you give.
What does punk meant to you, is it only a word or is it something which have formed your life?
- When I was little and listened on London Calling when it came so did I really like the record much but I didn´t thought it was punk precisely…I had the first Clash-record too and it sounded a little bit more messy than much other things in my collection. It took a little time into the 80´s before I started to like punksongs in Swedish. I missed Ebba but I really liked Imperiet and Strindbergs. So sure have the punk formed me in some or another way. In Fågel Blå we felt that we were punk and when I was in high school with a lot of people from Mölnlycke and Örgryte so was it easy to call yourself a punk…, he he..
Do you listen to any new punk? Is there any good stuff?
-I listen to all sorts of music but I have difficulties with songs which haven´t anything…What is today´s punk then? Florence Valentin have I liked since they began, they´re almost punk?? PANIK-NAKEN I like also. The attitude that young bands I like as HATA KATTEN and similar.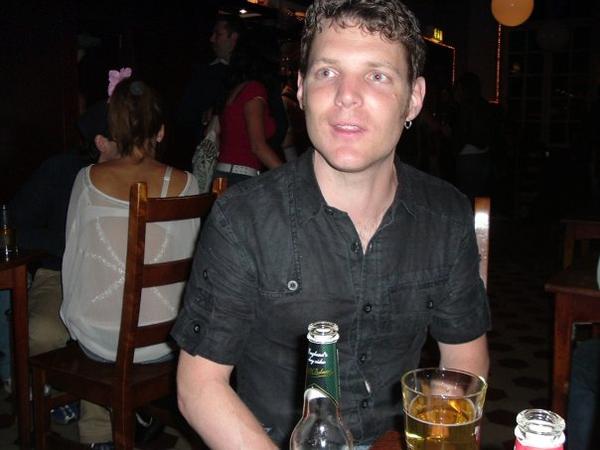 Nuts will also play on the concert, was that a natural choice for you to play with them in Henriksberg?
- Yeah, we toured and released a record together so it felt like as fun thing. We haven´t met on all these years. Obvisiously shall the old Färjenäsoccupants also have a reunion on the gig! Naturally…..
Sounds fun….it become a good mix of people then…but it´s mostly people over 30-40 years who comes or what do you think?....how old have you becoming?
-Tricky question...Yeah, it becomes a whole lot of people from the past but also some younger people as what I have understand. Hata Katten plays also so it comes some younger due to that fact. We´re from 23-42 years old!
Hata Katten....is there any more band than Fågel Blå, Nuts and Hata Katten which is decided?
-No, we three and Marcus Birro which reads from the coming book "Att leva & dö som Joe Strummer" (workname) there he writes a lot about the time we played on Valvet on Första Långgatan and on the illegal clubs that Sator-Micke had and Crippa(!) and Jonk plays records!
Yeah…we begin to come to the end of the interview and which are your hopes before the concert?
- It shall be so fucking funto play these songs again and to sing choir together with Gözta! We two sang along all days through our highschooltime. We have formed each other more than we know. I hope to get a fantastic evening with a lot of memories from the past. .
It surely will be.....when is the first band on stage?
-Hata Katten 22.00, The Nuts 23..00, Fågel Blå 00.00. It´s not excactly decided when Marcus Birro reads.
Then you must be there in time....thanks for the interview and good luck!
-Thank you and see you there! Have a good time!