Eyes of Tomorrow is a german hardcoreband which is really good. I sent some questions to them for many months ago but here is finally the answers. October-2022
Please tell me a little history of the group, members and what you do when you don´t play music, what do you work and which ages are you in?
-Hey what's up we're EoT, so that's Dominik, 35, founding member, guitar player, and beside of that a hospital aid, Adam, 45, the other founding member, drum banger and a teacher for English and History in real life, Chris, 48, our bass player and real life locksmith and of course Mirko, 46, and also teacher for medical aid jobs. We started EoT back in 2016 but only after hooking up with Chris and Mirko the Band felt complete and ready. Since then we've released a demo tape, an EP on the Ready to Fight Records from Dennis, former RYKERS vocalist, in fact our first vocalist (we had to let him go for Rykers) and then an LP on Dedication Records and Swell Creek Records. We've been very lucky to had been given the opportunity to play with AGNOSTIC FRONT, CRO MAGS (both combos), MADBALL, FIRST BLOOD and many many super awesome bands more. Also ever since we've bee trying to connect as much as possible with old and new friends all over Germany, Europe and the world to revive the underground, DIY hardcore scene.
Have it been the same members all the time, or have it been many lineup changes? Please tell me a little about every member? Earlier bands?
-Ok long story short, Chris was in SPAWN, Germany's pioneers in hardcore in the 90ies, then in a smaller combo called SKY'Z THE LIMIT (by the way together with young Adam) in the late 90's early 2000s. Adam played with SHAFT, a metal/hc band in the late 90ies, often featued and collaborating with the Dutch and Belgian HC scene. Then he played with Chris in SKY'Z THE LIMIT, then in a band called STILL SCREAMING where he hooked up with Dennis (Rykers, and EoT's first singer), Dominik played with German Beatdown pioneers CIRCLE OF DEATH, and finally MIRKO shouted for FOREVER YOUNG VIKTORIA, a powerhouse in screamo HC.
Eyes of Tomworrow is the name, where did it come from and you wasn´t afraid that some other group would be named so? Why an English name when you´re from Germany?
-Our other former singer Nico from CITY TO CITY came up with this name which is actually a CRO MAGS song. This name appealed to us because of the stuff that pops up in your head when hearing it, especially since we are in fact individuals who find it extremely important to see our world with open eyes, aware of all the implications the human existence has on our planet, our lives and our shared future. Well and since English is the lingua franca in this world it seems to be the best choice to spread our message, even for us Germans (grinning).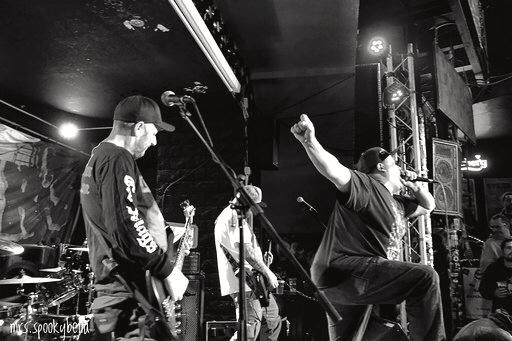 What´s best with playing live ? Have you been start playing after covid-times? Where is best to play, which country, town, place?
- Hanging out. having a good time with good people. drinking beers and talking s+++
To be honest it's always awesome to play live, to get together with people who share a common attitude, to connect, to exchange and share moments regardless of the place or venue. Still, there's one place which we're especially connected with, which is the DON'T PANIC club in ESSEN, a RUHRPOTT city nearby. It's family there, both working staff (greets to Günni) and the guests. This year 2022 we were very lucky to have been able to play two mini tours, which was extremely rewarding and motivating after the long Covid break. Playing live is the best thing after all.
Is it important to give out the record as physical releases do you think? Would it feel like you have released a record if you only release it digital?
-Since we're rather old and old school guys it's both normal and important for us to have a physical copy of our records, something you can hold in your hands, look at when it's on your shelf, and maybe lend it to a friend of yours. All this 'digital-only' stuff is not for us.
Do you play any covers when you play live? If you do, which then?
-In fact we still play "Open up" from DYS and we used to cover the CRO MAGS intro for 'we gotta know' but so many other bands started doing that too, that we didn't want to be one of them, so we stopped.
Please tell me a little about following songs
-a) Masses of despair
It´s simple as f***. This world is going to hell and it's our fault.
My PMA
This is a classic Hc song to spread positive Vibrations.
c) Things we need
It´s about the simple things in life , that are basicly free and make us happy. YOU decide what you need to be happy. During the pandemic most of us realized how much we miss shows, rehearsing an interaction in general.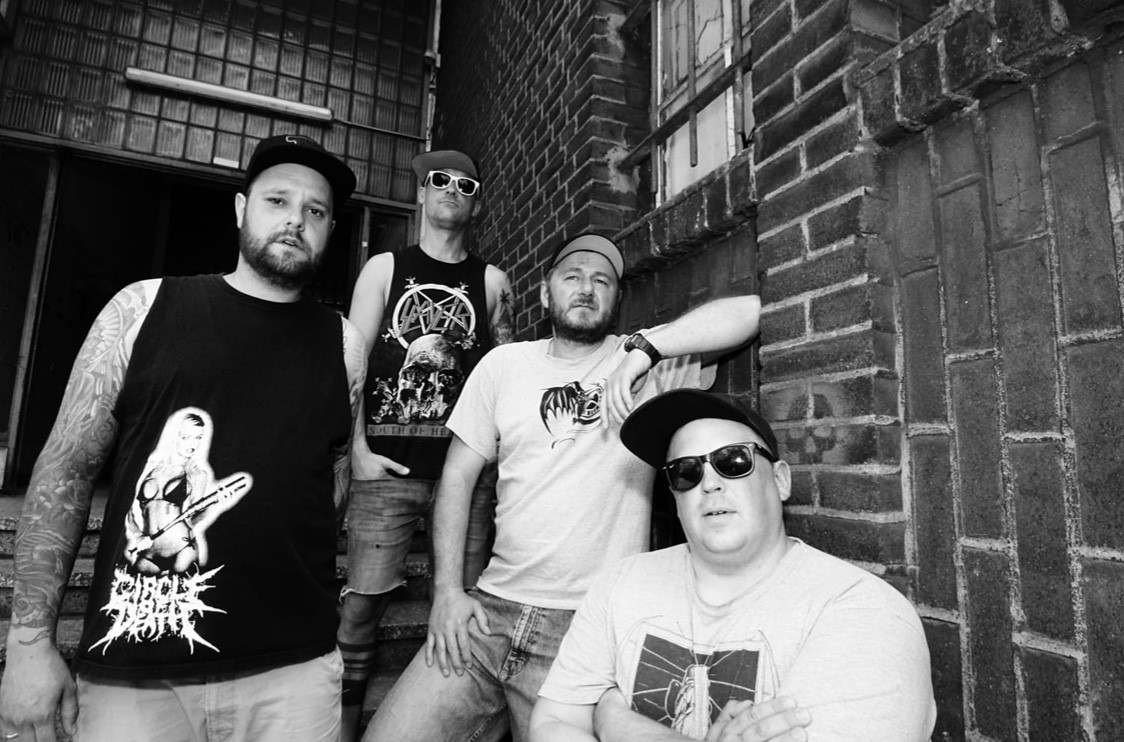 Is it important to get out your opinions in your music, and is it a good way to get out frustration too?
-Oh yeah definitely, especially in HC you can express all your critical views on society, the world, our lives. It's the best remedy to shout out about all the bullshit, ignorance and suffering in this world. We couldn't do without!
Do you think that your lyrics can have effect on other people who listens to them…any example on it? Have you changed anyones mind?
-Honestly, we don't really know if we changed somebody's mind. But we surely hope to make a contribution for more critical thinking, awareness and more PMA! In that context all the feedback has been all positive.
How is it to play this sort of music in Germany and which type of bands are you having concerts with? Which is the most peculiar band you have been playing together?
Playing HC music in Germany is, in our opinion, not any different from playing in any other country. When you have psyched crowds it's always intense and a blast! There are many, many bands we enjoy playing together with amongst which we'd name RYKER'S, TAUSEND LÖWEN UNTER FEINDEN, PERFECT SKY from Austria, BY A STORM, ASH RETURN, UP NORTH, STAY IN CONFLICT and many many more, sorry that we don't mention all of them!
Have you been one of all these bands which have made livestreams now during the covid-19 time or how is it?
-We played one live-streamed show so far, it sucked. We had to be in different rooms and could only see each other through monitor sets. All that HC spirit, all the energy wasn't there. In our opinion that kind of stuff just doesn't make sense.
I like beer and also make beer.. If Eyes of Tomorowwould do a beer , what would it be named and which sort of beer would it be? Or maybe you´re straightedge?
-Hahahaha EoT are very far from being XXX, still maximum respect for each person's life choices, never disrespect. But we like beer a lot. If we made beer ourselves no idea how we would name it, probably some name that refers back to the place where we live (main industry area in Germany) or the people, working-class honest but rough, or the music that we love. So, maybe something like "Blue-collar Mosh"? No idea! Hahahaa
Mirko: i would call It the BLACK EYE of Tomorrow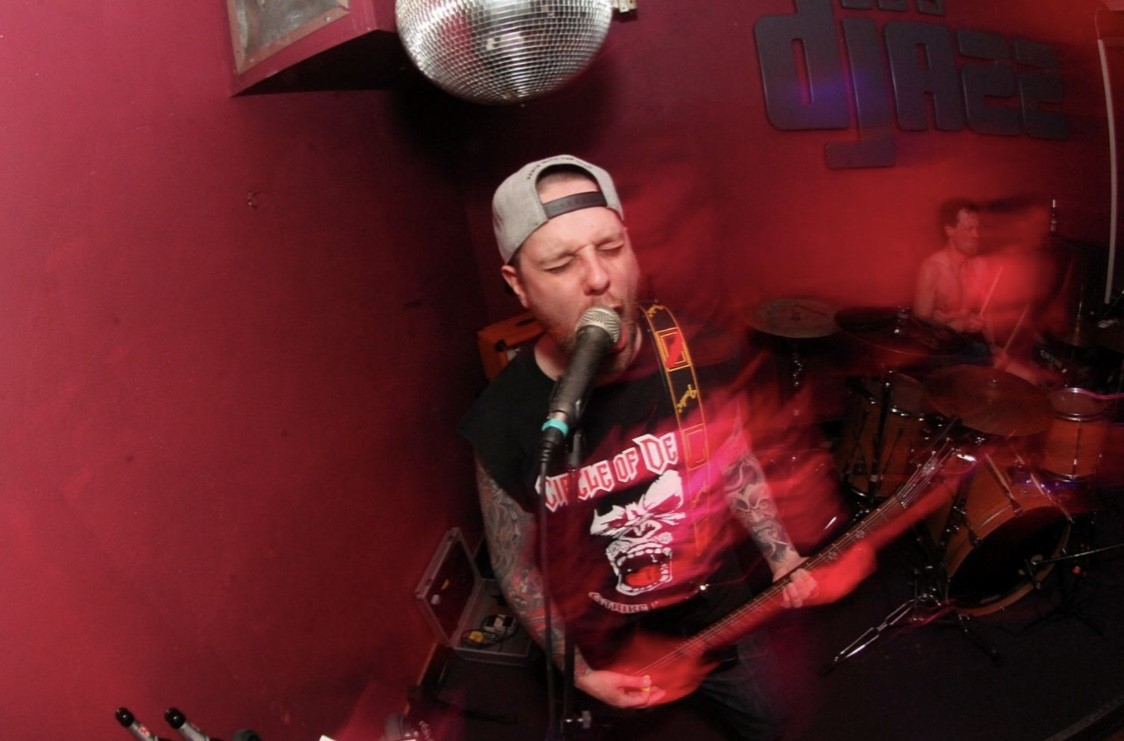 How would you describe your music in three words to anyone who never have heard you?
Hard, fast, multi-facetted with a certain Groove.
Which is your own favorite song among your own songs? And which song is the people choice?
-That depends on who you ask,
Adam: 'Hold on'
Mirko: 'World of lies'
Chris: 'My PMA'
At concerts people seem to like 'Famous"' a lot, probably because there's a lot of singalongs in it.
What´s the biggest difference when you plays live nowadays if you compare when you first started to play in a band?
-To be honest, nowadays we know much more what we're doing on stage whereas back in the days everything was much more chaotic, instinct-driven and premature. times had and have advantages and disadvantages.
And have you opinion about punk changed through the years? What do punk mean to you, only a musicstyle or a lifestyle?
-For me(Mirko) its basicly "do what you want" without being an asshole . That's for Life in general.
What do you know about Sweden? What is typical swedish?
-Ikea and Refused. I used to like both.....would be great getting there someday, as it´s known for it´s peaceful, healthy peolpe and great nature. hope, I won´t be disappointed.
Have you ever been here? Any good bands from Sweden that you like?
-Not me.(MIrko) don´t know that much bands, that I got hooked on....sorry.
MIrko: I used to like Refused in the 90s
Your audience when you play live, which type of people comes, age?
-Would be safe to say we´re an over 30+ Band....but it´s different from show to show.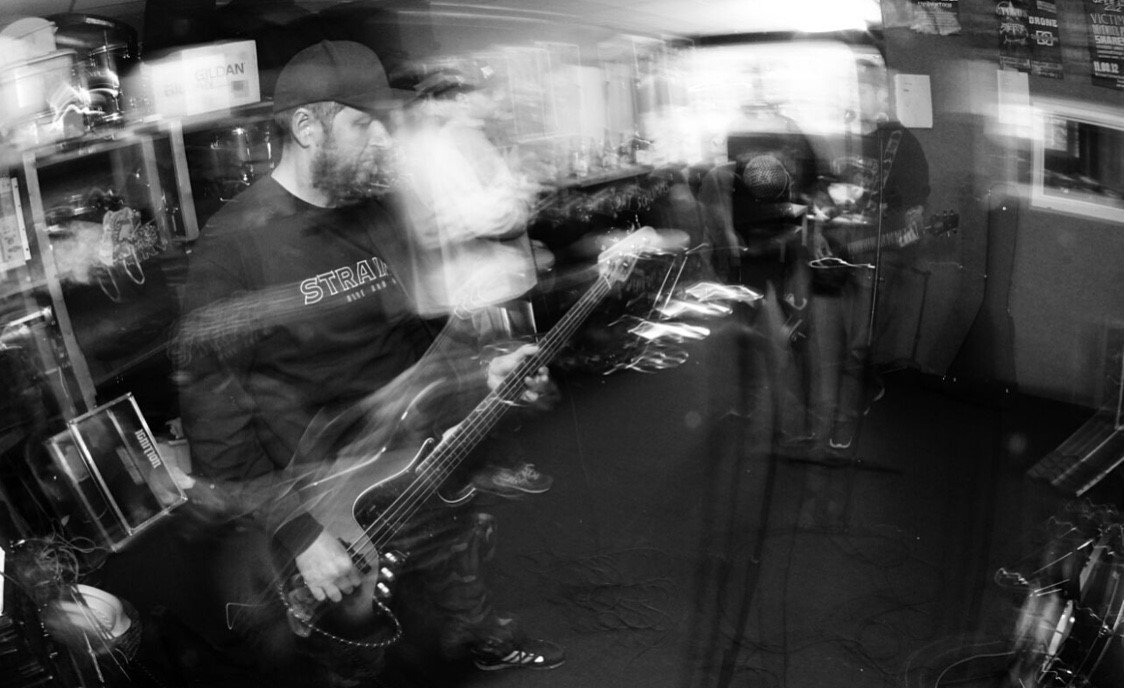 Please tell me a funny thing which have happened during a livegig with your band?
-Until now, nothing funny happend. we´re a serious tough guy hc Band!!! ;-)
Which is the record that you always must have in the tourbus?
-We don't really have a record that we always play when being on tour. We're generally very open-minded and enjoy many different styles of music and a lot of bands and artists. 80's music is always fun because most of us grew up in that decade. 90's Euro-dance is always good after drinking some beers. Basically anything you can sing along to.
Do you buy much records, or is it only Spotify and those type of things to listen to music?
-We prefer real physical records to streaming platforms such as Spotify. Since we're musicians and platforms like that just destroy this whole culture and business, they're not best friends with us, fuck them!
How is it to live in Germany overall, covid, racists and politics overall?
-The only difference to any other European country is basically the language. Of course culture-wise each region has its own peculiarities, but on the other hand in our globalised world we all face pretty much the same problems, be it racism, economic inequality or social divergence. At least that's our perspective. We rather see the similarities than the differences.
Do you care about reviews? Which is the most peculiar you ever had, with this band or any other band you have been to?
-Well, how can you not care about reviews. Very often that's a sort of feedback that would otherwise wouldn't get. Especially in the pandemic there was no way of knowing how and if the people like our stuff. We released our LP at the beginning of the pandemic, so that was a nice way to get some feedback. Also the opinions of people in countries far away, such as Sweden, without review it's really hard to know whether they like your stuff. And not to forget for the scene itself, reviews are super important to inform yourself about new bands, new releases, trends and so on. So for us as kids, before we started playing in bands, and even now that we do, we still try to read as many fanzines, reviews and articles as possible. That's an important part of HC underground culture!
If you could choose five bands from the past and the history and nowadays and both dead and living bands to have a concert together with your band. Which five have you been chosen?
-Ok, since we're 4 band members we'll pick each just one band to make it fair:
Adam: Converge
Mirko: Pizza Tramp
Chris: Unbroken
….and the fourth member???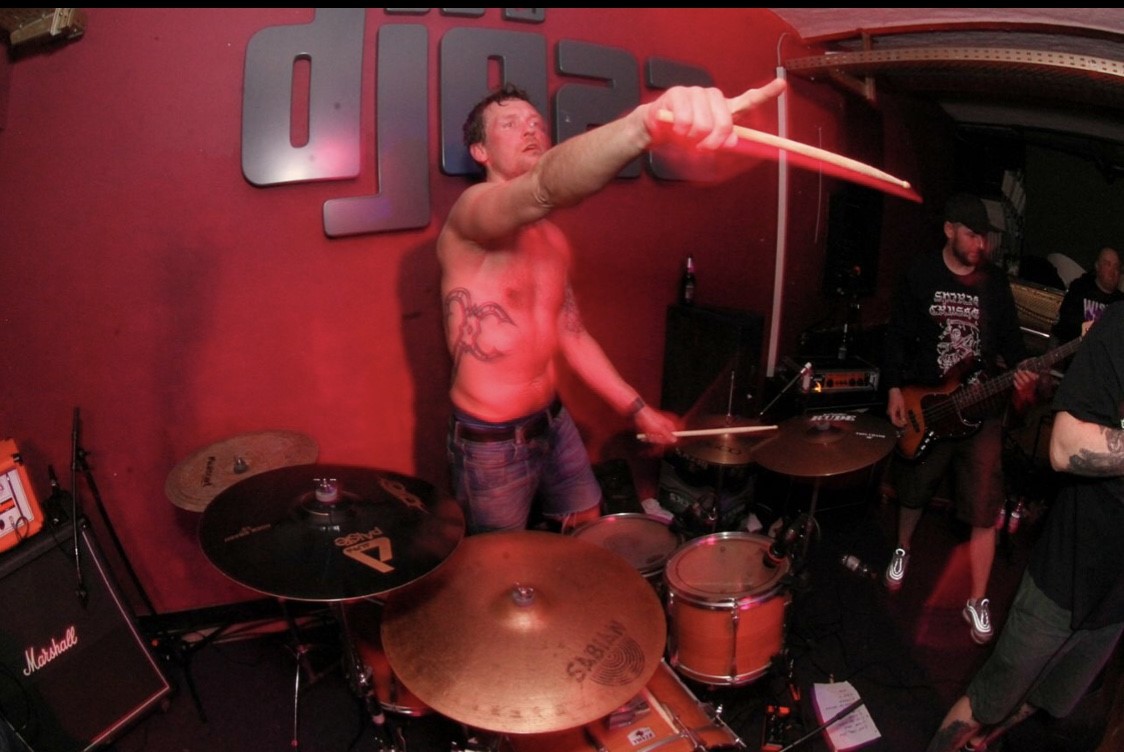 Furureplans for the band?
-Working on our next LP. We've got many songs already and we're tripping, super excited for the next record. Besides we're planning a proper tour for 2024 with a band from the Americas, some trips abroad heading north and shredding lots of stages the way we always do. Sorry but we can't yet reveal anything specific since we're still in the planning stage.
Wisdomword?
-Listen to Vinnie Stigma!