History?
-Matt (the singer) and I have been best friends since we met in high
school where we lived outside of Philadelphia. I moved to boston and a year
later matt moved up here too. Dave (DAZ) was our roommate and we instantly
became great friends. The band didn't start until a few years later. We had
been hanging out with dan (drums) and thought we'd just get together and
jam. we recorded a demo and started playing a few shows. We had been
hanging out with Sam (other guitar) and his band (THE TROUBLE) had broken
up. So he eventually joined the EXPLOSION. This was all about two years
ago.

Please tell me a little about every member, age, work, interests, family
and so on?
-We're all between the ages of 20- 25. I'm 23, graduating from art
school soon, a record collecting fiend, and I play the bass. The Daz is
unemployed and living with his girlfriend- he dances like Lionel Richie and
does a mean freddie Mercury impersonation. Sammy is the genuis 'tuneman'
and poet, even though most ordinary things confuse him. He goes to school
for sound engineering and does a radio show. D.C. (drums) hits the skins
and is always on the scene like a dancing machine, token van fixer and band
mental case, he also dances like El Debarge. Million dollar Matt is our
fearless frontman. He hates Texas. Once performed (very drunk) "the thong
song" accapella, on stage for about 20 minutes. he doesn't dance, he falls
down.

Have you been in any other bands before, and do you have any bands on the
side of Explosion?
-I played in a hardcore band called IN MY EYES for 3 year on revelation.
we are playing our last show this month. (I wasn't on their european tour)
Sam Cave played guitar in one of my favorite boston punk bands, THE TROUBLE.
They were fucking awesome and I advise everyone to track down their CD on
GMM records. Dan has played drums in different local punk and art rock bands
over the years, most notably THE NEVER NEVER on hydrahead records. Matt's
never been in a band before, and the DAZ played in some hometown local
bands.

Why the name Explosion?
-Matt had talked about doing a band for about a year before we ever got
together. It was one of those things he'd just talk about when everyone was
hanging out.."yeah, we're gonna do a band and it's gonna be called THE
EXPLOSION." He had the name before he even knew who was gonna be in it.

Why this sort of music, isnīt it untrendy to do this sort of music?
-I don't even know what's trendy right now! Is it rap-core metal crap? We
want nothing to do with that shit so we play what feels right and what we
know. We all listen to a lot of different music but what happens when we
all come together is most important.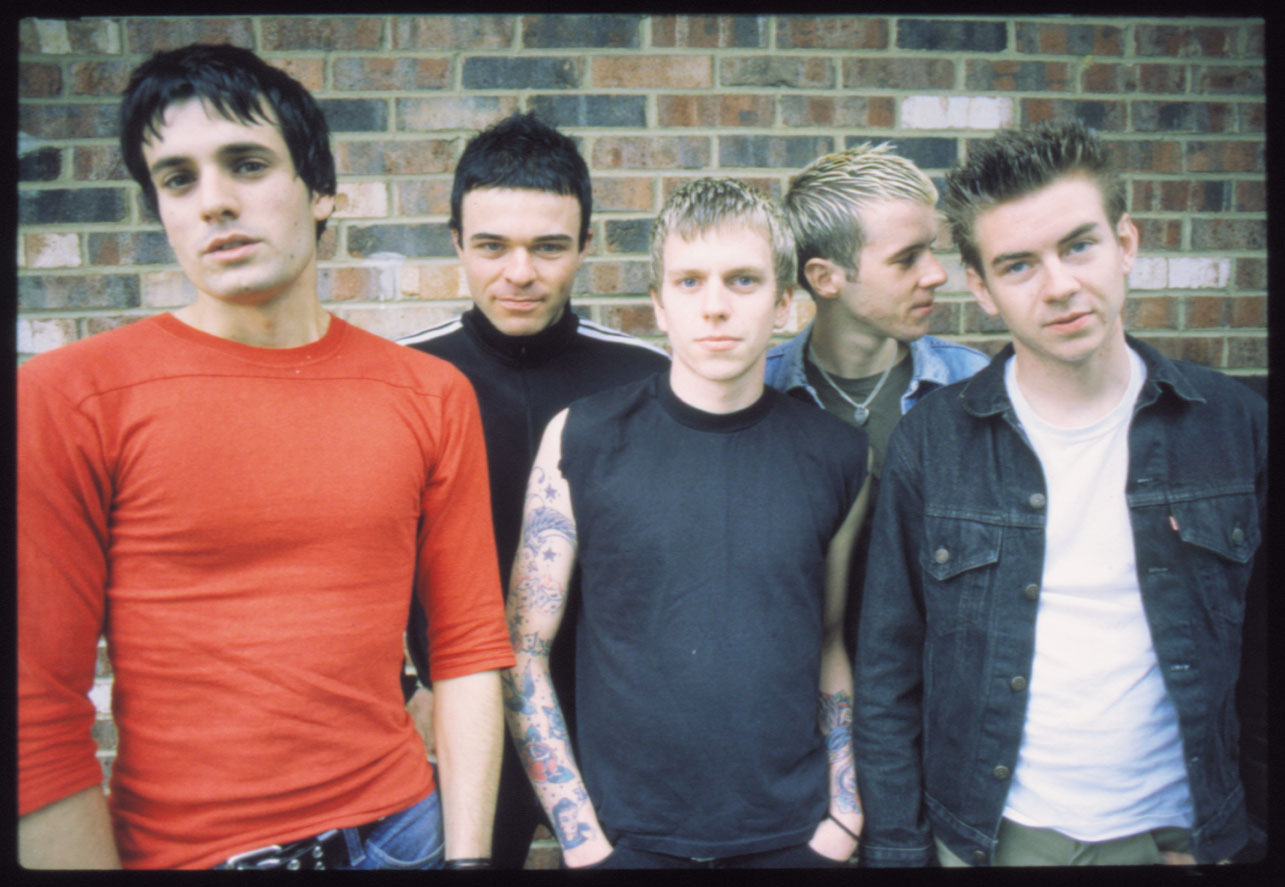 Have you done anything more than Steal This, how can I get it if you
have?
-Yes, we have. Steal This is our third release. We released an EP (our
first demo recording- remastered) and a 14 song full length called
Flash,Flash, Flash on our record label JADE TREE. I think the LP is the
best representation of our band. You can get them from JADE TREE at
www.jadetree.com I think JT is in the process right now of closing some
deals with european distributors, so hopefully our records will be more
available in europe.

What do you mean with the title Steal This, do you want people to Stel
the record or what?
-Yes, we want people to steal the record.

Is Revelation good record company?
-Well the situation for this record (steal this) came about because i
played in IN MY EYES, revelation threatened to sue me and sue JADE TREE if
The Explosion released records with them because i was in a record contract
with rev. So through some arm twisting we had to give them a minimum of five
songs in order for me to be released from my contract. we toured all
summmer and had to record it in between tours, we had about 3 days to get it
done. So yeah, steal the record.

What do you think about the other bands there?
-The NERVE AGENTS are the best hardcore/punk band around- rev is lucky to
have them.

Is there any good bands in USA right now?
-There are lots of great bands in Boston right now: The Vigilantes, Damn
Personals, The Unseen, Cave In, and Reach the Sky. Avail, Dillinger 4, At
the drive In, Turing Machine, The Distillers and the Nerve Agents are some
of the best and most sincere bands playing out right now. I'm sure i'm
forgetting tons.

What do you know about Sweden?
- My friend Pontius is from there.

Have you heard any swedish bands?
-Only BOMBSHELL ROCKS, REFUSED,INTERNATIONAL NOISE CONSPIRACY, and THE
CARDIGANS. I wish I knew more, hopefully more bands will come over and play
here.

What does punk mean for you?
-Punk, to me is believing in something self made and idealistic. I very
much believe in it's power and influence. Punk might not change the world,
but it sure as hell changed me. It's another art form, a mode of self
expression. And it's amazing how it can bring people together- just that I'm
able to tour the country and make friends and sleep on their floors, is
pretty awesome.
You sound a little like the old english punkbands, do you have any
favourites of the old bands?
-Yeah, of course, who doesn't? If anybody doesn't know much about any
english punk bands you're in great need of a history lesson. Personal faves
include: The Jam, The Clash, Gang of Four, Wire, Sex Pistols, Joy division,
Buzzcocks, The Boys, Billy Bragg, The Undertones. Early Business, Sham 69,
and a ton of old mod/garage bands like The Action, The Who, and Creaton.

The most expensive record you have bought?
-I've never really spent more than 40 dollars on a record- I'm a bargain
hunter, baby. EBay is for chumps.