Hi I'm Kevin, drummer of Explicit Human Porn. Thank you for taking time to interview us. Of course I wanted to interview them because their new record sounds relay interesting in the tougher metal style. January- 2021
Please tell me a little bit history of the group?
-The band was founded in 2016 by David (guitar) and Crypp (bass). He was soon joined by Lowe on vocals and then by myself on drums. After Crypp's departure, Nicolas joined us to continue the adventure. The aim of the band is to emphasize the excesses of humanity without any limits or censorship, producing a powerful industrial rock metal music that breaks current codes and takes back those that worked twenty years ago.
Please tell me a little about every member in the group right now, age, family, work, interests and something bad about everyone? Earlier bands? Other bands on the side?
-Wow that's a very private question for a first date ! Let me tell you what I can… We all have a job beside our music, in different fields that are all related to the band's operational needs. Our ages are between 22 and 37 years old. I'm married and others are single or in a relationship. We have the same interests as many other people (video games, tv shows, music, sports, etc..). I really can't tell something bad about others because they all are good people… Even if I search deeper I can't find anything… Regarding myself, as other passionate drummers I have an instinctive need to tap on anything with my fingers at any time… It's all about the rhythm. For earlier band or side projects, David and I are part of the band Slave Machine, David has also played guitar sessions for Arkhon Infaustus (Hellfest 17). Nicolas is pretty busy on his side, he's part of five other bands (Horama, Hybrius, Bipolarium, Digression and Caroline Biau)
I can hear much different influences but mostly metal in different forms ? Favorites from the past?
-We don't want to limit ourselves to one type of metal or rock music, letting us free to create songs that speak to each band member and to our audience. We all have different influences and we don't ignore any of them while composing. This great diversity justifies the result. For this first album we were mostly inspired by bands like Rammstein, Lacuna Coil or Korn.
Explicit Human Porn are you satisfied with the name? How did it came up? You weren't afraid that some other band would be named like this? Which is the best bandname you know? When I google your name some suspect things come foreward…
-The name of the band is an analogy. Explicit human pornography is not to be taken in the primary sense. It is meant to mislead because the word Porn is in fact in the sense of addictions so Explicit Human Addictions represents the real band name meaning. However, we consider that addictions can sometimes reach such extreme levels that it becomes pornography in a completely roundabout way… ASMR (Autonomous Sensory Meridian Response) can be a good example of that. This band name is also a dumb-ass trap because the basic muggle will immediately think of the ass and label the band as a click whore project with bogus lyrics without even taking the time to listen to and understand the songs. So this name alone is a troll for screwing people's limiting beliefs. These were the primary reasons for choosing our band's name.
I don't know if it exist but I think that "Bandname" is the best bandname ever.
If you Google our name there will always be suspicious links, but it is up to you to click on them or not.
What´s the best thing with playing live? Do you miss it now?
-The adrenaline and the connection with the audience. We miss gigs a lot but we prepare ourselves the best possible to be ready when we will be able to come back on stage.
And where is best to play? And the worst place?
-Any stage with a big wild crowd in front of us is the best place to play. The opposite is the worst… Who likes to play in front of an empty crowd ?
How is to play this sort of music in France right now? Which types of bands do you have concerts together with?
-It's difficult because it's mostly an underground music here. We don't have a chance to play concerts for now, mostly because of the actual world crisis and all the restrictions. So we don't know at this time with which type of bands we will have concerts. I think we will aim to have concerts with bands with similar style and/or universe of ours.
How would you describe your music in three words?
-Explicit Human Porn !
What does punk mean to you, is it only a word or is it a lifestyle? I know that you don´t play punk in any way but it´s interesting to hear your relation to punk?
-For the majority of the population I think it's just a word and for the rest it's a real life spirit.
Which song/album or group was it who took you into to play music?
-It was 20 years ago through two particular songs. The first one is The Kinslayer by Nightwish and the second one was Paradise by Stratovarius . Then, many other songs and bands…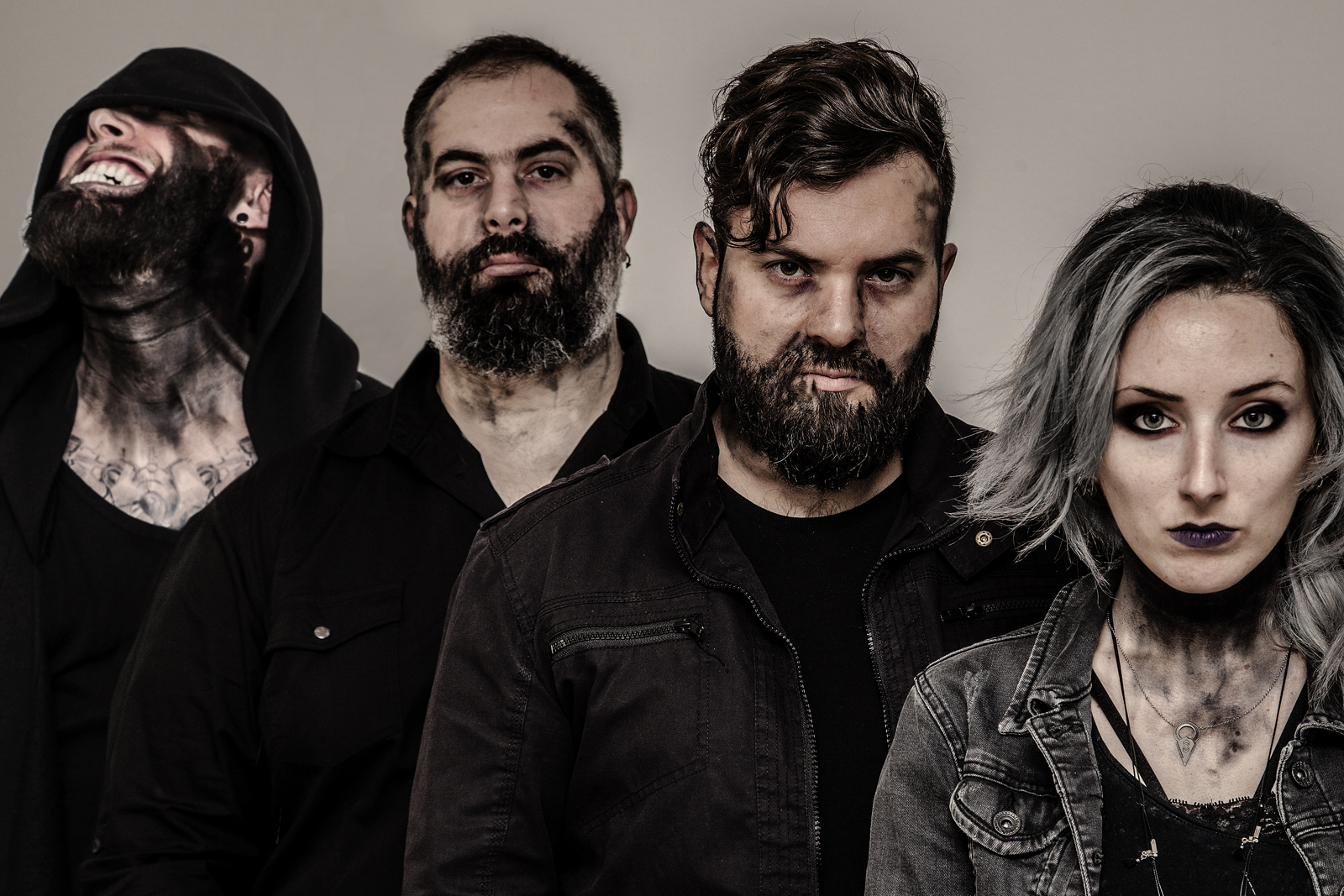 What shall a young guy do today to shock their parents as the way we did when we were young? They have already seen everything ;-)?
-I think that some parents who don't listen to metal music might be shocked when they discover their child playing or listening to it. This is exactly what happened to Nicolas and I with our parents.
How is it to live in France right now? Politically? Fascists? Covid?
-Not the best country to live in but not the worst either. As we say, grass is always greener elsewhere.
Is there any good bands from France right now? Is the punkscene/metalscene/hardcorescene /alternative scene big? How is it in your hometown?
-As I said earlier, metal music still is a rather underground music. Although It is very well represented in the Hellfest or in other great French metal fest such as the Motocultor and also in the biggest French venues, metal music is still stigmatised in this country. It is not sufficiently put forward in popular media and as a result, doesn't get the status it deserves within the French musical heritage. We have great French bands who have managed to make themselves known beyond our borders such as Gojira, Dagoba or Betraying the Martyrs, or others who are perhaps less well known but who would deserve to be such as Hacride or Klone.
What do you know about Sweden? Have you been here sometime?
-I know what Wikipedia tell me about it but not much. It's a country that I really want to visit. I hope we will have the opportunity to play in Sweden one day soon !
Have you heard any good bands from Sweden?
-Opeth (one of my favorite band), Evergrey, Meshuggah. And I maybe listen to other swedish bands without knowing it.
Your lyrics, who does them and what influences you? Never in french?
-Lowe was the one who wrote the lyrics of IN EXCEXX. For this album, the influences were all that is related to addictions. French lyrics are not her type, but maybe one day…
Is there any subject that you never will write anything about?
-I let Lowe answer this one.
It's too harsh to say never, since your mind and opinions can change over time. So no taboo subject comes to my mind at the moment.
Politic and music, does it goes hand in hand? Which is your most political song? Is it important to get out your opinions in music? Or is it boring with political music?
-For me I don't think so. I like a band because of it´s music not for his political ideas (or any other type of ideas).
All of our lyrics have something related to politics, economy, lifestyle. It contains a lot of metaphors which can be associated with a lot of subjects. People who listen to it are free to interpret in the way they want. That way, I would personally say that X-RATED is the more political one, but it's a personal point of view.
For some people maybe the band's opinion about local or world politics is a big deal to decide if they listen to their music or not, but for me it's all about the music and music only, lyrics are a way to express our universe, not our political opinion. I don't even know if we have the same political opinion in the band.
Political music is not boring if it's good music but I don't mind the lyrics in any case.
Best political band/artist?
-I don't have any, I think.
Do you think that music(lyrics and so on) can change anyones life, I mean people who listens to music?
-For some people who are in a bad moment of their life some music and/or lyrics may change something for them. Music is a shared emotion you can consume, to feel emotion you want or to evacuate emotion you don't want anymore. You need happiness, so listen to music, you need to get rid of your sorrow, listen to music. I listen to music a lot and music is always here when I need it. It's a friend who never lets you down (as Rick Astley said).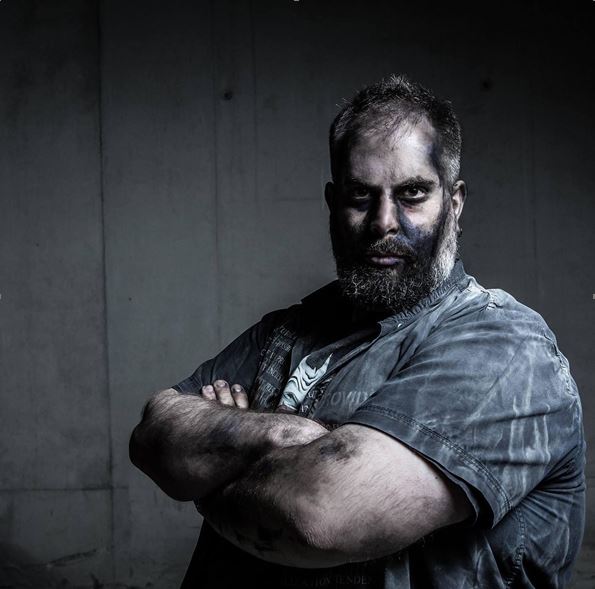 Your favorite recordcover alltime? Who does your recordcovers? And do you have any good recordstores in your hometown?
-The recordcover of "Steal This Album!" by System of a Down, when it gets out it was a time where major music companies were in war with people who download music to listen to it instead of buying it in stores. It was a cover as simple as good.
I have a good record store, not in my hometown but not far (in Paris near Saint Paul metro station), and it's been a long time since I've been back, I don't know if it exists anymore. The owner has a real metal encyclopedia in his head, he knows everything, it's fabulous.
Is it important to get out physical records of your stuff? Why or why not? Vinyl, CD, cassette, what do you prefer if you could choose whatever ?
-It's all about having a physical object in your hand, some people need to have the materialistic side of music to put it on their shelves and look at it sometimes. Personally I have some of my favorite albums in CD or vinyl disc even if I listen to it mostly with streaming platforms..
Please tell me a funny thing which have happened during your career and under some gig?
-At a concert where I played with one of my past bands, we played in first place and before our show, the drummer of another band who played after us came to me to ask me if I can share with him all my hardware, cymbals, etc.. I'm not a sharer, but I'm also a kind person, so I said yes and after that he asked me to share with him my drumsticks. I was astonished that a drummer comes to a show without anything but his hands in his pockets…
And at another show, I came on stage with a bag that contains some stuff I need and I placed it next to my drum chair. After we played two songs, a guy ran on stage with a fire extinguisher because my bag was on fire caused by a light spot next to it.. It was a good smoke effect for the show.
How does your audience look like? Which people do you miss on your concerts? Which is the biggest band you ever have played together with?
-Our audience is mostly humans who like to listen to our music. People don't know us because we did not have a chance to play gigs yet.
In one of my previous bands, we played with the band Kruger (from Switzerland) and It was a really great… The band members were really nice and we had a great time together. If you don't know this band, I recommend you to listen to it.
Please rank your five favorite records, five favorite concerts and five most important things in life?
-Top five records: Opeth - Deliverance, Devin Townsend - Ziltoid, Xerath - III, Meshuggah - obZen and Zimmers Hole - When You Were Shouting at the Devil... We Were in League with Satan. It's really hard to make a top five, there are many records that I love so much.
Top five concerts: Opeth for their 20th anniversary concert at Bataclan (Paris), Stream of Passion at a small fest near Paris, Devin Townsend for Epicloud live, Sybreed on a small stage in Paris, Rammstein at the first Download in Paris in 2016.
Top five things: My son, my wife, my family, my friends and music.
First, last and most expensive record ever bought?
-I think my first record was a cassette of A-ha with the song Take on Me on it. My last record is a collector vinyl disc of Ignea's last record The Realms of Fire and Death. I recommend this band ! The most expensive I think is the vinyl of Mutter by Rammstein because it was an export.
Is it boring with interviews? Is it much interviews?
-Not at all :)
Do you care about reviews? Which is the most peculiar you ever had, with this band or any other band you have been to?
-Reviews are always interesting whether they are good or bad. From my point of view they are the opinion of one person and do not necessarily reflect the emotion that everyone else might feel, they are there to give everyone an idea of what an album might look like, but it is still by listening to the music yourself that you are able to know if you like it or not.
We love to read reviews because we are always surprised to see what other people see in our music, what they feel, it is sometimes very far from what we wanted to communicate.
The most peculiar reviews we get are those where we are compared to other bands that we don't listen to and these groups are identified as being, obviously, a big inspiration for us when they're not. This is often flattering.
Which bands do people compare you to, is it boring that people compare you to other bands or is it understandable?
-We are compared with many bands, some with similar style and some with a different type of music, it depends on the person who compares us. It's not boring at all, we play our music and at the end we are glad that people like it because it reminds them of this band or another one.
Everyone listens to and feels music in its own way.
If you could choose five bands from the past and the history and nowadays and both dead and living bands to have a concert together with your band. Which five have you been chosen?
-I don't know for my mates, but I chose Strapping Young Lag. This band is one of my favorite, Sybreed because of their musical universe, Rammstein because on stage it might be a great show, Jinjer because I like their music and I know that our singer Lowe would love to have concert with them and Alice Cooper because, as Wayne says, we're not worthy, we're not worthy, we're not worthy :D.
Is music a good way to get out frustration and become a nicer person outside the music??
-Yes !
Which is the most odd question you ever have got in an interview?
-I think you won the prize with the question about punk : What does punk mean to you, is it only a word or is it a lifestyle? I know that you don´t play punk in any way but it's interesting to hear your relation to punk?
It's a very good question but I was not prepared and I hope my answer was a good one :)
Which is the question you want to have but you never get. Please ask it and answer it?
-Would you like a drink during the interview ? Yes, of course, I would like to have a whisky please.
Futureplans for the band?
-We are already working on our 2nd album. We have some good ideas for music videos that we want to concretize. We want to play live all over Europe (in Sweden !!!).
For yourself?
-Continue to enjoy doing music with my mates
Wisdomword?
-We can't die from listening to too much music, let's make the most of it.
Something to add?
-Thank you very much for your time and for your great questions. I really enjoyed answering them! We hope to see you in our 1st Swedish gig.