Exiles is a band which really do music as it should sound. 77-punk at it´s best Heres an interview with Exiles done in September-2014
Please tell me a little bit history of the group?
-The Exiles were first active at the end of the 20th century. We learned to play instruments as soon as we left school, and we lasted five years. We released one 7" EP, 'Freaks', on Matchbox Classics, a cult punk label from our hometown of Carlisle. It was only after we split that good offers started coming in, like TV, and I heard T in the Park festival were looking for us to play but we had split up and gone our separate ways. I had moved to Glasgow by the time we got back together, after over a decade apart. My father was ill in Carlisle, so I was visiting a lot more and two of the band were in another band together, they invited me and Tef (drums) to their rehearsal in 2009 and we jammed. It was so good, they dumped the other band and The Exiles were back. I might have to travel 100 miles for rehearsals or to go to gigs, but it's only an hour away on the train.
Please tell me a little about every member in the group right now, age, family, work, interests and something bad about everyone?
-We're all in our early 40s now – but don't hold that against us – when we play with other bands, it's us that jump highest, play loudest, sweat the most, and have the best tunes. I'm Simon, guitarist, I work for a socialist newspaper in Scotland, and I'm married with two young kids, I'm into Dada and the situationists, and left-wing politics, and the worst thing about me is that I stay up all night, drinking and smoking, I don't´know... I'm bad to nazis, I suppose. Tef is on drums – he's married with a daughter at university, he works in a laboratory in a textile company, mixing dyes and stuff (I think, nobody knows – he has a white coat). Tef likes biking and hill-walking, and he goes to Spain three or four times a year – the worst thing about Tef is, apart from coming across as a grumpy fucker (he isn't), his farts smell like cabbage and sweat. Phil is our singer and bassist – he lives with his partner Sue and their teenage son James (James is also in two or three punk bands in Carlisle). Phil isn't interested in anything, and hates being in a band. But his arse-burps are the worst as well. Mine smell like flowers and aniseed.
Exiles…wasn´t there an old group who was called that way or was it Exile?
-There are a million bands called The Exiles. We found that out when we first joined myspace (I've only logged-in to myspace once in the past 5 years). I made friends there with about 30 'Exiles' bands worldwide. I think we should've changed our name when we got back together... too late now.
You have good 77-sound I think? Is that music which influences most?
-I suppose. The Clash, Sex Pistols and Ramones are the bands me and Phil listened to most when we were getting into punk, and it was already retro by the time we came of age and started listening. But my favourite bands now are Manic Street Preachers and Public Enemy, Tef likes Green Day and Foo Fighters and stuff. Phil doesn't have many records beyond punk stuff. We all like The Damned more than we used to.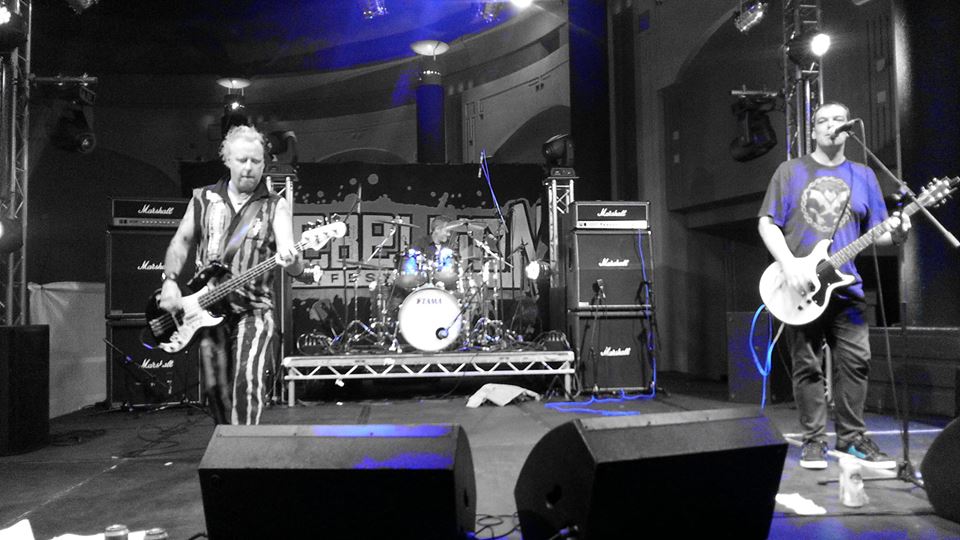 What´s the best thing with playing live?
-Making a noise, creating an energy, seeing people sing your lyrics back to you, and going off and starting their own bands. Me and Phil always try to out-jump each other on stage. We're always pissing with sweat by the end.
And where is best to play?
-We played at Rebellion Festival for the first time this year. We were expecting less than 10 people to be in our audience but loads of people came to see us, well over a hundred – that was a fantastic gig, I hope we get on at Rebellion again next year. King Tut's Wah Wah Hut in Glasgow is amazing to play. We played there three times last year, one time supporting The Godfathers, and we played the Joe Strummer Tribute Night at King Tut's too.
How is it to play this sort of music in England?
-There's loads of punks bands everywhere in England and Scotland. The scene is massive. But if you play on the wrong night, the audience can look at you like you're weird. We supported The Beat in Carlisle last year – they had asked for a local punk band to support them. Their crowd didn't like us too much, but The Beat asked for us again when they came back this year. The venue didn't agree though, lol.
How would you describe your music in three words?
-Edgy, political, melodic.
What does punk mean to you, is it only a word or is it a lifestyle?
-Punk was revolutionary to begin with, but there's too many punk sub-genres to just call it one thing. Take pop-punk... and kill it, please – put it out of its misery. I don't dress 'punk', I have a few punk t-shirts, of bands and record labels, but it's more rebellious now to turn up to a punk show in a suit and geeky glasses. Politics can be more punky than punk.
How do you see on downloading, mp3 and that stuff?
-You can't make a spliff on an mp3. The worst thing about mp3 – I don't mind the format – but it's too easy to steal, for kids, for anyone. We phoned a punk venue in Newcastle after we released our album, and the manager said "I was wondering when you would ring – I've been listening to your album all week, I stole the mp3s". We got the gig, but our album cost us loads to record, more money than we had. I had to sell some of my favourite records to afford my share of studio costs, cos I was unemployed when we recorded it. I like to hold cover artwork in my hands when I'm listening to a record. But I have an iPod with 8000 songs on it, most of them were free but only the ones I already had on vinyl. I prefer to buy a CD and make an mp3. Computers break, iPods can be lost, so with a CD, you can get it all back again.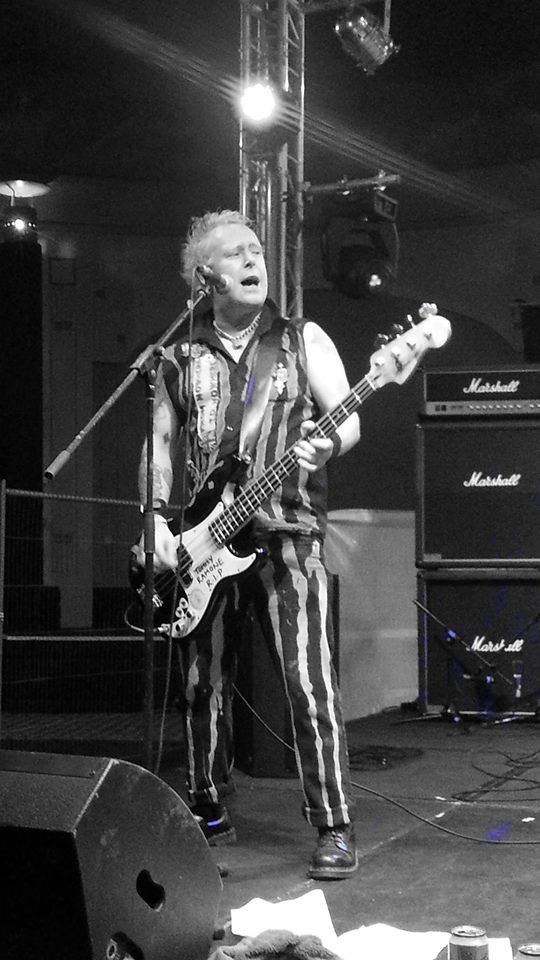 How is it to live in England now? Politically?
-You should ask that again on 19 September. Scotland is close to breaking away from the UK, and the English are only just waking up to that. For years, the working class in the UK have been trampled upon by the Westminster parliament in London. The Conservative Party is in power again, but Scotland only has one Conservative member of parliament. Scotland hates the Conservatives – there are more pandas in Scotland than Conservative politicians. Scotland is way more left-wing than England. We've even had revolutionary socialists elected to the Scottish Parliament, but England hasn't followed suit. The latest opinion poll on the Scottish independence referendum says that the pro-independence forces will win a historic victory next Thursday. But even if it doesn't, the left (most of the pro-independence forces are left-wing, including the Greens, the far-left Scottish Socialist Party, of which I'm a member, and the Radical Independence Campaign) plans to unite and change Scottish politics forever. Sleepy England didn't even realize this could happen until the last poll said the pro-indies were ahead. Now they're shitting themselves, and every argument they're bringing up has already been debated and sorted out long ago. They're way behind the times, and they're only just coming to realize that. You can taste the air of social change on the streets of Glasgow, with independence or without.
Is there any good bands from England?
-Beyond the classic English punk rock bands, there's No Thrills and The Girls from Penrith, and State Control and the Meltdownz from Carlisle, all great bands. The Zips and The Jackhammmers from Glasgow too are pretty hot. Pins from Manchester I'm listening to a lot recently, they're all female. I get bored listening to guys all the time. Women are where it's at, culturally, politically, in every way. Women are the way forward. Patti Smith was there before The Ramones. I miss Poly Styrene and Ari Up.
What do you know about Sweden? / Have you heard any good bands from Sweden?
-Sorry if this offends but beyond Abba and Ace of Base, no. And we all like Abba. I'm really sorry. "Treat him well, he is your brother..."
Your lyrics, who does them and what influences you?
-I do the majority of the lyrics, Phil does some also. I write about what I see going on around me, so most songs are anti-apathy and anti-government. I hate racism, sexism and homophobia, so some of my lyrics try to reflect that. I read a great book about Muhammad Ali, so I wrote a song about his stance against the Vietnam War, and I made sure the Muslim thing was brought up in a positive way the lyrics – politicians and the media in the UK have tried to paint all Muslims as evil since 9/11, but not everyone falls for that crap, thankfully. Sympathy For Dying Dolls is about the way that TV, magazines and films use women for their looks when they're young, then cast them aside as they get a little bit older. We say FUCK THAT SHIT!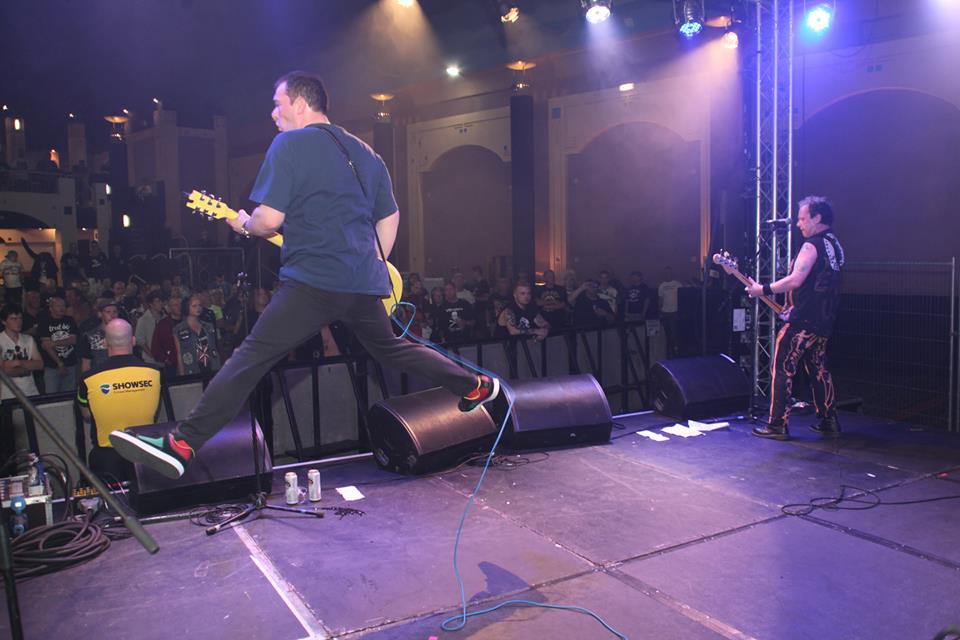 Do you do any covers when you play live, which(if you do) ?
-We covered The Harder They Come on our album – we'd been playing it live for years and not too many punk bands have covered it. Lately, we've been doing a punked-up version of Bob Marley's Redemption Song, which is definitely going on the next album. It's always a crowd-pleaser. We can throw in a Ramones cover anytime, and we know a few Clash songs to play live.
Politics and musics, does it goes hand in hand?
-It does and it should. One thing I hate about the punk 'scene' is that a few racist bands always slip through. We don't mix well with those idiots.
Best political band/artist?
-The Clash, Manic Street Preachers, Disposable Heroes of Hiphoprisy, Public Enemy, Dead Prez, the former Dead Kennedys (what's the point without Jello?), oh yeah, Jello Biafra and the Guantanamo School of Medicine, the MC5, Rage Against The Machine. But The Clash and Manic Street Preachers mostly...
Do you think that music(lyrics and so on) can change anyones life)I mean people who listens to music)?
-Sure, music, films and books, even art movements like Dada, Surrealism... look at May 1968 – people remember situationist posters and slogans as much as the sit-ins and riots.
Have you done anything more than Universal Suffering? If you have how can I get it?
-Yeah, our 7" 'Freaks' EP – we found a box of them last month and took them to Rebellion. They sold out in a minute. If we find more, we'll put them on sale on our website. Skrutt can have a free copy, obviously. If you see them on eBay, they're always overpriced. Wait until we get them online. Oh, and Freaks mp3s are not available.
Is it important to release your records as "real" records??
-I think so. The easiest way is to sell them at gigs – you can't sell mp3s at gigs. Our album is on iTunes, Amazon mp3, Google Play, etc, but the big problem is getting publicity, letting people know it's out there. We can support any indie band, but cos our image is punk, and it's not 1977 anymore, no corporate media outlet wants to know. So we're available worldwide, but that can come to nothing. We're lucky some big magazines, like Germany's Ox-Fanzine and the UK's Vive Le Rock and Big Cheese, all gave our debut album 8/10. I sent hundreds of CDs out when it was released. We had about 5 or 6 reviews. All great, but that won't scratch the surface. It's a good job we're not in this for the money but also, it would be nice to be heard by the masses.
Please tell me a funny thing which have happened during your career and under some gig?
-There's probably tons of stuff, I can't remember, all we do is take the piss out of each other in the band. Our second ever gig was supporting GBH in Edinburgh, it was our furthest away gig at the time, and Tef was driving back in the middle of the night and nearly fell asleep at the wheel. Another time we drove off without shutting the back doors of our van, and our old rhythm guitarist fell out of the back doors – he didn't think it was funny but we were on the floor laughing. We played a festival a couple of years back and some guy was throwing mud at Phil, so after the song he scooped up a big handful and threw it back in the guys face – security told Phil off and he went up to his microphone, which still had delay effects switched on, and he told security to "FUCK OFF-Off-off-off-(off)!"
How does your audience look like? Which people do you miss on your concerts?
-Our audience is totally mixed, there are kids that are still in school who come to see us, and there are retired people there. We made some t-shirts last month and it was all the small and medium sizes that sold out at first – there's only one XL and one XXL left. We're getting more done in smaller sizes, cos it's the skinny-ass kids that are buying them all up. Which is nice. But generally, it's a good mix. More women would be good – don't take that in a misogynist way, like I said, women are where it's at. All my favourite bass players are women.
Please rank your five favorite records, five favorite concerts and five most important things in -life?
These are personal choices, and off the top of my head, since Tef's in Spain right now, and Phil's still asleep (well it IS mid-afternoon)...
RECORDS:
1. The Holy Bible, Manic Street Preachers;
2. Bad Brains, Bad Brains;
3. Give Me Convenience Or Give Me Death, Dead Kennedys;
4. Crossing The Red Sea With The Adverts, The Adverts;
5. It Takes A Nation Of Millions To Hold Us Back, Public Enemy
GIGS:
1. The Who/Joe Strummer, Glasgow SECC, 2000 (I met Joe while The Who were onstage);
2. Manic Street Preachers, Newcastle Riverside, 1991 (raw early Manics, like watching the rebirth of punk rock);
3. Rebellion Festival, Blackpool Winter Gardens, 2014 (The Exiles played, and we got to see and meet so many great artists – including TV Smith from The Adverts, who called our album "a great rock'n'roll record" – The Lurkers gave us a shout-out on stage too);
4. OFF!, Glasgow King Tut's, 2012 (the whole band loves OFF!, so we all went to this gig);
5. Sex Pistols, Glasgow SECC, 2007 (I'd never seen them till the night before in Manchester, but they took the roof off at the Glasgow show, and I got Steve Jones's plectrum)
IMPORTANT THINGS IN LIFE:
1. Socialism
2. Environmentalism
3. Sex
4. Drugs
5. Punk rock
I compare you a little too Jam and also "newer" bands like Red Letter Day, Price, Red London, how about that? Any other bands you´ve being compared with?)??
-One of my latest songs sounds a little like That's Entertainment, the vocal melody anyway, and the music reminds me of Generation X and The Clash. It's not too fast, and Tef can't do slow, so we might do it as an acoustic song. The words are a reaction to a TV show in the UK called 'Benefits Street', a 'documentary' set in a street where there's a large number of unemployed people. 'Documentary' can mean anything, directors and TV companies always have set agendas, and their obvious agenda in this case was to deflect attention away from the rich bankers and politicians that caused the recent financial crisis. It wasn't unemployed people that crashed the banks, but they're being blamed anyway. I fucking hate super-rich motherfuckers that can't take some responsibility. So in this song, called 'Kitchen Sink', I take a walk down Parasite Street – where the rich people live – and I say what I think of them. We've got some songs that sound like DK, some like The Clash but they're all Exiles songs. I don't hear The Jam in us, but others do. That's fine. It's usually people that like The Jam that compare, so that's a compliment.
Do you understand that reviewers always compare bands to other bands? Is that disturbing when you try to something own?
-No, because it's the written word, how else are you gonna get it across? Some people say it's lazy but I write so I understand, and I have to write biographies and descriptions about the band – I know what it's like trying not to mention other bands, and it can come across as what working class Scots would call "utter pish", all these descriptive nouns, written narratives describing chord changes and solos. We make it easier by listing our influences in our publicity. I'd prefer reviewers to talk about our lyrics more and namecheck a couple of bands that we sounds like. Our lyrics matter – we don't do love songs.
Future plans for the band?
-Make another album, definitely. We've got 10 or 11 tracks that could definitely go on it. I'm half-hoping some label picks us up and puts out maybe the best 3 or 4 off the first album with 8 or 9 new ones, cos our new stuff is totally shit-hot, musically, politically, lyrically – the tunes are all killer. We'd like to get on at Rebellion again next year, and more festivals in general.
For yourself?
-Raise a people's army and seize control of the state.
Wisdomword?
-"Punk rock means exemplary manners to your fellow human beings." – Joe Strummer
Something to add?
-Yes. Find us online at http://theExiles.co.uk/ and facebook.com/theExiles – buy our CD, learn the lyrics, see you down the front!