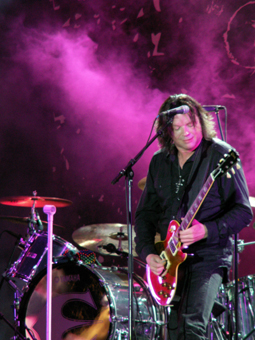 Polisen räknade till 50000 runt Götaplatsen och jag tvivlar på att det är sant men att det var mycket folk och kolla på Europe kan vi väl komma överens om. Tredje hårdrockskonserten för mig på lika många dagar och jag började att bli trött på djävulstecken och andra hårdrocksklichéer men det var ganska tunnsått med dem på denna konsert. När jag såg dem i Roskilde får en massa år sedan så startade de med sina hits och sedan var det slut men det var lite annorlunda denna gång. Nu startade de med lite tyngre saker och inte med den typen av rock som jag förknippar gruppen med. Låtar som jag kände igång i början var Superstitious, Let the good times rock(tror jag) och efter halva konserten så stod Joey ensam med gitarr och startade upp publikfavoriten Carrie. Då vaknade publiken till som jag annars tyckte var ganska tråkig trots sin stora mängd för det kunde säkert östs mer och låtit mer från publiken. Jag tycker nog inte att konserten vaknade till förrän i slutet när Rock the night kom och tusentals händer sträcktes upp i skyn av glädje. Och när extraumren Cherokee och The Final Countdown kom så ville inte extasen ta slut hos stora delar av publiken.
Plussen idag måste vara att de är ett rockband som klarar sig utan alla hårdrocksklichéer och de går upp och gör sin grej och gör det bra. En del av de senare låtarna som är riktigt tunga.
Minusen idag var John Norums gitarrgnisslande, han är säkert duktig men det är inget för mig. En del av de senare låtarna som är tunga men inte väcker så mycket intresse hos publiken.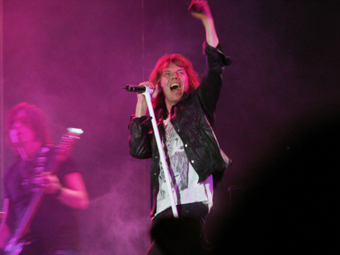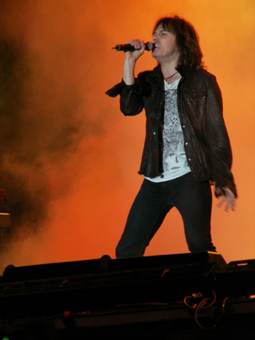 The police counted the audience around Götaplatsen to 50000 but I doubt that it is true but it was much people around to see Europe that can I agree about. The third metalconcert for in 3 days and I had become tired of devilsigns and other heavy metal clicheés but it wasn´t so many of these things today on this concert. When I saw them in Roskilde many years ago so did they start up their concert with all their hits and then it was over for that time. This time it was a little bit different. Now they started with some heavier things and not with that type of rock that I think about when I hear the groups name. Songs which I recognized in the beginning was Superstitious, Let the good times rock(I think) and after half of the concert so stood Joey alone with a guitar and started up the public favourite Carrie. Then the audience woke up and I think they were really boring even if it was many people becaus it could have been more singing and it could have sounded more from the audience. I don´t think that the concert woke up more than in the end of it when they did Rock the Night and thousand of hands was reaching the sky of happiness. And when the extranumbers Cherokee and The Final Countdown so wouldn´t the ecstasy have an end in the audience.
The best today must be that they are a rockband which is manages to do their thing without all heavymetal clicheés and they go up there and do their thing. Some of the new song are really heavy.
The worst was John Norums guitarsong, he´s surely good but it´s nothing for me. Some of the latest songs is heavy but it doesn´t have so much attention with the audience.