Her name maybe doesn´t sound something special but I think that her music does that. Here´s influences from Winnerbäck and Billy Bragg but Erika have anyway her own sound so it´s enough. After many abouts so did Erika answered a lot of questions from me in august 2012.
Tell me a little about yourself?
-I´m grown up outside Gothenburg and started with music really early. It started with a flute and some piano with my neighbours, the interest for the guitar came later when I started gymnasium.
I got a guitar when I was about 16 years and a friend called Daniel showed me some chords and after that I started to write songs and the love came to the guitar and to the music. It became a way to write about feelings I had.
After school I went into highschool and the rock and pop line in Nyköping and then music started to be really much involved in my life. Now I sit here 9 years after that with my first record released and it feels really great. .
Have you played in any bands before or do you play in any band on the side right now?
-In the gymnasium we started some bands, the first one was Nán Kàn, we play together only for fun, english-chinese hatepop we called it and then I stated together with some mates the more serious band Argumental which was around for some year.
Right now I only plays together with my old band some times ballaLAJKA from Luleå and I have been in the band and done some guestvocals in their band Dodeskaden.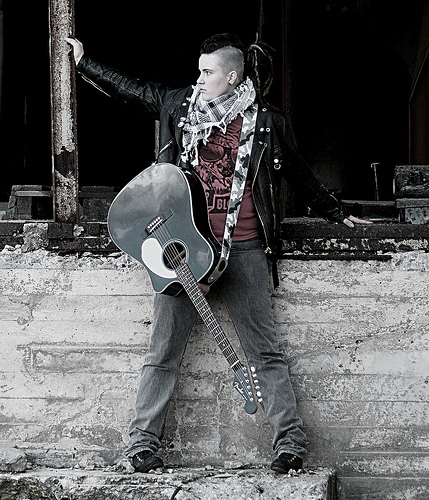 Except the lates trecord I got from Dick Lundberg, have you done anything else?
-It have become some demorecords with ballaLAJKA but this time it´s the first time I release it for real if you say so.
You look a little bit punky…is that the music you grew up with?
-it is. When I was around 13 years so did I get my eyes open to hear Ramones and Sex Pistols and then it went further from that. .
What does punk mean to you, is it only a word or is it a lifestyle?
-It´s surely a lot of different ways to look at punk, that it is much politics and critical to the society but I think also that punk is about being yourself and express yourself in which you like.
How have the response been on the new record?
-Have got a lot of good response and I hope that I can take that with me and come out and play again and it becomes better and better. Sure you must count on that you get some critics and that people thinks different but I have done a record which I am very satsified with.
What are you being compared with? Have you heard that I compare you with Patrick Fitzgerald and Billy Bragg?
-The one that I often are being compared with is Lars Winnerbäck but I also like your comparison , Billy Bragg is something I have listened a whole lot too.
From where do you get your influence to the lyrics?
-I often write about things which I see and about things that happens to me or friends and around me. It´s a way to get things out. Instead of writing diary if you say so.
Is it good to be a rightwinged deciding country, do you get foreward more angry lyrics then?
-I don´t think that I´m writing about politics, so I cannot really answer for me.
Politics and music, does it goes hand in hand?
-Of course it can do.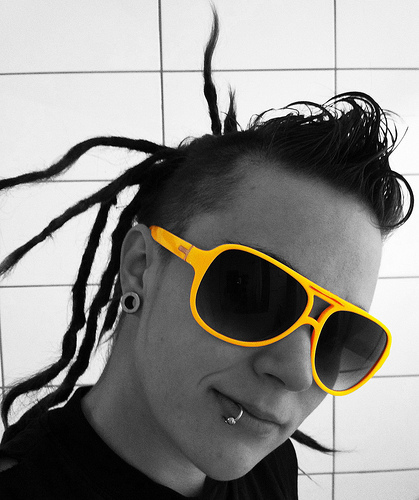 Best political band?
-Hoola Bandoola is a band which I always have liked and listened to.
Five favouriterecords right now?
It must come from my playlist on my phone
Juliette & the licks - Four on the floor,
Lars Winnerbäck - Tänk om jag ångrar mig och sen ångrar mig igen,
Rancid - Let's go,
Levellers - Headlights white lines black tar rivers,
Dropkick Murphys - The meanest of times
Fem favoriter all time?
-I must think after a little. Have no particular records but artists and groups which is always with me is Totta Näslund, Lars Winnerbäck, Dropkick Murphys, Flogging Molly and Ulf Lundell. That list can be really long.
The first record you bought?
-It was some record with Roxette
Where do you stand if we talk about mp3 contra physical records?
-It can be a good way to get your eyes open for new artists but in the same time I think it would be very boring if not many records will be released physically anymore. Luckily so is it a lot of people who wants to have something to hold in their hands and a book to read in and put a record into the played and play.
Which type of people comes to your concerts?
-Young, old, punks, popheads – a big mix of marvellous people.
Which is the biggest band/artist you have been playing with?
-I must say that must have been when me and my bassist did some gigs as support act to Pugh Rogefeldt, that was really good.
What do you think about living in Sweden otherwise? What is good and what is bad??
-It´s a really nice country. I go by train a lot and see different parts of the country because I have friends here and there. That´s nice I think. I could surely go into something political but I choose to not do that.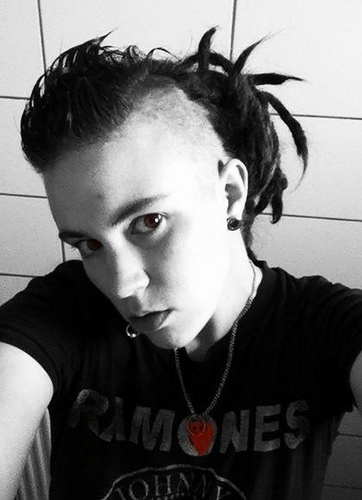 Is there any good bands in Sweden today?
-I think so. Good artists and bands. I listen so much to mixed things so I don´t what to mention. Sometimes it´s really stop in my head.
Isn´t it really much to let other people to come into your life when you write swedish lyrics, not anytime you have been thinking: I write lovelyrics in english
-Yeah, in that way it can be but I think that this making it´s so fun to sing in swedish. When I started to write own stuff so did I do that in english but it becamse so unpersonal in some way.
Futureplans for the music?
-First of all I want to come out and play more. It have been a while since the last time because I have been sick but now I´m better and soon I´m in good shape again. So then I must come out and play and then I will work on my next album. Have already some stuff which is done and then we will see what happens.
For yourself?
-Feel good and not go into some depression again and it feels like if I will be going the right way now. .
Wisdomword?
-We are all perfect, a little defect and really fantastic.
Something to add?
-Thanks for a nice interview
How did the records name came foreward?
-It came from the song with the same name and it feels that it is how people are, perfect, little defect but anyway fantastic. I thought it suited in well.