Ebbe plays drums in this a little bit different danish group. With different I mean that this is a group in the style which Iīm not so used to interview. But I hope you will appreciate this popgroup which is among Denmarks most exciting bands right now. March-05
History?
-Yeah, you see, that a summer day some years ago so sat me and Mikkel on a square in Copenhagen with a beer in our hands. The sun was warming us and it felt useless to do anything else to do anything else than enjoy the life. But we started to talk about having a band together. We had been friends for a long time and we have tried to have bands together before but now the time felt absolutely right to do something really new together. We couldnīt agree about which music we should play but we agreed that we wanted to play some sort of electro country with some messy drums and really glowing and frail vocals. This became many nights in my little rehearsal room and it became really fast a ministudio. We really fast understood that a womans voice would suit in good to the music we played and it wasnīt long before Camillas golden voice was a permanent part of our music. Our first concert was a trio where I tried to play contrabass and drums in the same time. It wasnīt so easy. But we couldnīt get the sound we wanted to have so my old friend Jakob get a place as a bassist in the group so after 2 years of hard work and long nights in our little studio it felt like we had an album in our hands.
Please tell me a little about every member, age family, work and something bad about every one?
-Jakob Nielsen, 34 years, bass, lives together with his love and he studys IT.
Camilla Florentz, 24 years, sings and plays keyboard, lives together with his love and she study religion..
Mikkel Max Hansen, 29 years, vocals and guitar, lives together with his love and he works fulltime with Epo-555.
Ebbe Frej, 30 years, drums, guitar and electric things, lives together with his love and have a little son and works fulltime with Epo-555.
Bands before? Or beside of Epo-555?
-I have played with a lot of bands together with Mikkel together earlier – the most successful in Denmark is Airport. And then I play drums in some other projects on the side of epo-555- together with the vocalist Lise Westzynthius.
I can imagine that you get a whole lot of questions about your name, but how did you came up with this?
-Itīs a secret :-)
Is a name important to have for a band, I mean a name that people remember and see?
-Of course!
I have Dexter Fox with the group, have you done anything else?
-Dexter Fox is the only record we have released. But we have done a whole lot of songs – and there I songs which didnīt came on Dexter Fox and it can be songs we have done to other artists( this month comes a tribute to Kim Larsen out which have promised to do a song to) So we works a lot with songs to a new record. He process can be followed on our website www.epo-555.dk where we load up new material whole the time.
Dexter Fox, who is that?
-Dexter Fox is a very important person in this records textuniverse. Heīs a Mexican lawless and desertfox. With a bottle of tequila in his hand and with the other hand he shoots sharp both to the right and to the left but he have almost always the arm around Angelina and is her valve. Dexter Fox with the power and to common people. He burn bridges and blow up mental bombs.
I compare you a little with Cure, comment?
-Tjoh, I like Cure and Iīm only happy to that comparement.
Which other bands have you being compared to?
-We have heard a lot of different bands through the years. Often is it bands like My Bloody Valentine, Calexico, Yo La Tengo, Dat
Politics, Flaming Lips, Pixies ... and some touches of swedish Bob
Hund. Itīs difficult to put any comparaments yourself because we havenīt tried to play this sound or tried to sound a s a particular band.
Howīs rocklife in Denmark nowadays, before you we have heard about Gasolin, DAD and Sanne Salomonsen? Is there any good bands there now?
-Yeah, in the latest years the indierock have been flowering. Much depends on Crunchy Frog which have big international success. It lights hope in people small hearts – a hope that the world outside Denmark could take other things than Aqua and Olsen Brothers. Itīs like tennis in Sweden- The Bjorn Borg-effect!:-)
Youīre counted as one of the best bands in Denmark in 2004, how does it feel
-It feels nice – and a little surprising. We have done music for our own sake and to have something we can jump around to – and now weīre not the only one who likes it. Itīs of course a big enjoyment because Dexter Fox is done in our own premises and it was only our hearts which decided how to sound. Therefore is the experience that other people like this special.
Is there any good swedish bands?
-Yeah, we like Bob Hund really much. In the latest song we did does Johnny from Bob Hund a guitarsolo. I heard a really good song some days ago with Weeping Willows singer- really good! Håkan Hellström we like much. Really good and much energy live. I played with another band on a concert with him in Helsingfors some years ago and I got a really unexpected concertexperience. First Floor Power have also catch our attention with their really good songs and with a different charm.
How would you describe your music in three words?
-Contrast, spontaneous and really worked through.
How is a good concert with you?
-Uh, it depends much where we are. Do we play in a little club so try we to express as much energy as we can and we hope that people jump along with us. Do we play on a bigger stage so is it more so that we work with light nad expressions. On a perfect concert we combine these two things
How does your audience look like, is it all sorts? Or do you have some special sort of people coming to your concerts?
-In Denmark we have got really big audience, and many of them have became our friends. I have difficulties to say a special age or special sex or similar, the special is maybe that we donīt have any special music.:-)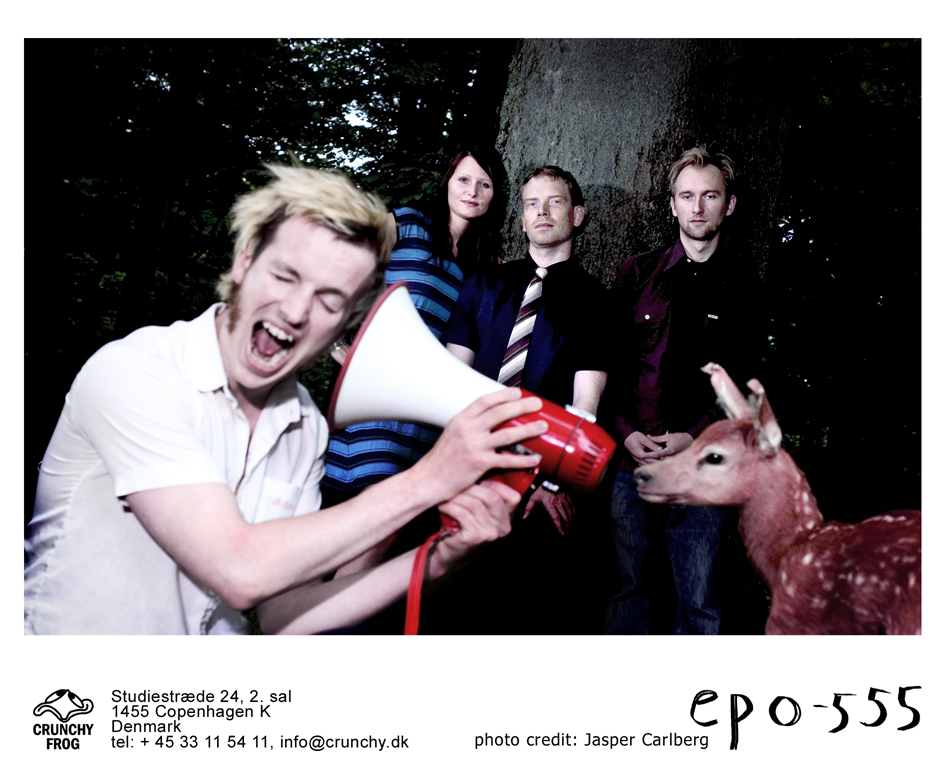 How much does a group like Epo 555 sell?
-Uh, thatīs thing that I havenīt a clue about
Crunchy Frog, is it a good company?
-Yeah, thatīs the only real label to us
Have you got any response from other countries?
-Yeah, we have got many personal reactions – the latest one was a girl from japan. Itīs fantastic to think about that some people so far away cultural and geographic have could get something out of our music. The world have became so much smaller with the help of internet and itīs have became an important tool for commuinication and the effect is obvious when you get direct response from other countries.
How have the reviews been on Dexter Fox?
-Mostly really good!
Do you care about reviews?
-Yeah, sometimes it comes a review which can be inspiring for us. Other times weīre compared to bands we donīt have heard about and then it can be interesting to buy the record and discover a new universe.
Which is the most peculiar review you ever have got?
-I donīt can come up with that here and now. It have been so many and I cannot come up with some special and peculiar.
Have you been really sad sometime after a review?
-No, but we have been lucky and not got a really bad review.
Please rank your five favourite records, five favourite concerts and five most important things in life?
-It changes all the time but this is right now.
Skivor:
MBV: Loveless
Flaming Lips: CLouds taste metalic
Joni Mitchell: Don Juan's Reckless Daughter
John Coltrane: Giant Steps
Boo Radleys: Giant Steps
Concerts:
Flaming Lips, Amager Bio, København 2002
Sonny Rollins, Montmartre, København ca. 1985
Calexico, Amager Bio, København 2003
Nirvana, Roskilde Festival 1992
Björk, Roskilde Festival 2003
First, last and most expensive record ever bought?
-First:Disney: The history about Dumbo!
Latest: Mercury Rev: The Secret Migration
The most expensive: Uh, I donīt buy record to collect them. Except Mercury Rev I bought Yo le Tangio and it costed 200 DKK but that itīs not so much for a vinylabum , is it?
The most embarrassing record in the collection?
-Itīs must be Mezzoforte: No Limits
This with downloading, should it be so high punishes ont hat?
-No.
Do you download yourself, why or why not?
-Yeah, but itīs possible in a legal form also. Yesterday I did a research on dansih bands and there is a lot of music for free and legal downloading. If I download sometimes itīs on Limewire or something similar PTP-places but itīs nothing I save. I like the stuff I download and then I buy the record and the ones that I donīt like I donīt keep
How is the future for the band?
-Yeah, now we will go out on a longer tour to Iceland and USA and after that a tour in Denmark. A little bit further in the future our next record comes out and it will be as great as Dexter Fox.
For yourself?
-I hope to stay it in the studio with Mikkel some years more. Itīs so much fruitful which is coming out of that and itīs meaningful for both of us. But in the same it gives me so much energy as it do even if itīs much work and I have can be able to give much to my family.
Wisdomword?
-Hip hop don't stop!
Something to add?
-No