EPA is a really nice new band for me and I really like their distorted punk. Now their new record has come out and we are writing October-2018
A little story about the group?
(The questions are answered mainly by guitarist and singer Ammy when nothing else is mentioned).
-EPA was started by me and Lisa in winter 2002/2003 and was our first real band. We could not play at all (as did not even know how to do) but brought us two friends to the youthyard where they had fully equipped instruments (including guitars / bass) and began to try. We thought we were the world's only active real punk band for the internet was not so developed and it is said that the punk is dead and the only thing we knew was active was the type Green Day and the kind of junk you watched on TV. In 2003, we learned to know our ex-drummer Uffe and he showed us a whole new world when he joined us on the hardcore festival in Linköping. Suddenly we were not alone anymore. In 2004, Jonas joined the band and since 2015 we are current members.

Tell us a little about each member, age, job, family, band before and band on the side?
-Ammy: song / guitar. 30 years old, glassblower, boyfriend Pierre + his three children at a distance. Then Ammy and Pierre do not play in Lastkaj 14 so I do not know why I'm mentioning this ... but Bulten and Stryparn plays in Lastkaj 14. Previously, Ammy has played in a bunch of obscure hardcore bands that many do not remember, most worth remembering and mentioning: Slut på det roliga.
Lisa: Bass / background vocals. 30 years. Residentialantikvarie, Work at a Central Authority. Have company. Dedicated EPA, not with other bands.
Jonas: Guitar / Background vocals. 30 springs. Working at an office and living in Gothenburg with a partner. Has played drums and guitar in many bands in many genres. Beside the EPA, Jonas is currently playing in much slower bands with many influences.
Christoffer: Drums. 37, educated biologist, working in office. Girlfriend Martina. Christoffer has played krautrock, new wave, psychadelia, organpsychadelia etc for many years in among others. Chicken El Diablo, Mackaper and Happiness. Plays nowadays with EPA and also with the Inkal.
Jag kan höra mycket influenser men en som kanske jag bara hör är Vice I can hear a lot of influences, but one that I may only hear is Vice Squad (butin Swedish), am I right? Was it better back in times?
-Have never listened to them so you say that you are wrong if you mean that we are inspired by them, then maybe there are similarities, that's a completely different thing, nothing I hear directly though. Most of them not so good back in days but I like a lot of old punk and old hardcore.


Tell me a little about EPA, are you satisfied with the name? I am thinking of the old deal Enhetsprisaktiebolaget(Unit Pricing Company)! If not the best band name had been taken, what name would you have you chosen then? I mean which is the best band name?
-As we are really quite dissatisfied with the name, and have talked about changing the last few years. We have nothing to do with the department stores, even though my mother said they used "EPA" for something that was a "little B" which in itself would have been nice if we had taken it for that reason. We are dissatisfied because we found it when we went to high school and have changed a little taste ever since. In addition, we are sometimes misunderstood, like that we are into the EPA-raggarna culture, so is it certainly not. We twisted most of the name from "Klart grabben ska ha en husvagn"" but changed to "KlartGrabbenSkaHaEnEpa" because we lived in Borensberg and tried to rehearse at the EPA raggers' recreation center and it was not always popular. They were racists and broke our mascot and so on, so the name was ironic. And so we thought it was fun to have a super long name. At the end of the day, we were in the style of "KlartGrabbenSkaHaEnEpaMedSilvertejjp & Uffe (EllerKallaOssAxelband)". But there was never someone who called us Axelband (we had a member called Axel) without people always calling us EPA. Well, we decided to work with reduction instead of elimination so as not to completely deny our history so with this record we cut the long original name and kept what we have most often been called. We have a penniless not taken name that was thought to change as we do not want to mention here because then someone will take it haha ​​and we may need it later or in a new band so we don´t talk so much about it. A really good band name is Nitad.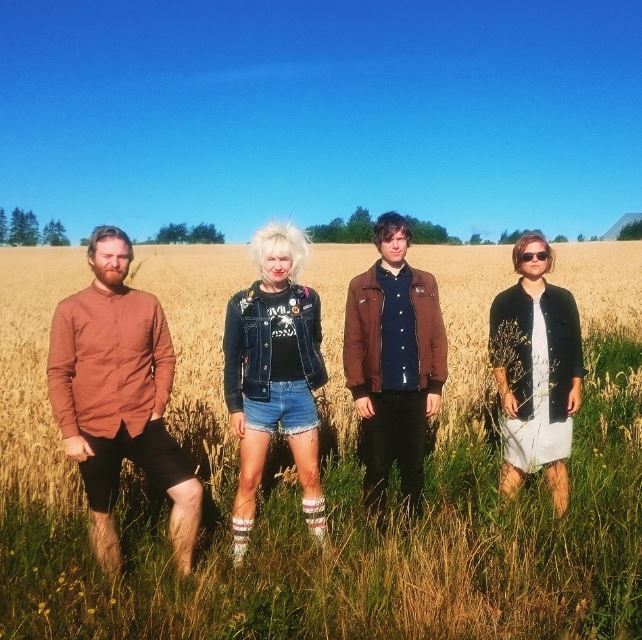 What's the best thing about playing live?
-People are there, listen, maybe like what you do, want to talk a little and so, in the rehearsal and the studio, it's just us. And then it's party to play live.
Where is the best to play, where is the worst?
-M15 in Trollhättan was the best, now that there is no longer and we have not played so much live recently, we have to ask and return when we have tested all the places that are present. But we can say this. It's best when the audience is really on and the worst is when playing for sitting audiences or not having much sound and direct sound from the amplifiers on the stage.
How is it to play this kind of punk in Sweden today ??
-Feel like our time is now. Would say that this kind of punk, during my time as a punk (since 2001), has not been this way ever accepted as now. In addition, trallpunk is so "big" and accepted now that people understand that we don´t play trallpunk, which we would otherwise always heard in the hardcorepunk scene.
<![if !supportLineBreakNewLine]>
<![endif]>
How would you describe your music in three words?
-Stressy, melodious, two-rate
What does punk mean to you, is it just a word or is it a lifestyle?
-Punk means a lot to me, it's kind of a lifesight for me and is with me always.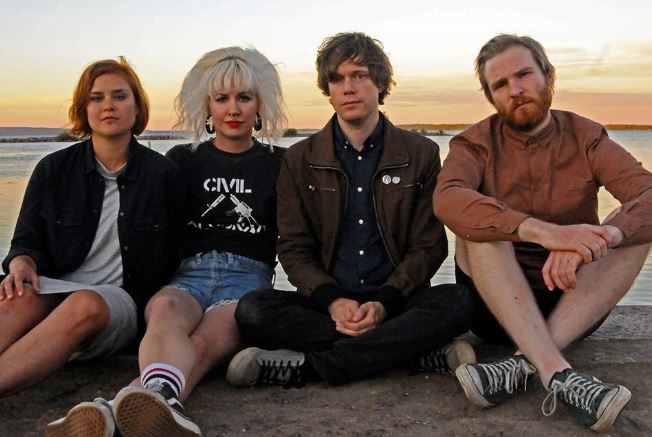 How do you look at downloading, mp3 and the like?
-Downloading mp3 is fine, punk should be accessible to everyone. The pirate party is bad because they are liberal not because they are for file sharing.


How do you think it's to live in Sweden today, politically? SD? Why wasn´t you on the record Sveriges jävla ryggrad? .................
-It's crazy and hell that SD is as big as they are today. Regarding Sveriges jävla ryggrad, we perceived that it was supposed to be an election-record with anti-SD messages. And we had never delivered a new song like that because everything was so fast about Sveriges jävla ryggrad(while we were finishing everything before the release of "Tretton övningar i mindfulness"), then it turned out that all the songs on the record was not new or was about SD so we might have had a song. So a miss in communication maybe you may call it. But Pelle at Second Class Kids Records has digitally put us in the playlist "Sveriges jävla ryggrad och EPA" so it feels like we're in a corner anyway.


Are there any bands in Sweden today? You are home town
-In our hometown Borensberg we do not know any bands, but if you, punkband from Borensberg, read this, please feel free to contact us. In the rest of Sweden I start by saying: Second Class Kids Records release / band should always take a look at, so I do not even mention what Pelle releases. Here, instead of what you might find harder to find (although I think many have already been in Skrutt Magazine): Best in Sweden is Civil Olydnad if you ask me they're releasing new EP soon as everyone should check out. Other good that is not on Second Class Kids is Sista Brytet, Pissjar, Vet Hut, Protestera, Lycka Till, Strul, Fabriken, Kongressen. Hårdgnissel from Sundsvall should also be mentioned as they are the band I have seen as the most future hope lately since they are significantly younger than the others I mentioned and cool as fuck.
Do you play anything outside Sweden?
-Nope. not yet.
Other good bands from abroad?
-Career Suicide (Canada), Injured List (Germany), Laarhöne (Norway), Billy No Mates (Japan / UK). I do not have such updated knowledge or record collection in terms of active foreign bands (except superclassical / big foreign bands that you all already know and it feel meaningless to mention here)

Your lyrics, what influences you? Never in a language other than Swedish? What is the instrument of the beginning of the Tio i ett rum?
-It's an eletricorgan in Tio i ett rum. We have written two songs in English. Two joke songs from 2006. One is called emolåten and the other My foot. So when we sing in English, it's not serious, important things do you want to go straight foreward with.
The songs are inspired by things that happen or I am angry on. I think that DLK / Ubba / Total Egon (Mart Hällgren) writes good lyrics if I choose a band that influenced how I think a good text should be written even if I do not claim to write such lyrics then I have listened to Asta Kask over the years so they are certainly influenced by me too. Lisa has written two texts on our newly released record as well. She can answer herself what she does or what she thinks about writing text?
Lisa: Ammy is the bright text editor of the band, I've only contributed a couple of songs lately. Inspired by things that are close to hand, such as those aspects of inequality that are not the most apparent but which bubble a bit below the surface, but as a whole make you damn sad.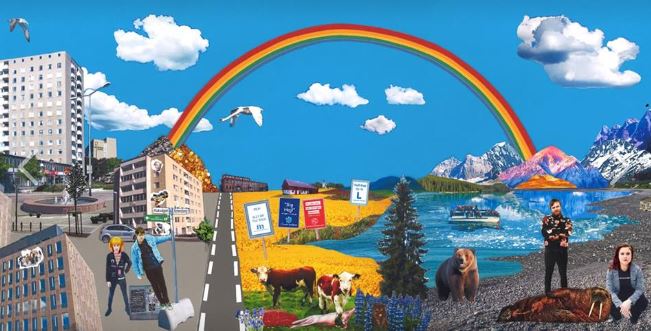 Is there anything you will never write about?
-We do not promise anything ... maybe we'll never write such a song with our band name in. Or Gothenburg. We will never write a song about Gothenburg.
Politics and music, does it always belong?
-No not always, but punk and hardcore are better with some politics.
Best political band / artist?
-In addition to all the political punk bands I have already listed and will count on the rest of the interview I think Doktor Kosmos is worth mentioning as excellent political nonpunk band. I do not know if they´re best, but which ones are the best I can not say about punk bands either.
Do you think music can change someone's life, then I mean lyrics etc?
-Absolutely, I think punklyrics has had a great influence on my political interest / commitment. Then the whole punkmovement has been strengthening to grow up in.

Your cover is really cool on your LP, who has done it. Is it important to have a cover so you understand what kind of music you play? What is your favoritecover all the time? .
-Thanks! I have done it with paper, scissors and glue sticks since it has been scanned in a copier. Do not know if it's so clear what we play if you look at the cover, there are of course punk references but the whole thing is so colorful that it might be taken to be something else. Oh .. impossible to choose ... Fri information - Hoola Bandoola band (nice concept - it's a painting on the front and a back painting on the back). Mascara Snakes has succeeded well with its "Fullständiga rättigheter" as well. Otherwise I think Becksvart - Lastkaj 14 become fucking tough too, with black on black but maybe I can not say it haha ​​(it´s not me who made that cover).
Is it important to get out physical records? Vinyl or CD or both? Is there any good record store in your vicinity?
- Do not know if it's important, but it's more fun. And yes, we live in Stockholm and Gothenburg now, so here are the record stores ... but the best records are usually found on good shows. We prefer vinyl in combination with digital.

Please tell me something really fun that happened during your career on stage or behind stage etc?
-When we were kind of 17, we became totally random acting in the short film Punkspark (Stavro Film Production with support from SVT) and our music was also used as film music. The whole film recording, that we had to go to Stockholm and record our song "emo song" in a professional studio and so on was very fun and different. We then stayed in a rehearsalroom in a week, we went to the VIP party at the Göteborg Film Festival and played at a bar. The film has been shown on TV a few times after that. It was really fun and very strange for a young punk band from Borensberg to do such a thing.
How is your audience looking like? Which people come to your concerts? Do you miss any kind of people?
-Back in time we had mostly thick guys in ugly studjackets(not so much studs) and colorful mohawks which lie down at the front of our gigs. We have always had a lot of punks who do not look like punks so much. Those we miss most are political crusts in black.
Please rank five favorite records, five favorite concerts?
-When I think of it's the first to come up everybody is between 2003-2006 when you were still young and had a joy of life .. But if I strive to not be so old and depressing I say:
Outlast reuniongig, Skylten 2003
Asta Kask, Kafé 44 2005
E.A.T.E.R, Punk illegal 2010
Strindbergs, Debaser Strand, 2016
Ubba, Debaser Strand, 2017

Fem fat punkrecords then… (there are masterpieces in other styles but I think my opion for punk is more interesting for Skrutt readers):
Asta Kask - Med is i magen
Beyond Pink - Pride and Prejudice
Civil Olydnad - Civil Olydnad
Ubba - Slag under bältet
Björnarna - Geronimo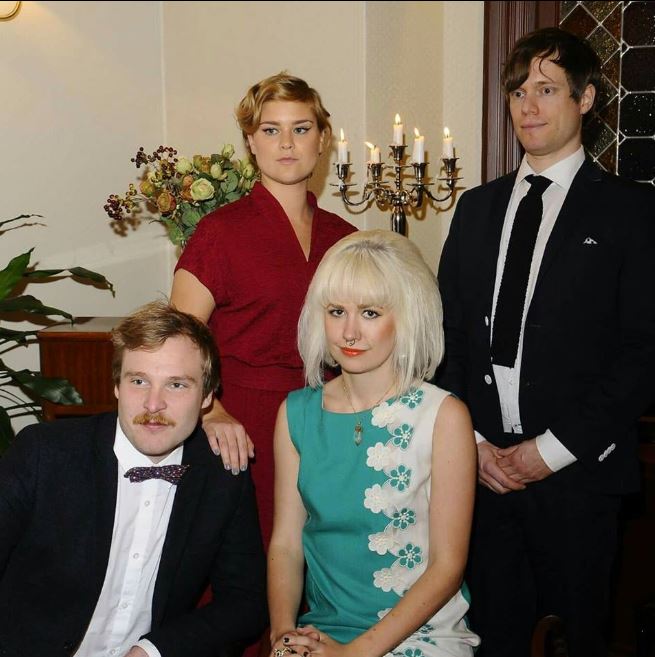 Is it boring with interviews ??
-I think it's pretty fun, you often have to formulate answers to questions you never think of otherwise.
If you could choose five bands from history, dead and alive to have a concert with your band, which are the dreambands then?
-Grisen Skriker, Räserbajs, Livin 'Sacrifice and Minor Threat with Toto as a supportband is a really fat lineup.
Is music a great way to get out frustration and become a nicer person? Are you angrier today than you were as young punks?
-Angrier now, when I know more, I would think.
Which is the strangest question you received in an interview?
-Don´t remember any strange question from any interview .. But once asked an organizer if we could not accept 500 kronor as payment instead of the 24Trocadero that was what we had demanded.
<![if !supportLineBreakNewLine]>
<![endif]>
What is the question you never get, ask it and answer it?
-What is your best partysong? Raw Anarcy - Punka loss
Future plans for the band?
-No plans, either to ever go down or to break through. Play, have coffee, drink beer, have fun and that's the plan. Maybe we're going to release a animalrecord. It's a loose plan we have. And then we have a gig at the Kafe 44 soon.
For yourself?
-Have just planned my life about to May next year, but it may happen that in future I will meet my childhood career plan and saddles into a superhero.

Words of wisdom?
-Jonas best tips from high school: Are you hungry before a rehearsal but can not afford to buy food in town, then buy a big bag of candy from a dubious candy shop (old, disgusting, cheap candy). Then eat it. Then you will not be measured at least a little disgusting and will not be hungry anymore.
Something to add?
-The Lion King has very dubious sensmoral, yet is Disney's best movie