Enraged Monkeys is a really good hard band which have been so kind to me and answered a lot of questions. This was don ein july 2021.
Please tell me a little bit history of the group?
-The Enraged Monkeys arose in 2012 from the lead guitarist and singer Flo from the band SUBHUMAN and Kalle and Manu from band "Die Naturtrüben". During a jam session the idea of ​​a new a metal band with influences from death metal and hardcore was born. The ultimate goal was to introduce a new genre, Monkeycore!
In 2013 the band grew with Jörg on the drums and Istvan as a singer. (The ad at this time was "The band is more or less complete, we're just missing a presentable grunter.").
With that done, the band was complete, the song "The Sky is Down" was the first song in the set list and still is played as the first song at every band rehearsal...
The Band is:
Singer: Istvan Ladanyi
Lead Guitar: Florian Rößle
Rhythm Guitar: Andreas Kalchschmid
Bass Guitar: Manuel Pelzhause
Drums: Leon Kettemann
Former members:
Drums: Jörg Lutzenberger
Drums: Michael Bensch †
Please tell me a little about every member in the group right now, age, family, work, interests and something bad about everyone? Earlier bands? Other bands on the side?
-Kalle: I am 39 years old, have one son - at the time of writing, at the time of release of the interview there might be two already ;) As a biologist I am working in the field of in-vitro diagnostic devices (no time to explain what I do here). Something bad? My hair are too short to do the helicopter - working on it…
Istvan: 40 years old father of a 5 month old son and I work as a senior product designer of an outdoor brand.
Manu: I am old enough to be a father of a wonderful daughter. I am working as an Aeronautical Engineer.
So as already mentioned in the band introduction Kalle and I played together in a band called "Die Naturtrüben". Interests hmm … Martial Arts and as my main hobby I play in an awesome band named "ENRAGED MONKEYS" and who knows at some point it will become my work ;).
I can hear much different influences but thrash/death but a little hardcore maybe music? Favorites from the past?
-Istvan: Death by Stereo (Into the Valley of Death), All Metallica album, Kataklysm (Of Ghosts and Gods)
Manu: Metallica for sure, but I prefer the old stuff until "…And Justice for All", I also like the Megadeath (Rust in Peace). Yes Hardcore, Sick of it All, Agnostic Front and Ryker's.
Flo is our man for death metal.
Enraged Monkeysn are you satisfied with the name? How did it came up? You weren't afraid that some other band would be named like this? Which is the best bandname you know?
-Band: The name speaks for itself. We are upset. Enraged and angry monkeys. Angry about the state of the world. About the state of society. About the state within ourselves. We shout that out with our voices and instruments. In this way we change things, first on a small scale, then on a large scale. Not by force. Not by hatred. But by our attitude and our actions. We humans are a subspecies of primates, we have developed further, but precisely this further development is directly related to the conditions that we denounce. Besides, monkeys are cool;)
Kalle: I am very happy with the name. Of course we did a search, and there was no other band named like that. The best band name? Hm. Milking The Goatmachine is pretty great! And we butter the bread with butter rocks too!
What´s the best thing with playing live? Are you missing it now in covidtimes? Have you planned any new gigs?
-Kalle: We are a live band! Playing live is THE feeling, when I am on stage I feel like let loose, my mind is empty and I just play! New gigs? Yes, please, we thirst for gigs!!
Istvan: It is always an interaction with the people, even if it was a small crowd until now, it's always nice to see when you can catch them to have a head bang or a tiny corona around a table circle pit. Always nice! :)
And where is best to play? And the worst place?
-Kalle: I don't care about the place. It's about the people. As long as there are some people in front of the stage that celebrate with us, it's a good place!
Istvan: Worst: Any youth club´s! Best: Backstage Munich
How is to play this sort of music in Germany right now? Which types of bands do you have concerts together with?
-Kalle: The metal community is alive as ever, we play with everybody who has the right spirit!
Istvan: Agree Kalle!
Manu: I think it does not matter in which european country you play metal music. When you go to a metal festival, you will meet metalheads from all over Europe. We are one community! Back to your question we see lot of young people in metal concerts around Germany.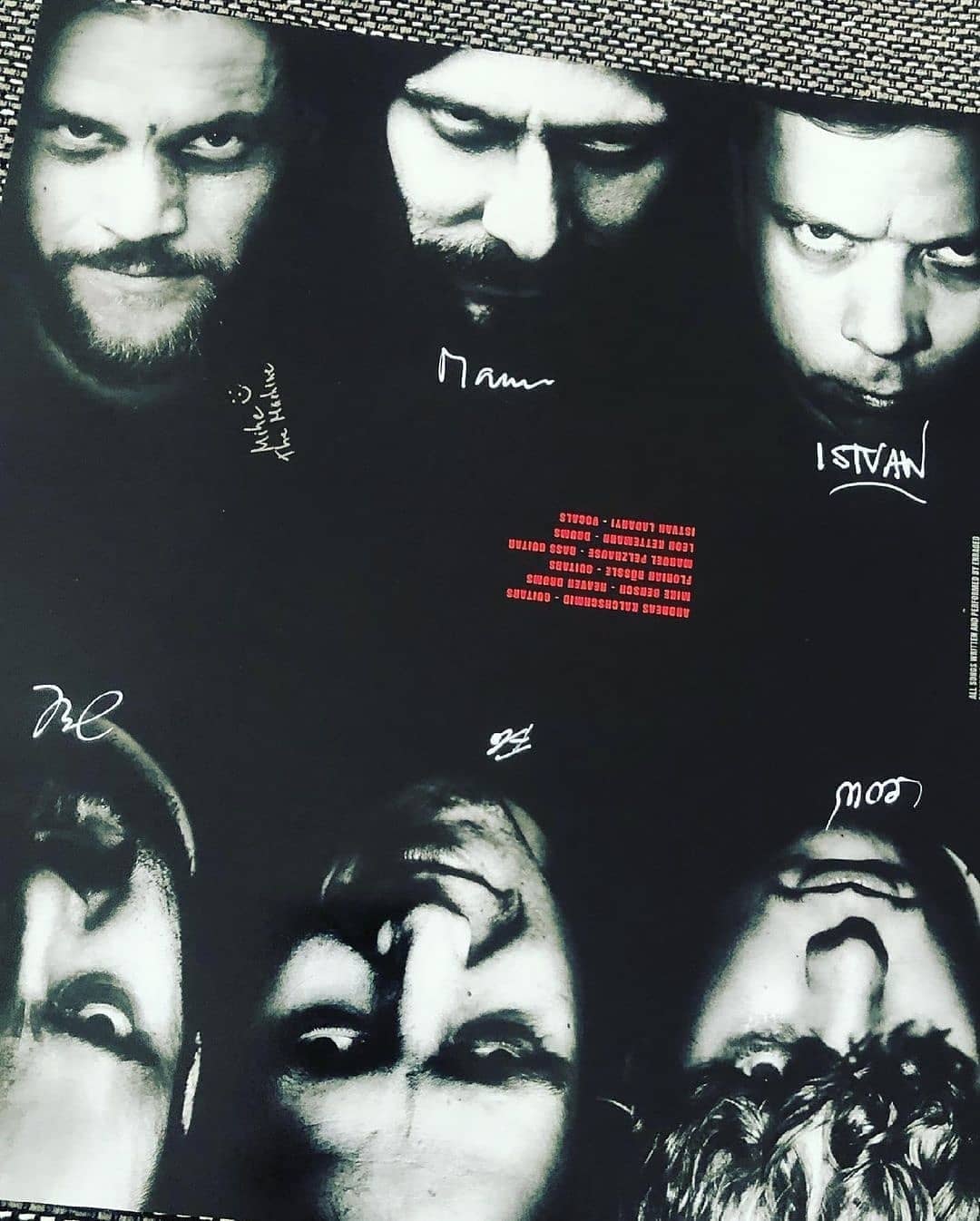 How would you describe your music in three words?
-Kalle: One word: Monkeycore!
Istvan: Or five words: What we do is MonkeyCore
What does punk mean to you, is it only a word or is it a lifestyle? I know you don´t play punk but I think there´s some traces from hardcore..
-Kalle: The answer could be thousand pages long. But the essence (for me): Punk bands influenced my thinking since I was a kid, and I would be a different person without it. I don't share the radical ideas of punk, but I share the basic ideas. And I love the music ;)
Istvan: Of course it is a political statement too: Always hate fascism!! Nazi Punks Fuck Off!
Which song/album or group was it who took you into to play music?
-Kalle: For me it was a computer software where you could play along to songs with your computer-keyboard, and I played Queen's Killer Queen a thousand times at least. Afterwards came a real guitar...
Istvan: "Enraged Monkeys" :) Funny but yes, before I met these guys - I never had a big plan to make music at all! I heard a lot Hardcore, California Skate Punk Music. But to make music was never my focus! So, thanx Monkeys! :)
What shall a young guy do today to shock their parents as the way we did when we were young? They have already seen everything ;-)?
-Kalle: That is an excellent question, and I am afraid what my son will come up with - he is 6 now. I just pray (to Satan) that it will not be some listening to everyday chart music stuff.
Istvan: My biggest fear: Listen to Techno Music
Manu: How knows what happens to the music until my daughter is in the age to shock me. I would cry when she will become a classical party girl, listening to much Schlager and stupid chart pop music.
How is it to live in Germany right now? Politically? Fascists? What shall we do with all these racists?
-Kalle: Again a question that cannot be answered with a few sentences. But the fascists getting elected to the German parliament a few years ago certainly was a deep cut. What we can do? The least is to be true to one's opinions in our everyday lives, and never keep the mouth shut when you experience any kind of racism - be it work, friends, family, or just on the street.
Istvan: We are not activists, but I think the whole thing starts even in the small. You should always show flags and discuss when it is needed!
Manu: Being a racist is not as frowned as it was a few years ago. And that is really a shame. What to do? … hmm do not stop talking get into conversation, if possible. And as Kalle mentioned never keep your mouth and eyes shut if it comes to any kind of rasism!!
Is there any good bands from Germany right now? Is the punkscene/metalscene/hardcorescene big? How is it in your hometown?
-Kalle: Regarding punk: My favorite punk band WIZO was silent for a loooong time, and the released two records in a row within two years recently. ... I just checked, and the "recently", which I thought was two years ago, was 2016… Damnit, time flies…
Istvan: Yes, a big scene! Especially in our area! Sometimes I always wonder when I spot new bands and they are from Germany as well! Like The Prophecy 23, Chartreux, Skeleton Pit, Tenside…. Just to call a few!
What do you know about Sweden? Have you been here sometime? What is typical Swedish?
-Kalle: I've been to Stockholm a few times, working… It's a great city, and I had a good time exploring the bars. However, beer is just too expensive there, my travel expenses were huuuge ;)
Istvan: As a product designer I always have a look to Sweden and do a lot of research on your latest publications! I love Swedish design!
Manu: I have been there only for holidays and I like the people and countryside a lot. Typical I would not say but for a German Bier Lover the Systembolaget are quite special☺.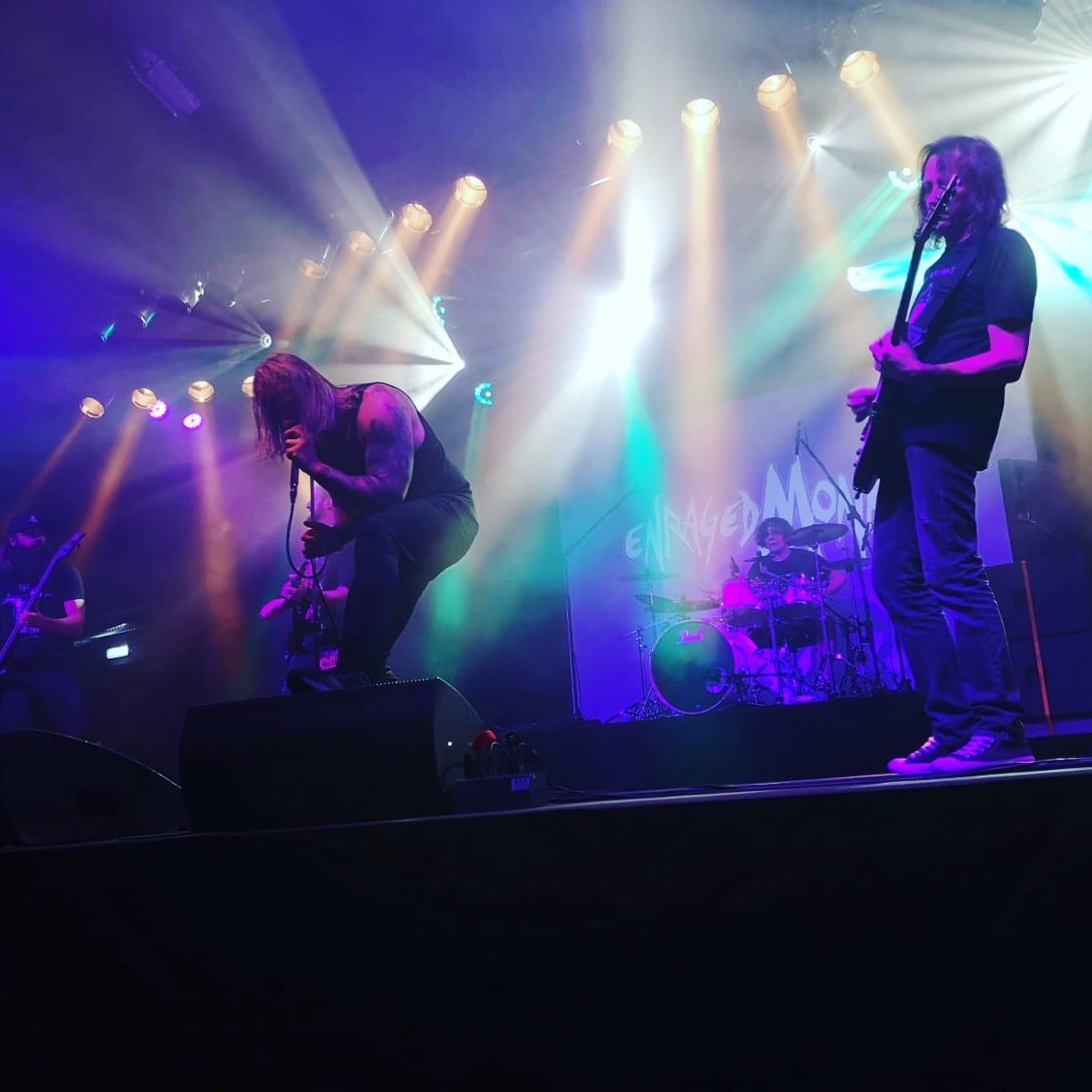 Have you heard any good bands from Sweden?
-Kalle: Amon Amarth, Arch Enemy, Hammerfall (my band colleagues will laugh, but I also like some Power Metal), In Flames and Opeth of course (when he growles). And, I have an ABBA patch on my metal vest ;)
Istvan: In the future I heard Tiger Lou and thanx to that question I recovered it again for me!
Amon Amarth
Manu: There are so many awesome well-known metal bands from Sweden. But we had the honor to play once with the famous Swedish thrash metal band Tyranex, which I like a lot. And Kalle no I am not laughing ☺
Your lyrics, who does them and what influences you? Why not more in german?
-Kalle: All done by Istvan…
Istvan: Not really influenced by other artists. Lyrics are always just a reflection of my fight! Against me and the rest!
Is there any subject that you never will write anything about? Or isn´t anyting sacred?
-Kalle: As said, Istvan is doing the writing, but for my part, nothing is sacred.
Istvan: If you use the (right) words - nothing is holy!
Politic and music, does it goes hand in hand? Which is your most political song? Is it important to get out your opinions in music? Or is political songs fore for punkbands than metalbands?
-Kalle: All music with lyrics is political, even if a song does not have a plain political message, it conveys a conception of the world or an attitude, which in the end is political.
Istvan: Or most political song is "No Compromise"
Best political band/artist?
-Kalle: For me, it is WIZO. But that probably is because I listened to it so much when I was a youngster.
Istvan: Propagandhi!
Manu: Not easy, but going back in time I would say "Such a Surge"
Do you think that music(lyrics and so on) can change anyones life, I mean people who listens to music?
-Kalle: Yes, definitely. And I think everybody who reads this agrees…
Istvan: Yes, It changed my life many times! When you are in the wrong mood, music can help you out and remember you when you fail again!
Manu: Yes!
Your favorite recordcover alltime? Who does your recordcovers? And do you have any good recordstores in your hometown?
-Kalle: Iron Maiden - Fear of the Dark. Istvan is doing our covers. And, the last part, no, unfortunately not.
Istvan: Cover made by myself. Just because I can and we don´t have the money to book an artist! I love the art of Eliran Kantor. Specially the cover of HEAVEN SHALL BURN`S - OF TRUTH & SACRIFICE and THY ART IS MURDER´S - DEAR DESOLATION - There is a lot of statement in one picture, great!
Manu: Very difficult, I do not have a favorite but some who came in my mind during answering, Such a Surge – Under Pressure and Anthrax - Spreading the Disease.
Is it important to get out physical records of your stuff? Why or why not? Vinyl, CD, cassette, what do you prefer if you could choose whatever ?
-Kalle: Yes, definitely! I mean, most of the time I listen to music digitally, but I have all of my favorite albums on vinyl (or are still trying to get them). Putting on a vinyl is just different, it's like a ritual, when I put on a vinyl I just listen more closely.
Istvan: My only goal was to have my own album on vinyl in my collection, all that comes then is an addition!
Manu: Ever since I was a kid, I've always had the image of my dad sitting in front of his record player in the living room listening to music. Long story short yes I like physical copies, you discover the whole album and not only the already well known songs.
But to be honest during my work I listen do "digital music".
Please tell me a funny thing which have happened during your career and under some gig?
-Kalle: In 2017 we played in a tent at a big outdoor party in a village nearby. Most of the tents were some techno or party DJs, the band that played before we did, played some classic rock covers. Just before we started, it began to rain really heavily. So, all the guys outside charged into the tent, and we did our thing. There were some 20 guys in front of the stage, partying hard, and some 200 people who were not into metal at all, but they could not flee. We had a camera in the bag, and when we looked at it, there was one guy crossing between two songs, looking really suffering, saying "Die sind sowas von vielzu laut" (GER: They are just so much too loud). That was funny :)
Manu: It think it was the first gig and I was complaining that I cannot hear myself, until I discovered I unplugged my instrument at the very beginning of the song. And no one heard it … so what instrument do I play ☺.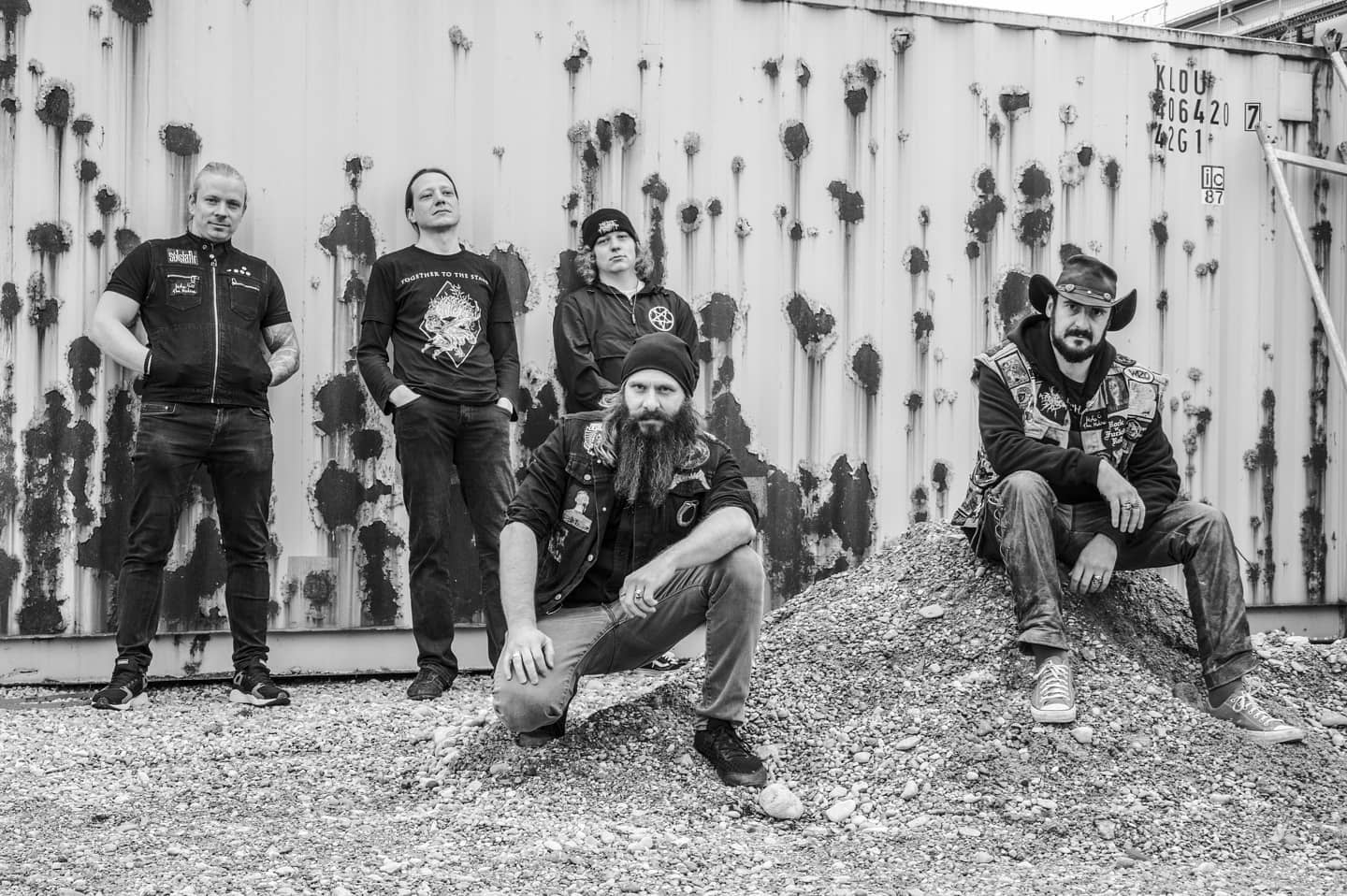 How does your audience look like? Which people do you miss on your concerts? Which is the biggest band you ever have played together with?
-Kalle: Our favorite audience, hm… I would say, the one that has fun and enjoys our music! The biggest band… Tyranex I would say.

Please rank your five favoriterecords, five favoriteconcerts and five most important things in life?
-Kalle: I give you 5 of each, but not ranked. That's just too hard, maybe next week I would choose 5 different ones. Only 5 is just not fair...
Records:
Blind Guardian - Nightfall in Middle Earth
Haggard - Eppur Si Muove
Basil Poledouris - Conan (OST)
Emily Autumn - Opheliac
Black Sabbath - Black Sabbath
WIZO - UUAARRGH!
Concerts:
Haggard - Summerbreeze - 2005
Blind Guardian - Krefeld - 1998
ACDC - Munich - 2012
Die Toten Hosen -Stuttgart - 1998
WIZO - Munich - 2016
In life:
Be true - to yourself, not in a Manowar way ;)
Be honest
Care about your loved ones
Care about the world
Live live in a Metal way!!
Istvan:
Records:
Insomnium - Shadows of the Dying Sun
Boysetsfire - Tomorrow Come Today
Escapado - Hinter den Spiegeln
Kataklysm - Of Ghosts and Gods
Amon Amarth - Jomsviking
Concerts:
Caliban - Someday in 2007 in a Leipziger basement club!
Summerbreeze 2014 - 2019
Metallica - Munich - 2019
Sick Of IT All -Munich - 2018
In life:
Respect
Harmony
Friends
Always beer in the fridge
Nice interview questions!
First, last and most expensive record ever bought? And the most embarrassing record in your collection?
-Kalle: First: Britney Spears. Last: Helloween - Helloween. Most expensive: Basil Poledouris - Conan (OST). Most embarrassing: See First (however, it's not in my collection anymore).
Manu: Cheapest: Siberian Meat Grinder, Most expensive: Suicidal Tendencies import from US.
Most embarrassing: New Kids in the Block.
Is it boring with interviews? Is it much interviews?
-Kalle: It is not boring, however, it is hard to answer some questions. Yes, quite a few interviews since the release of NO COMPROMISE.
Istvan: Always nice because then you have to think about your thing and yourself!
Manu: Boring? No. Surprisingly the questions are quite different all the time, which keeps it interesting, hopefully for the reader as well.
Do you care about reviews? Which is the most peculiar you ever had, with this band or any other band you have been to? Have you ever changed anything after a bad review?
-Kalle: Sure, as social beings we care about what our environment thinks. And when somebody likes your music, that's great. However, we do not and would not change what we do, just because somebody doesn't like it. However, constructive criticism is always accepted, and then we can decide if we take it, or not. There's always space for improvement.
Istvan: It´s always nice when somebody writes a review and you can recognize that this person has really listened to the music and lyrics!
Which bands do people compare you to, is it boring that people compare you to other bands or is it understandable?
-Kalle: So far I haven't heard anybody compare us to other bands.
Istvan: Correct!
If you could choose five bands from the past and the history and nowadays and both dead and living bands to have a concert together with your band. Which five have you been chosen?
-Kalle: Puh, that's tough. Black Sabbath, in the mid 70s, because I would like to party with them. Motorhead, and share a backstage room with Lemmy. AC/DC with Brian Johnson and Bon Scott at the same time. The Beatles in the early 60s, because then I would see them live, and shock the 60s audience with Monkeycore. Sick of it all, because they radiate that feeling on stage.
Istvan: Lamb of God, Sick of it all, Walls of Jericho, Rage Against the Machine, Heaven Shall Burn. Just because of their energy! It fits perfect to us!
Is music a good way to get out frustration and become a nicer person outside the music??
-Kalle: A plain YES.
Istvan: Of course, Each band rehearsal is therapy for me as a singer. I always go very relaxed there!
Manu: Ohh damn yes, music got me through puberty. And making music is the best valve for frustration.
Which is the most odd question you ever have got in an interview?
-Kalle: Which is the most odd question you ever have got in an interview?
Manu: Hehe … nothing to add
Which is the question you want to have but you never get. Please ask it and answer it?
-Kalle: Please tell me what Monkeycore is. Okay: Monkeycore is a musical subgenre, combining elements of Thrash Metal, Death Metal, Doom Metal, and various other elements of Heavy Metal. Monkeycore lacks constraint and stringent characteristics which makes it hard to define and put a label on whereas the common denominator is that the audience is confronted with songs that go right in the kisser.
Song structures often use doomy, ascending patterns that go from clean and punctuated notes to chords to heavier sounds with rising distortion, heavy double base and blast beats. Catchy and driving heavy riffs underpaid with shredding melodics play essential parts in most songs' refrains. Lyrics deal with various topics, and often contain socio- or self-critical themes, presented by clean-aggressive passages and growls that pick up the audience.
Monkeycore's driving rhythms and slowly rising rigor, especially on live gigs, invites for meditative headbanging that escalates to moshing and eventually discharges in a circle pit or wall of death. It was invented by the Enraged Monkeys.
Futureplans for the band?
-Kalle: New songs, new album, GIGS. And as always, World Domination.
Istvan: Survive! Because we have already learned something from this monkey business and we are very relaxed, because we do not have to follow any concept and always do what we love to do! We don't have to make money with our music! This is important!
Manu: Gigs, Gigs and ähh more Gigs. Working on new songs and I am very optimistic to record a new album due to our Riff-Machine Flo.
For yourself?
-Kalle: A lot.
Istvan: I want to stay healthy for many , many years to make more songs...in any way!
Wisdomword?
-Kalle: You're never too old too rock 'n' roll if you're too young too die.
Istvan: What you have to do is MonkeyCore! :)
Manu: Never give up … keep fighting!
Something to add?
-Kalle: Thanks for the interview. If you want us to play in Sweden, just tell us where and when ;)
Istvan: No, all is said! :) THX Skrutt Mag
Manu: Thanks for your interest and see you in Sweden ☺