Please tell me a little bit of history of the group?
-Marcel: I start with my personal history in this group. For ten years right now. One day i found a mail in my post box from Spiller. They where looking out for a guitar player who replace the old one or someone who can help out for a few shows. And yes,I´m still there. Daniel: I was asked from my Cousin Benni (SS-Kaliert) 8 years ago that Emscherkurve was searching for a Bass Player. Since then I play Guitar in a few Bands so I thought i would be a good Idea to make a new experience as a Bassplayer. But right now I play the Guitar and I sing in a lot of songs.
Please tell me a little about every member, age, interests, work, family and something bad about everone?
-Marcel: Im 36 years right now and work with handicaped people who sit in a wheelchair. Its a hard job, but i like it and i like my company. It`s more a small one. Not a huge hospital, so it`s a little bit more familiar than other ones. And EK77 takes a lot of my time. Beside this i play guitar,hang around with friends or just stay at home and watch some movies. 'Daniel: I´m 35 right now. I work for the German railway company Deutsche Bahn. It´s a big company in Germany. I have a 10 year old dog who takes a lot of time. The rest of my time i spend with my Girlfriend and with the Emscherkurve Guys to make good music. Spiller: I´m 46, working as driver for a Food Bank, organize some smaller show from time to time, used to run a label and a fanzine back in the 1990s.
Do you have any bands on the side of EK77?
-Marcel: Just in the past. I play in a few Hardcore bands like INDICATION or TEARS OF BLOOD. A few years ago, me and Daniel play at MELANIE AND THE SECRET ARMY.But we split up e few years ago. I help a friend of mine with a tribut sampler for France Gall at the moment, but EK77 have all my priority. Daniel: Yes I play in a second Band which is called Jean Rimbaud in Düsseldorf with Maybaum. He played the Bass at EK77 after I change to the guitar. Now he is the Guitar Tech for the Broilers.
Have you only done songs in german?
-Marcel: Puh,i must remember. I think so or? Spiller,help me :-) Daniel: Since i am joined EK77, YES! Spiller: Marcel is right, we never had a song in another Language.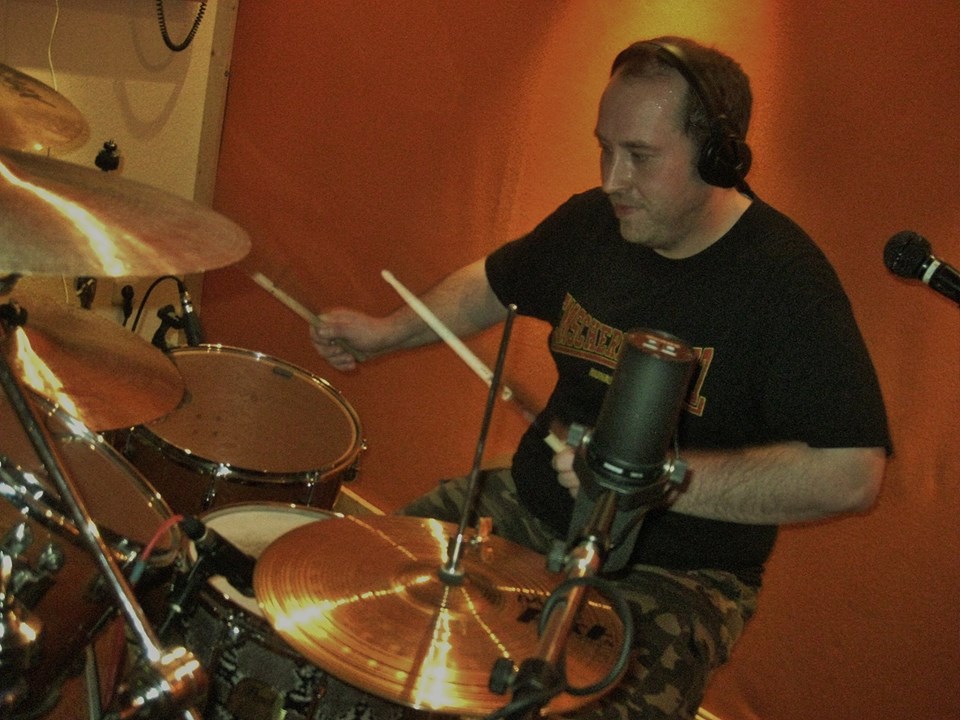 Why is german so good punklanguage(i really love it)?
-Marcel: Is it? I think it`s the best way to express my feelings and thoughts,of cause, it`s the language I grow up with.
Is there any good bands in Germany right now?
-Marcel: Oh,so many bands come and go. Like everywhere. Some friends of mine start a new band called AGGRESSIVE. It`s a cool mixture of some punk and Oi elements. They are in a studio right now and im sure you will hear of these guys. Daniel: There are many good german bands right now. Bands like Broilers have a big success right now. They are really good. There are so many good bands. Too much to mention here.
Is the punkscene big in Germany(it seems so)?
-Marcel: I think so. But not only the punk scene. Its the same with metal. When you take a look at the concert scedule or just the festivals, then there must be a big scene. But not every concert has so many visitors. Its a little bit like lottery. But what is punk? You have huge acts like DIE TOTEN HOSEN or BROILERS. They play in front of 15.000 people. But they work hard for it and deserve it. On the other hand you have some small band, maybee with the same music, and they play in front of 20 people. But that`s life.
What does punk mean to you , is it only a word or is it a lifestyle?
-Marcel: Everything start for me with punk. For me it means, to do your own thing. In your free time, your work or whatever. How far it`s possible of course. Punk means not to hang around, drink all the time and say "I hate my country". Daniel: Marcel you are so right. Punk for me is a lifestyle and not a Trend. You don´t need to wear Punk Clothes to be a PUNK. I live my life like i want it!!!
Which type of people comes to your concerts?
-Marcel: Everyone (except buggers) are welcome. Metal,Punk,Oi or whatever you listen too...... Daniel: There are many different people. Punks, Skinheads and People who seems totally normal.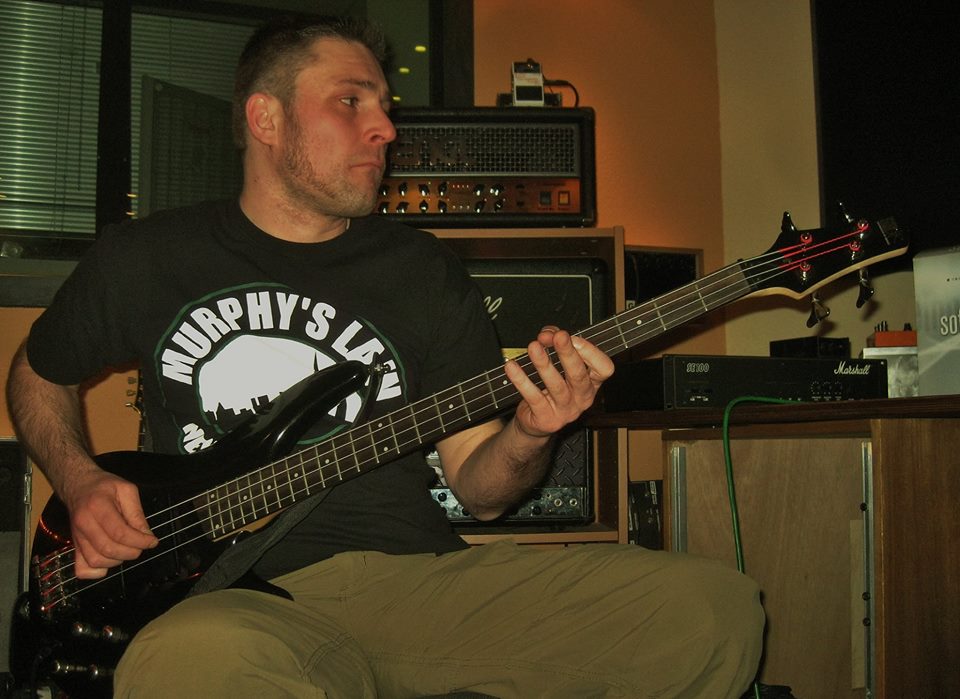 Which type of people do you miss on your concerts?
-Marcel: Nice and young ladies.... :-)
Have you played outside Germany? Where?
-Marcel: Yes. We played in Belgium, Netherlands and Austria a few times. Especially Austria is always great for us. I hope that we will play in some other countries too. Like USA or Russia one day.
Politics and music, does it goes hand in hand?
-Marcel: No. Of course, i have some political bands in my collection, but everyone who knows us, knows where we stand. We don`t must sing about this. And there are bands like RAGE AGAINST THE MACHINE who will tell the people what to do. I hate this bands like this. Daniel: I am very interested in politics. But does this mean that i have to write a song about it. I guess NO! I got a opinion but i don´t want to tell people what they have to think.
Which is the best political band/artist?
-Marcel: DEAD KENNEDYS with Biafra Daniel: There is only one good political Band. PROPAGANDHI
Which is your most political song?
-Marcel: Holidays in Cambodia Spiller: Didnt know that this is an EK77 song!? Our most political song is "keine lieder gegen nazis", which is also a statement against anti-nazi songs, cause we dont have to sing songs against it, if we can act instead of just talking!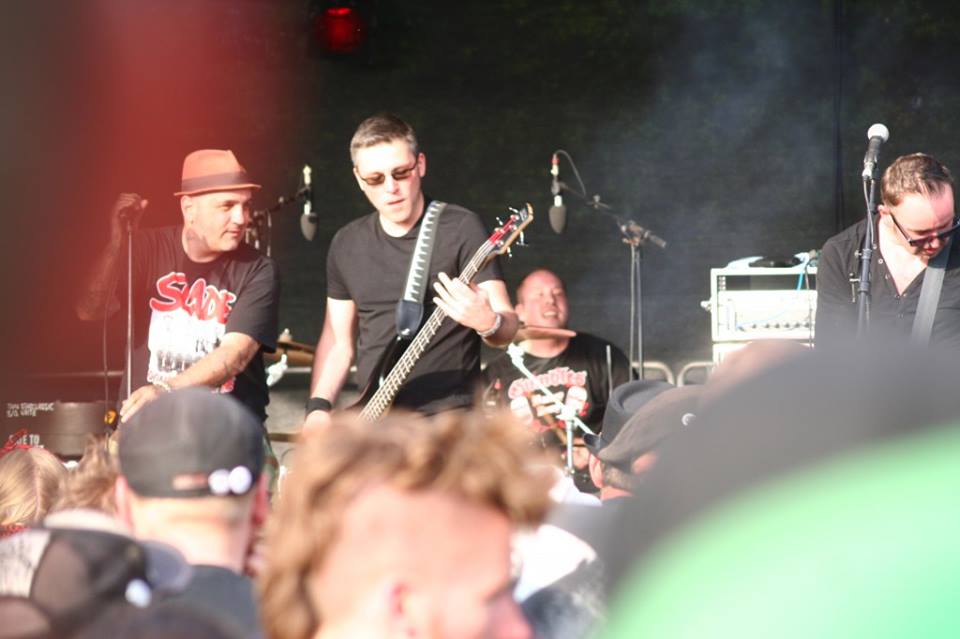 How do you do a new song, is it the whole band or someone comes with an idea or how do you do?
-Marcel: Me and our other guitar player Daniel write and collect the first ideas at home. When we think, we have enough new stuff, we meet each other and look whats working out and what not. After this first selection, we show it to the band and play it together. We do the fine tuning as a team. Everyone can say what he think about a song. Some stuff work out, some not.
Emscherkurve, what is that?, and the 77 is the punkyear 77 or what do you mean with that?
-Marcel: Emscherkurve is a part of the terraces at the Rot-Weiß Oberhausen stadium and 77 the birthyear of punk.So you have 100 points :-)
Is it important to have a good name?
-Marcel: I think so. But every band is responsibility for this. I like our name and hear nothing bad about it.
Which is the best bandname ever?
-Marcel: ANAL CUNT Daniel: Rumpeltskin Grinder
What do you know about Sweden?
-Marcel: Oh,my last girlfriend lives in Sweden. Eskilstuna. I visit her a few times, but unfortunaly it doesn`t work. I love Sweden really well,and who knows,maybee one day i will move to.....So I say hello and puss puss to my girls Nina & Saga <3 Daniel: Good bands, Cold weather, Zlatan Ibrahimovic, Alcohol is really expensive.
Have you heard any good bands from Sweden?
-Marcel: Yes,but i prefer the metal stuff. Bands like DISSECTION, MARDUK, UNLEASHED, GRAVE, VOMITORY, INSANIA STOCKHOLM or AXENSTAR. And of course ABBA and ROXETTE. And i mean this serious. Daniel: Oh yeah! Wolfbrigade, Wolfpack, The Crown
Congrats to the victory with 7-1 against Brazil, how did people in Germany react on this?
-Marcel: It´s going bigger and bigger when the world champion chip is on the map. Things like public viewing grows more and more. It was a cool game,and we win the cup, but my life is still the same :-) Daniel: Nothing can bring back the feeling of 1990 when we win the world cup in Italy. It was different to 2014. I was glad that we win the title but these players from 1990 were heroes to me like Lothar Matthäus.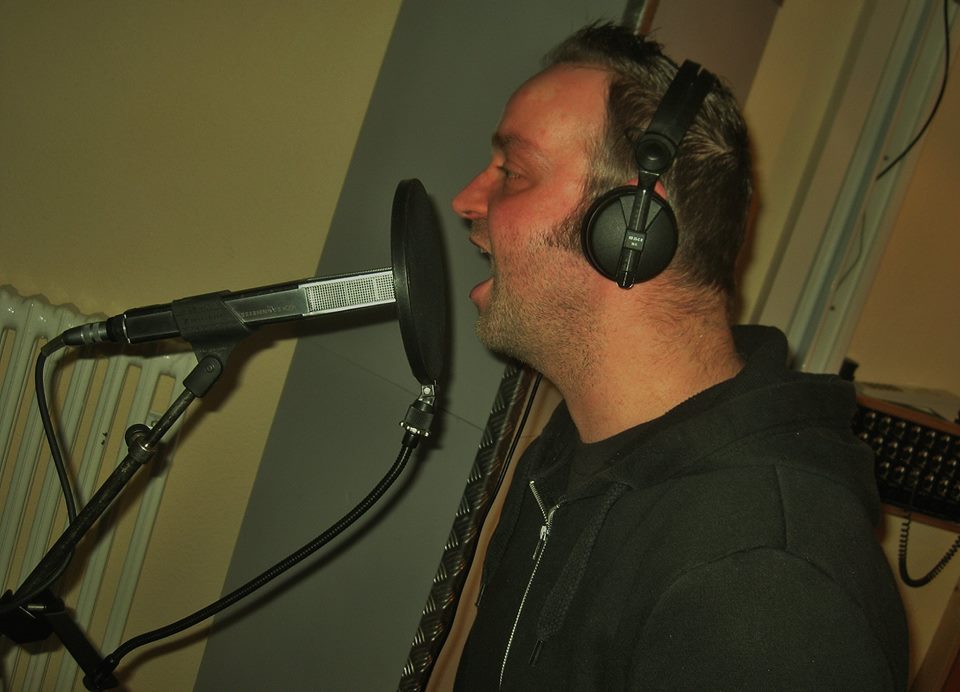 Punk and football, goes hand in hand or?
-Marcel: Not anymore. Yes. Everything started with football, but it`s not EK77 anymore these days. We have so much more to say and developed with our lyrics too. We have still one song about football in our set called "Blutgrätsche". But it`s a good and fast punk song, so it is ok. But im not into football anymore like when i was 14 or 15. Daniel: Football is still my favourite Sport, but I guess for EK77 there are lot of other issues who are interesting
Which team are you supporting?
-Marcel: A.I.K. Daniel: Rot Weiss Oberhausen of course you bum.
Have you done any footballsongs except on the streetcompilation that Sunny Bastard did release?
-Marcel: I think we released only "Günther Netzer" on this compilation or? Spiller, need your help again :-) Spiller: On Sunny Bastards only that one and Rot Weiß Oberhausen on our last Album.
How is it to live in Germany today, what´s the best and whats the worst of living there?
-Marcel: Im absolutely pleased to live right here. Of course, everything is more expensive today,especially food,but take a look at the world. Natural disasters, war and stuff like that. I think we have just luxuary problems. Daniel: The people are not very relaxed here. When you get into your car are a lot of idiots on the streets. But all in all it´s a good place to live. The best thing is the cheap beer ;-)
First last and most expensive record ever bought?
-Marcel: Puh....the last one was from AVANGED SEVENFOLD, but it was just a normal CD. The most expensive one? I think it was a split 7" from PANTERA and POISON IDEA. 12 Euros. Daniel: First Tape i bought was Iron Maiden "No prayer for the dying" The last CD i bought Face to Face " Three Chords an a Half Truth" Great Album. The most expensive was Turbonegro "Scandinavian Leather" LP Limited Edition
The record you bought just for the nice cover and you get so disappointed on?
-Marcel: Too many to mention haha......But i think it was a band like DARTH VADERS CHURCH.
Which band(dead or living) do you want to do a new CD?
-Marcel: DEATH Daniel: Jabaldoath
How do you see on downloading?
-Marcel: I dont think that downloading destroys the music industrie. When i listen to some mp3 and i like that shit, I buy an original CD. Of course ,it´s the best way to support the artist, but it is ok when you donwload some stuff. When you BUY the record after it :-) Daniel: It´s good for bands no one knows. It´s bad for bands who wants to make al lot of money with their music like Metallica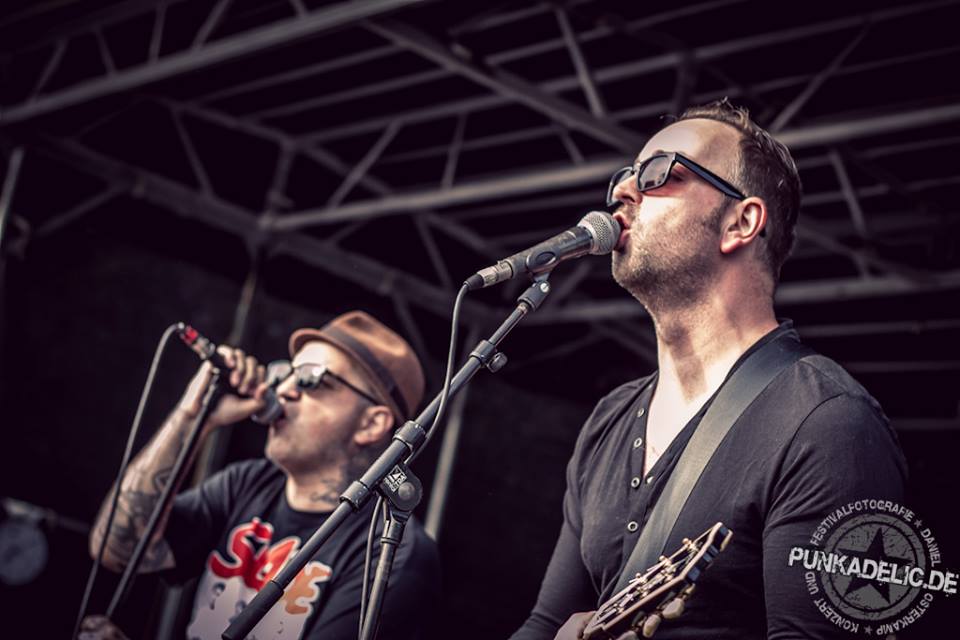 Is it good or bad for a band like yours?
-Marcel: It´s strange when you find some download links of your new record. It`s shit for the label, of course they invest a lot of money in our band. But i thinks it`s harder for bands who must live from their music. So buy it :-)
Futureplans for the band?
-Marcel: Hope that the new record cames out soon. Hope for some good more concerts. And I hope that we will play together for a long time. The band is my family and help me alot in bad times.
For yourself?
-Marcel: Get a better guitar player :-) Daniel: Good health
Wisdomword?
-Marcel: Ett äpple om dagen är bra för magen.
Something to add?
-Marcel: Thank`s a lot for your interest at our band. Check out the new record, it was a lot of work. All the best for you and the readers of the SKRUTT MAGAZINE. TACK!!!! More Infos: www.facebook.com/emscherkurve77