I thought Elvira Bira was an alter ego and solo project for Mathilda and I guess that's in a way, but it's still a group. But the questions are more directed at Mathilda but of course concern the whole band. Check out their new album Vispunk before it's too late. September-2021
Tell me about you a little bit, I know you're in Fuck Frankie?
-Elvira Bira is a band that has been found in different constellations and sometimes as a solo project since 2007. The first gig with Elvira Bira was with electric bass, drums and ukulele at a ukulele festival on Långholmen in 2007. Then we have played at ukulele festivals and spread punk spirit in Helsinki, Paris, New York, Amsterdam m.m. Mathilda Sundin and Oriane Reinberg are both former members of Fuck Frankie. Bassist Peter Sundin has been playing bass in Elvira Bira since the beginning, with a brief break over 10 years ago. We have Charlie Andersson on guitar who has been with the band since 2013. Then there is Benjamin Ek at viola, Elin Olsson on the cross flute and Joel Prim who is our new drummer in the band. They are the new additions that Mathilda met at the School of Music in Stockholm, where all four have studied to become music teachers.
Engelska översättning.
How did the idea for this project come about?
-Elvira Bira started in 2007 when Mathilda started playing ukulele and wanted to start a band. She was already playing guitar and writing songs, but when she got a ukulele, that's all it was about. Punk it would be, disttorted ukulele, angry and fast.
You call the record Vispunk, but I'd like to call it medieval punk, what do you think of that?
-It's interesting that it's possible to discern medieval vibes in our album "Vispunk". I think we'd say it's a blissful mix inspired by folk and world music. But the funny thing is that we have some new songs going on with melodies from the Middle Ages as well. Folk music and music from the Middle Ages probably have a lot in common.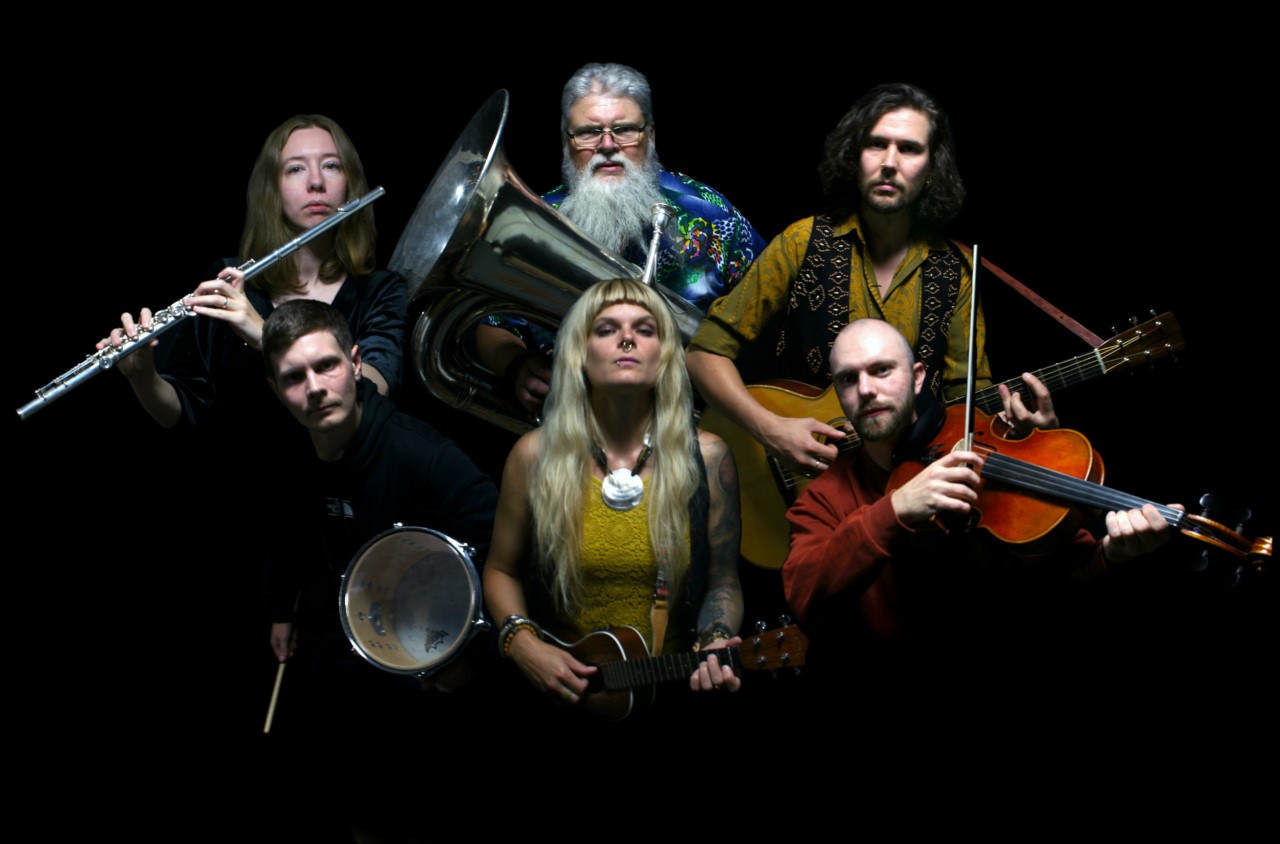 You sing both in English and Swedish, which feels best, which language is easiest to write in?
-We have mixed songs in Swedish and English because we are more interested in getting the expression of music. We've always mixed. When we write songs, it sometimes comes in Swedish and sometimes in English. Elvira Bira had mostly English texts at the beginning, but now we write almost exclusively in Swedish.
Are all the songs made by you?
-Mathilda wrote some songs herself. Otherwise, we write a lot together. Someone comes up with a song idea, we build on and create quite a lot in the rehearsal room. Charlie and Mathilda write some music and lyrics together at home at the kitchen table as well.
Tell us a little about the texts on
Visa dig
1+1=3
Hate Parade
Uke The world
The song "Visa dig" was written by Mathilda and was first a love song that is featured on the self-burned album "Acoustic". Turns out it needed to be rewritten into a fuck you song because it was too good to let go. Now the text fits much better! It is therefore about violence and harassment in relationships and the inability of the perpetrator to see his or her behaviour.
1+1=3 is about xenophobia and that it may be completely impossible for some people to understand that we are all human beings who have the right to live on this earth.
Hate parade was written by Mathilda and was first released with Fuck Frankie on the album "Twobeat continued". So it is the same text and similar chord structure but quite redesigned. It's about the fact that it's easy to get caught up in hate and opinions that you don't really stand for.
Uke the world (instead of Nuke the world) is an antiwar and anti-violence song about bombing the world with music and love. Uke stands for ukulele and the idea is to bomb the world with ukulele punk love.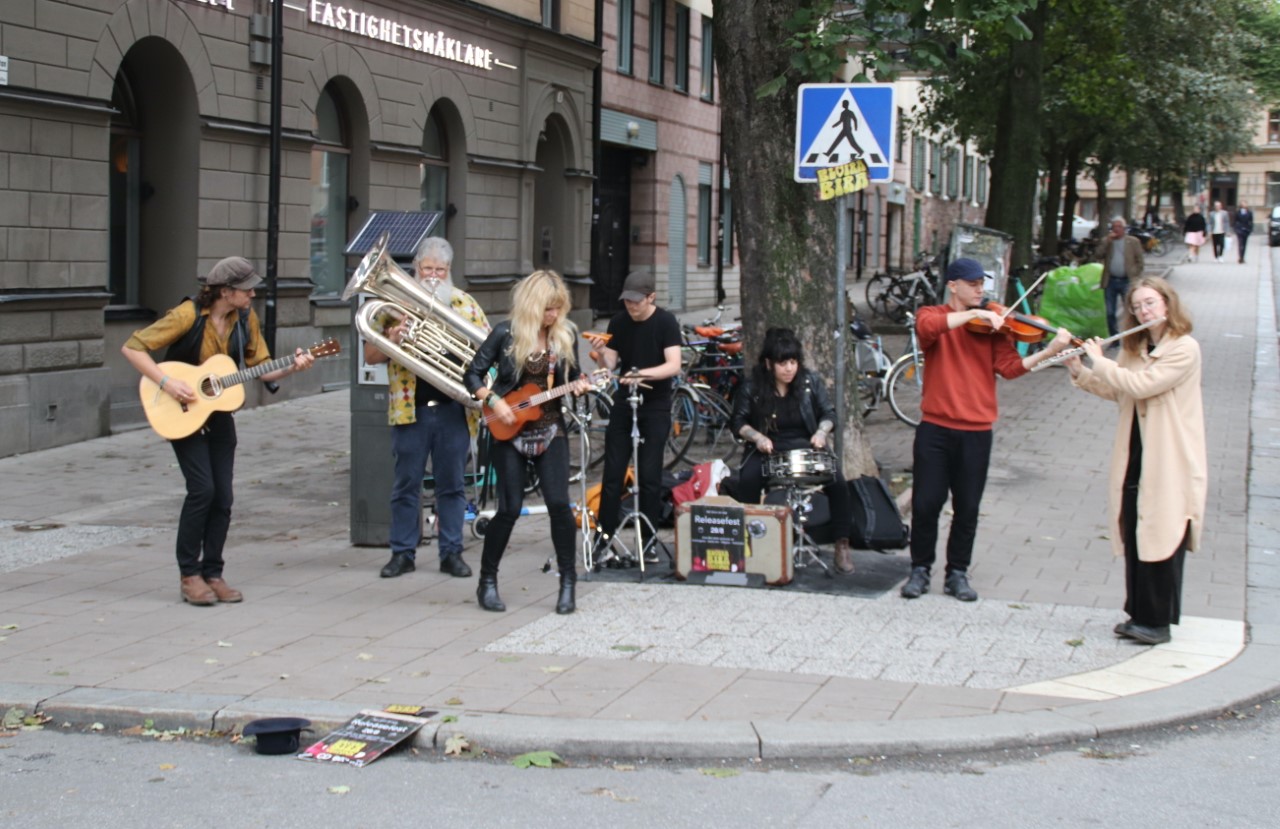 What have you been influenced by for making a record that sounds like this?
-The music on the record is influenced by the world and values. It's observations, wrongs, experiences, hate and love. When we have written the music, we have taken inspiration from different cultures and tried to lift people's opportunity to question and change the way they see the world.
How did it come to be Grönpeppar Records?
-Martin at Grönpeppar contacted us and asked when we are going to release new material. We had everything ready but had waited with release due to Corona. They offered to release the album if we wanted to and we said yes. Then they wouldn't even hear the music. Grönpeppar has been very helpful now that we have released "Vispunk" and we have already sold out of first edition records.
Elvira Bira, is it a band or is it your alter ego. But if you're going to play live, you're going to have to have a band, tell them about them, right?
The idea has always been that Elvira Bira is a band. Like Tant Strul or Ebba Grön. Then it has become a bit of an alter ego because Elvira Bira has sometimes been a solo project. But playing an entire band leads to so much more creativity and power in the music than playing just Mathilda and the ukulele. (Tells you about the band members during the first question).
Fuck Frankie, are they still playing? Do you have any other bands on the side as well, or what?
-Fuck Frankie, where Mathilda sings, doesn't play today. We do not know for ourselves whether we have a long break or if we have moved on. That remains to be seen. I see them sometimes and play because it's fun. If you're lucky, we'll come back to life. Mathilda, who plays ukulele and sings in Elvira Bira, also plays bass and contributes some vocals to the folk punk band Crash Nomada for 3-4 years. She also started up Skymf with members from Besserbitch and Fuck Frankie but that was just before the Corona so when we were ready to go out and play everything was cancelled. And also the band as it looks like now. Then several of the band have other band projects so the music is something we are really attracted to and do a lot.
Are there any other bands/Artists in the same style that you would like to recommend to us?
-We would recommend Crash Nomada of course and Gogol Bordello. Then there's Bohemian Betryars, which is a little calmer but has really nice melodies and songs. Mischief brew has a fantastic record, Fight Dirty where they collaborate with Guignol, a kletzmer/balkan orchestra. If you want to hear black metal mixed with folk tones and tones, Myrkur is a clear favorite. Not close what we do but very cool music.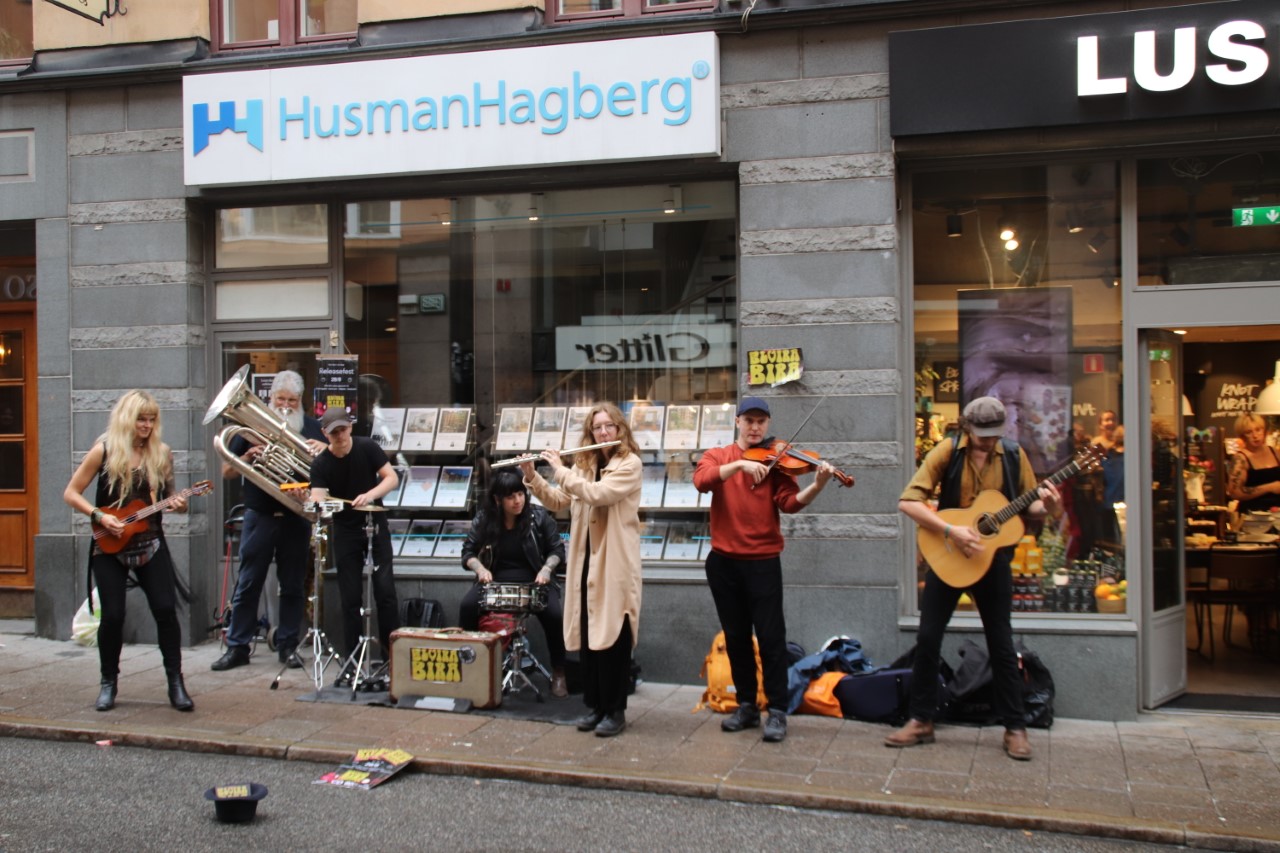 Punk, what does it mean to you, is it just a word or is it a lifestyle?
-Punk is, of course, an expression and a way of life where music, free and dirty art forms, thoughts and opinions belong together. After all, it is a question of questioning and opposing what is commercial. Frameworks and rules are stretched, even in punk.
Is it important to release physical records, do you think? What records have you been involved in releasing over the years?
-You can trust physical records. You can have a record in your home and bring out whenever you want. People are getting happier and more interested in getting a record than a Spotify link. The Internet is fragile and unreliable. Elvira Bira has only released DIY. A self-titled demo, an acoustic disc called "Acoustic", an EP called "If necessary", a Christmas album "Merry Christmas wishes Elvira Bira" and now "Vispunk". Mathilda has since released three albums of Fuck Frankie. "Fuck Frankie" (self-titled), "Hate me" and "Twobeat Continued". Before Fuck Frankie, "Urban Legends" was also released with a band called City Demons where Mathilda was a singer.
Who do you think will listen to your music? What kind of people I mean?
-We can see that our music appeals to a very broad audience. People of all ages stop and want to buy records when we played on the street. From preschool-age children up to older people in their 80s (and certainly older). This summer, a man ordered a video greeting with song and music from us for his wife as a 75th birthday present because she likes Elvira Bira. There are many people with similar values to us, including old and new punks and progpeople.
Have you ever played live with this? If so, how was it received?
-We have played live many times with this music before the corona. There's usually full speed and dancing in the audience. With the full backline there will be real club atmosphere, people screaming and jumping and looking very happy.
What else do you think about involving politics in music, is it a must or can be made music without involving political opinions?
-Music is an art form and emotional expression. It is a way to communicate thoughts, opinions and messages. If you have political opinions or values, they often appear in your music and lyrics. Of course it is possible to write lyrics that are not political, but there is always some kind of valuation.
Best political band/artist?
-I'm not sure. Like Nationalteaten, Ebba Grön or Blå tåget.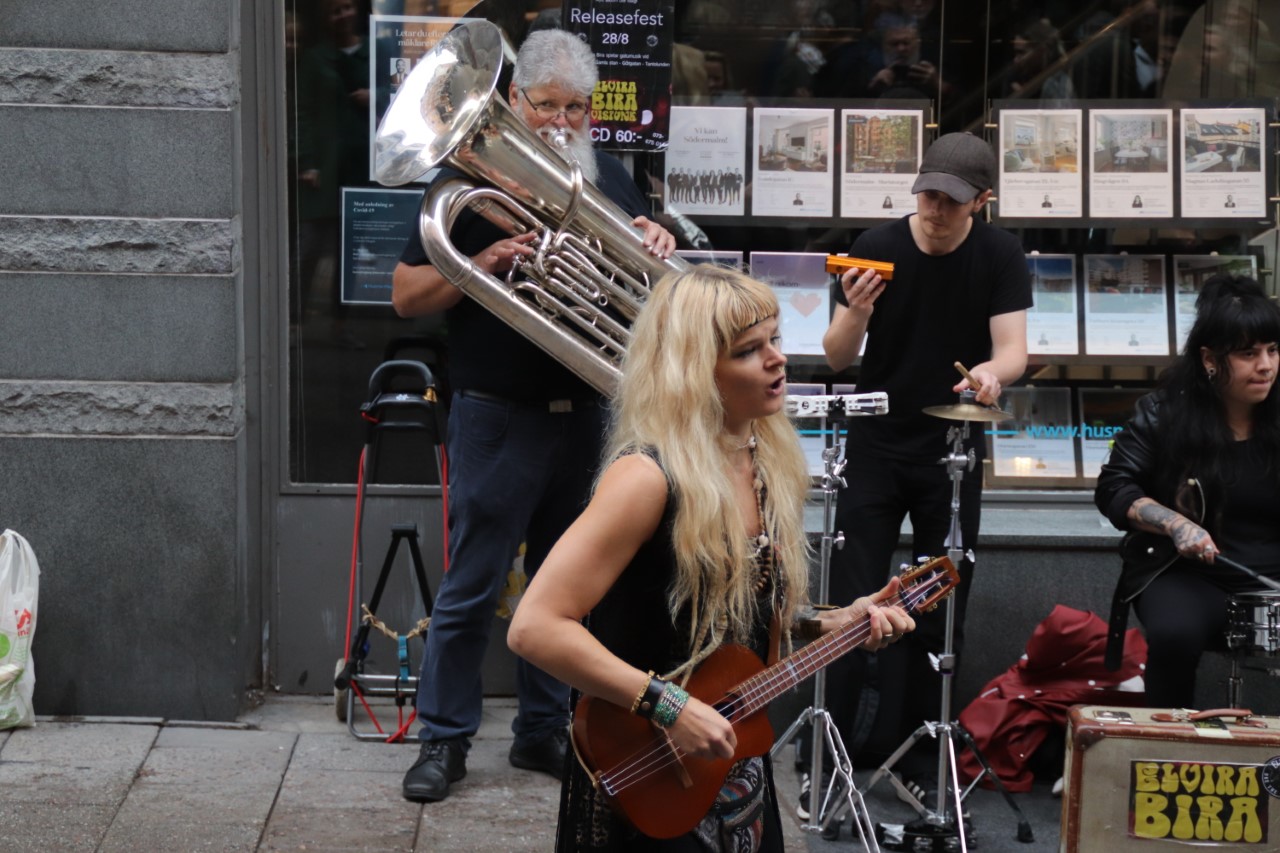 Five favorite records right now? Five favorite records of all time? Actually, I find it very difficult to answer this. Pass on that!
What do you think it's like to live in Sweden right now with parties like SD, KD, M etc? Is it easier to write texts when there are such parties?
-There is a lot of inspiration to be had given the political situation both in Sweden and other parts of the world today. The problem is that often we play to audiences who think alike. We need to reach those who need to change their view of the world.
Is ukulele the new punk instrument, have you heard Pukes, I interviewed them a while ago on my website?
-Oh, yes, of course. Pukes has Mathilda seen, met and jammed with at Rebellion in Blackpool. Wonderful band. The ukulele is definitely a great instrument for punk. Easy to learn and it is not possible to be too many people playing ukulele at the same time. As I said, frames and rules should be stretched and preferably blown up. Ukulele is fucking tough.
Is there going to be a lot of interviews, is it boring with interviews?
-This is our first interview since the release of the album. It's really fun to answer questions. Those are good questions. It takes some time, but it is exciting to formulate Elvira Bira's meaning in words. Then the questions are the most important thing to be able to do so!
What are the future plans for the band?
-The future plans are to go out and play a lot now. We have a lot of new songs and want to start recording and release another album eventually. Then we are working on a project where we make songs from a long poem about the position of women in society, powerplay, darkness, depravity and finding back and seeing the light again. There we mix in Swedish folk music, jazz, world music, music from the Middle Ages, heavy riffs and much more. Everything with punk spirit, of course. So we've got a lot going on.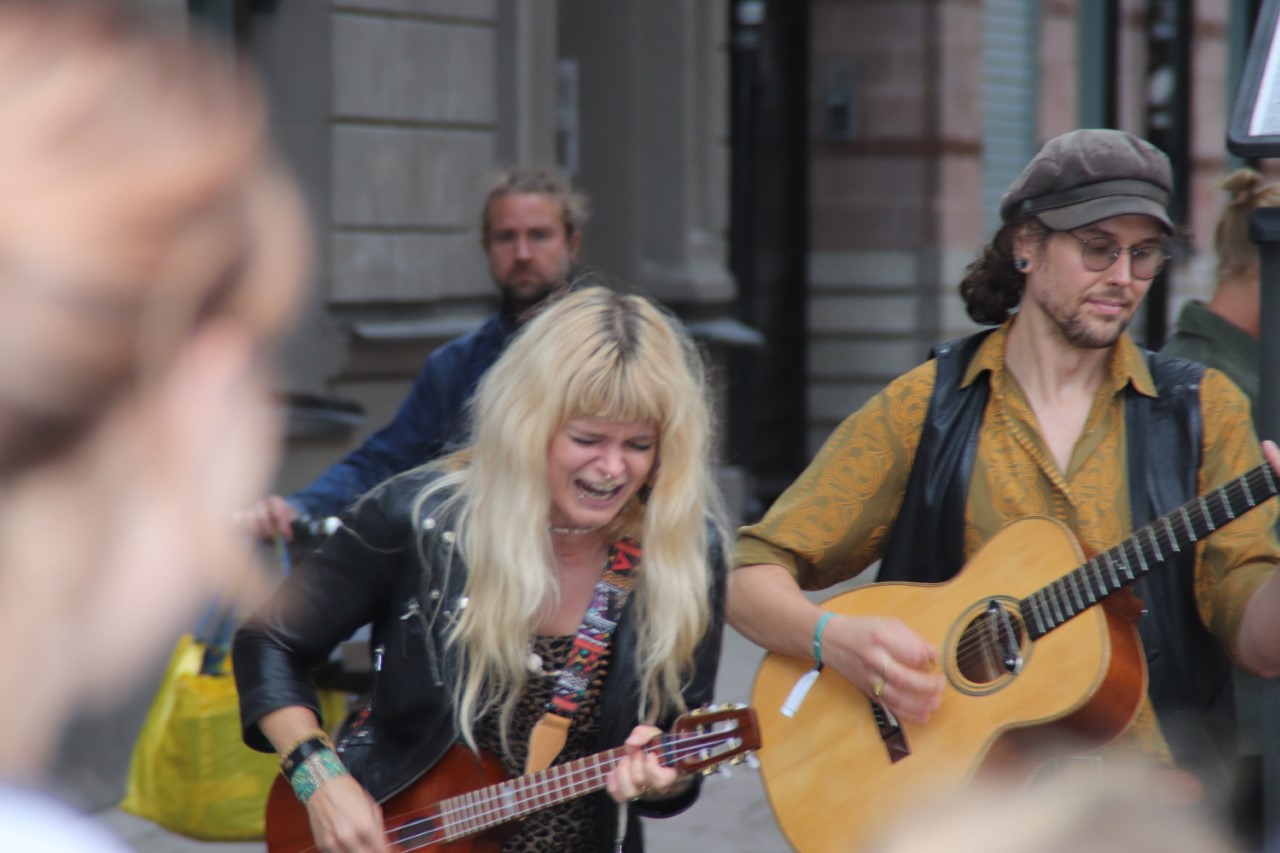 And to yourself?
-Same as above. And that Crash Nomada where Mathilda plays bass will release new soon as well. So keep an eye out for that.
Words of wisdom?
-Be yourself and don't care what other people think.
Anything to add?
-Thanks for the interview. I hope those of you who read listen to our music now. It's music for the people written by the people of Elvira Bira. Kisses