Chris in Elliott answered this questions in the middle of november 2000
History?
-Elliott started about five years ago we have since released two full
length CDs (US Songs and False Cathedrals) and a CD EP (If They Do) which
contains the 7 "s we've put out over the years. We've done multiple US tours
and soon will find ourselves in Europe.

Please tell me a little about every member, age, families, interests, work, bad habits and so on?
-Currently Elliott is comprised of Myself ( Chris Higdon, Kevin Ratterman,
Benjamin Clark and Jason Skaggs.
Chris Higdon: 26, vocals and guitar, single, photography, anything I can get,
I get stressed very easily.
Kevin Ratterman:23, drums/samples/programming, single, physics, recording
engineer, messy eater.
Benjamin Clark:24, guitar/sound shifter, single, body management, record
store manager, women.
Jason Skaggs AKA "digger"(as in shovel): bass,single,buying vintage gear,
house painter, tobacco.

Whatīs the most peculiar which have happened under a concert with you, on stage or in the audience?
-We a wild mixture of people at a show in Orlando Florida, a whole bump and
grind session between a couple, with the female becoming topless at the end.
Not the normal happenings at an Elliott show.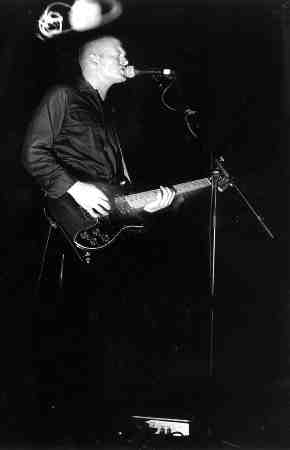 How is a good concert with Elliott?
-If everything is right I would want people to leave inspired to create
something of their own. Something to remember hopefully.

How does the average Elliottfan look like?
-We tend to get a diverse crowd usually a 50/50 split between male and
female. Their clothes usually fit. But I don't care what they look like as
long as they are ready to rock.

Do you have good contact with your fans, if you think so, in which way?
-We try to, I don't want to be unapproachable I answer all of our E-mail
and we love meeting people on the road and try to stay with as many people
that we can. It's what keeps you from loosing your mind on tour.

Is it many interviews? Is it boring?
-Yeah I have been doing a lot lately and catch myself saying the same
things because the questions are the same. You've done a great job of mixing
it up a bit. On the other hand we appreciate the support of everyone and the
exposure so I'm not complaining, to much.

Which is the question you never get but you want to have, please ask it and answer it?
-Who's your daddy? Silence.

Where does the name Elliott come from?
-Elliott is based on the popular middle ages given name Elijah.

Your music is a little bit different from the other bands on revelation, in which way do you think?
-Revelation is made up primarily of hard-core bands at the current time
which if fine with us. Giving us our own spot at the label.

In reviews which band are you being compared to?
-Lately Radiohead. What a sneaky question.

Do you do any covers when you play on stage? What does a cover good?
-No not of yet, I think covers are good when you want to just have fun,
pay homage or because your own songs are so bad you play one at the end of
your set to get crowd response.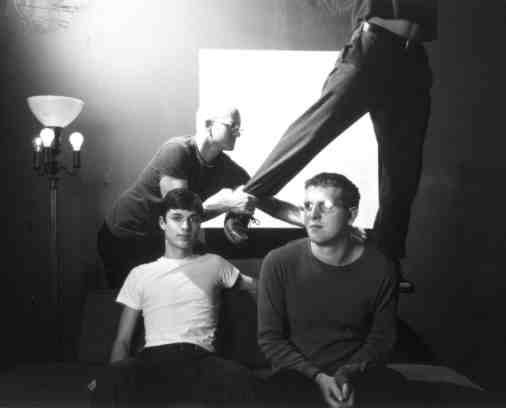 Is Revelation a good company?
-I think they are successful at what they do and have a strategy for
putting out records.

What do you like the other bands there?
-I can appreciate any type of band that works hard and is the best at what
they do.

Any good bands in USA right now?
-I love the Weakerthans from Canada, Hotwater Music, At the Drive In,
Shipping News. There are so many.

What do you know about Sweden?
-I know it snows there. And that it's a pretty word to say. I don't think
of bad things when I say the word.

Have you heard any good swedish bands?
-Refused and ABBA.

How is it to live in USA right now?
-It's the only thing I've ever know. The economy is good at the moment
Besides the elections it's as oblivious as it's ever been. Being an American
and being desensitized from everything it's easy to say things are great even
when they aren't.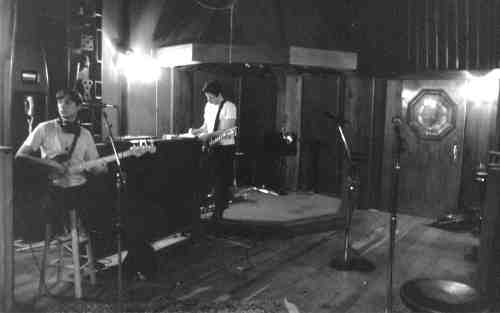 The vote counting seems to make some problem for you, what do you think about the whole thing? Is it a shame that USA canīt count their votes?
-It's a shame we are still using a system that doesn't listen solely to
the people. When you have to people running the same campaign and a system
that only two parties matter info course the country will be divided.
Hopefully it will be a wake up call for Americans to take a bigger part in
the system.

Are you interested in politics, why or why not? Who did you vote on?
-Politics are not an important part of my daily life. Not that they
shouldn't be. But I am as self absorbed here as anyone else.

Does politics and music go hand in hand?
-Music for me is an outlet to connect and express my feelings with others.
I concentrate on what I know and I don't know a thing about politics.

When you do songs which is most important is it a good refrain, a good melody or good lyrics?
-For a well written song it all has to be there.

Who does your songs, is it only one in the group or is it the whole group or how do you do a song?
-I write the lyrics at this point. The music is written by all of us. The
structure is formed and we work together fine tuning it the lyrics tend to
some last.

I have only False Cathedrals and US Songs, what else have you done? And how can I get it?
-"If they Do" EP on Initial Records. www.initialrecords.com

Your cover on US Songs is silvercoloured,and it seems like you think itīs important to have a cover which people look at, what do you think about covers?
-I think layout is very important to a package but that includes how it is
presented. I don't think having our name or a huge photo on the front is
important. You as a listener know what you are buying. Layouts should set a
mood for the album not be an advertisement.

Who does the best covers, which band or which company?
-Usually companies that don't care about making money or companies so big
they have the money to spend. Hydria Head does great layouts, Touch and Go
I'm sure there are more.


First and last record you bought? The most expensive you have bought?
-First- John Denver/ Thank God I'm a Country boy 45. Last- Amil/All money
is Legal

.Idols when you were small?
-Popyee, Aquaman, Jimmy Carter.

What do you think about the new way to communicate with email and internet and that stuff?
-At first I hated the idea, but I'm much to lazy to keep in touch any
other way so I couldn't do without it at this point.

Any favouritesite on the net?
-EBAY

Do you have an own homesite, is it important to have one and who does it?
-www.elliottintransit.com, I think it's been a great tool to keep people
that care in tune with info and keep communication going with them. Ron Jasin
designed it and keeps it updated through our help and I answer mail.

Wisdomword?
-Don't pet a burning dog.

Future plans for yourself?
-I plan to play music take pictures and play with my dog, all while trying
to stay happy and fed.

Futureplans for the band?
-We plan to tour Europe in Jan, write more music and continue the process
all over again.

Something more to add?
-Thank you for an interesting interview.

Keep in touch if you need anything at all. Chris