The Brazilian band Elite Na Mira is a really good punkband which mixes 77-punk and hardcore in a really good way. Marcio drums in the group and he have answered these following questions from me in November-2015
Please tell me a little bit history of the group?
Please tell me a little about every member in the group right now, age, family, work, interests and something bad about everyone? Earlier bands?
-Pajé: Vocalist,35 years old, single with no children, history teacher and single band participated.
Marcio: Drummer, 36 years old, English teacher, married with two children has also a heavy/trash band.
Jael: 44, bassist, single, civil servant, sometimes anxious, among other bands, plays on Marteladores de Cabeças and Dr. Fritz.
Albert: 26, guitarist, single, engineering student have been played in a band called Sandnan and currently plays on Elite na Mira anda Na Reserva.

I can hear much both 77ä-punk and some small hardcoreinfluences here in your music? Am I right? Favorites from the past?
-The band has been influenced by punk rock, bands like Ramones as well as many Brazilian rock bands from the 80's.

Elite Na Mira are you satisfied with the name? How did it came up? What does it mean? Which is the best bandname you know?
-We are satisfied with the band's name. Best names for us are Os Replicantes (The Replicants), Ira (anger, in English) and Metallica.

What´s the best thing with playing live?
-Best place to play alive is any place with a good sound, in terms of quality.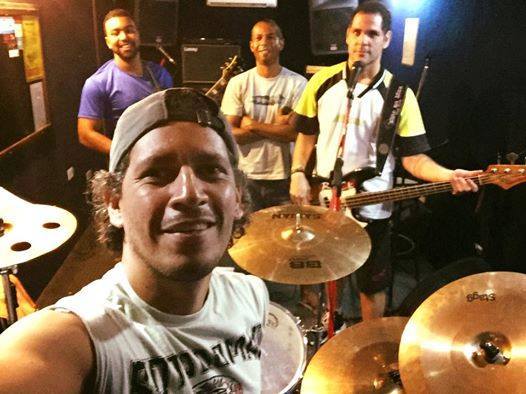 And where is best to play? And the worst place?
-Worse place to play alive is that in which sound is poor

How is to play this sort of music in Brazil right now? Which types of bands do you have concerts together with? It´s more often hardcore and metal from your country?
-Brazil is a country of continental dimensions. It is hard to say, but in our state Pernambuco, it is hard to play Punk Rock there are few spaces or festivals.
Every kind of rock band or fusion music like Mangue beat, there are many styles and diversity, so the festivals are for bands of all kinds of style.

How would you describe your music in three words?
-Simple, objective and true.

What does punk mean to you, is it only a word or is it a lifestyle?
-It's a kind of contagious music because of its simplicity.

How do you see on downloading, mp3 and that stuff?
-This is good way of promoting your band, it's a new reality where you can discover new bands as well as old bands.

How is it to live in Brazil now? Politically?
-Investments in education are being made, hence democracy is growing.

Is there any good bands from Brazil now? Is the punkscene big? How is it in your hometown?
.The punk scene is still very attached to what was done in the years 80/90. Good influences are Cólera and Olho Seco. In our state stand out Câmbio Negro HC and Devotos.

What do you know about Sweden?
-We know just a little about your country. All we know is that you have good metal bands, the politicians are the less corrupt and the girls are pretty.

Have you heard any good bands from Sweden?
-We've already heard many bands, some of metal and other pop rock such as Europe, ABBA, Meshuggah, Opeth, Hammerfall.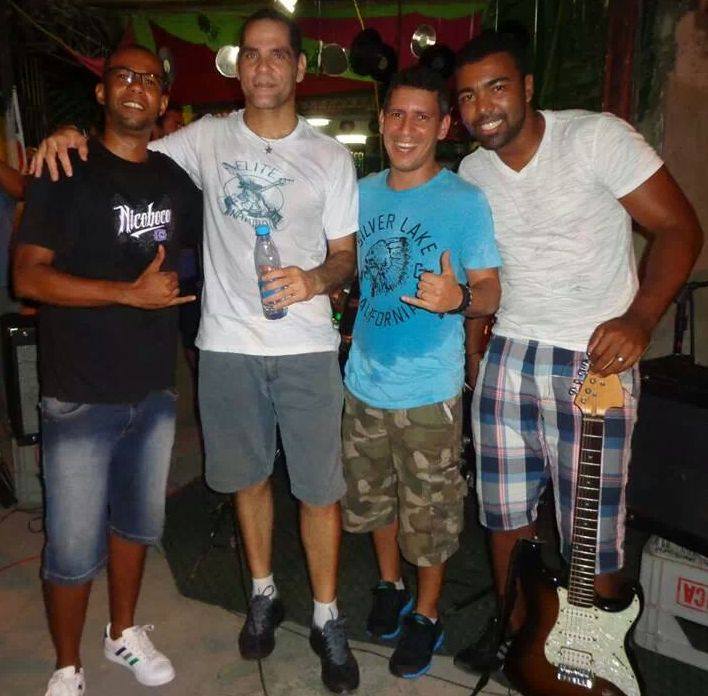 Your lyrics, who does them and what influences you? Only in portugese?
-The lyrics are written in Portuguese by Jael and Pajé. We write songs about things that happens in politics, daily facts and social relations.

Is there any subject that you never will write anything about?
-Lyrics are made at random, then there exists the possibility of we write about any issue.

Politic and music, does it goes hand in hand? Which is your most political song?
-Usually the rock looking to challenge the social status, which is governed by the policy, because we are essentially political beings.
Best political band/artist?
-U2/Bono Vox

Do you think that music(lyrics and so on) can change anyones life, I mean people who listens to music?
-All the band agrees that music can change lives. It makes you see life in a different, positive way and reflect about your moments and feelings.

2our cover on your CD looks really nice, is it important to have a record cover which shows people which type of music you play? Your favorite recordcover? Who does your covers?
-We have the help of friends to do our covers, always trying to follow the concept of the album. Favorite cd covers are The dark side of the moon – Pink Floyd; The battle of los angeles – RATM; all Iron Maiden's.

Is it important to get out physical records of your stuff? Why or why not?
-MP3 is nowadays a better way to promote your band and new songs via internet so we think this is more important than make the old model of discs.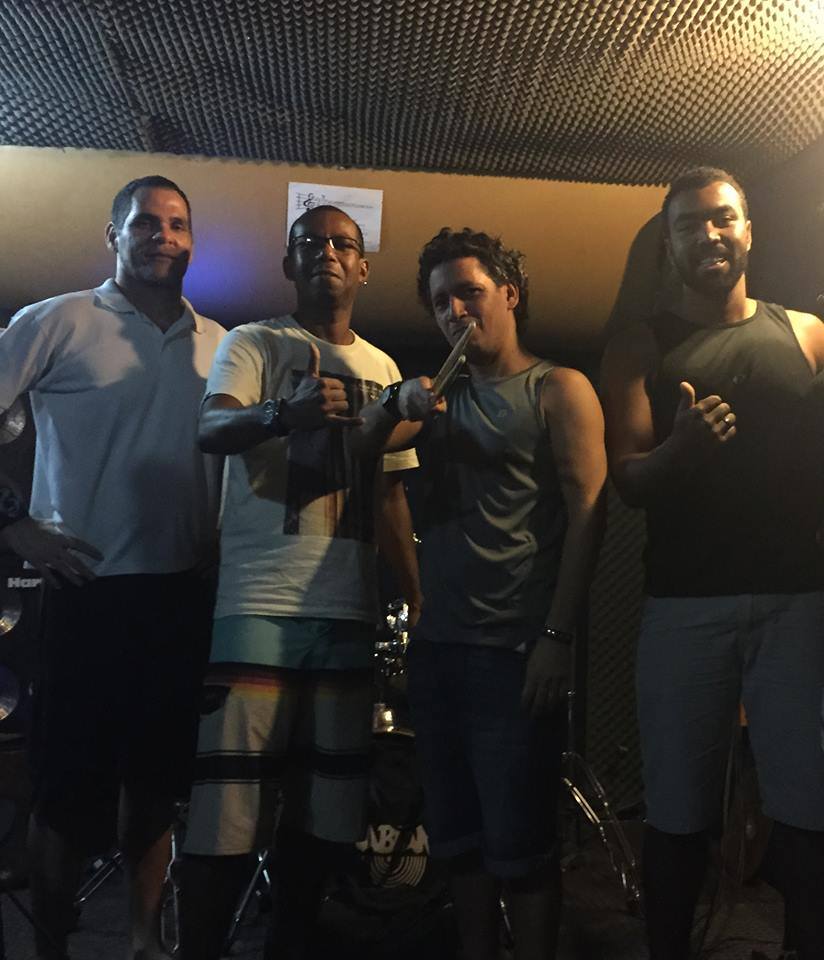 Please tell me a funny thing which have happened during your career and under some gig?
-A funny thing always happens during our performance live when many fans go up in the stage to sing along with us and then everything goes in a mess.
How does your audience look like? Which people do you miss on your concerts? Which is the biggest band you ever have played together with?
-Our audience is pretty diverse and we like it because they are students, workers and friends. The biggest band we've ever played with is Nação Zumbi.

Please rank your five favorite records, five favorite concerts and five most important things in life?
-Five favorite records: Dead Fish – Contra todos; Ramones – Loco Live; Dream Theater – Awake; Pink Floyd – The dark side of the moon; Garotos Podres – Pior que antes.
Favorite concerts: Iron Maiden; Motorhead; camisa de Vênus; Pearl Jam; Pink Floyd.
Most important thing in life: Family; preservation of the environment; to express in music; the right to choose; to do what we like to do.

Is it boring with interviews? Is it much interviews?
-Interviews are not boring, they are another way to show band's work. Unfortunately there aren't many of them.

If you could choose five bands from the past and the history and nowadays and both dead and living bands to have a concert together with your band. Which five have you been chosed?
-Ramones; Motörhead; Olho Seco; Bad Religion; Os Replicantes.

Is music a good way to get out frustration and become a nice person outside the music?
-Music helps anybody feeling better. It can even improve our mood.

Which is the most odd question you ever have got in an interview?
-There are questions less important and questions we like to answer.

Futureplans for the band?
-Plays concerts and consolidate the new album as happened whit the other albums.<![if !supportLineBreakNewLine]>
<![endif]>
For yourself?
-To have fun playing with the guys and do a concert in Sweden.

Something to add?
-We want to thank you for the interview and we apologize for the delay in answer it.

<![if !supportLineBreakNewLine]>
<![endif]>