Electric Frankenstein is one of the best bands on Victory I think because they play a different style if you compare to the other bands there. Garagerockstyled punkrock which is very good. Please read the interview I did with the guitarist Sal in the beginning of august 2001.
---

History?
-EF started back in 1991, so this is our 10th year anniversary right now. EF
was put together because the scene was all shit alternative poop bands that
were boring and totally phony. Rock N Roll was in danger of disappearing
and I wanted to revitalize all that was great about Rock N Roll, so I
decided to create a band that mixed together the best song writing styles of
70s hard rock with the power, speed, and attitude of Punk Rock, then I added
elements of 50s Rockabilly, 60s garage rock, some 80s metal, and then mixed
it all together to create a frankenstein monster, hence: Electric
Frankenstein was born! I looked around for people to join the band that had
diverse backgrounds in rock n roll and we have kicked ass every since!


Please tell me a little about every member and something bad about every
member?
-Hmm. Each member, ehh? And something bad too? You want me to get in trouble
with the other members of the band, ha hah.
Steve Miller - vocals, before EF he was in The Crash Street Kids, he also
has a side band called "Cherry 13". Something bad: he is very hyper-active.
Carl Porcaro - lead guitar, before EF he was in Killing Time, Skin Kandy,
Mind's Eye, and Uppercrust. Something bad: he smokes too much!
Sal Canzonieri - rhythm guitar, before EF I was in The Thing and Doom
Patrol. Something bad: I spent too much money.
Dan Canzonieri - bass, before EF he was in Christian Death/Shadow Project,
Kathedral, and Empire Hideous. Something bad: he is always broke.
Rob Sefcik - drums, before EF he was in Fur, Mind's Eye, and Uppercut. He
also has a side band, a stoner rock band. Something bad: he keeps changing
girlfriends.

Do you have had many personal changes in the group?
-Once in a while. It is always because of practical reasons, since we are not
funded by a major label it is hard for people to be able to survive being in
a band. Nothing to do with personality factors, just practical logistics.
Steve was the orginal singer and current singer, when he joined EF, he was
still playing guitar in another band. When we were offered our first tour in
California, Steve couldn't go because his band was recording their album.
So, Scott Wilkins, ex- Verbal Abuse, was living in NYC at the time and
wanted to move back to California, so he toured with us for two years and
when the tour was done, he stayed in California. While we were out there,
we met up with Rik L Rik, he sang some songs with us during the encores. We
got asked by a label to do an album with Rik as guest singer, so we did. Rik
was in F-Word and Negative Trend, his was the first punk band in California
to release an album. He was part of the original punk scene in southern
California, along with the Germs, Weirdos, Avengers, Crowd, Adolescents,
etc. Anyway, after that, Steve was ready to come back, we got a lot bigger
by then and things have been getting bigger and bigger every since he came
back.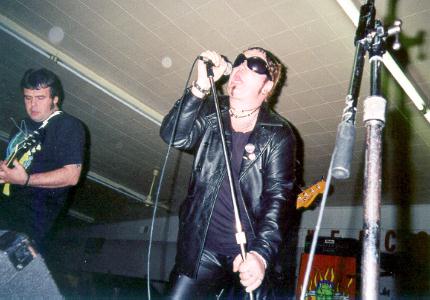 Have you any bands beside of Electric Frankenstein or do you had any good
bands before worth to mention?
-Me and Dan are also in an early 80s style hardcore punk band called The Kung
Fu Killers. Before that I was in the first Stoner Rock band in NYC during
the mid 1980s, called The Thing. We did a John Peel session for the BBC
Radio 1. Steve is doing a glam rock side band called Cherry 13.

You´re often taken as a garagepunkrockband, what about all these labels?
-I think the label Punk has gotten misused very much. Punk was always part of
Rock N Roll and now many pop bands and non-rock based bands have stolen the
term to give their shit music some credence.

What do you call your music yourself, please describe it with three words?
-We call our style High Energy Rock N Roll, because that is what we play.
That is the best way to say that we have elements of punk, garage, hard
rock, etc., all together to make something new.

When Johnny Ramone died , what did you feel then?
-Very sad and shocked! It seemed like it was impossible, like as if Jesus
died again.

If you could choose five bands from the past and now to play a gig with
Electric Frankenstein which five bands would you choose?
-MC5, Stooges, Alice Cooper, Mott the Hoople, and Ramones.

You´re band like Hellacopters and many other in the same style who gives
out records for many different labels, how come?
-Because that is the best way that you can reach the most people in the
shortest amount of time. We are fans of these labels and they are fans of
our music, so it is a much a thrill for us to have a record out on their
labels as it is for our fans to buy them. Plus, we have lots of great
artwork from great artists that we want to use, so we need records to
release them on!

What is the best you have given out so far?
-Hmm? You mean our best records? They are: Listen Up, Baby! On Man's Ruin and
the new one coming out in September, called "The Buzz of a 1,000 Volts!".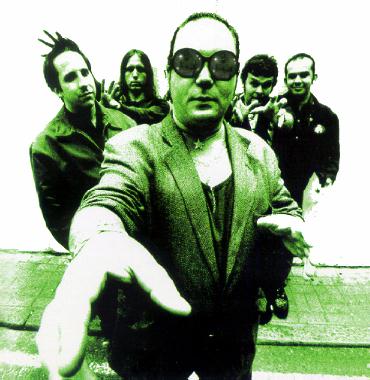 How did you came to Victory records, it´s not really their styled music?
-They have lots of different style bands on their labels, they have other
rock bands, like Hi Fi and the Roadburners, the Bad Brains, and so on. They
are a very strong label with a very dedicated staff that does a lot of hard
work, so I trust them very much. Other labels can be rip offs, they have
always paid me the right amounts.

What do you like the other bands there?
-Other bands on Victory that I like? Hmm, well Hatebreed, Intergrity, Earth
Crisis, Blood for Blood.

Is there any good bands in USA overall?
-Sure, great ones like: Hotbox, Nutrajet, Cherry Valence, Mooney Suzuki,
Supersuckers, etc.

What do you know about Sweden?
-Well, we toured there before about 5 years ago. Beautiful women, that's for
sure. Everyone seems to speak perfect english. I didn't think the food was
too special though. The home made liquor was very strong! It was a neutral
country in World War II.

Have you heard any good swedish bands except from Backyard Babies and
Hellacopters?
-I know there are hundreds of great bands from Sweden, many of whom I have
put on my "A Fistful of Rock N Roll" comps that I did:
http://listen.to/afistfulofrock <http://listen.to/afistfulofrock> .

How is it to live in USA? Is it violent?
-Ha, hah, it that what people think about the USA. No, it is not violent
everyday. Violent things happen to people that are putting themselves in
those situations, like drugs, robbery, etc. Really the US is still the land
of opportunity, it is the only place you can go from having nothing to
having everything and really doing something good for yourself and others if
you want to work hard to do it. Also, it is great being able to have access
to anything I want when I want it.

How is a good gig with Electric Frankenstein?
-Sure, we play all over the world, we record cool songs on great labels, we
get lots of press, lots of people love our music, and we kick ass. Girls
take off their bras and pull up their shirts when we play in California,
which is fun to see. We make a lot of people happy and that is the most
important thing about EF.

How does the average fan look like?
-Like a Ramones fan, leather jacket, jeans, t-shirt.

Do you have good contact with your fans, if you think you have in which
way?
-Always, I get lots of letters, emails, and also I talk to fans at all our
shows. I always make sure to make time to return any contact. Our fans are
very loyal and they go around looking for everyone of our releases. I help
them find the ones they are missing. Many fans suggest great bands to play
with or great artists to have do our covers or posters. Lots of fans tell me
that they had lost faith in music until they heard our music and read the
things I have said in interviews.

Is it important to have an own website as a band, if you think so, why?
-Sure, you get thousands of new people to find out about your band everyday.
Also, you can direct people to your website instead of sending paper in the
mail. Plus, we can have free music, information, videos, and lots more
available for the fans. We get like over 6,000 downloads a month or more by
fans on our mp3.com site. It has made us some much more well known, plus we
get paid for downloads, which pays our rent for rehearsal! Lots of new
people see us at shows and they always say that they discovered us via
mp3.com, which is great! I don't see it interfering as far as record
collecting goes, I see it more as an education tool, so that new people can
keep discovering us. Also, as far as our fans go, then can listen to our
songs there anytime and anyplace they want.

Do you have any advice to a new band who want to get a contract, what
shall they think about and what shall they not do?
-They should think about their future and how the contract will effect them
later and they should not be desperate and greedy or they will get screwed
in the end. Many contracts like good but in reality are a big rip off in the
long run.

How did you came up with the name Electric Frankenstein?
-By describing our style of music, mixing together elements of rock to make
something bigger and more poweful than what we started with.

Are you very interested in horror movies, have you any favorites that I
must see?
-All the old black and white films are still the best ones, like
Frankenstein, Bride of Frankenstein, Dracula, Wolfman, Phantom of the Opera.


How to make a monster was the last one, what´s happening right now with
the group?
-There was an album after that called "Annie's Grave" in the USA and called
"Don't Touch Me, I'm Electric" in Europe, it has songs produced by Phil
Caivano of Monster Magnet. We have a new album done and coming out in
September called "The Buzz of a 1,000 Volts", on Victory Records. It is our
best effort to date. It was done on 48 track tape, so it is loud and
powerful. We had a great producer, Ben Elliot, that worked on Nevermind, the
Nirvana album, Henry Rollins End of Silence album, Day of the New first
album, also he works with Eric Clapton and Keith Richards. So, he brought a
lot of experience to our recording session and our songs are super sounding!

You look so that you have been coming up in age, is age a relevant thing
to stop rock n rolling?
-I don't feel old and I have much valuable experience that is much needed.
The younger you are the more they try to rip you off. Rock N Roll attitude
keeps people young and keeps people from being stupid. If you look at many
of the bands, especially punk influence bands, they did not get popular
until the band members were over 30 years old, because it takes life
experience to write great songs that will last, not one hit wonders.

What´s the best and what´s the worst of being older you think?
-The best is that things are easy to do and figure out. The Worst is getting
fat easy and needing to do extra exercise.

Idols when you were small?
-Alice Cooper, Kiss.

First,last and the most expensive record you ever bought?
-First: Alice Cooper "School's Out", last: Killed by Death compilation, most
expensive: Gentle Giant "In a Glass House".

I got a feeling that bands in this style(garagepunk and so
on) are more in buying records with old stuff and more rock interested than
many other bands, have I right there?
-Sure, because they are looking at the time when rock was at it's
best and the music business was not as fake and controlled as it is now.

'Wisdomword?
-Always educate yourself as much as possible so that you can
do things for yourself and not get ripped off by crooks and fakes.

Futureplans for yourself?
-Have more kids, move to a bigger house, get more pets, keep
learning kung fu, write a book, write more articles, do more artwork, help
more people.

Futureplans for the band?
-Tour in Australia and Japan. Make an EF video game, an EF
art book. Tour with the Supersuckers.

Something more to add?
-It is really important for bands as they get bigger to help
other bands get more successful. Also, it is really important to make your
fans happy. It is better to help others as much as you can, because you
have to give back to the world as much as you take from the world.

Sal Canzonieri - Electric Frankenstein