Jessi have answered this long an dinteresting interview. Eastfield is a really good band from England which I must say that everyuone should look after…september 2020
Please tell me a little bit history of the group?
-Eastfield formed in Birmingham in early 1996. Nearly a quarter of a century later we've had many line up changes, released several albums but are still using the same 3 chords
Please tell me a little about every member in the group right now, age, family, work, interests and something bad about everyone? Earlier bands? Other bands on the side? Have it been many changes?
-Hah, having done this for a good while now, we're all a bit long in the tooth, so think around the fifty mark. Lots of people have come and gone through Eastfield, although some have stayed for a long time. There's been more dogs than kids around, any kids have grown up and left home. Some of us are employed full time. I took voluntary redundancy from my last job so am stretching that out doing bits of work here and there. We've been playing in bands since the early 80s, most you wouldn't have heard of. Concurrently during the Eastfield years, Trina often crops up as a guest vocalist on friends albums, Bill is still with Culture Shock and also drums for the A-Heads, Bambi moonlighted with Blyth Power and the Whisky Priests for a few years and I helped out General Winter, Raggity Anne, Blyth Power and the Bus Station Loonies for short periods. Apart from playing in some of those bands, I really wouldn't want to say anything bad about anyone ;)
I can hear much different influences but mostly punk and some anarkopunk? Favorites from the past?
-As far as musical style is concerned we aren't directly influenced by anyone. What comes out is what we do, and what we're able to do. There's never been any intent to copy a particular style. Having said that, life and associated experiences are bound to effect most of the things people do. As we grew up listening to anarcho-punk music then undoubtedly some of its influence has rubbed off. However, it's fair to say that attitudes to the likes of DIY ethos and personal politics have been a far greater influence than the actual music itself.
Eastfield are you satisfied with the name? How did it came up? You weren't afraid that some other band would be named like this? Which is the best bandname you know?
-Band naming can be a funny subject. There often will be "I wish I'd thought of that" moments. I like 'Eastfield' as it isn't an obvious choice, and is named after my favourite locomotive depot. Although, perhaps with our subsequent use of British Rail depot logos etc we could have used something fictitious that wasn't already the name of an actual depot. There may be a Christian rock group in America called Eastfield, we could happily challenge them to a rock-off.
There are loads of great band names, but for now I'll opt for our Birmingham mates: Drongos for Europe.
What´s the best thing with playing live? Have you been planning any new concerts now after the covid-thing?
-Our shows have become intrinsically linked with our social lives, so the best thing is catching up with friends all over the place. I believe the same can be said for those who travel to get to our gigs. There is also a good adrenaline buzz from performing. We had a great summer lined up with festivals and other gigs but due to the Covid restrictions these naturally all got cancelled. Most have been rescheduled for next year...provided those same events still happen. Next month, we're booked for a socially distanced gig in Guildford, so it'll will be interesting to see how that goes. In the meantime, we've been doing a few full-band acoustic outdoor sets to small groups of people. We've risen to the challenge and it's been both great fun and a chance to catch up with people. Those who've booked us have been nothing but lovely and looked after us well. This may well be the way forward in the short term future, which isn't a bad thing in the grand scheme of things.
And where is best to play? And the worst place?
-The best place to play is anywhere where we're welcomed and looked after. It's also more relaxing if the venue has somewhere to sleep so we don't have a long journey afterwards. The highlight of the year for a lot of bands is Rebellion Festival in Blackpool. Although the weekend can be full-on, it's always good to communicate, socialise and play to a lot of people.
The worst place we experienced playing was Rocklitz in east Germany. Sadly, because I have no doubt the people running the place meant well. However, the audience seemed to be more interested in table football than the bands, there were no toilets so I had to be resourceful for my pre-gig apprehension and the caravan we were offered to sleep in was covered in broken glass from its smashed windows. Needless to say we didn't stick around for long after the show.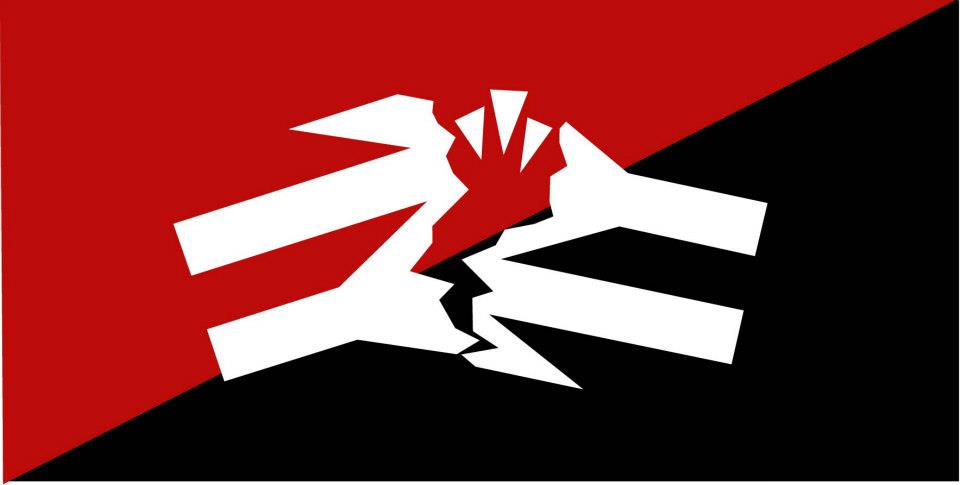 How is to play this sort of music in England right now? Which types of bands do you have concerts together with?
-Eastfield have never had too many problems getting gigs. Having catchy songs means it's accessible to a wide audience. However, when described as a 'punk band' some people imagine it's going to be noisy, unlistenable and negative. We like to play with any band that has a friendly and positive outlook regardless of their music style. If the room has a good vibe then it follows that people will have a good time.
How would you describe your music in three words? How did the Railpunk things come up? What does it mean?
-An old gig poster by Taf from Disorder described us as 'Trainspotting Brummie Nerds' which is pure genius.
Our music is commonly referenced as 'punk' and our lyrics contain many railway references so a friend jokingly called us 'Rail punk'. This was over 20 years ago and we claimed it. It's since become a genre, even if we're the only ones in it! There's a common misconception that 'all our songs are about trains', listen carefully and find they're actually not.
What does punk mean to you, is it only a word or is it a lifestyle?
-Definitely, a lifestyle choice. Personally, my life could be described as very 'punk rock', whereas I stopped listening to straightforward punk music in something like 1983!
Which song/album or group was it who took you into punk/hardcore?
-Initially, it was the more commercial bands that had records in the charts such as Sham 69, The Clash and the Sex Pistols. At the time the only obvious outlet for young people at school. I was lucky to have a few older friends that lent me records and a bit later would drive us to gigs.
What shall a young guy do today to shock their parents as the way we did when we were young? They have already seen everything ;-)?
-There was a lot of hysteria in the 1970s over things that weren't actually shocking at all. However, the use of swastikas on punk clothing was plain idiotic, offensive and hopefully anyone that wore one is totally ashamed. Trying to shock just for the sake of it, is paradoxically conformist and a waste of energy. Spending that energy on creativity, subterfuge and social change is going to be far more rewarding. Similarly there are better targets than parents to rebel against. My parents would be shocked if I wore a suit and got a mortgage, but I'm not a young guy anymore!
How is it to live in England right now? Politically? Fascists? Brexit? The Coronoavirus?
-With regard to party politics, things haven't changed too much over the last 20 years, no matter which government is in. Things aren't looking particularly rosy when there is presently a buffoon in charge.
There is a worrying resurgence of the far right with organisations such as the British Union of Fascists openly recruiting. Interestingly they're now blatantly calling themselves 'fascists' rather than trying to hide their odious views under the guise of some pseudo-credible political party.
After a lovely couple of weeks travelling seemlessly on trains through mainland European countries it was poignant coming back to a UK that voted to leave this same Europe. A high proportion of the 'leave' vote was based on xenophobia and a lack of clear understanding. Devoid of any concrete plan, tellingly the two biggest mouths behind the 'leave' campaign resigned from their respective posts directly after the result was announced. Why a government decided on a referendum in the first place is anyone's guess. Sadly, to now reverse this idiotic decision would make a further mockery of the notion of democracy.
On one level, the coronavirus has lead to an increase in humility and once again people looking out for their neighbours etc. Some people are being more respectful, others are not. A measured response based on common sense is needed rather than panicking irrationally. People getting carried away with mass hysteria is never a good sign.
Is there any good bands from England right now? Is the punkscene/metalscene/hardcorescene big? How is it in your hometown?
-There have always been good bands around. Over the years, 'punk' has developed into a broad church encompassing a lot of varied styles which keeps things fresh. I don't think the punk scene will ever be 'big' but it will always be around to play an important part of the subculture. It seems a more cohesive scene nowadays with people communicating and collaborating rather than the territorial bollocks of the early 1980s. Punk is thriving in my hometown...I live on my own in the countryside, in the middle of nowhere so it's just me! There are no mods here!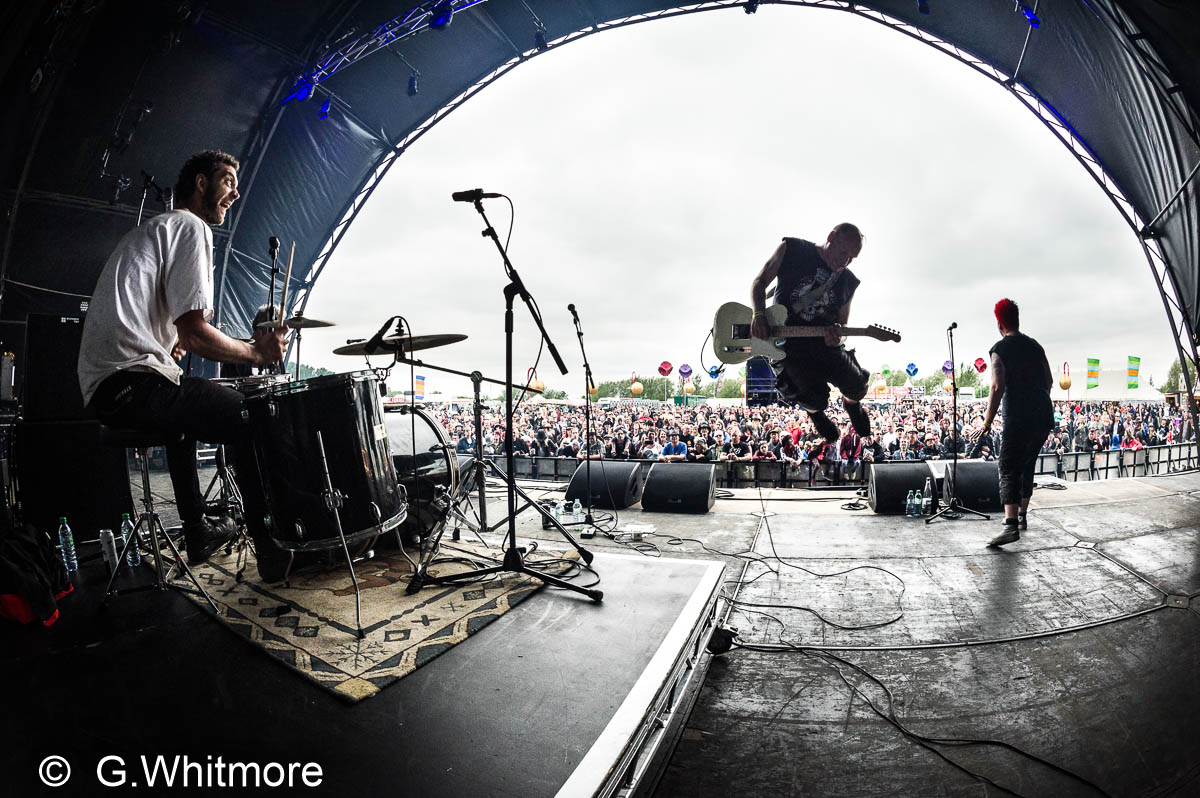 What do you know about Sweden? Have you been here sometime?
-Surprisingly, I've not seized the chance to go anywhere in Scandinavia yet. I must change that as travel always broadens the horizons.
Have you heard any good bands from Sweden?
-I've heard Abba, The Leather Nun and Roxette.
Your lyrics, who does them and what influences you? How do you do a song, is it one who does the ground and the others help out or how do you do it?
-Throughout, I've written all the songs, both the music and lyrics. Other members add their respective bits, I don't tell them how or what to play. The songs are influenced by life and especially from experiences when traveling around. That's where a lot of the railway references come from.
Is there any subject that you never will write anything about?
-Obviously I'll never write anything offensive, sexist, racist, homophobic etc. I'll also not write anything on a subject that I know nothing about. At the other end, I also have concerns about not being able to do sufficient justice to a worthy cause in the limited framework provided by a song...
Politic and music, does it goes hand in hand? Which is your most political song? Is it important to get out your opinions in music?
-...But I do agree that politics and music can go together. There are different aspects to 'politics' and any song that adheres to wanting to make the world a better place is going to be labeled 'political'. There's a lot of socio-political comment in our songs. On that note, it's important to get your own opinions out rather than to churn out someone else's.
Best political band/artist?
-CRASS obviously left a massive legacy on the punk scene. Elsewhere, Chumbawamba were great at mixing up the politics with pranks, fun and good tunes.
Do you think that music(lyrics and so on) can change anyones life, I mean people who listens to music?
-Music can instill positive vibes, bring a sense of togetherness and generally make people happy. I don't think music will ever burn down the houses of parliament.
Your favorite recordcover alltime? Who does your recordcovers? And do you have any good recordstores in your hometown?
-There are lots of classic record covers that go hand-in-hand with their respective albums but the one that always evokes memories of being a 12 year old discovering music for the first time is Sex Pistols 'Never Mind the Bollocks'.
For the last 20 years I've designed all our record covers having stumbled across a theme and stuck with it. Our bass player Bambi did the covers for the early 7" singles. I'm desperately trying to think where the nearest good record shop is to where I live! Sadly, a lot of the independent ones have long closed down, a lot of people tend to buy things online these days.
Is it important to get out physical records of your stuff? Why or why not? Vinyl, CD, cassette, what do you prefer if you could choose whatever ? How much do you sell of your record approximately?
-It's widely commented that back in the day there was always something good about holding a 12" cover, looking at the sleeve and reading the lyrics whilst blasting out the album. It made it seem more of an event. Likewise, going to record shops to seek out records or find bargains was exciting. There's still this with CDs, but to a far lesser extent as we all know they don't sound as good as vinyl. So yes, physical product is important. We come from the generation that doesn't understand downloads, I-Tunes and all that.
Each CD album has a pressing of 1000 (some more). Nowadays, the smaller distros have wound up so mainly we sell them ourselves both at gigs and by mailorder. The early albums having long sold out were later compiled on a run of 1000 double CDs, which in turn sold out a few years ago. With these songs no longer available, this collection has recently been updated, remastered and is currently at the pressing plant pending release. The last 2 albums also had a vinyl version – 500/300 copies, all sold out. Last year, the first 4 albums came out on 12" vinyl, co-released with small labels Urinal Vinyl and Dirty Old Man.
Please tell me a funny thing which have happened during your career and under some gig? Or some other place but with the band?
-At a gig on Mick's farm a few years ago, we closed our set with 'Another Boring Eastfield Song'. To prove that anyone can be in a band like Eastfield, we gave our instruments to various friends and invited others up to sing while we jumped down into the audience. Not only were they better than us, but it's the first and only time that I've been able to watch Eastfield live!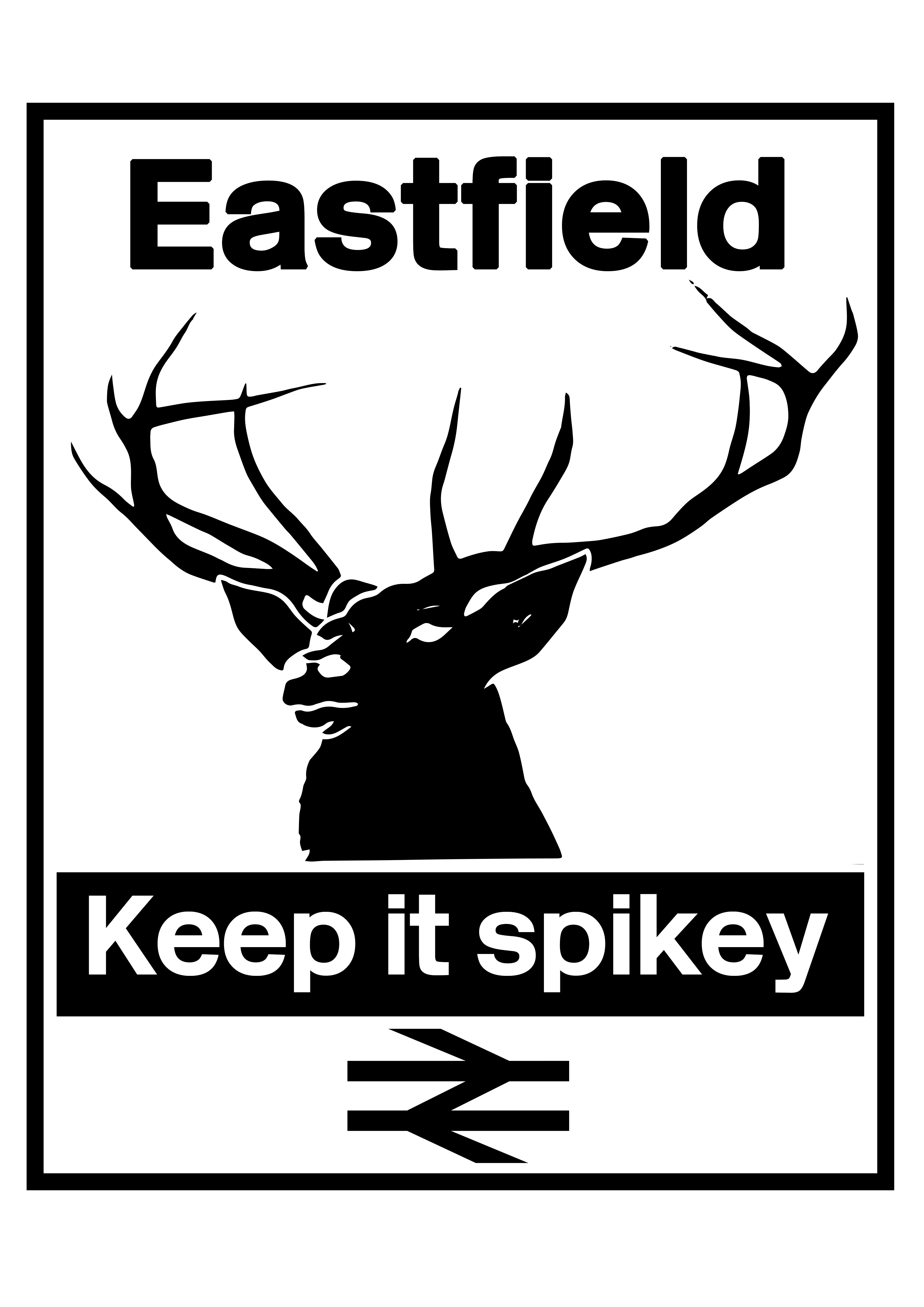 How does your audience look like? Which people do you miss on your concerts? Which is the biggest band you ever have played together with?
-Ha ha, our audience looks like us. It tends to be people roughly the same age plus their kids now they've grown up and started going to gigs. There are fewer people between these ages - possibly due to 'punk' music definitely not being in the public eye at the time these people were growing up.
A couple of years ago we played the main stage of Bearded Theory festival. We were directly followed by African Headcharge, Alabama 3 and New Model Army. All bands worthy of respect.
Please rank your five favorite records, five favorite concerts and five most important things in life?
-My favourite albums always change from time to time depending on current mood. Some records were bought and played to death when they came out and then subsequently not played for many years. Here are five that have stuck with me (in no particular order): Gang of Four: Entertainment. X-Ray Spex: Germ Free Adolescents, Siouxsie and the Banshees: Juju. Red Lorry Yellow Lorry: Paint your Wagon. Blyth Power: Wicked Men, Wicked Women and Wicket Keepers.
Likewise, I've been to thousands of gigs and wish I'd made a note of them all. Nowadays, things are memorable for a whole variety of associated reasons rather than the event itself. Maybe that was also true in the past when it was all new and exciting. A fairly recent one that blew me away was Mano Chao and Radio Bemba Sound System in Manchester 2001. Four others I've picked out from the past are: Siouxsie and the Banshees, Gloucester 1981. UK Decay, Stroud Marshall Rooms 1982. The Cure at the Elephant Fayre 1983. Virgin Prunes, Bristol Trinity Hall 1983.
As for five most important things: Friends, family, living space, respect and compassion. That should cover most bases.
First, last and most expensive record ever bought? And the most embarrassing record in your collection? Do you buy records nowadays?
-I tend to consume as little as possible so haven't had any new records for ages but last week I was given 'Pop Up' the new album by Jim Bob (ex Carter USM). The first albums I got were 'Never Mind the Bollocks' and Sham 69 'Tell Us the Truth'. I don't think I've paid over £10 for an album! Wait, I bought a Flesh for Lulu retrospective double CD for £12 or something, so that would be the most expensive but that's ok because it's great. I've got a couple of Betty Boo singles, which some people may find embarrassing.
Is it boring with interviews? Is it much interviews?
-I'm touched that people show the interest to send an interview, so I'll happily do them and as honestly as I can.
Do you care about reviews? Which is the most peculiar you ever had, with this band or any other band you have been to?
-Someone once said 'any publicity is good publicity'. Obviously, we all want to have good reviews. However, if we had a bad review we wouldn't rush to act and change anything as we do what we do. Anyway, it's totally subjective, people don't have to like it, but if they do then that's great. Some people think all our songs are simple sound the same, so I wrote 'Another Boring Eastfield Song' which has become a crowd favourite.
Some reviews totally miss the point. An early live review said we were 'Sid Vicious wannabes', which was completely wide of the mark - although the pa was particularly ropey that night and they may have missed what we singing about. Some idiot once said we were 'Three fuck-ups and a lesbian' – that was also completely wide of the mark but perhaps I'll write that song one day!
Which bands do people compare you to, is it boring that people compare you to other bands or is it understandable?
-Strangely, it seems to be a natural thing to do. We all do it. On hearing a friend's new band I usually say "It reminds me a bit of..." and then wonder why I have to use it as a reference. I think it was Maximum Rock n Roll that said we were what the Ramones would have sounded like if they'd come from Birmingham not NYC. I was quite touched by that. Others have compared us to the Rezillos due to the male/female vocal thing. I prefer it when people comment that they've been having Eastfield songs annoyingly going round in their heads for days.
If you could choose five bands from the past and the history and nowadays and both dead and living bands to have a concert together with your band. Which five have you been chosen?
-It would be dependent on which period the bands are in, some age a lot better than others. This would be a pretty cool festival line-up: Mano Negra, Flesh for Lulu, The Fall, Dreadzone and The Cult....oh, and Eastfield.
Is music a good way to get out frustration and become a nicer person outside the music??
-Definitely, although I like to think I've always been a nice person.
Which is the most odd question you ever have got in an interview?
-Eaten Alive fanzine had a run of asking bands 'Do you own a yucca plant?'. It still makes me laugh. For the record – no, I've never owned a yucca plant.
Which is the question you want to have but you never get. Please ask it and answer it?
-I quite like engaging in conversations related to the subjects covered by the song lyrics. To that extent I've been writing a book of the tales behind some of the early Eastfield songs. The process has been very stop-start due to life getting in the way! Despite the present restrictions imposed by the covid lockdown, it's still been hard to find the chunk of time needed to finish this. Note to self – pull one's finger out!
Futureplans for the band?
-The current global pandemic has created a massive uncertainty with regard to live work and booking gigs/tours etc. As mentioned earlier, we have the remastered retrospective 'Urban Rail Punk' double CD coming out very soon (October 2020). We've enjoyed doing the acoustic version of the band so later in the year will be recording stripped down versions of the songs from both that and the current live set, and releasing it as an acoustic album. There are a handful of new songs waiting to be aired, nearly enough for a whole album. Once they've been rehearsed and various restrictions have been lifted we'll go back into the studio and record the next album.
For yourself?
-There's always plenty of stuff that needs doing. I've converted a railway carriage to live in and adapting unconventional places without many of the usual utilities involves a lot of thinking outside the box. Not being away with the band will give some down time over the winter months to get stuck into work on that, and hopefully eventually finish the writing I mentioned earlier.
Wisdomword?
-Respect.
Something to add?
-It's been quite a long interview, so I'll just say "Thanks and good luck Peter".
Eastfield can be found at www.eastfieldrailpunk.co.uk
cheers