DystraLi has just released her new album and I like it a lot for us who are on this little quieter kind of punk rock in Swedish so I think Dystra Li will be a positive surprise for ... May 2014
A little history about the Dystra Li?
-Dystra Li started in 2010 as a fresh start of a punk band in Falkirk . We began by dropping a 12 track album and going out on a two-week tour of Sweden . Then we changed some members over the years, but the set we are today , we became the 2011Then we released our last EP Reset and then we have been out and played while working on the new album.
A little about each member?
- Oh , well what can I say , Jocke Berg , Bas - Alexander Gustavsson , Guitar, - Patrick Verdier , Drums - Marcus Wilsson , Guitar & Vocals There is not much to say about each person, but more that we are a good bunch who get on well together and we do most things together .
What does punk mean to you , it is just a word or is it a lifestyle?
-Punk is a lifestyle, then it's different from person to person, but you do not have a mohawk and leather jackers with studs to be punk.
How would you describe Dystra Li in three words?
- Attitude - Baste – Emotions
What are you being compared to?
-It's a little different , but most will be well Mimikry . But I've read and heard most of the comparisons from Swedish punk over the years.
Is it boring to be read in conjunction with others or do you understand reviewers who makes it ?
-It is clear that we want to find their own style but at the same time so you can find the inspiration from other bands and get ideas from other people's songs . I also understand that there is an easier way for reviewers to explain how your music sounds. It does not really matter as long as we think we are compared to the bands are good bands so it must be something positive. Get a review that sounds like Ebba Grön, Tysta Mari, Mimikry or similar so we see it as very positive . But, writes one reviewer that we sound like Kent we would probably quit playing.
What do you listen to otherwise ? Is there anything good in Sweden today?
-We are quite different in the band with what we listen to , It's everything from Ebba Grön, Astarte , Mimikry , Troublemakers Foo Fighters , AC / DC, Volbeat , to Springsteen and Gyllene Tider. So it's the most in Punk , Rock, Pop
Absolutely ! There are a lot of great bands and artists in Sweden .
Asta Kask , Mimikry , Troublemakers , Alonzo Fas 3 , the list goes on .
Music and politics does it goes ?
-Yeah music is probably the best way to get your views out so it's a perfect way to protest or speak your mind . Then it must not be politics but it absolutely can be.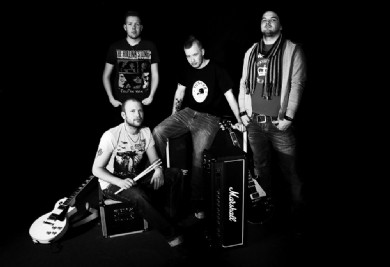 Best political artist / band ?
-Mikael Wiehe .
Best political song ?
- Ebba grön- We're only in it for the drugs
When we 're on politics, how do you think it is in Sweden today?
- The song " Why is it like this"(Varför är det så här) on the new album describes pretty well how I feel about Sweden today.
What do you think about the election this fall , Swedish Democrats, alliance?
-I do not know what to believe . But I think that the parties may start thinking about a bit, you go by the adage seen not so there is not then there is soon just a party. Aftonbladet writes great articles about what SD says and does , Facebook is filled with posts about what politicians in SD says and does , and as I wrote in a post a while ago so I can quickly name of any politician in SD , not because I chosen it myself but more to people informing me about it all the time. Sure there are negative things they write , but I still think that, unfortunately, is the SD will win it in the long run.
I think the red ones need to start going out with what to do to improve the school , elderly care needs. and do not provide SD or Alliance, lot of free advertising.
Stop talking about what other parties are doing wrong and start showcasing what you want to do good instead. As I wrote then , "You do not win a match by whining about the opponents, in and fight now dammit! " And it sums up pretty well what I think about the election, I think.
How does it work when you do a song ? Is anyone doing the whole song or how it works?
- Most of the time it's me coming with a songidea , usually only recorded acoustic with vocals , so there is usually a text and a melody. But then comes the all the ideas in the rehearsal room and you come up with things when you play it , so it's very rarely , almost never , as a song sounds just like it did when I brought it to the room.
Which is the biggest band you had a concert with. ?
-Yeah we played the West Coast in 2012 and then played the Rancid on the main stage , But I can not really say that we had a concert together with them. But I do not really know , I would think that Asta Kask is the biggest band we played with, not counting Vänsternäven that is 11 people.
If you could choose five bands to have a really good Dystra Li- concert together with, what would you want to , live like the dead ?
- Ebba grön, Ramones, Foo Fighters, Troublemakers and Mimikry .
I think I had gotten a really good night!
How do you see on downloading etc? Why was there a real CD ? (Good , I think )
-It's sad that it has become as it has become with people download anything from the web. You do not know exactly where it will end up on people who work with music , movie , etc. do not get paid for what they do . Then I have not always been God's best children either , I will not argue . But just with the music then of course Spotify anyway a fairly middle ground. Where you pay monthly to listen to music. Then should those who made ​​the songs get bigger share of the pie , you might think , but still.
The reason it became a disc was well that we always have felt that there isn´t something really released otherwise . You want a physical disc in your hand when you 're done with all the work . Then the economic part is just as it is. You never know before that you can never get back that money but hopefully to get the people to listen to us. So I hope that we will always continue to press discs for as long as we 're at it.
Is it good or bad for a group like yours?
- For my or our part, so I do not think it matters very much . Of course , anyone who was listening to Spotify bought an album instead so maybe we got them back the money we've spent on making the disc. But if one is to see the long term this is the chance to live on music considerably less because the download . So that way it's bad.
Do you play much concerts?
-Yes, it depends on how you look at it. We do now about 10-15 gigs per year. For some bands , it is , but we would like it much more. Now, a lot of focus has been on getting out the disc , so now that it is finished , we hope to go out again.
What kind of audience do you have?
-It's different . Everything from really hardcore punks to " ordinary citizens " and it is quite spread in ages , too, but mostly it is well 18-25 years of age.
How did it happen that you got the name DsytraLi?
- As I said, we was established in 2010 by a punk band we had. We discussed names and we came up with that most bands that have succeeded in this genre has a girl 's name in the name , Ebba Grön, Asta Kask , Tysta Mari , Mimi - kry etc. . So that was really the only idea we had. Then there was someone who came on Dystra Li . So there are no more ulterior motive with it than that.
When will your next album come then? Have you started thinking about it already?
- When I dare not really promise because this album took 1.5 years longer than we thought. But we have already started with the songs for the next album . Then we'll see if that makes a full length again or if it will be an EP . We'll see how many songs will be good enough.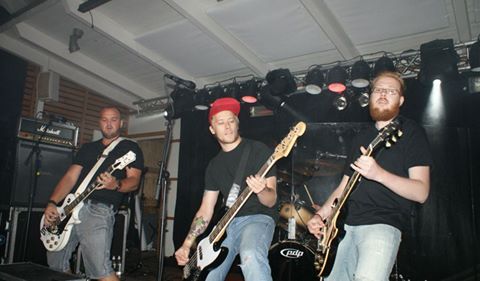 How will it sound ?
-Not a clue to be honest . The style of them songs that we have already done is the type same style like most on this disc. But one never knows . We're not so sure that we 'll stick to some certain style or so but we make music and songs that we think are good and then we can only hope that people who listen to us think the same .
Please rank your five favorite records, five favorite and five most important things in life?
-I've really have only two favorite records right now , because I listen to a band or artist continuously for a period . Then I get bored and find something else . So you get two discs.
Ebba Grön - We're only in it for the drawn and Foo Fighters - Wasting Light
Concerts ( In no particular order)
Thåström in Skövde 2011 (unsure of year)
Dropkick in Gothenburg 2013
Randy at West Coast Riot 2012
Volbeat in Gothenburg 2011 (unsure of year)
( Little Unexpected ) Mando Diao on Peace and Love 2009
Important things in life
my Girlfriend
my Dog
friends
family
Dystra Li
First, last and most expensive record you bought?
-First: Good question, it was certainly someone Absolute Kids or something similar , Smurf Hits or something.
Latest : 5 Foo Fighters records on a used record page on Facebook.
Most expensive: I have no idea actually, but if you put it in relation to how much money you have had to deal for every month then it should where the first.
The record you bought for a cheeky cover but that was so bad ? So your biggest record disappointment?
- This must be someone Absolute kids or similar ! But seriously , I think I never been so disappointed in a disc actually .
What inspires you to your lyrics?
-People! Things people do, things people say and things people know.
And of course, their own experiences.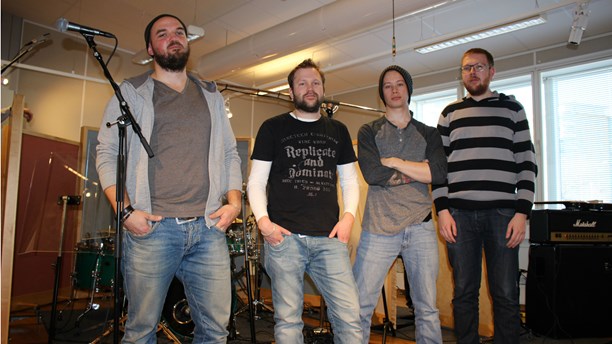 Future plans with the music?
-Now we're going out and playing and hopefully book a tour together again. Then we of course of course continue with the next album.
Future plans in private?
-Our future plans with music is our future plans private. This is what we live for.
Words of wisdom?
-I live by many principles but none of them is just as cliché-ridden as they are counted as words of wisdom.
Something to add?
-No, not more than that, I want to thank you for taking the time and make a pass like this extensive interview with us, and hope you enjoy the album!