Dysnea Boys is a really good band which comes from Germany and do music in the American way….april 2019
Dysnea Boys are:
Jason Honea – lyrics and vocals – from Sunnyvale California
Chris Frey – melodies / Guitar – from Vancouver Canada
Tom Fanore – Drums – From Germany
Dave Maule – bass guitar – From Aberdeen Scottland

Please tell me a little about every member in the group right now, age, family, work, interests and something bad about everyone? Earlier bands? Many wellknown bands? Other bands on the side?
-Tom: I love music, i teach music and i usually get up with some jazz and proceed to more alternative music throughout the day. I have a beautiful wife and 2 awesome kids. i like most spending time with them at my little hut in the woods. I also like watching soccer with a cold beer. I played in all sorts of bands from irish trad to Balkan/Klezmer and crossover stuff. This one is especially great. No side projects, we meet usually twice a week, that's enough workout.
I can hear much different influences but early punk and hardcore in the American way seems to the most influence? Favorites from the past?
-Jason: RF7, TSOL, Rik L Rik, Woundz
Dysnea Boys are you satisfied with the name? How did it came up? ? You weren't afraid that some other band would be named like this? Which is the best bandname you know?
-Tom: Most certainly not afraid that anyone else would come up with this name. I still like it. We are the Dysnea Boys and you can meet the Dysneas
i do think that "Giant Sand" is a pretty cool bandname
What´s the best thing with playing live? Or don´t you play live?
-Dave: free beer.
Tom: the best thing is to feel the energy and the power we can have on stage. Very cool to blow this stuff out and see how it lands.
Jason. The best thing about playing live is that it has more to do with the band's welfare although the audience benefits as well. Playing live is important for our psycho /emotional hygiene in that hones our sense of purpose, fine tunes our focus and keeps us in heightened communication not only with each other but also with those who choose to see us or spend any amount of time around us.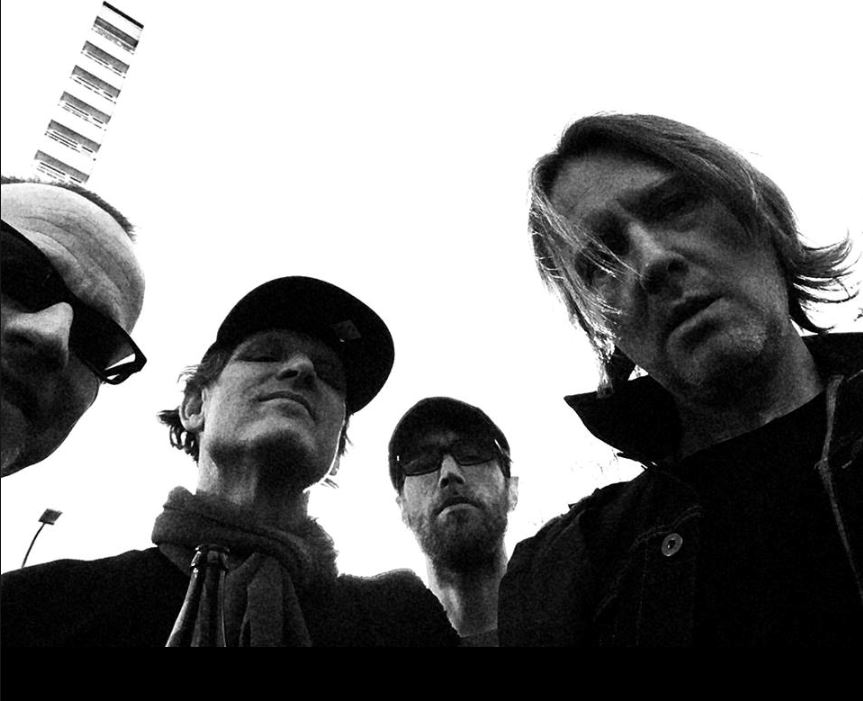 And where is best to play? And the worst place?
-Tom: you can play shitty or great in any place. It's nice when the people running the gig are not all over the place and on top of their logistics.
How would you describe your music in three words?
-Tom. Raw, dense, sweaty
Dave: Really really good.
What does punk mean to you, is it only a word or is it a lifestyle?
-Tom: I play some sort of punk and I love doing that. Being a drummer in a (post?) punk band does not change my lifestyle too much. Most music i listen to right is pretty far away from punk, I am not sure if that disqualifies me as a punk. Playing in punk venues is fun and the punk bands i listen to now and before are making me feel pretty good.
Jason : Punk is all that which I've gathered within me after everything I've experienced and have decided to keep. It serves me in that it is a vessel more primal in nature that allows me to communicate with the culture around me and reaffirms constantly everything in my heart, mind and soul and gets me as close as I possibly can to the divine while still inside my body.
How is it to live in Germany right now? Politically? Fascists?
-Tom: I like living here. Berlin is not exactly the typical Germany but for me and my international family (Canadian/German) it's a great place to be. it's not too hard to track down fascists in any place in Europe
Dave: Dumb question
Is there any good bands from Germany or USA right now? Is the punkscene/metalscene/hardcorescene big? How is it in your hometown?
-Jason. Diät, Sick Horse, Life Fucker, Stink Hole,Urin, Idioto Civilizzato
What do you know about Sweden? Have you been here sometime?
-Tom: I have been 1 afternoon in Sweden when I was around 12
Dave: too expensive
Have you heard any good bands from Sweden?
Dave: Are Refused from Sweden?
Tom: I love Fireside.
Jason : Ebba Grön, Crude SS
Your lyrics, who does them and what influences you?
-Jason: I do! Quest, Transformation, Transcendence, Atmosphere. They're not always supposed to tell you what the song's 'about'.
Do you think that music (lyrics and so on) can change anyones life, I mean people who listens to music?
-Jason: Lyrics are the song within the song. They're written independently of the song and they completely stand on their own and apart from the song and I use my voice to animate them. Working on what I think lyrics can do always gives me the feeling that I'm still experimenting with what I think works about music and that alone has certainly changed my life!!
Tom: Oh yes big time. Both. In my case it's more the music. I don't pay too much attention to lyrics usually. Yes i know i should but that's just the way it is.
Chris: I do think music and lyrics have the potential to affect people's lives. Music and pull you out of a depression or help you wallow in one. Music and inspire you to be kind to Animals or punch villains in the nose. Music can enlighten you about injustice or fill your heart with warmth. The entire point in making music to share (there is also music that is made to remain secret) is to touch the listener and connect on some level that you might have in common.... there's also situations where the song can move individuals profoundly in ways the the artist never intended. You never know how the message is going to land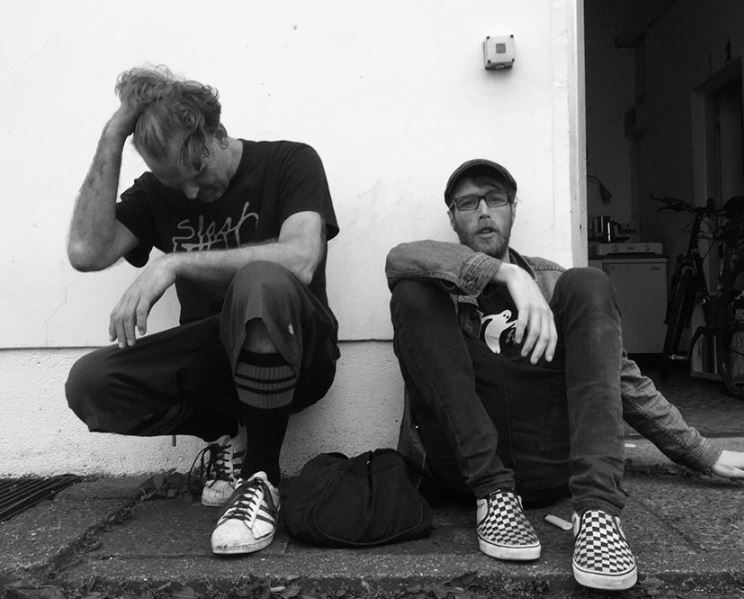 Your favorite recordcover alltime? Who does your covers? And do you have any good recordstores in your hometown?
-Jason: Frantic city by Teenage Head, Led Zeppelin II's gatefold interior praphic of the monument, The Fall-early Fall 77-79
-Chris- the cover of "Forgot How to Read" was done by my friend Shay Semple from Vancouver Canada. The cover of "I Scare Me" was also done by me friend Jeffro Halleday, also from Vancouver Canada. Check out these guy's work online, brilliant artists.... Berlin is no my hometown and the record stores I like here are Static Shock and Do Do Beach. Though I mostly buy used records at the flea markets....
Tom: Best record store ever: "Plattenlädle" in Reutlingen. I might have to mention that i worked there for 12 years. Impossible to say what cover I like most. Too many out there.
Is it important to get out physical records of your stuff? Why or why not? Vinyl, CD, cassette, what do you prefer if you could choose whatever?
-Tom: I like record most but I don´t mind CD´s either
Jason: Yes. Our records answer your prayers.
-Chris- Vinyl is king, I always hated CD's. Cassettes are still pretty cool....
Dave: Yes
How does your audience look like? Which people do you miss on your concerts? Which is the biggest band you ever have played together with?
-Tom: I played with the Hooters once (not so good).
Please rank your five favoriterecords, five favoriteconcerts and five most important things in life?
-Tom: Records: I once tried to narrow it down to 10 but ended up with around 50. today`s pick:
Barkmarket: Gimmick
Chris Whitley. Din of Ecstasy
PJ Harvey: Dry
Avishai Cohen: Gently disturbed
Songs Ohia: Didn`t it rain?
First, last and most expensive record ever bought?
-Tom: First: Teens: 1, 2, 3, 4 red light (1980)
Last. GoGoPenguin Man Made Object (Yesterday)
Most Expensive: Probably a Motorpsycho Box Set
Jason: Rik L Rik
Is it boring with interviews? Is it much interviews?
-Tom: No that´s actually fun. Makes me think about stuff
Dave: yes and yes
Do you care about reviews? Which is the most peculiar you ever had, with this band or any other band you have been to?
-Jason: I like to know that people are checking us out. I don't want to know the reviewers opinion but I do want the reviewer to describe the record for other people who might be curious.
Dave: No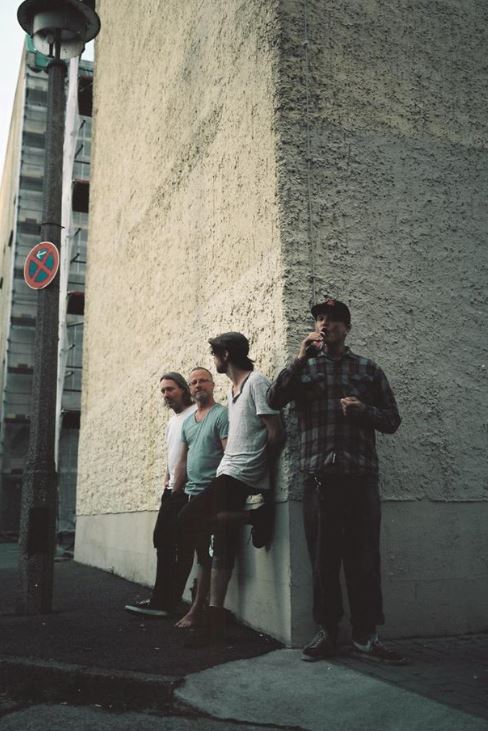 Which bands do people compare you to, is it boring that people compare you to other bands or is it understandable?
-Tom: I don't think there is anything wrong with being compared with other bands and music. In our case i do not believe that a big number of songs sound like the same band. We come from so many different backgrounds and we also have different tastes. How we sound is just the result of throwing all that into a rehearsal space. If any of us is replaced by another musician it automatically sounds different
If you could choose five bands from the past and the history and nowadays and both dead and living bands to have a concert together with your band. Which five have you been chosen?
-Tom: Barkmarket, Fireside (Or not, the one time I saw them live they had a pretty bad day…, Bob Marley, Doors, No Means No
Is music a good way to get out frustration and become a nicer person outside the music??
-Jason: Frustration isn't really an issue with me anymore. If anything playing music keeps me connected to my real self and helps me understand why I behave like I do.
Tom: i get grumpy when I don't play enough drums so the answer is most likely yes. Definitely a way to let go of stored negative stuff i am carrying around.
Which is the question you want to have but you never get. Please ask it and answer it?
Tom: Are you interested in opening for "no means no" (that would have to come from their actual promoter and i don't think they are still playing)
-The answer is: Yes
Futureplans for the band?
-Dave: world domination
Tom: I think if we keep on having fun we're all good
For yourself?
-Tom: Same
Something to add?
-Tom: thanks for the thinking about so many questions