After Thunder Express and Hellacopters so went Strängen or Robert Dahlqvist as he also is known as over to sing in swedish with Dundertåget. Here is a short inteerview about this done in the beginning of March 2011.
How did it became so that you went over to swedish from thunder Express to Dundertåget. The chances to get big outside Sweden is smaller?
-It suits me better and I feel more comfortable with singing in swedish.

Is there any interest from other countries than Sweden for Dundertåget?
-Not directly, but I have done some interviews with some norwegian journalists.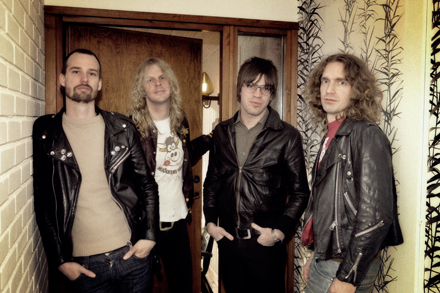 It feels like if you plays modern progressive music in the sweidsh old style, how would you describe your music?
-Rock in swedish.

How much does a record with Dundertåget sells today?
-Around 3000 I think.

I understand if you could live on your music when you were playing in Hellcaopters but how is it today? Do you work anything on the side?
-I work as a bartender sometimes.

Are your songs being played on raduo much?
-I don´t know, don´t listens to radio because there they play mostly idol-shit.

How much do you get paid if your songs is being played on radio..do you know that?
-Not a clue, phone Stim.

Who have you the name Strängen?
-Boba

Will you go out and play together with Sundström again?
-Yes, this summer.

The other ones in Dundertåget, can you present them and tell me if they´re playing in any other bands right now than Dundertåget?
Jesper Karlsson drums
Jens Lagergren bass (Hello Saferide)
Robert Pehrsson guitar (Death Breath)

Hellacopters is finished totally or is it any hope of a reunion?
-No more Hellacopters

Can you miss your time with Hellacopters?
-Sometimes

Have you any contact with the other one in Hellacopters? What do they do know?
-I don´t want to talk about Hellacopters, sorry.

Is there anything new on it´s way with Dundertåget?
-It becomes a new record later this year.


Which company?
-Same as before, Razzia.

Is there many gigs with Dundertåget? Where is best to play?
-It depends if there is any interests for us. It´s very different.

What is the most peculiar which have happened on stage or in the audience? Tell us....
-Hmmmm I can´t can come up with anything.

Another scandals?
-Nope!

Dom feta åren är förbi(The fat years is going by)...was it something special thought with that?
-The title comes from some german movie which is about 3 activists who does burglary in rich peoples homes without taking anything, just turn the apartment up and down and destroys.

Is it you who writes the songs?
-Sundström and me most, it´s written the records.

What are they inspired of?
-Life

Is it more difficult to write in swedish than in english? It is easier to be pathetic?
-For me it´s easier.

The best songwriter who writes in swedish?
-Ola Magnell.

Nicke Borg will be in the Eurovision Song Contest..is it something that you could imagine to do?
-I rather stop playing music than be in that shit.

Futureplans for the band?
-Eecord a record and tour.

For yourself?
-Record a record and tour with Dunder & Sundström.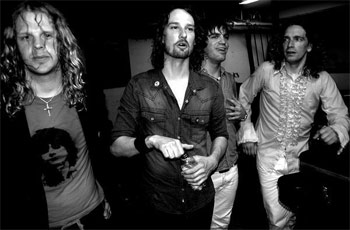 Five favourites right now?
-Black dub, Black dub
-Rolling stones ,Exile on Main St. (vinylbox)
-Neil Young, On the beach
-Alice Cooper, Love It To Death
-Leon Russel, Carney

Wisdomword?
-Be nice

Something to add?
-No