Duncan Reid and The Big heads plays an old styled new wavish punkrock which is really good to listen to. I hope that more people give them a chance so please read here and then after look after their records! June-2017
Please tell me a some history of the group?
-We've been going four years now and have just released our third album which everyone agrees is the best thing that has ever happened to music! ;) We play Punk Rock with tunes and are the hottest live band you will ever see in every sense of that word.
Please tell me a little about every member in the group right now, age, family, work, interests and something bad about everyone? Earlier bands? Other bands on the side?
-Karen Jones is the drummer. She comes from Wales and when she's not drumming she teaches self defence to children. Her kick is worse than her bite. She also drums with Pete from the Vibrators.
Sophie Powers is the most dangerous women in the world. Men have died trying to out drink her. In the past she has sold sand to Arabs, ice to Eskimos and beef to Argentinians. All have fallen for her persuasive charms and then died when it was time for a drink. She has played in the Shebeats and is Joan Jett's abandoned love child.
Nick Hughes is the world's tallest man and has more ink per square centimetre than a squid on heat. He plays with an average of seven bands per day including the Role Models and Love Zombies.
I can hear many different influences but mostly early punk, new wave, glam etc.? Favourites from the past?
-We are a cross between The Ramones and The Beach Boys. I love anything with great tunes, great guitars and great backing vocals.
Duncan Reid and the Big Head: are you satisfied with the name? How did it come up? You weren't afraid that some other band would be named like this? Which is the best band name you know?
-I think if I started now it would just be The Big Heads. Too late to change though. No one has copied it so nothing to fear there it seems. I am told I have an overabundance of self-confidence so the name seemed appropriate.
I don't know the best name but I do know the worst: The Revolting Cocks.
What´s the best thing about playing live?
-The fun. Being great at it helps, which we are. Just seeing all those happy faces. It's a particular thrill when you go places you haven't been before and people know your new songs.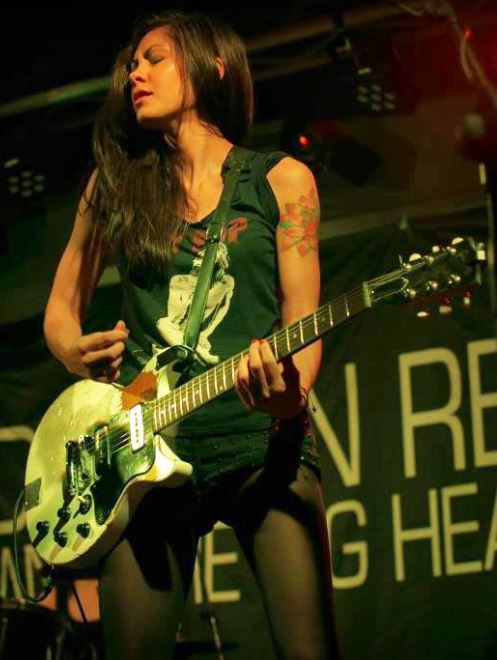 And where is best to play? And the worst place?
-I can't think of a bad place to play. You make of it what you will, although having bad monitors and not being able to hear yourself sing is always a pain. Everywhere is good with a great crowd. Stockholm is always great and it's really exciting the way crowds are growing in Malmo.
How is to play this sort of music in England right now? Which types of bands do you have concerts together with?
-Like everywhere this music is right out of fashion so it's a niche market. There's still an appreciative audience though. Last Saturday we played Camden Rocks festival which had 250 bands on so there was every type of rock band there. In August we play Rebellion and will be an oasis of melody among the hardcore.
How would you describe your music in three words?
-Heavy Melody Power Pop Punk but I can't count!
What does punk mean to you, is it only a word or is it a lifestyle?
-It's a state of mind. Let's be original in a DIY way at low cost while looking as cool as Johnny Thunders.
How do you see downloading, mp3 and that stuff?
-I think vinyls are best. A beautiful artefact with the best sound. But I love Spotify as well. It's great being able to discover loads of music you like which isn't played on the radio. The worst is YouTube. Google, its owner, is a horrible, monopolistic company, hell bent on wiping out its competition while paying as little as it can get away with to the people who provide the content it makes money out of. With Spotify they explain: "we keep 30%, content owners get 70%". YouTube won't explain how they pay out while distributing a quarter of what everyone else pays.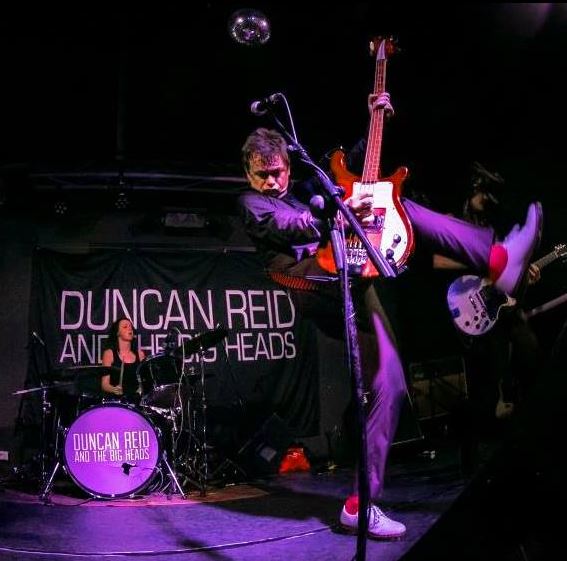 How is it living in England right now? Politically? Brexit? The Manchester thing?
-The Manchester bombing and London incidents were horrible and a tragedy for all the families affected. Unfortunately it's not unique to England. France, Germany and other countries have had attacks too so it's a Europe wide problem.
I'm very depressed about Brexit. It's important to remember that only 36% of the electorate voted for it: the largest minority but hardly the will of the people. In the main older people voted for Brexit and many younger people didn't vote at all. I'm hopeful that the recent election, where many younger people registered to vote for the first time, will lead to a reversal of the referendum and the entry of a beautiful word into our language: Briturn.
Are there any good bands from England now? Is the punkscene/hardcore scene big? How is it in your hometown?
-Yes. They are Scottish, not English, but Heavy Drapes are great, as are Cyanide Pills from Leeds. The Urban Voodoo Machine are always good as well. The punk scene is not big although certain bands like the Damned and Cocksparrer do well. I know nothing of the hardcore scene. London is the same as elsewhere in England.
What do you know about Sweden?
-I know only that it is a country full of good looking, lovely, friendly people who speak a silly language. Many of its inhabitants have become good, close friends who always seem willing to help. You are a serious nation until you are drunk when you get even more serious. But you go bonkers at gigs!
Have you heard any good bands from Sweden?
-I think the Hives are great and really enjoyed Heavy Tiger and Stupidity when they played with us.
Your lyrics, who does them and what influences you? Is it easier to do lyrics now or was its easier to do it when you was younger?
-I write them. I sent out a press release saying the new album is about life, love, paranoia and Viagra which covers it. I write about my life and other lives I see.
When I was younger I couldn't write songs. Now it's relatively easy.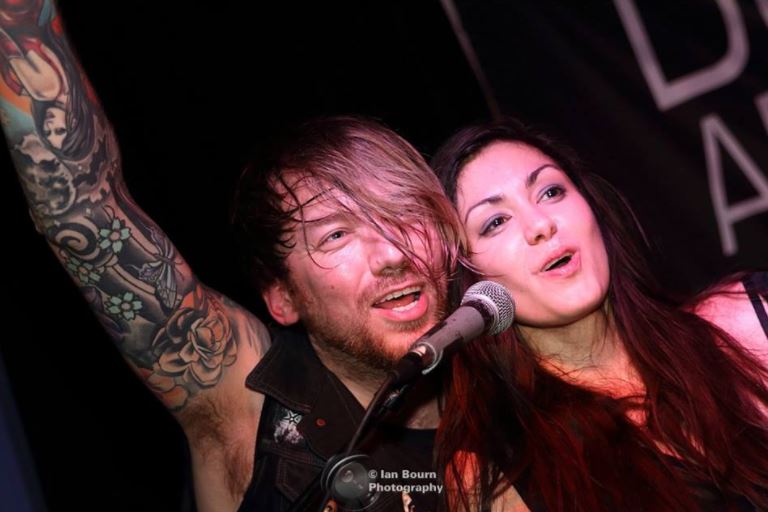 Is there any subject that you never will write anything about??
-Dog training although I might now have set myself a challenge. I try to avoid being gratuitously offensive.
Politics and music, do they go hand in hand? Which is your most political song?
-The only political song I have ever written is Bombs Away. Politics doesn't work for me when it is sloganeering so it depends who is doing it.
Best political band/artist?
-Woody Guthrie and the Clash
Do you think that music (lyrics and so on) can change anyone's life, I mean people who listen to music?
-I think that music is most powerful and life forming when we are teenagers. That is why older bands who are perhaps way past their best continue to do well as there is a nostalgia element to it. As we get older, music has less ability to be life changing but it still has the ability to be very enjoyable.
Your cover on your CD looks really nice, is it important to have a record cover which shows people which type of music you play? Your favorite record cover? Who does your covers? And do you have any good record stores in your hometown?
-In this digital world albums are becoming less followed, but to me every aspect of an album is important. The running order and all parts of the sleeve. The best sleeves have plenty of images to look at, lyrics and copious amounts of info about the songs and the album. I think we have achieved that on all our albums.
I chose the photos for the sleeve including the front cover and roughly how I wanted it depicted. My vision was developed brilliantly by Steve Green and his team at green square. They were really in tune with it and took it to a level I could not have.
My favorite sleeve is The Ramones first album. It has them in their classic pose and look which is still copied to this day.
We don't have record stores as good as Folk a Rock in Malmo or Freebird Records in Dublin.
Is it important to get out physical records of your stuff? Why or why not? Vinyl, CD, cassette, what do you prefer if you could choose whatever?
-Yes, physical product is important to me for all the reasons I've talked about in relation to covers. Vinyl is best, CD is great, and cassettes are stupid. You can't skip to tracks, they don't sound great and they break.
Please tell me a funny thing which have happened during your career and under some gig?
-It wasn't funny but I was once shot at during a gig in Spain. I could feel the bullets going over my head but I didn't know they were bullets until afterwards when I was told the gunman had been grabbed by the police!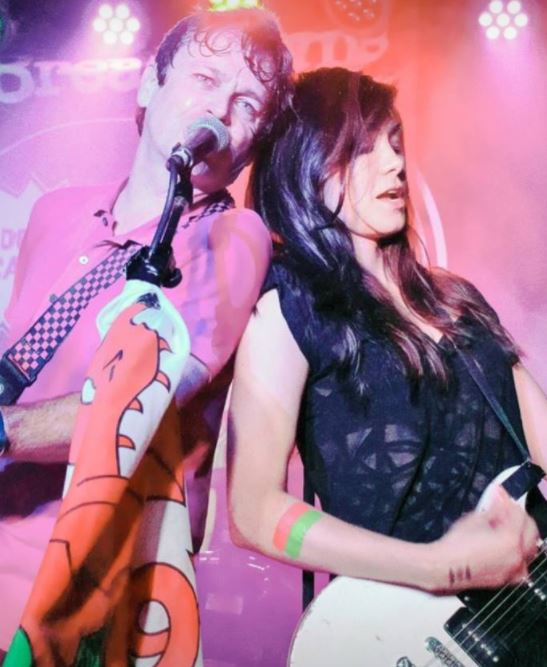 What does your audience look like? Which people do you miss at your concerts? Which is the biggest band you ever have played together with?
-Our audience is almost as good looking as we are although they can never be as handsome of course! I have guested with Die Toten Hosen three times (i.e. not supported but actually played with them). On one occasion I jumped off the drum riser and went flat on my face in front of nearly 20,000 people!
Please rank your five favorite records, five favorite concerts and five most important things in life?
-It changes all the time but:
Records: Ramones 2nd album, Sergeant Pepper, Strawberries The Damned, The Best of Chuck Berry, Mrs Magician
Concerts: First time I saw The Ramones, First Time I saw Johnny Thunders Heartbreakers, The Stones comeback at London O2, Bruce Springsteen River Tour, Cyanide Pills at Riverside Rebellion
Things: Family, Band, Health, Happiness, Peanut Butter
First, last and most expensive record ever bought?
-First: Groovin with Mr Bloe, can't remember, never spent a fortune.
Is it boring with interviews? Is it much interviews??
-Interviews are fine. I do a lot but it is hard to stay fresh.
If you could choose five bands from the past and nowadays, both dead and living bands to have a concert together with your band. Which five would you have chosen?
-The Ramones, The Heartbreakers, The Undertones, The Rolling Stones and The Beatles. That should draw a crowd!
Is music a good way to get out frustration and become a nicer person outside music??
-To become a nicer person! No, I don't think so. Many musicians become complete self centred twits because people are too nice to them. And music can be the source of great frustration. Why do they play such crap a lot of the time on BBC Radio 6 when we are so good, for instance.
Which is the most odd question you ever been asked in an interview?
"Tell me about the first time you ever had sex. What was it like?" Another interviewer asked "What is your attitude to sex now that you are older?" I thought they were odd questions.
Which is the question you want to have but you never get. Please ask it and answer it?
-"How do you manage to be so brilliant?" Answer: "It's easy".
Future plans for the band?
-To keep on fighting the good fight.
For yourself?
-To stay alive.
Wisdomword?
-Briturn
Something to add?
-Two and two?