I interviewed Dropkick Murphys some years ago and now it´s time for a new record and some new questions. This interview took place in the beginning of june 2005.
What have happened since I last interviewed you five -six years back in time?
-Sheesh, quite a lot. That would put us back to 1999...Well, we gained a guitarist, lost another one, gained another. Got a bagpiper, lost him, got another, gained a tin whistle/mandolin/multi-instrument guy, lost him, and got another one. Marc learned to play piano....
Since '99 we've toured all over Europe, Scandinavia, the Far East, the South Pacific. Guys have had children and started families, we've made more friends around the world and played gigs and places we've never expected to.
We've released 3 studio albums, 1 live album, and a host of singles since then...Jeez, we've done soooo much since that time.
What´s the difference with playing nowadays if you compare when you started to play?
-I am more critical of my playing and harder on myself. Our sets are no long 1/2 hour--they're more like 1.5 hours!!! Usually about 27 songs a night for us.
Have it been many personal changes through the years?
-Yes, we've all definitely grown mentally/emotionally since we started or joined. I grew up quite a bit, and I think Marc(who was 17 when he joined) grew up in front of us!
You´re satisfied with your new CD I understand, it´s a little bit harder style on it I think? Howcome?
-Yeah, we're extremely happy with the record. I don't know how much harder it is than previous efforts... we just write what we write, put the best songs we can on the record, and hope people dig it.
My review is like following "DROPKICK MURPHYS-THE WARRIORS CODE(CD-HELLCAT RECORDS) It feels like if Dropkick Murphys have been with little bit hardermusic. But they haven't forgot their irish folkmusicroots and that am I really happy for because that have been their style for so many years and the thing they have been known for. In The Warriors Code they almost sound like Rancid but with an irish background instead of skamusic. I become both happy and angry in the same time when I listen the music because their irish tunes makes me in a good mood but in the same time I feel the strive to fight and feel a little bit angry in the same time. A really nice feeling actually...(EIGHT) 31/5-05" Any comment on this?
-Thanks a lot for the good review! I don't think we sound very much like Rancid, but everyone has their opinion. If our music can make you angry, that makes me happy! It's an interesting review, and I can tell you enjoy the album-- thanks, as that is a definite compliment to us.
Which is the most peculiar review you ever have got?
-Nothing comes off the top of my head. I do know there have been a few hilariously uninformed ones, but I forget...
Do you care about reviews?
-It depends. If 95% of them say we suck, then it's a problem. Other than that, they're fun to read, as it's the opinion of someone from 'outside the box' of something we created. Whether they're good or bad, it doesn't matter. We do what we do, and that's all we can do.
Have you veer changed anything after a bad review?'
-Maybe if a live review said we weren't tight, we'd strive to practice more!
You´re still have the irish sound, is it important to you to keep that?
-I suppose it is part of why we are where we are, but when we write songs they normally come out in that sort of structure. I think it's one part, one facet of our sound, though. We write a lot of harder, hardcore-influenced tunes(I'm talking proper hardcore punk, not that metal stuff!), and more classic punk sounding stuff, so the Irish sound is but a piece of this.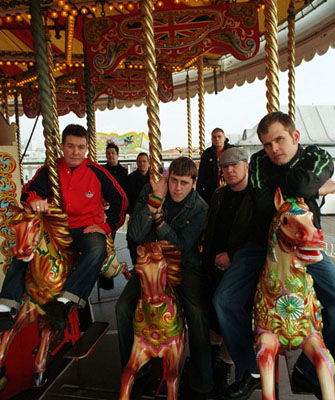 What does the word punk mean to you, is it only a word or is it a lifestyle?
-Punk means a million things to a million people. I loosely interpret it for myself as not being caught up by society's trappings. Not remaining content with pop culture, youth culture, television, radio, etc. and doing things for and thinking for yourself. Don't listen to music because it's being forced into your head by the radio and/or TV. Not watching stupid 'reality TV', stupid so-called 'alternative' radio, etc. Just being aware of your surroundings and what's going on in the world. I could go on forever, though.
I think punk has definitely been watered down in recent years. It used to be quite subversive and a true alternative subculture. Now it seems to be a marketed form of rebellion that you can buy at a shopping mall. There a lot of people keeping it real with punk, but many more who are caught up in 'how punk' they are, or who is or isn't punk.
In short, punk is not easily explainable, I guess.
Was it more important to say that you were a punkband back in time?
-Not really, except that people were always calling us an Oi! band(Oi! had always been a big influence), and we'd say, "We aren't an Oi! band, we're just a patriotic punk band". Sometimes people can be embarrassed by saying they're in a punk band, but we aren't. It's pretty much what we are, but doing it our own way-- which is pretty much the idea of punk after all...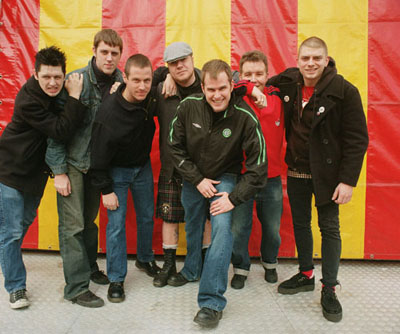 Is it many interview? Is it boring?
-Nah, it's interesting to put your thoughts down on paper/computer and seeing it years down the road.
The most asked questions? And the question you want to have but you > never get?
-Normally this IS the most asked question!!!! hahaha.
You have been to Sweden and played, what do you think about Sweden?
-It's always a pleasure playing Sverige. The gigs are fun, the people are friendly in general, and I like the ancient history.
What is typical swedish?
-Vikings!!!, and the Swedish Chef!, Swedish Fish, and people chewing General Snus(bleccch!!)
Have you heard any good swedish bands?
-Many, yes. I like Agent Bulldogg, and many others. We saw a reunion of the NOMADS with various guest appearances at the Hultsfred Festival a few years ago-- they were amazing!!!!
Is there any new bands you want me to listen to that you really like > and want many more people to hear?
-Aaah, I thought you'd never ask! Here's a list: RATTLE BATTLE( www.rattlebattle.com ), TOMMY AND THETERRORS( www.tommyandtheterrors.com ), THE TAMPOFFS, THE PUG UGLIES, THE REDUCERS S.F., THE TURPENTINE BROTHERS, DEADLINE(UK), FAR FROM FINISHED( www.farfromfinished.com ), OUT COLD, FOR THE WORSE, SLUMLORDS, RAT CITY RIOT, NUTS AND BOLTS, ARGY BARGY, SUPERYOB, ACEFACE(UK), and probably a million more!!!
Are you still getting kicks when you hear something good and new?
-Absolutely. I put on the TURPENTINE BROTHERS lp recently, and was blown away by it. That's the best part about music-- when it catches you off guard and you're really shocked at how great it is.
Futureplans for the band?
-We release "The Warrior's Code" on 21 June(in the US), go on the Warp Tour 'til mid-August, play festivals in the UK and Europe to the end of August, and a bunch more stuff to be confirmed.
For yourself?
-I just got engaged, so I'll be getting married soon!!!
Something to add?
-We appreciate the attention and interest in the Dropkick Murphys. Please visit our website at www.dropkickmurphys.com for more information.
Wisdomword?
-"Let all men know thee but let no man know thee thoroughly." --Benjamin Franklin