This german group is one of the better ones I have heard in years from Germany and I´d had to interview them. This was done in October-2010. They have answered the questions down here and see that Lars have red, Arne blue and Tom green text.
History?
-Lars: The first time around we have been in 1993 when we formed the 4 piece outfit DROOGIE BOIS from the remnants of Nuremberg German-punkband USK. We played our own streetpunk-songs und some Oi!-classics from the 4 SKINS, LAST RESORT, COCKNEY REJECTS, COCK SPARRER, etc, but after a few line-up changes we finally split up in 1995. There are only existing a handful of demo recordings and live bootlegs from that time. In summer 2008 the three of us met again more or less purely by chance and decided to give it another try. Soon it became obvious that it wouldn't make any sense for us to play the old songs again. Moreover, at the age of around 40 we've been no "boys" anymore. So we changed the name to DROOGIEZ and started rehearsing with only own, new songs. During the 15 years break all of us played in several bands in different musical genres like streetpunk, Oi!, hardcore, garagepunk, ska, and rock'n'roll. Arne played guitars and sang with THE OMSK and THE HINKS, and he also played bass with OXYMORON in the 90s. Tom is playing the drums with hardcore-outfit SPITE! for some years now. I played the organs and sang with DEADBEATS, and I've started to play bass with STOMPER 98 in 2008. In June 2009 we produced our debut 4-track-CD "Do it yourself", and since then we played a lot of gigs, with, for example, COCKNEY REJECTS, EVIL CONDUCT, UK SUBS, THE VIBRATORS, SHAM 69, and THE BUSINESS. In July 2010 we published our first full-length album "Glorious Days" (CD on Sunny Bastards, vinyl on Contra Records). Our next confirmed gigs this year will be with HATEFUL, PERKELE, and EVIL CONDUCT again. In October we are going to hit the studio again to record a cover-song for the forthcoming BLITZ-memorial compilation and two songs for a splitlell-7" with Bavarian-based band LAZY BASTARDS.
Please tell me a little about every member, age, family, work, interests and something bad about every one?
-Arne: 45, I'm going steady with my girlfriend Jessy, work as a designer and photographer and I'm very interested in arts, design, photography, movies, architecture history and of course in music! Naturally I can't say anything bad about my droogs! Lars: 40, married to Angy Upstart, work as a milling cutter, and my interests are music, tattoos, and vintage scooters. The only bad thing I can tell about my fellow droogs is: Their bass player sucks!
Tom: 41, and a lonely sick boy, work as a removal man and move office stuff or industries machines . I'm interested in music, tattoos, arts, and downhill bikes.
You sent out a sticker with your CD about KKK and the words No Master Race worldwide ... is it important to take a stand in this question?
-Arne: Yes, I think it is important, but it's not just about the KKK, it's about all racists in the world and it doesn't matter if they are white, black, yellow or something else. The KKK is just a symbol for master race. I can't understand what is going on in those brains.
Lars: In my opinion racism is the worst and most stupid feature of mankind. A total waste of time.
Tom. No-one has got the right to judge anyone else. The KKK is a stupid shit of wasting time.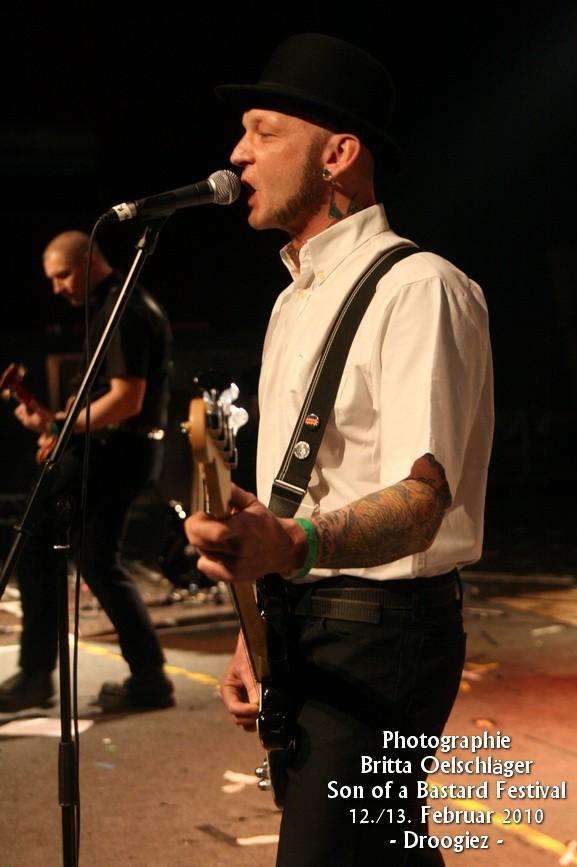 Are there any other bands you're being compared with?
-Lars: Quite often we are compared with MENACE and LURKERS. That's alright with me, I mean it could be worse, haha! We're not trying to copy these bands, but of course they influenced us (amongst others), so I appreciate that.
Do you care about reviews?
-Arne: Mmh ... for me it's more important to hear what the audience says. But reviews are interesting too.
Which is the most peculiar review you ever have got?
-Arne: We have no peculiar review yet I think ...
Lars: Recently one reviewer called us rapists because of a line in our cover-version of BILLY KARLOFFs "TV Personality". That's bullshit, of course, this person must have totally misunderstood the message of the song. Not her fault I guess, maybe she's just not familiar with the concept of irony, haha.
How would you describe your music in three words?
-Arne: Just Punk Rock
Lars: Real Punk Rock
Tom: Street Punk Rock
How is it to live in your home country?
-Arne: Nuremberg maybe is the biggest provincial town in Germany J - ... I love this old city and the landscapes around it. "Bavaria" is not as bad as everyone thinks, - 'cos we come from Frankonia J
Lars: I guess it's as good and as bad like it is in any Western European Country. Originally I come from West-Germany and moved to Nuremberg twenty years ago. I like this town not just because my wife lives here but also because of the people, my friends. It feels right to be where I am. And not to forget: Here they brew the best beer in all Germany!
Tom: Sometimes good, sometimes boring.
What about the government?
-Arne: Which government? Do you mean the narcissistic foreign minister or the chancellor without profile? This government sucks ...
Lars: In fact, we do not have a real government at all, it's the money that rules. This is becoming more and more obvious, our government's main intention seems to be how to take money from the poor to give it to the rich. When money talks sense has to be silent Tom: It's all about blood money suckers.
Do you think that music and politics goes hand in hand? What do you sing about?
-Arne: Politics is all around us – every day – and so it's important to talk and sing about something you like or you don't. But this has nothing to do with a party or a strictly political course.
Lars: I'm not a politician, and I never wanted to be one. I do have an opinion about nearly every political question, and some things have to be put down in a song, not to dictate to people what to think or do but to make them think in general. Some of our songs deal with war, racism, and surveillance, political topics that really make us sick, but nevertheless I wouldn't see us as a political band. We're just three guys who have something to say.
Tom: Fuck politics. Music is a part from the heart.
Best political band?
-Arne: It's not easy to say who is a political band and who is not. There are so many bands who write important or good "political lyrics".
Lars: Political bands who influenced me the most are definitely NEWTOWN NEUROTICS and ANGELIC UPSTARTS, and maybe THE MOVEMENT, too. They made, and still make, me think about one thing or another.
Are there any good bands in your home country now?
-Arne: Sure ... "Die Hitchhikers" and "Dead City Rockets" for example, all time favourites like "Mad Sin" or the Berlin-Connection "Bad Co. Project" and "Frontkick".
Lars: There are a lot of punkrock and skinhead bands in Germany right now, and some of them are really good. Next to the ones Arne already mentioned I like TOWERBLOCKS, THE RUCKERS, TOXPACK, MSA, VOLXSTURM, and younger bands like LAZY BASTARDS and GHOSTBASTARDS.
Tom: Sure, Bad Co. Project, Anticops, Punishable Act, Steakknife.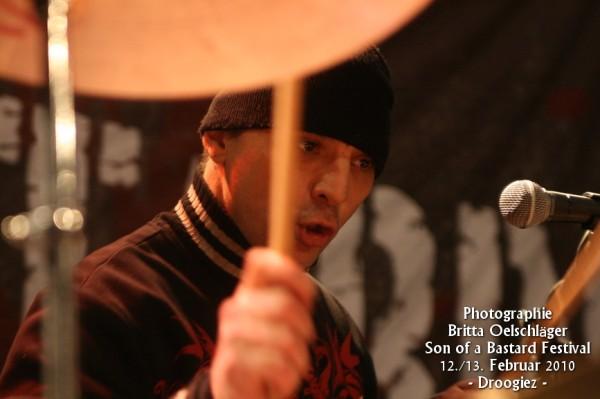 What do you know about Sweden?
-Arne: IKEA ... I have to say this J ... A very liberal, expensive country with fantastic landscapes. You still have a king and you can't drink alcohol cos it's too expensive.
Lars: Unfortunately I've never been in Sweden so far, but I guess it's mostly cold there (well, at least colder than in Germany), the beer is much too expensive, and Stockholm seems to be a beautiful city.
Tom: Many blondies :-)
Have you heard any good swedish bands?
-Lars: Yes, of course, Sweden seems to have a very lively music scene with a lot of good bands (not just ABBA, A-HA and ACE OF BASE, haha). What I like is the old MILLENCOLIN-stuff, TICKING BOMBS, and ON THE JOB.
Tom: Haha, cheers to the ACCIDENTS!
What does punk mean to you, is it only a word or is it a lifestyle?
-Arne: I've been into punkrock since more than 30 years now ... so it's a very important part of my life and myself too. Of course it's a kind of lifestyle, but first of all it's a special kind of thinking. Everyone has his own definition for "punk" – and that's great! Be an individual and do what you want – as good as possible.
Lars: Of course skinhead is my "way of life", but I'm also a punkrocker, and punk means to me first of all: do it yourself! Follow no leader, make up your own mind and be true to yourself.
Please rank your five favourite records, five favourite concerts and five most important things in life?
-Arne: Only five records???? Okay ... THE CLASH – "London Calling", COCK SPARRER - "Shock Troops", THE SPECIALS – "s/t", DAVID BOWIE – "Ziggy Stardust", aaaaaaaand ..... maybe LIVING END – "White Noise".
Five concerts: All concerts from THE DAMNED, COCK SPARRER, DAVID BOWIE, LIVING END and the gigs I played with OXYMORON in Japan.
Five important things: If you mean "things" then it is my guitars, camera, computer, records,CDs and all my books. Otherwise there's my girlfriend, my family, my friends, of course my band and the most important thing - my health.
Lars: SPECIALS – "s/t", SKATALITES – "Music Is My Occupation", COCK SPARRER – "Shock Troops", CARRY ON OI!, and MONKEY BUSINESS.
RED ALERT & RED LONDON 1991 in Hamburg, SKATALITES 1993 in Amsterdam, ADICTS 2008 in Hamburg, my first gig with STOMPER 98 in Leipzig 2008, COCK SPARRER 2009 in Girona.
Important for me is my wife, my job, my bands, my bass guitar, and my scooters.
Tom: Agnostic Front - Liberty & justice, Cock Sparrer - Rarities, The Clash - London calling, Murphys Law – Party's over, Blitz - Voice of a generation
Gwar, The Damned, Alien Sex Fiend, Ramones, Hawkwind
My life, my bands, my downhill bike, my job
First, last, and most expensive record ever bought?
-Hahaha ... the first record I ever bought was from CREEDENCE CLEARWATER REVIVAL a 7" called "Hey tonight". It was around 1972 J My first punkrock-record was the 999-Singles Collection-LP in 1980. The last record was the fantastic BUSTER SHUFFLE CD. The most expensive record... mmh.... maybe a David Bowie bootleg? I don't know.
Lars: I'm not quite sure about my first record, it must be something from DEPECHE MODE bought in 1982 I think, but I remember my first MC I got in 1977, it had DESMOND DEKKERs "Israelites" on it. The last record I bought is KLASSE KRIMINALE – "Oi! Una Storia", and the most expensive is probably STIFF LITTLE FINGERS – "Inflammable Material" (which is worth every penny I paid in 1991 and is much more expensive nowadays, haha).
Most embarrassing record in your collection?
-Haha... there are so many J ... maybe BELLINI "Samba de Janeiro"
Lars: I don't have ANY embarrassing record in my collection! Well, at least not for me …
Have you done anything more than "Glorious Days"??
-Lars: As I already mentioned in June 2009 we published our first 4-track-MCD "Do It Yourself". Moreover we appeared on some CD-compilations of fanzines like OX, Plastic Bomb, and twice on Oi! The Print.
Which type of people comes to your concert?
-Arne: All types of youth and older ones. Punks, skins, psychos, and normal people.
Is it many interviews? Is it boring?
-Arne: Not so many ... and it's not boring if the questions are interesting!
Lars: Not that many interviews to get bored yet.
Which is the question you never get, please ask it and answer it?
-Arne: Are you a female? – No!
Lars: Do you dye your hair? – What hair exactly?
Is it any chance to see you in Sweden soon? Or anytime?
-Arne: If somebody organises a small tour – why not J
Lars: There's nothing planned by now but I'm ready!
Where is the best place to play?
-Arne: Indra Club in Hamburg is a great place to play and of course our hometown Club "Zentralsaal" in an old building inside the city called "K4".
Lars: "Indra Club" in Hamburg and "Conne Island" in Leipzig.
How is a good gig with you? And which is the biggest band which you have played with as a support act? And which is the biggest band which has been support act to you?
-Arne: If the audience feels our energy on stage, than it is a good gig for me. The biggest band I have supported was COCK SPARRER – but not with the DROOGIEZ. I played with my old Band OXYMORON a small tour with them. The DROOGIEZ supported UK SUBS? Are they big enough J?
The name, where does it comes from (yeah it's a boring question but it's interesting)?
-Arne: Yes, it is a boring question J ... from Anthony Burgess' book "Clockwork Orange".
What shall we do about all racists?
-Arne: Live anti-racist, educate the people, give them work, money and a perspective and fight for democracy.
Lars: Give 'em brains, and give 'em really important things to do with their lives.
The best band in punk history?
-Arne: That's not fair! J THE CLASH, COCK SPARRER, BAD RELIGION ... I' don't know.
Lars: COCK SPARRER
Tom: RAMONES
The most important punk song?
-Arne: Every week another one!
Lars: UK SUBS "Warhead" will be forever important for me because it inspired me to pick up a bass guitar and start playing. Right now it's "Babylon's Burning" by THE RUTS, but that changes from time to time.
Future plans for the band?
-Arne: Writing songs, playing gigs – playing together as long as we have fun!
Lars: Playing gigs, recording songs, and having a good time.
For yourself?
-Arne: I want to be healthy.
Lars: Getting older than I am right now.
Tom: Health!
Wisdom word?
-Arne: Life goes on.
Lars: The quitter never wins.
Tom: Believe in yourself.
Something to add?
-Arne: Thanks for this interesting interview!
Lars: Tack!