Drill Star Autopsy writes death metal on their flyers and I want to to call them a very raw hardcoreband, but we don´t give a skit about this, do we? Here´s an interview with this german band done in march 2015.
Please tell me a little bit history of the group?
-Drill star were found as a hobby project.just for hangin out with a friends, drinkin beer and making some hc/metal music.just for fun…we record some stuff on our computer and felt that we have to play it live..so we looked for some friends and found drill star autopsy in april 2012.
Please tell me a little about every member in the group right now, age, family, work, interests and something bad about everyone? Have you been in any other bands before?
-I am 36 years..I'm the owner of a little barclub which is called "Molotow club keller" in my hometown Eisleben.10 years of my life I played drums in the german gothic metal band MY INSANITY.
Maybe you know this band we played a European tour in 2002 with THERION from Sweden, we played in Gothenburg and Malmö to.but we split because of family ,job and so on...I always wanted to make harder music...so I met a friend in april 2013, drank some beer and we just started to record some hard riffs with programmed drums on the computer...just for fun and have a good time in the practice room...at the end we had 10 songs and we thought "fuck!! that shit sounds really heavy" we should look for a drummer, a second guitar player and a bass player...that was really easy because every friend we present the songs said "wow, that's fat ,I want to be in this project :)" so Enne (drums),Roger (31,guitar),Hefi (guitar) and T.Below(42,bass) joined this project...or at this point we called it band :)
All the members have fulltime jobs or are students. Enne works in a frozen bakery company. He is a very funny guy. He always talk stupid jokes and brings us to laugh about senseless shit,I like it :). Roger (31) is and works in a high end mountain bike company. He plays a really fat sounding rhythm guitar and is a very smart friend, Hefi studies informatics stuff I think. He plays the lead guitar and is also a very nice and funny Guy.T. below also played in MY INSANITY and after the split he had nothing to do so he joined D.S.A with his god damned deep fat sounding bass playing. He is quieter but if he want he throws out dry stupid joke. We are all good friends over years...everybody knows it still a just for fun project. We feel no pressure. We do what we want. But at the moment it seems that it grows. We have to invest more time for playing shows and giving interviews...and I've never expected that...who knows where the journeys goes ;) about the bad things? Better you'll never know it ;)
I can hear both hardcore and raw metal? Am I right? Favorites from the past?
-In our music you hear all my influences...I'm very open minded...I like hardcore, death metal, drum&bass whatever ..important is that I feel something when I listen music...the most influences D.S.A are Stockholm death metal( early Dismember and Bloodbath),industrial music, crustcore and the groove of hardcore like Madball. We play drop A guitar and bass tuning ,that's the old KORN influence..sorry ;) ...this style simply comes out of my deepest heart...and that's definitely favourites from the past and the present.
Drill Star Autopsy are you satisfied with the name? How did it came up? Which is the best bandname you know?
-Drill Star Autopsy.is.sometimes hard to pronounce when you are drunken ;)...for this fact we have the more simple version D.S.A hahaha...the story behind the name is kind of strange...I was on the way in holidays with my ex girlfriend and we had to follow in slow motion a really big corn harvester machine for a while...this big monster was called DRILL STAR AMAZONE...I was thinking' " man, that's a great name for a band...so when we decided to make a real band we needed a bandname and I said I have a good idea..Drill Star Amazone" and the guys said no way, it sounds gay ;)...so we looked for a more shocking last word...that the story behind the name DRILL STAR AUTOPSY...
The best band name is..hm it's not easy...maybe FASTER PUSSYCAT or ? I don't know... :)
What´s the best thing with playing live?
-Definitely to feel the energy from the band, the sound… when the crowd is feeling the same and start a mosh or other friendly aggressive outbursts ;)
And where is best to play? And the worst place?
-There is no special best place to play..we play everywhere you want. Iimportant is that everybody has a good time and a nice music experience and feeling…that's the same when you play small club shows or enter bigger festival stages…if we catch the crowd with our sound there is nothing better J
How is to play this sort of music in Germany right now?
-It's always a new experience. We have metalcore fans, hardcore or straight death metal fans in our crowd. If they don't know us they expect nothing and then they hear our sound and start to headbang, mosh or just whippng with their foot after a few songs…that's always good to see J…but it's not that hard. We make a simple groovy sound so mostly it's easy to catch the people ;)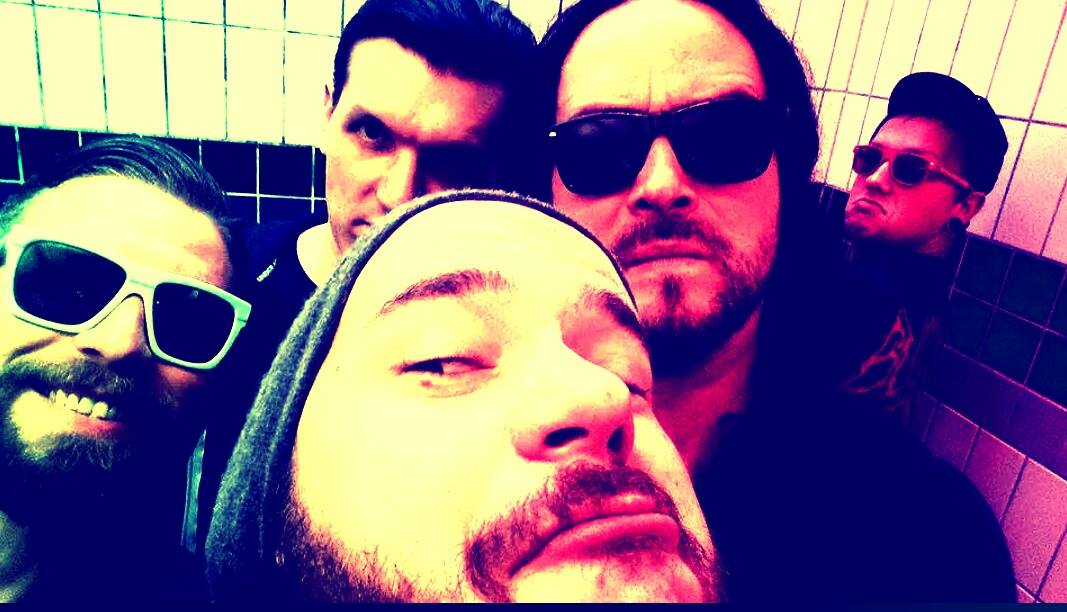 How would you describe your music in three words?
-IN YOUR FACE!
What does punk mean to you, is it only a word or is it a lifestyle?
-Punk means to me : being antisocial, always against, party hard and look like a freak…I am a bit of everything. I'm 36 years…nowadays I'm happy when I can relax or being smooth…the kids have more a heart of a rebel J than a grandpa like me hahaha
How do you see on downloading, mp3 and that stuff?
-Hmm downloading is good for spreading your music if you are at the beginning of your career…if you have the chance to live through your music I think you would prefer that your fans buy your cd…beside the sound is always better if you have an original cd or vinyl…D.S.A is a hobby band so download and burn our stuff and spread it to the world if you like it J
How is it to live in Germany now? Politically?
-We live in small city called Lutherstadt Eisleben in the middle of nowhere of East Germany.in our area we have the highest rate of workless in Germany. After the German reunion all the fabrics and industries were closed. We had a big copper mine here…thousands of people lost their job and never get a new job…we personally had the good luck to find a job here where we earn enough money…that's good because we can invest a bit money in our band.(instruments or things like that)
Is there any good bands from Germany now? Is the punkscene big? How is it in your hometown?
-We have a lot of good bands in Germany at the moment…there are so many that you never get the chance to check out them all…the heaviest and biggest band at the moment is 'Heaven shall burn' I would say.
And all the hc and metalbands have always a punk background. The first riffs you try to play on your first guitar is smoke on the water or a simple punk riff from your favourite punk band. So I just speak for myself ;)
In our hometome we have no big punkscene at the moment.more a metal scene but you have to know that the first east german punk band, it was in the beginning of the eighties, came from our hometown. Maybe you know this band "MÜLLSTATION"…every real punker in Germany know this band.
What do you know about Sweden? Have you heard any good bands from Sweden?
- I have been 3 times in Sweden. The first fact is that alcohol is pretty expensive in your country ;) I like the landscape and off course many many good punk or metal bands come from Sweden…I prefer the Stockholm death metal bands like Dismember,Entombed or the best death metal side project Bloodbath…also I like Swedish crustgrindpunk like Massgrav..I understand no words but I feel that they are in a bad angry mood. i like it ;)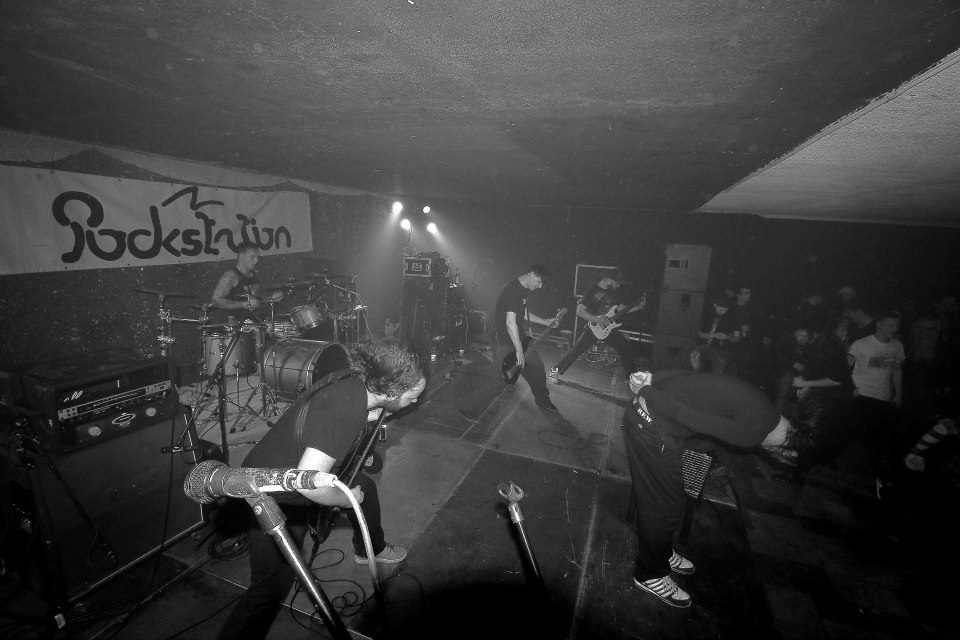 Your lyrics, who does them and what influences you? Is there any subject that you never will write anything about?
-I write the lyrics and I'm influenced by all the bad in the world…this kind of music needs brutal lyrics!
For me it's hard to find lyrics about love ;)
Politic and music, does it goes hand in hand? Best political band/artist?
-There are good bands who have the talent to write really good political lyrics…best band for me is Rage against the machine…
Do you think that music(lyrics and so on) can change anyones life, I mean people who listens to music?
-For sure music changes everyone's live. It can push you in good or bad mood. It depends on which kind of music you listen to at the moment…ABBA let everybody dance and smile..Katatonia let you cry in the wrong moment…so music can change your feelings from one second to another
Why not sing in German?
-My lyrics sounds shitty in German ;) English lyrics sounds more brutal than in German
Is it important to get out physical records of your stuff? Why or why not?
-We recorded a 4 track ep and we spend money in the production. So it would be cool if we sell some cds of that to get the investment back ;) the studio was not that cheap …after a show when I'm drunken I always give all our stuff to the people for free. The D.S.A boys always has to stop me J
Please tell me a funny thing which have happened during your career and under some gig?
-A wheelchair user stands in the venue at the backside and I saw that he liked our show. So I asked him to lead a circle pit through the whole venue…the song started he started and the crowed followed him. He had a great moment and we are friends from this day on…it's not that funny but a great moment…and off course the parties after the show are always an experience ;)
How does your audience look like? Which people do you miss on your concerts?
-Hmm…our audience is a colourful mix of hardcore fans, headbangers and sometimes beautiful girls hahaha…I never miss some people from a special scene…important is that they like our sound. If not it's ok too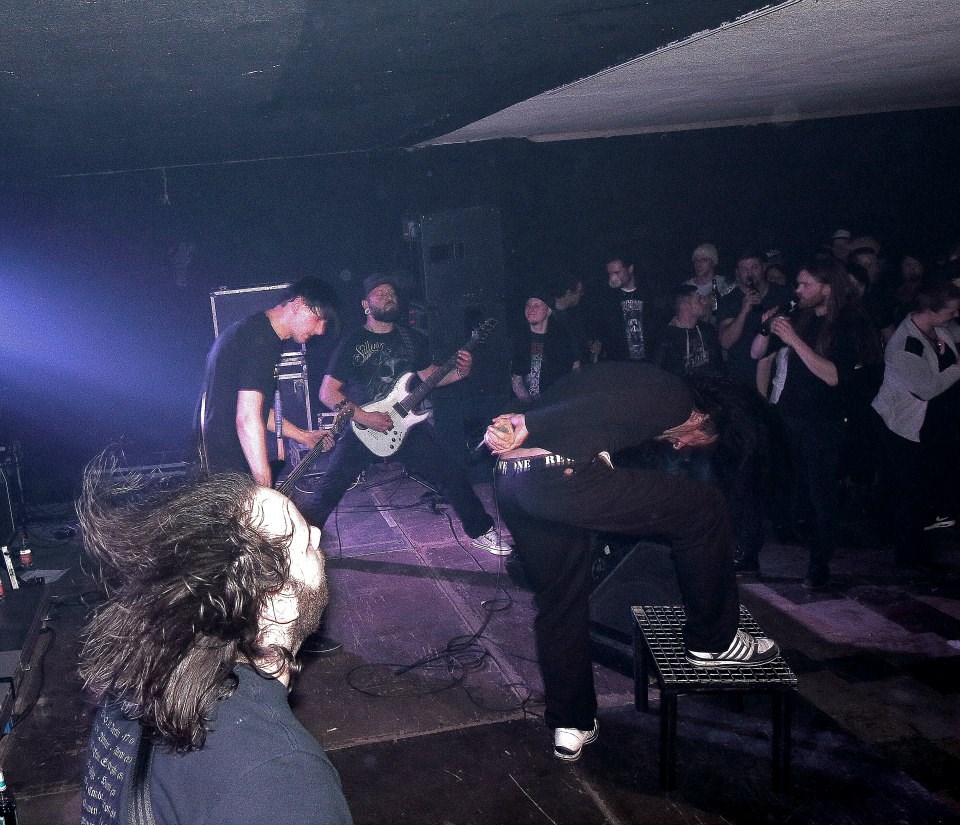 Please rank your five favoriterecords, five favoriteconcerts and five most important things in life?
-FAVOURITE RECORDS
1. SODOM : PERSECUTION MANIA
2. MESHUGGAH : DESTROY ERASE IMPROVE
3. STRAPPING YOUNGLAD : CITY
4. DEPECHE MODE : ALL
5. KORN : LIFE IS PEACHY
FAVOURITE CONCERTS
1.My first big concert in January the 5th 1995 "Nuclear blast festival" with Meshuggah, Hypocrisy, Dismember, Amorphis and Benediction
2.All the "with full force festivals"
3.Behemoth live on the Party san festival
4.Depeche Mode on their last tour
5.First time is saw Rykers in the nineties..I was impressed by the sound and the energy in the pit
FAVOURITE THINGS IN LIFE
1.Family
2.Friends
3.Making music
4.Have quick sex or the standard 3 minutes J
5.Health
Is it boring with interviews? Is it much interviews?
-Written interviews take a lot of time ;) just joking… we're happy about every interest in D.S.A
If you could choose five bands from the past and the history and nowadays and both dead and living bands to have a concert together with your band. Which five have you been chosed?
-Behemoth, Fear factory, Nirvana, Korn, The Doors
Is hard music a good way to get out frustration and become a nice person outside the music?
-Of course. If you visit a metal or a hardcore show you always feel relaxed when you are at home again. You can let your aggressions out in pit on a "friendly kind" ..You have more aggressions in a disco or fairground like Oktoberfest than on a metal or hardcore festival with thousands of people.
Which is the most odd question you ever have got in an interview?
-Until now we never got an odd question…but for an odd question follows an odd answer ;)
Which is the question you want to have but you never get. Please ask it and answer it?
-Do you wanna play in Sweden? Yes!!
Futureplans for the band?
-There are no special plans for the D.S.A future…we would like to play shows with good bands, create new songs and just have a good time…it's an honour to see other cities or countries because of making music and maybe someday we will come to Sweden.
For yourself?
-I wanna be captn future J no…I hope that my life stills like it is…being in good health, have good friends to have fun. playing shows…and see what will happen, who knows ;)
Wisdomword?
-Sweden! Prepare for DRILL STAR AUTOPSY!! Like us on Facebook and maybe there is a promoter who thinks it would be a good idea to let D.S.A play in Sweden ;)
Something to add?
-Sorry when you as reader got bored about the answers..I'm not good at this ;)
Thank you peter..cheerz!