CLIFF ANSWERS
DRILLER KILLER

History?

-We started late 93 as a sideproject ofor me (Cliff) because nothing happoened with my main band Anti-Cimex then. After that Cimex put the instruments away and then the first DK record came out(Brutalize), it was recorded 93 and it came out 94. It was followed by record two(Total fucking hate 95) And then we signed to osmose 1996 and there are we today with 4 more records out: Fuck the world, Reality bites, And the winner is..., Cold cheap n disconnected.

Please tell me a little about every member, age , interests and something bad about evryone?

-,Cliff " Lavetten " Pundberg, very old, do the talking and writes poetry in his spare time, terrible 24 hours a day. Adam " Babben " Addams, pattaglytten in the band, plays the guitar and he builds small secret boxes and put studs on his jacket on his spare time. The terrible thing with him is his central nervous system. Sven Antenn plays a loanbass and he lies about his age and his biggest interest is to film people who don´t know about it. The most terrible thing with this guy is that he works. Asp Asp is a drummer in his baddest age and he´s is very sweaty, and the most terrible thing with this guy is that he makes all unhappy

Earlier bands?

-Kurbits ir, Alkohålkliniken,Anticimex, Moderat lLkvidation, Plast, Perukers, A.I.S., Shitbreed, The Pussytives,Black Uniforms, Machinegun Persson mm.

I remember when Cliff was in a childrenprogram once upon a time, do you regret the things you said back then?

-I don´t regret a thing I said more than the thing I said about dying when I´m 29, you shouldn´t lie. But i got very angry because of the fact that ,many things that we filmed doesn´t came into the interview , like when the interviewer kappelin asked me. What is beutiful for you: And I answered a girl with a bag on her head….it was very fun when you were 15-16 years old…

What does the punk meant to you today?

-Political views, vegetarian food, to look like each other….not anything I mean.

Do you care about politics? Did you vote?

-Justice is very important but it´s hard to get especially for the people who need it. One of us voted and I tried myself on the post but I was forced to leave the place with because of the fact of that it went to some noise there.

What do you think of the fact that Sverigedemokraterna(Swedish racist party) got som many votes? How do you pronounce PLÅTTERMOS ? It´s not a good bandname, which label are they on? Amalthea

That you´re on french label Osmose and not a swedish label? What depends that on?

-Is there any good swedish labels worth the name here, not at that time when we landed in France. Distortion was around but I don´t know if you could call it a label back then, it was more dizzy in the head there then than on a drunk Tuss Hyland.

What happened with Distortion?

-Happened? We had no contract with them so what the hell had we to lose to be on a label with distribution, some money to record for and more action if you know what I mean.

Isn´t it a little strange to be on a metallabel(Osmose must be called that or?) ?

-Not at all. It´s the best label I can think of because it´s the best I have tried. Vinyl Japan comes as a second label. Because we don´t do anyy commercial stuff so therefore isn´t that so many label who have dared signing us, remember Meanwhile/Dischange on Nuclear Blast, how good was that. The guy on Osmose likes Dk so much and even if we don´t sell he don´t want to se us on another label and it feels very good to be on a label which don´t only have cash in their minds. The other bands we don´have so much to do with, we don´t have any christmas party or something like that.

Do you like the other bands there?

-Impaled nazarene have always been a favoruite and Immortal have deon some good records but otherwise it´s not so much I have listened to.

What do you think about Sweden today?

-As fucked now as then, nothing have happened except from the fact that it´s easier to get cigarrettes much easier(blacksold) for 25 swedish krona, and beer, booze, drugs and nike-copies to very human prices.

Is there any good bands in Sweden right now, outside Sweden? –The last good swedish bands I have heard is(and that was some years ago) Mörder, Diadem and Crossing Chaos . Foreign bands: Motorhead is a favourite to Babben. Sven doesn´t listen to music at all, Asp likes everything and I like greek folkmusic, sweet and Pekka Luger on 45. Disco Mutt-Ante from Malmö rocks and that´s something labels must check up soon.

Driller Killer, who came up with the name?

-Abel Ferrara.

When you do lyrics, what does inspire you?

-Hell, that´s reality in the way I see it without going into to much details, people have to read the lyrics and they can say whatever they want but it will not be so hard. I don´t sing about how hard it´s for me or the band but it´s all about how my life can be from time to time.

Is it best to be happy or must you be angry when you write your style of music?

-It´s not easy to be too angry when you compose but a little mad is good, but you can be really inspired after a big defeat so it can be an explenation why we have come to the sixth record with the drugtheme on this sixth record because it´s the meaning that I quit that time in my life, so what next record is about nobody can tell, not even Tor Isedal.
ADAM ANSWERING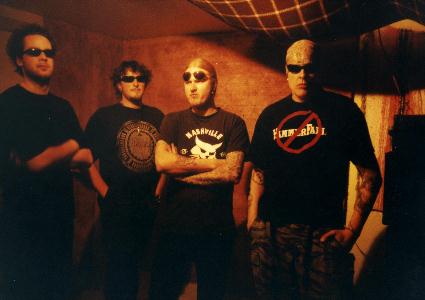 Now Adam is answering.
Is this a way to get out your aggrevisity when you play that sort of music you play, how would you do otherwise to get rid of it?
-Of course you cleanse out the head when you stand there and play, so that´s the only time you get your nerves right without putting something in you to help. Without the music you have been running around with longer arms on your shirt in a locked room.
Which is the most peculiar review you ever got?
-It was in some greek paper, wrote out a lyric which from the beginning was "Now E and speed and heroin...." but he wrote " No eat and speed and hairwind...."
Do you care about reviews?
-Of course you want to hear everything who says about the records, so long as it´s substance in it. That´s the thing you do, plays guitar in band and nothing else.
Which bands are you being compared to?
-It´s often some combination of Exploited/Discharge/G.B.H. and Motörhead. And then have people mentioned bands like Agnostic Front and Anti-Nowhere League....and in the latest time we have heard band slike Whiplash, Accept, Possessed and bearvoice ?
How is a good concertw with you?
When everybody in the band is on stage in the same time and playing the right instrument, sober with other words.
What´s the most peculiar which have happened during a concert with you?
-It was when Cliff came up on stage in Bischofswerda with a bunch of boiled potatoes without knowing it himself.
When you do songs, which is most important, the music the lyrics or to have a refrian which people remembers?
-When you don´t go around town with a diary in the city can you describe the lyrics with perosnal experiences so can I tell you that the music is on the top.
Who does the best lyrics in the world?
-Lyrics which is true is the best so the most things go away. Cliff would surely have said Eminem.
Please rank your five favourite records, five best concerts and five most important things in life?
-It´s impossible, it goes in periods with records so them we left alone. Concerts: 5 different with Motörhead, they´re best live, unbeatable. Important things:5-56, gaffa-tape, polish panicpuder and a big coffecup to dipå the breast in when you have got to little pople to look at you when you´re out on dance.
First, last and most expensive record ever bought?
First: Kiss-Unmasked when I was 6 years old, latest: Motörhead: Hammered Most expensive: Kisa Magnusson-Ska vi plocka körsbär i min trädgård(first press it´s was Britt in my shop says).
Is it many interviews?
-On the latest record it have been a fucking ringing from many different countries, it´s mostly liveradio on Friday nights which angry drummers can call up(wrong) danish local-TV and be pissed that he´s not in picture!
Which is the question you never got but want to have, please ask it?
Qustion: Do you regret being in DK?
Answer:Yeah, as much as heroin I must believe.
Framtidsplaner för bandet? -Vi kör lilltur nr.1 nu i oktober med försmak i Uppsala den 19/10 å veckan därpå kör vi 9-10 gigs i Belgien, Holland å framförallt Frankrike. hemma igen i början av november å vad som händer då vet vi inte än, Sverige gigen håller vi själva i å där är inget bokat änn, men kanske har vår tyska gigförening fått fram nått intressant nånstans i Europa annars så spinner vi på att lira i utlandet på nyårsafton, förmodligen i Tyskland om inget dyker upp här hemma. I februari 2003 ser det ut som del 2 av Cold cheap ...turen tar fart igen, då blir det 2 gigs på Mallorca å en 8 till i Spanien å Portugal om allt går i lås, del 3 av gigandet lär bli Tyskland, möjligen oxå Tjeckien, Slovakien ( där vi nog inte vart än), Det var på gång att vi skulle göra Italien i Februari med tyska grindnissarna i Hellblazer men det ser ut att bli knark av den trippen. Annars el. rättare sagt i vilket fall som helst så lär förberedelserna för album numero 7 krypa på vade lider, kan dock inte yttra mig om hur det kommer att låta men förmodligen som vanligt men tightare brutalare el. nått. Har precis kladdat på ett nytt avtal med farbror Fransk.
Futureplans for yourself?
-I(Adam) is going to continue to have my TV-trousers.
Wisdomword? I´m taher po jyst tha be a second in "Efterlyst"
Something to add? It´s very good to be in your zine Peter, talk about being on for a long time, you must have done for how long??? Honour. Buy the record on CD/LP(LP with one extrasong) and the digipack with three extrasongs but it´s nothing you die if you don´t buy because it´s three experimental songs but its´ fun for the 2000 who buy/steal itThe vinyl is limited to 50. And the winner is is out on transparent vinyl on reality Bites. The split 7inch with the deathsquadron Hardcore Holocaust is ,limited to 2200. On it´s way is oalso a pink vinyl because the transparent is not anymore left. New and old t-shirts can you get from Osmose if not Thtash Zone or Distortion in Sweden have them. Have a good time..-DrillahKillah