You have changed to Mad Butcher, why not Rockstar anymore?
-We wanted to take a step fore ward and Mad Butcher have a bigger distribution than Rockstar Records.
Seems it be good on Mad Butcher?
-Yeah, it seems good, they have recently released our record so we will see how it goes along.
How is your relationship to punk, is it only a word or is it a lifestyle?
-How does you live punk? I think it's difference between persons. Our definition of punk is that you believe in what you say and work hard. And there´s people who drink like pugs, do drugs and lives like they be on the rampage and call that punk. It will stand for them.
How do you think it is to live in Sweden? What is best and what is the worst thing?
-It´s working fine to live in Sweden, noone of us have lived somewhere else, we haven´t so much to compare with, that you can compare with is the impression from the countries you have been to and then is Sweden an OK country to live in. The best with Sweden is the nature, which you miss when you go on the autobahn in Germany. The worst is the unpredictable weather and the trendguys.
Will you vote this autumn, whcih is winning?
-I think the most in the band votes. We know which is winning later this autumn...
.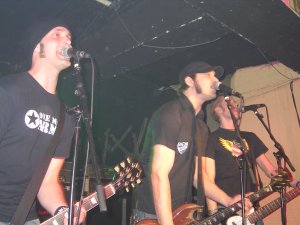 When you do your songs, which is most important do you think, is it the music, the lyrics or is it so that the refrain is the most important?
-A mighty refrain is always important but the things which is heard first is the music and it´s important that the music is good just to lift up the lyrics. And in the same time a bad lyrics can take good music down.
How do you do your songs?
-Through playing our instruments
Politics and music, does it goes hand in hand?
-You can decide that yourself when you write the lyrics. Sometimes it does and something it doesn´t.
The best political group/artist?
-Steve Earle