Polish Double Fist plays tough metalcore and I really Like it. Poland have many good bands so I was forced to interviewed this which is one of the best. October-2018
Please tell me a little bit history of the group?
-Double Fist came into existence in 2015r as the project consisting of two persons: Maciek - a bass guitar, an electric guitar, programming of percussion, Dominic - vocals. New songs were sent to the internet. You will find most of them on the youtube on HCWW channel. In 2017, guitarist Mariusz Josh Patka joined the band and a year later drummer Mateusz Talli Rosner joined. The album was ready. The whole was recorded at Maciek's house. The bassist took on the mix, mastering and graphic design. Now the band is playing the material under concerts.
Please tell me a little about every member in the group right now, age, family, work, interests and something bad about everyone? Earlier bands? Other bands on the side?
-Dominik - 36 years old, works in window factory, single, interesting: music, film. Earlier band: Down To The Heaven.
Maciek - 36 years old, firefigter, married, daughter (10 months), interesting: music, mix, mastering, graphic design, firefighting, motorcyclist (Yamaha V Star 1100). Earlier band: Dig Up
Mariusz Josh Patka - 42 year old, happy grandfather:) Earlier band: Dig Up.
Mateusz Talli Rosner - 27 years old, I've been playing drums for 10 years, self-taught, car enthusiast. Other band: Permitted Deviations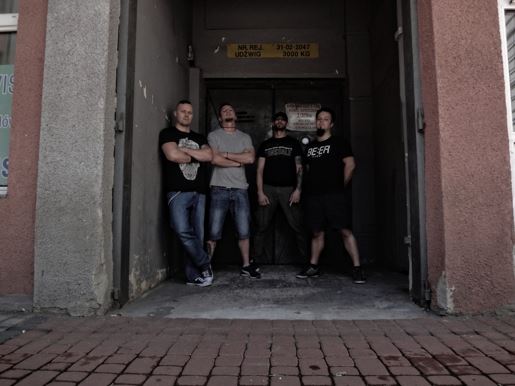 I can hear much different influences but mostly hardcore and metalcore etc? Favorites from the past?
-Maciek: hc & metal is our favorites influences, but we also like a good rock, death metal bands

Double Fist are you satisfied with the name? How did it came up? You weren't afraid that some other band would be named like this?,? Which is the best bandname you know?
-Maciek: Double Fist because there were two of us at the beginning and the name sounds good. We are not afraid that some band will have the same name, music is important. Best bandname? It;s hard to say... There are many music bands that have good names.

What´s the best thing with playing live?
-The best in playing concerts is direct communication(he wrote communism but I think he means communication) with other people and positive energy.

And where is best to play? And the worst place?
The best places to play concerts are clubs where you feel close contact with listeners. The worst is places that are completely unprepared for playing, where there is no adequate sound system

How is to play this sort of music in Poland right now? Which types of bands do you have concerts together with?
-Poland has the best fans in the world. Here, people come to concerts to play and enjoy music. We have not yet had the opportunity to play the concert as Double Fist, because the full lineup is quite fresh and it's just playing
Polish Double Fist plays tough metalcore and I really Like it. Poland have many good bands so I was forced to interviewed this which is one of the best. October-2018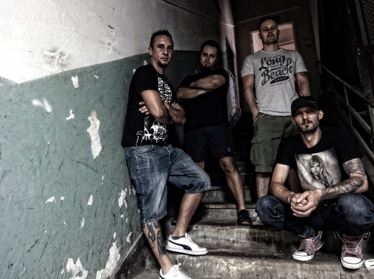 How would you describe your music in three words?
-Hardcore on steroids:)

What does punk mean to you, is it only a word or is it a lifestyle?
-Punk, hardcore, metal - all genres are a lifestyles. If you see somebody on the streets you immediately know that he is a punk, hardcore or metal fan.

How do you see on downloading, mp3 and that stuff?
-Times are going forward, it's a good thing on the one hand, but on the other hand, in the flood of music that's on the internet, it's hard to find gems

How is it to live in Poland right now? Politically? Fascists?
-Life in Poland is currently at a good level. Maybe people do not have much, but it's fairly quiet and safe. In addition, Poland is a beautiful country and there are many places to see. Politically, it is not very good, because the government does everything its own way without taking into account the votes of the community, but it can always be worse.
Is there any good bands from Poland now? Is the punkscene/hardcorescene/metalscene big? How is it in your hometown?
-There are many good bands in Poland. The hc scene is not as big as a few years ago (Schizma, 1125, Flapjack, Hard Work, e.t.c.), there are more metal bands, which are known not only in Poland, but also abroad (Vader, Behemoth, Decapitated, Hate, e.t.c.).

What do you know about Sweden?
-A country in Northern Europe, counted among the Scandinavian countries. Sweden has been a member of the European Union since 1995. It borders with Norway, Finland and Denmark. In the years 1592-1599, Sweden was united by the Polish-Swedish union:) Currently, many Poles work in Sweden. Sweden also has problems with refugees as far as I know.(That´s not the way I see it/Editor)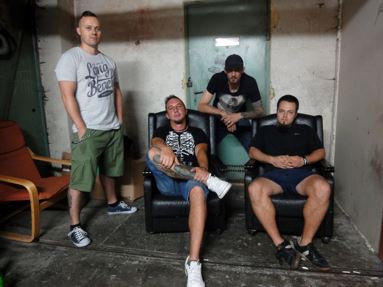 Have you heard any good bands from Sweden?
-Yes of course. I like swedish death metal like: In Flames, Dismember, At The Gates, Dark Tranquillity.
Your lyrics, who does them and what influences you? Is it easier to do lyrics now or was its easier to do it when you was younger? Never in Polish?
-Most of the texts were written by Dominik. My are 4 texts. Now we definitely have more life experience than when we were younger so it's probably easier to write what lies at our heart. Maybe someday we will write some text in Polish. Polish is a difficult language when talking about music. In English, we can reach more listeners.
Is there any subject that you never will write anything about??
-I do not think about it. We write about what is currently affecting us or what we hear in the media. Scum, for example, is about child molestation. Now, such church-related situations are coming to light. Horrible crap. There is no mercy for such motherfuckers

Politic and music, does it goes hand in hand? Which is your most political song?
-We try to be apolitical although it is not always possible.

Best political band/artist?
-Rage Against The Machine

Do you think that music(lyrics and so on) can change anyones life, I mean people who listens to music?
-Will change your life, I do not know, but maybe it will improve someone's bad day.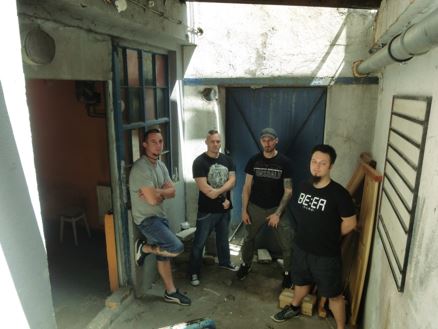 Your cover on your CD looks really nice, is it important to have a record cover which shows people which type of music you play? Your favorite recordcover? Who does your covers? And do you have any good recordstores in your hometown?
-Thanks, I put some work into it :) Each disc must have a graphic setting, it would be strange to get a disc wrapped in a clean paper. The graphics must also refer to the contents of the album. You will not believe it, but there is no music store in my city. He was still a few years ago, but the owner died of cancer. Nice to remember this place. There, I bought my first cassettes and then CD's.

Is it important to get out physical records of your stuff? Why or why not? Vinyl, CD, cassette, what do you prefer if you could choose whatever ?
-I think that every musician wants to have his CD in a physical version. This is some culmination of your hard work and souvenir. If I had to choose it I will definitely have a CD. Best quality and convenience of use.

How does your audience look like? Which people do you miss on your concerts? Which is the biggest band you ever have played together with?
-We did not have the opportunity to play in this line yet so it is difficult to answer.
Please rank your five favoriterecords, five favoriteconcerts and five most important things in life?
-Maciek: Too many good records to pick five. concerts: Pearl Jam, Soundgarden, Sepultura, Flapjack, Illusion, The most important in life: family, friends, music.

First, last and most expensive record ever bought?
-I do not remember it was too many records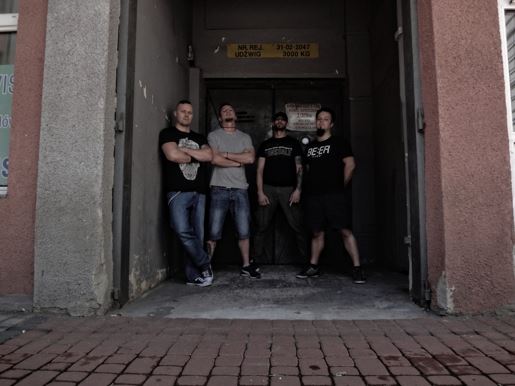 Is it boring with interviews? Is it much interviews??
-We have just released our first album so we're just starting to promote in the media. For now, we're waiting for some reviews. Maybe you'll be happy because you're the first person we give an interview. We are very happy that we can answer questions for the oldest Swedish zine.

If you could choose five bands from the past and the history and nowadays and both dead and living bands to have a concert together with your band. Which five have you been chosen?
-Hatebreed, Terror, Lionheart, Madball, Biohazard

Is music a good way to get out frustration and become a nicer person outside the music??
-I think so. It is better to vent your negative emotions in music than to blow something down the street
Which is the most odd question you ever have got in an interview?
-I do not associate such a strange question so that it will fall into my memory
Greetings for fans of HC in Sweden and all over world.